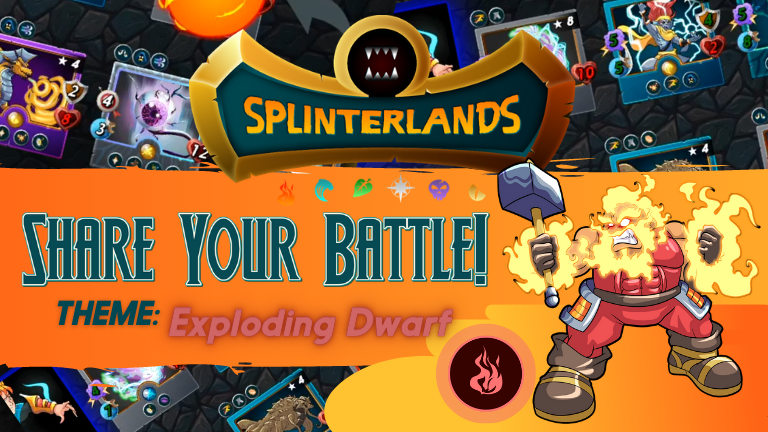 Evening Splinterlands Fans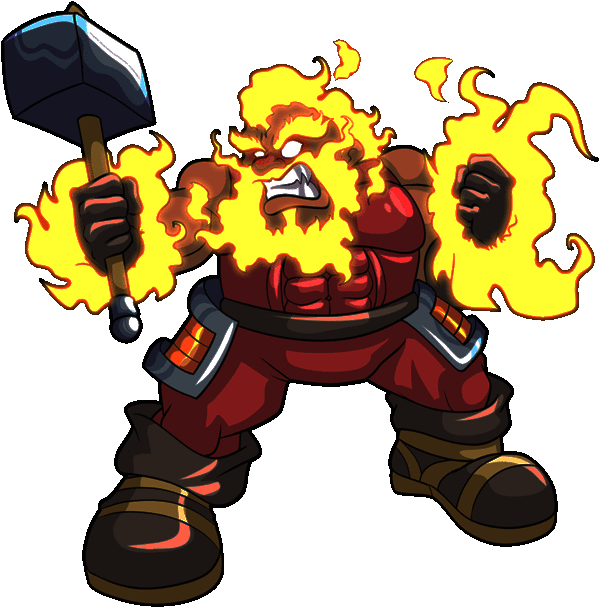 This week's battle challenge is about a fragile yet dangerous monster EXPLODING DWARF. EXPLODING DWARF is a serial killer and can wipe out enemy ranks by ranks if left alive. Although having minimal health, EXPLODING DWARF have high speed and serious melee attack with Blast ability right from Lev-1. At Lev-3 it gets Piercing and at Lev-6 Retaliate abilities. And as if all those abilities weren't enough, Trample ability comes at Lev-9. Sometimes I wonder why this guys is a common monster.
Here is the amazing lore:
The aptly named Exploding Dwarves are newcomers to the Splinterlands. No one knows from whence they came; the Dwarves simply emerged from the Molten Mountain caverns a decade ago, quickly reproducing and settling across the Burning Lands. It is best to keep distance from them (especially when they are exploding).
I own just lev-8 EXPLODING DWARF, and wish to upgrade it further to have Trample ability especially with upcoming Stampede ruleset.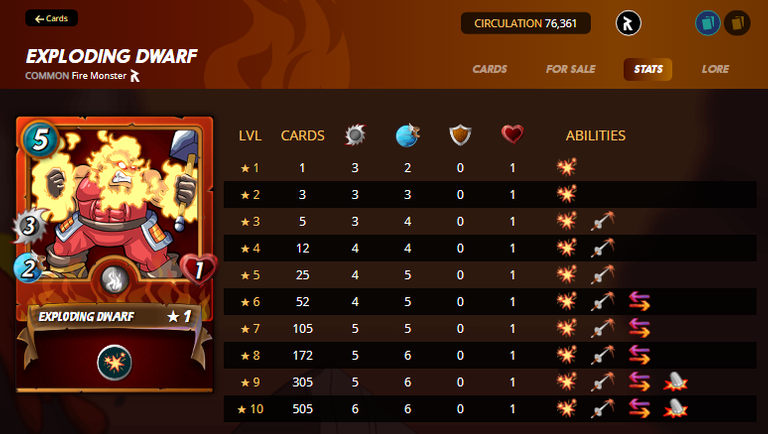 Currently there are 76,361 normal foil EXPLODING DWARFs in circulation, costing 0.049$/BCX. Gold Foil EXPLODING DWARFs are less abundant with 2,344 in supply and costs 1.29$/BCX.
Here is the all time price trend of both Foils EXPLODING DWARFs, courtesy SPLINTX. Gold Foil Prices are staggering.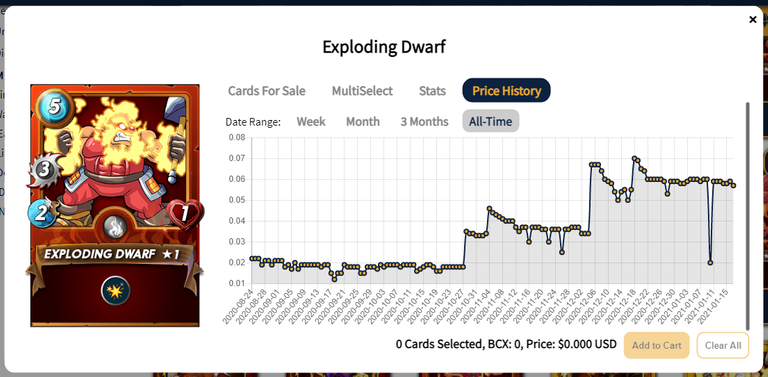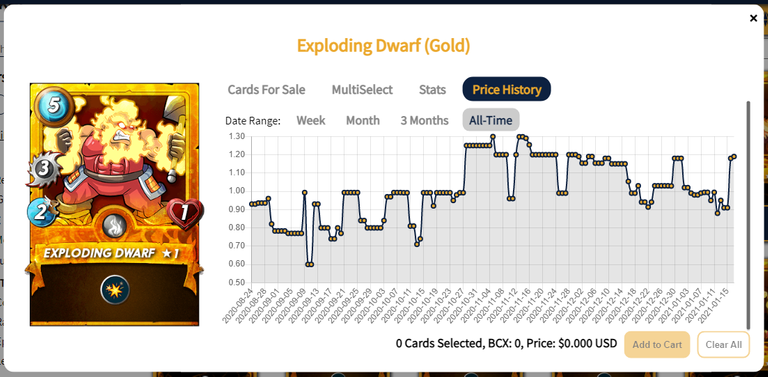 Favored Battle Rules
EXPLODING DWARF is best suited for Equalizer ruleset where its inherent low health disadvantage gets faded away. It also works well in Melee Mayhem and Super Sneak rulesets, so that it can attack from any position.

Placement
EXPLODING DWARF's depends upon the battle ruleset. In Equalizer ruleset it can be placed upfront. Whereas in Melee Mayhem and Super Sneak it can be placed in the back ranks too.

How to Use
EXPLODING DWARF can be complemented both by summoners and monsters.
EXPLODING DWARF can be completed attack wise by PLADO EMBERSTORM, MALRIC INFERNO and DARIA DRAGONSCALE.
Protecting EXPLODING DWARF with shield using summoners like DRAKE OF ARNAK, or Protect ability monsters can really help it's survive.
Positive health attribute from Strengthen ability can also help weak EXPLODING DWARF.

---
Defense
The best way to counter EXPLODING DWARF is by using magic attack to avoid Retaliation. EXPLODING DWARF can also be killed by using Thorns ability monsters.

MY BATTLE USING EXPLODING DWARF
This was a 24 mana battle with two battle rules, Armored Up and Melee Mayhem.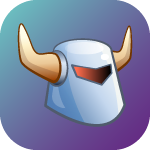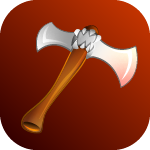 MY LINEUP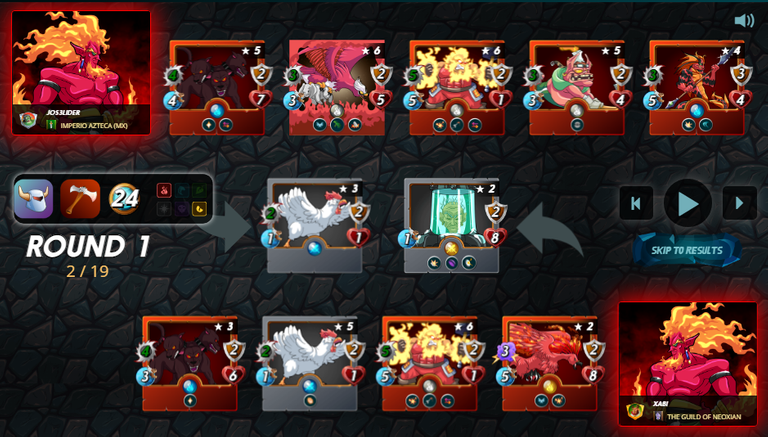 MALRIC INFERNO
Due to low battle mana and Melee Mayhem, I decided to go with Beta Fire Summoner MALRIC INFERNO.
---
LORD ARIANTHUS
Up front I placed my favorite tank LORD ARIANTHUS. LORD ARIANTHUS can take a beating and also reflect magic attack.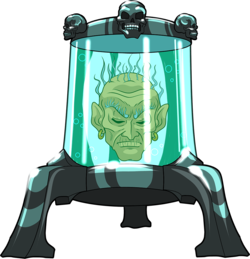 ---
ELEMENTAL PHOENIX
On one down position I placed another legendary, ELEMENTAL PHOENIX. I love its magic blast attack.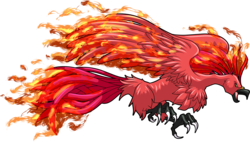 ---
EXPLODING DWARF
Now comes the star of our show, EXPLODING DWARF. Melee Mayhem ruleset allows the placement of EXPLODING DWARF in back ranks.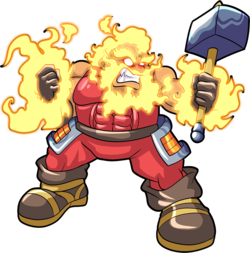 ---
FURIOUS CHICKEN
Next I placed the zero mana monster, to act as a sneak protection.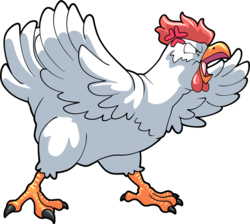 CERBERUS
On very last I placed CERBERUS as a sneak defender. Costing just 4 mana, CERBERUS's healing can be really helpful as a sneak defense.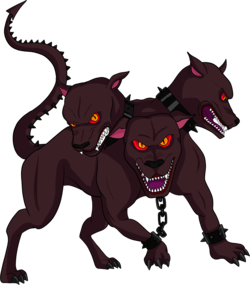 ---

BATTLE ANALYSIS
This battle went as planned. The best part was retaliation of EXPLODING DWARF in response to Retaliation attack of enemy CERBERUS.

That will be all for today.
Take very good care of yourself and people close to you..
Until next time...
👋Adios👋

Don't know about Splinterlands

---




Support @bdcommunity by voting them for witness following this instructions:

Posted via neoxian.city | The City of Neoxian