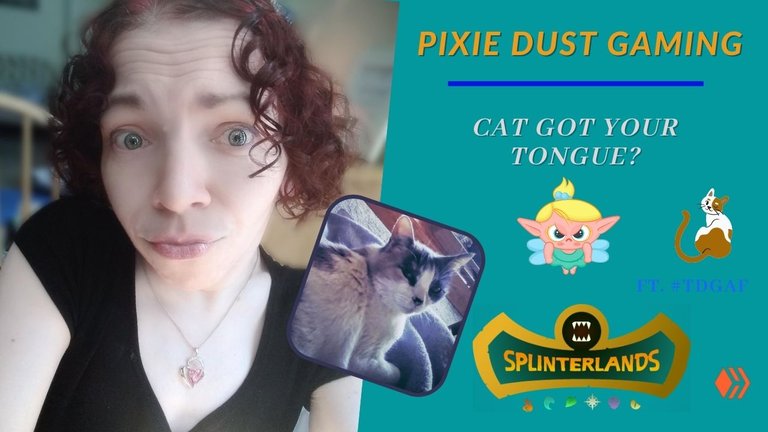 #PixiePost #PixieDustGaming #Splinterlands
As I tackle some new battles this week, it started out peacefully but slowly unraveled as the vlog goes on. Of course, this is nothing new in the Pixie Palace!
However, when my boy Timmy decides to put faite in his own hands (er, paws), that's when I knew his catitude was coming back full force. (For those of you who remembered, his #TDGAF campaign is slowly returning. For those of you who don't know, it's Timmy Don't Give A .... and you can imagine that last word! You will understand when you watch the vlog.)
But, I continued on to rage against the insistent Monsters that faced me as well as some "interesting" opponents. (Shout out to Numb Ass, who was one of them in my last video.)
See all the craziness that ensues & a few tips as well. :) Grab your favorite beverage & join me here!
Bold
Thanks for your support in this gaming videos & my new found journey. There's much more to come so make sure you are subscribed so you don't miss out!
+:+:+:+:+:+:+:+:+:+:+:+:+:+:+:+:+:+:+:+:+:+:+:+:+:+:+:+:+:+:+:+:+:+
DISCLAIMER: Bad language IS uttered & my usual insanity is very present….you were warned! ;)
Not a player yet? Click here to see Splinterlands & give it a try. Let me know how you like it!
Today's Music: Final Phaze - Jerry Lacey
Do you want to be featured in the weekly shout out in my next Splinterlands video? Leave a comment to let me know what makes your content unique & one of your links below so I can see what you got. While there is no guarantee, all will be considered! :)

+:+:+:+:+:+:+:+:+:+:+:+:+:+:+:+:+:+:+:+:+:+:+:+:+:+:+:+:+:+:+:+:+:+
Enjoy my SplinterLands posts?
Follow me for videos & posts in the Splinterlands community, reblog and browse on HIVE and LBRY

+:+:+:+:+:+:+:+:+:+:+:+:+:+:+:+:+:+:+:+:+:+:+:+:+:+:+:+:+:+:+:+:+:+