Duendecillo encantado
Hola, los amigurumis me siguen sorprendiendo debido a que no encuentro límites. Me refiero a que todos los amigurumis tejidos tienen la esencia del personaje, planta u objeto. El personaje que hoy les presento es del juego de cartas en línea Splinterlands (steemmonsters).
Para el cabello en un inicio estaba entre fieltro y lana acrílica como para darle volumen y decidí tejerlo con hilo de algodón por cuestiones del color. Una vez decidido el cabello pensé de inmediato en las hojas del vestuario, eso no fue tan complicado. Las alas fue un sin número de tejer y destejer pero no me convencieron del todo, seguiré practicando tejer diseños de alas.
*Hi, the amigurumis keep surprising me because I can't find any limits. I mean that all woven amigurumis have the essence of the character, plant or object. The character I present to you today is from the online card game Splinterlands (steemmonsters).
For the hair in a beginning I was between felt and acrylic wool as to give volume and I decided to weave it with cotton thread for questions of color. Once I decided on the hair I immediately thought about the leaves of the wardrobe, that was not so complicated. The wings were an endless number of weaving and unweaving but did not convince me at all, I will continue practicing weaving wing designs.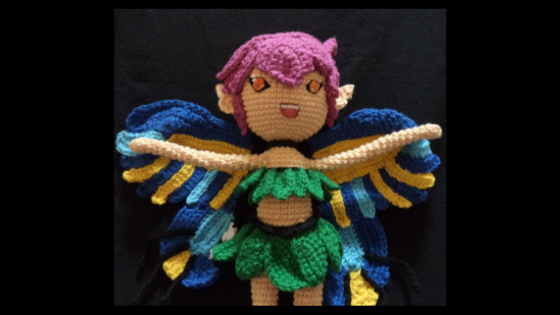 Vamos con los materiales:
Lápiz HB / pencil
borrador / eraser
colores / colours
sckechbook
hilo de algodón / cotton thread
crochet Nº2 / craft Nº2
aguja punta roma / blunt point needle
napa siliconada / siliconated nappa
hilo de bordar
tijera / scissors
alfileres / pins
internet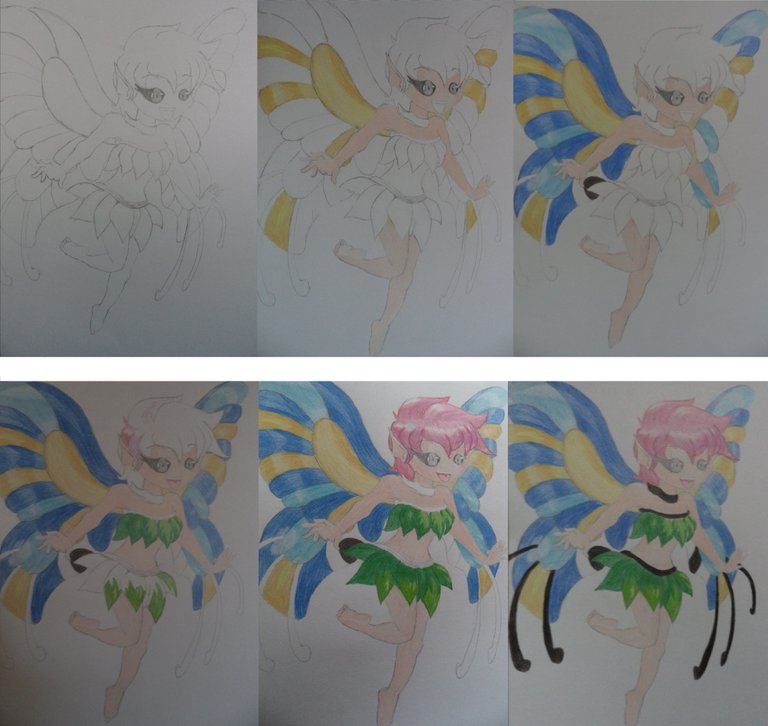 Es importante dibujar al personaje para: la elección de colores, el tamaño que tendrá aproximadamente y para la captura de los detalles.
It is important to draw the character for: the choice of colors, the size it will have approximately and for capturing the details.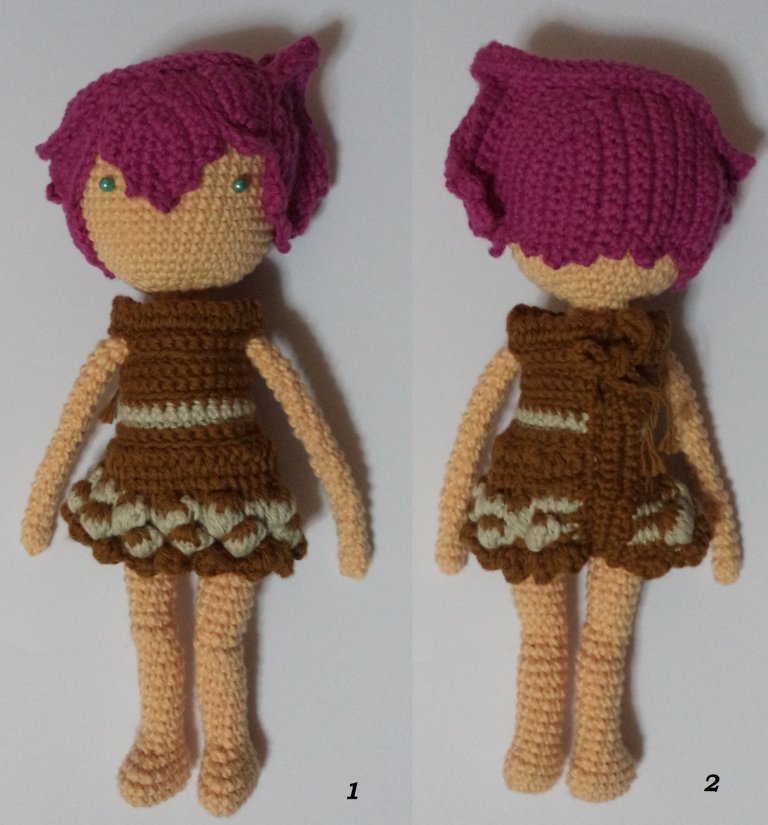 Para el cuerpo se tomó un patrón base (enlace al final). Luego se tejió el cabello, el cual consta de cinco piezas. Los alfileres son como referencia para la altura de los ojos.
For the body a base pattern was taken (link at the end). Then the hair was woven, which consists of five pieces. The pins are a reference for the height of the eyes.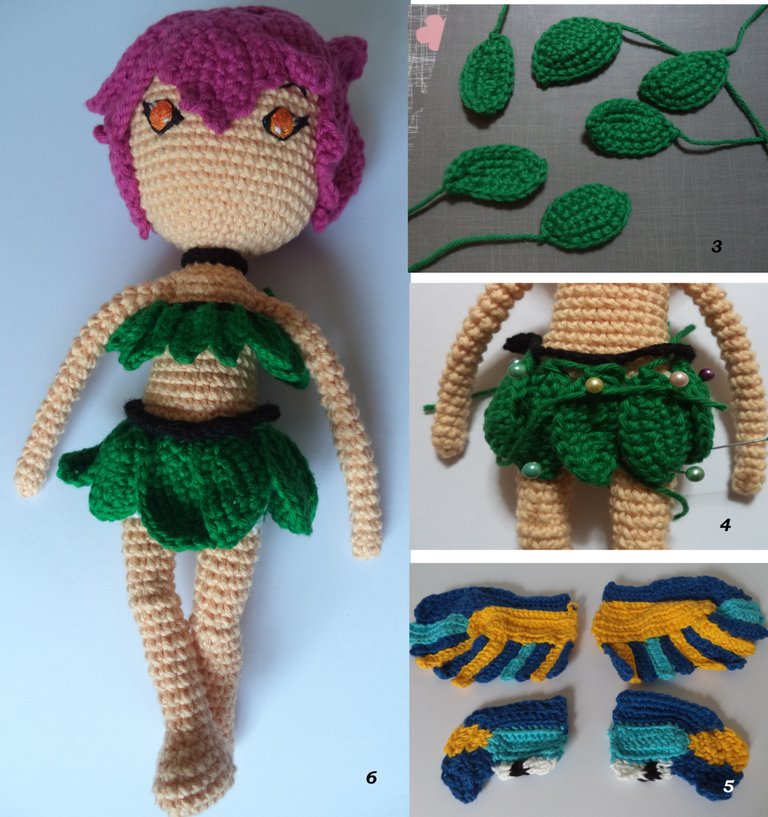 Se tejió dos tipos de hojas, las grandes y las pequeñas. Las primeras fueron tejidas para la falda y las pequeñas para el top. Antes de coser las hojas entre sí, se realizó la diagramación en el cuerpo. El collar fue tejido con cadenas y medios puntos. Para las alas se tejió con puntos deslizados, medios puntos, medios puntos altos y puntos altos. El rostro fue bordado con hilo de bordar y lana acrílica.
Two types of leaves were woven, the big ones and the small ones. The first ones were woven for the skirt and the small ones for the top. Before sewing the leaves together, the diagramming was done on the body. The necklace was woven with chains and half stitches. The wings were woven with sliding dots, half dots, half dots, high dots and high dots. The face was embroidered with embroidery thread and acrylic wool.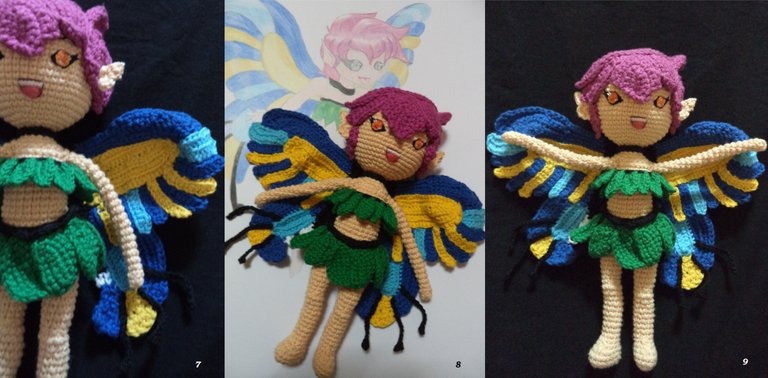 ¡…Hasta la próxima!
See you next time!
 Dato curioso: En este personaje se utilizó varios puntos para darle forma a las alas.


Fuente de video: