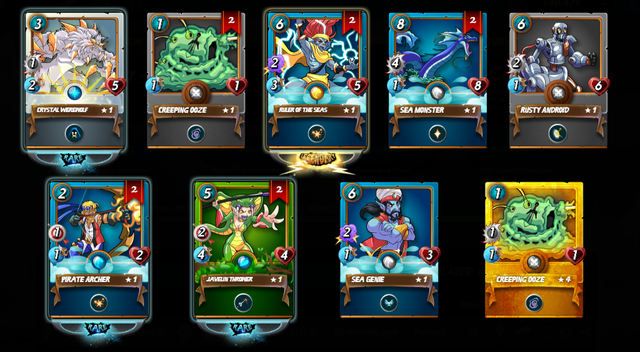 ---
Let's start with the legendaries
I don't know how often others have this, but this was the first time for me personally, that I opened not 1 but two of the same legendaries in one reward set. Unfortunately for me, this was a herons account, I wish they appeared in my personal one lol.. But the DEC is nice as well! I bought 2 orbs after that, one of them had this in it: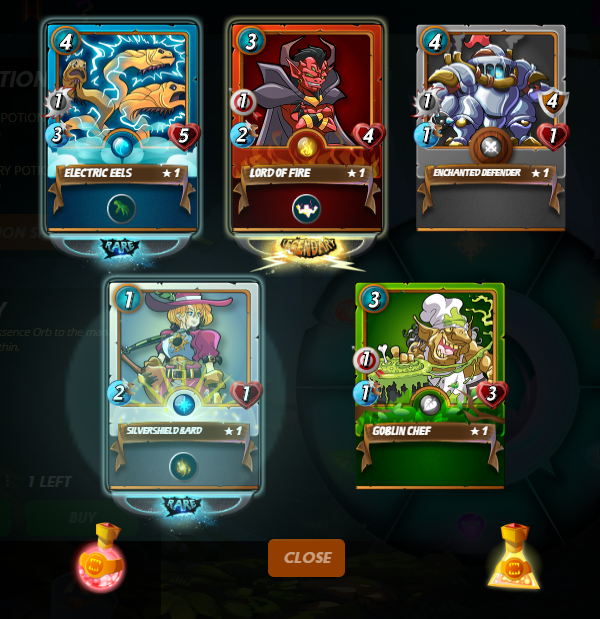 As you can imagine, it was nice to see a legendary in there as well, although I do prefer the corrupted pegasus myself. I have listed two lord of fire's on the market below market price, for only $ 5,40 each, in case you're interested..
---
Now let's talk about rentals!
Don't you just love the rental market? Especially now the beta packs have sold out, it's such a convenience to be able to rent cards instead of paying top dollar for them in the buyers market, right? Personally, I mostly rent summoners. I have sold quite a few of them in the past, so now I'm having the issue that my summoners are too low for my cards, so I rent a few during most seasons. Ideal solution! Besides renting a few cards myself, every season, I also rent out cards myself that are too high compared to my main deck.

There's no point in letting them stay in my own deck while not used at that level, right? So I moved them to a seperate account and put them out for lease. At this moment the most expensive rental cards aren't leased out, but I still make a daily passive income which helps me to buy other cards to add to my collection and level some cards. I'm happy to see that most of the rental periods are quite long:

Only 4 of them are for 2 weeks, which is the minimum lease period for my cards. I noticed that the broken contracts seem to come from the shorter rental contracts and not those that commit to a long term lease of 180 days. So far I'm quite happy with the rental income, especially as most of the time my two legendary cards (corrupted pegasus level 3 and 4) are rented out which makes the income a bit higher a day. I don't withdraw the steem anyway, but re-invest in other cards to level them up and put them up for lease once high enough.
---
Last but not least: Holidays
Where normally the days my boyfriend is free from work, are just normal days, we have taken it upon ourselves to do it different this full week of his holidays. Our daughter is quite demanding for attention and to make it easier on all of us, especially because the weather is stunning this week, we are being tourist in our own city this week. So instead of making sure my daily quests are done for all accounts (including the level 1s), I play my own account and the two herons accounts and for the rest I leave my laptop for what it is as much as possible. We try to be outside for the biggest part of the day, and do things we normally don't do. Meaning that I will have more posts to write on my main account (@anouk.nox) about these things, but the quest update appear less often this week. This was probably the longest update coming from me on this account this week, I wish everyone a wonderful day, I'm off playing tourist in our own city again.
See ya!
~Anouk