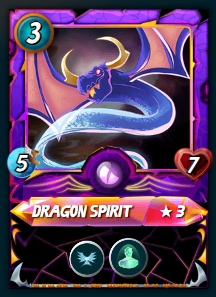 Don't get slice and diced
Some of the new Dice edition monsters in Splinterlands crypto game are kind of oddballs. What can we really do with them? What position do we use them? Sometimes it feels like a mystery for most of us who are not experts or part of the design team. But this little DRAGON SPIRIT looks like an incredible Silver Rank tank thanks to its Immunity.
While this bad boy surely works best in Little League as a primary tank, paired with a DRAKE OF ARNAK summoner, it is also out of this world when used as an off tank. Snipers will have a lot of trouble hitting it and blast will also take a lot of time until this spirit is finally broken. Snipes are very important in Silver Rank and high damage blasts don't exist, making this a fine pick.
Under the "no magic" rule set or in Little League, you can use DRAGON SPIRIT as the first tank in any match, but you'll ideally support him with a lv5 FLAME MONKEY (and DRAKE) who can repair his armor after the few times something actually hits it. With only these two monsters on the defense, go all out on the offense!
In case you're considering him at Diamond Rank (level 5 / level 6), you'll be better off waiting until the Dragon Legendary Summoner finally shows up in Untamed. I am not 100% sure there will be one, but I expect it, and it shall take DRAGON SPIRIT to the skies!