Greetings, people from @steemmonsters, @battlegames and @steem-ace
I made this story to join Splinterlands Story Contest!!! I like it so much!!! the story is:
The mermaid pond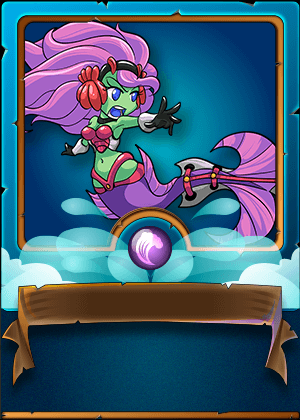 Near Kinder Waterfall is a lake, no more than a puddle, where a mermaid is said to live.
Those who dare to go there see that it is a sad and lonely place, which leaves the believing visitor that some evil presence lives there. Even though it's an interesting place to visit, locals say it's a bad idea to go there at night.
The place is swampy, and the lagoon is made of muddy water that is not drinkable. Even so, they say that if you stare at the lifeless pond you will be rewarded with the vision of your future.
Others say that if you go there at Easter, more precisely at midnight, you will find a mermaid in its black waters. She will reach out to you coldly and even give you the gift of eternal life or pull you to the bottom to drown you. It all depends on the whim of the creature.
Perhaps his charged air is the result of ancient ceremonies that were there. They used the pool for these rites, which probably involved human sacrifices. For them, water was a gateway between our world and others, having a very large spiritual meaning.
In addition, they used the site to bury their dead, believing that if they buried them in the marshes, where there was water, they would go straight to the next world. There would be no possibility of returning, since they had already passed through the "water portal".
I hope you enjoy this!!!! Thank you a lot and have a good game for all!!!