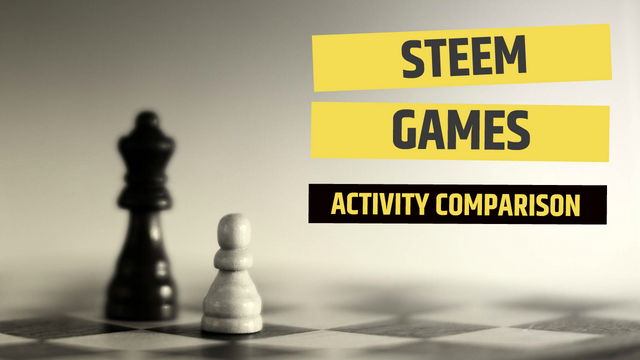 Let's check how the biggest games like Splinterlands, Nextcolony, and Drugwars are doing almost 5 months after the last analysis.
Previous comparison to be found here.
Drug Wars technically is no longer on the Steem blockchain, however many Steemians still play this game, and the app itself broadcast some data (only timestamps) so its usage is trackable by my tools. Also (as I assume) game broadcasts txs for off-chain players (eg. dw-gsx5n1177395).
If you don't wanna dig in these nice little stats, go to Figure 4 which is most important.
Player base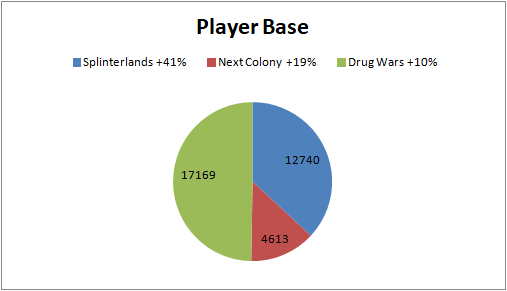 Figure 1
Splinterlands gained most of the new players - 41%.
Average daily players last 30 days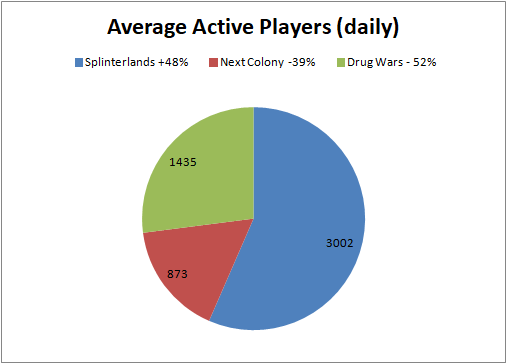 Figure 2
Splinterlands gain is even bigger when talking about active players. Drug Wars lost the most activity - 52%. However, remember that this far you can't say if these players are the same players playing every day as their behavior differs (you can play daily or every 3 days). That is why in my opinion the most important activity chart is Figure 4.
Inactive Players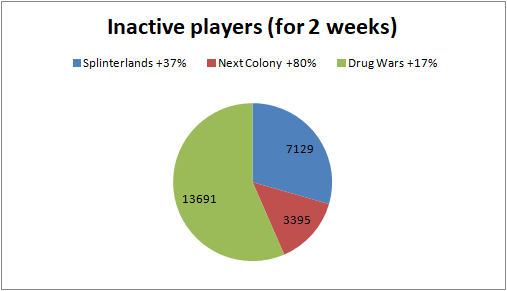 Figure 3
Criteria: "Inactive" player is the player who hasn't transacted for more than 14 days. Most of Nextcolony players have turned inactive.
Analysis
Taking arbitrary 2 weeks as inactive criteria is not helpful. Different games have different dynamics. Let's take Player Base and subtract Inactive Players: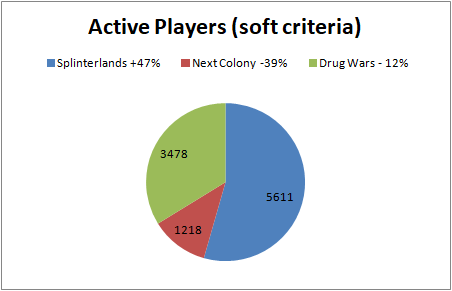 Figure 4
This chart shows also less active players, without hard caps. Now we can see some nice data and in my opinion, this chart is a real activity and is the most important info. Splinterlands gained the most and Nextcolony lost the most.
Trends
To have a full image of the situation you may want to look at the trends.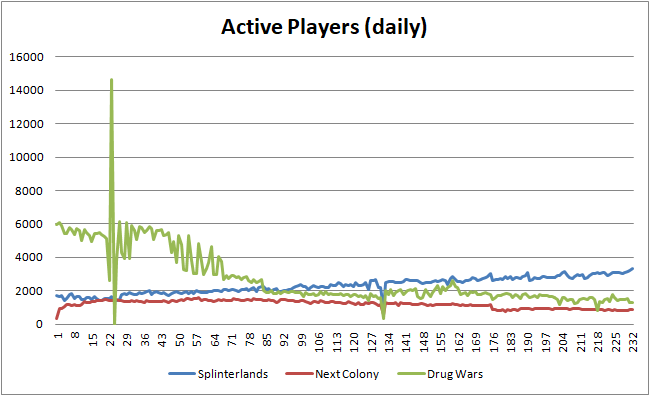 Figure 5
Showing only timespan when all 3 games were available to play: from 21.04.2019 to 11.12.2019.
Data source (own) and more interesting data to find:
Thanks for your attention and please leave the comment .