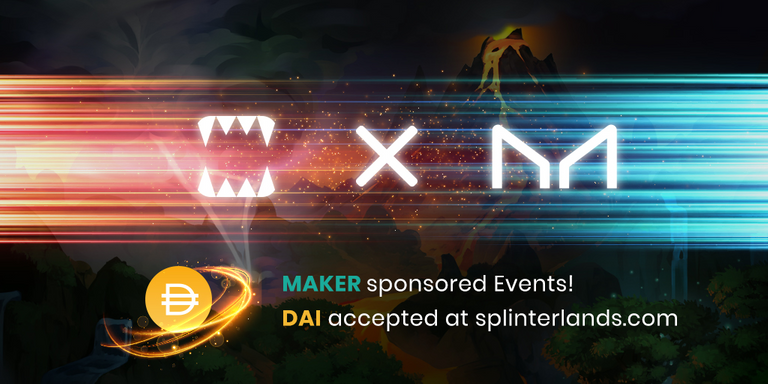 Splinterlands is pleased to announce a new partnership with MakerDAO through their Gaming Initiative. Splinterlands will accept DAI as a payment currency in the game and MakerDAO will provide tournament prizes for players to earn.
Both companies are excited to share this joint effort accross all social platforms. MakerDAO will earn an affiliate reward for all players brought into the game and that reward pool will go into MakerDAO tournaments on an ongoing basis.
For anyone looking to grow the game, expand tournament prizes, and celebrate the partnership they should join the game with this link:
https://splinterlands.com/?ref=sl-makerdao
The timing is perfect too as the final Splinterlands land presale is now live on the site and we welcome the MakerDAO community to purchase land at a 30% discount to our future full retail price.
Splinterlands
Splinterlands is the most popular blockchain game in the world. It's a trading card game where gamers can play anytime, trade anytime, and earn every win. The game has been played 40M times and it has held the number one spot on dappradar.com since it was introduced on the platform.
MakerDAO
MakerDAO is a decentralized organization dedicated to bringing financial stability and transparency to the world economy. Its purpose is to create an inclusive platform for economic empowerment and unlock access to the global financial marketplace for all.
MakerDAO enables the generation of DAI, the world's first unbiased currency and leading decentralized stablecoin. DAI mitigates volatility through an autonomous system of smart contracts called the Maker Protocol, as well as through decentralized community governance.

Stay tuned for more updates from the Splinterlands!
Website | Blog | Discord | Telegram | Shop