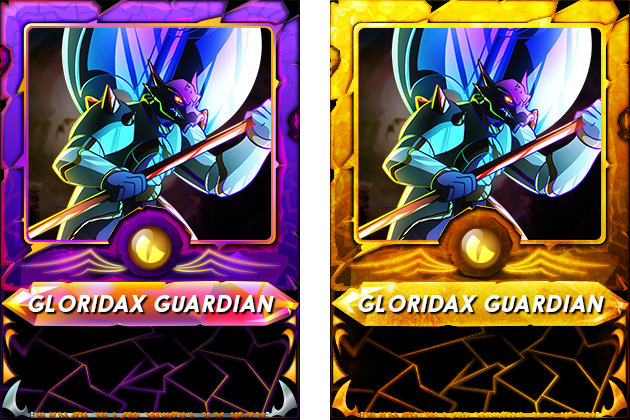 The Splinterlands team is excited to unveil the second Untamed airdrop card - the Legendary Gloridax Guardian! The Guardians are chosen from the largest and most ruthless of the Gloridax Armed Forces. They are charged with protecting the enormous wealth and powerful magical artifacts in Draykh Nahka (commonly known as the Dragon Splinter). They are extremely formidable foes and you will definitely want them on your side of the battlefield!
Last Chance to Participate in the Second Airdrop
After the unbelievable turnout in the recent crowdfunding campaign, we've sold well over 200,000 Untamed booster packs, so the second airdrop should already be sold out. However, we wanted to provide one last chance to get in on it, so we won't be reserving the rest of the Untamed booster packs from the crowdfund until they are ready to be sent out which should be in the next 1 - 2 weeks.
As it stands, there are about 24,000 packs available to purchase that will be eligible for the Gloridax Guardian airdrop, in addition to the 12 remaining airdrops after that. These packs will be available until the digital crowdfund rewards are ready to send out, at which point the additional packs will be reserved which will put us well into the 3rd airdrop.
Of course, all packs received as rewards from the crowdfunding campaign are eligible for ALL of the 14 Untamed airdrops, including the Diamond Dragon and the Gloridax Guardian, so if you participated in the crowdfund then you're all set!

Stay tuned for more updates from the Splinterlands!
Website | Blog | Discord | Telegram | Shop