😆 Lets Talk About Splintertalk / SPT & Use Cases!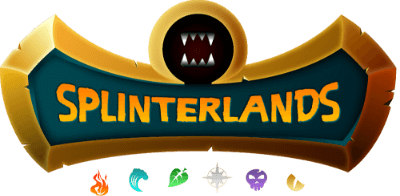 What Is SplinterTalk?
Splintertalk is the social platform that was BUILT for Splinterlands players. For sharing Splinterlands content, you can earn rewards in the form of SPT tokens on the Splintertalk site!
SPT tokens can be traded or staked to increase Splintertalk Power, which allows you to reward the content of others!
What Is Splinterlands?
Splinterlands is a digital card game created by @aggroed and @yabapmatt. Tournaments in which giveaway prizes that have monetary value are being played daily. You can start playing or investing in Splinterlands today by clicking here.

The official Splintertalk site can be found at https://www.splintertalk.io/. As mentioned above, creating and curating content on the Splintertalk site will earn you cryptocurrency called SPT.
SPT can be sold, bought or traded on the Hive-Engine exchange. The image below will show the current SPT Market Depth on the Hive-Engine exchange.
The SPT tokens 24 hour volume is $18.06. The asking price is 0.0056 HIVE with the Bid price coming in at 0.004 HIVE.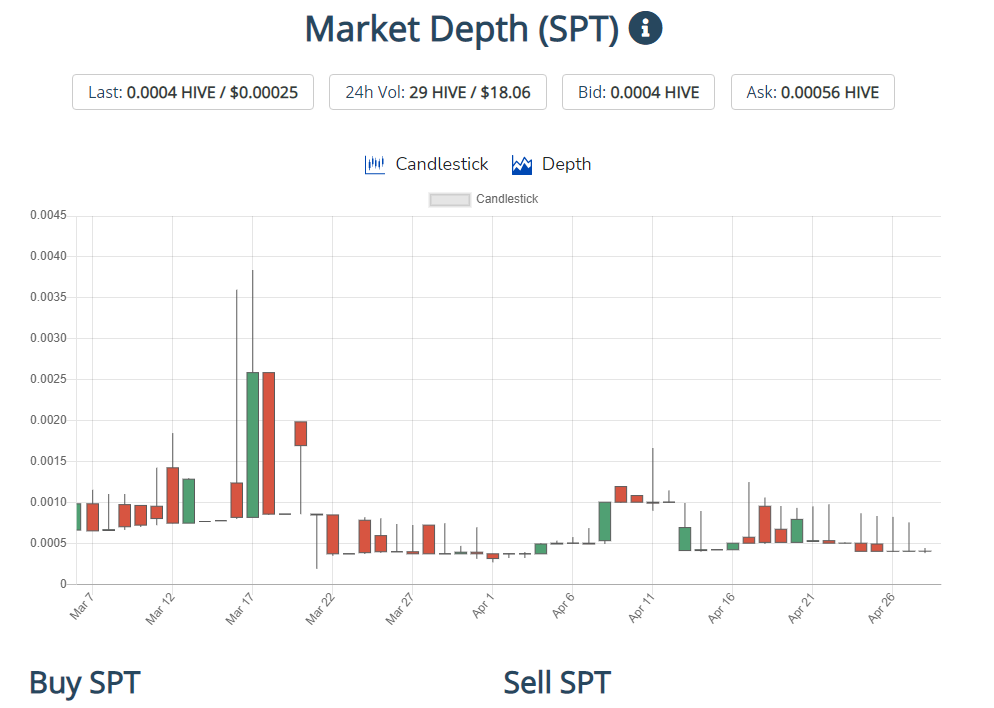 What Is Hive-Engine?
Hive Engine is a platform that empowers communities, project owners, fundraisers, developers and businesses to quickly and easily build on the Hive blockchain like never before.
$18.06 isn't allot of volume witihin 24 hours but SPT is still one of the more popular HIVE communities in which has its own site. The driving force of this token isn't just the tokens value or sales volume but the community itself.
If you were to browse topics on the HIVE Network it would be nearly impossible to not come across a topic that mentions Splinterlands. The majority of Splinterland posts that you will come accross on the HIVE Network are tagged SPT or come directly from the site Splintertalk and will earn the SPT token along with any HIVE rewards the topic generates.
Why Such A Low 24 Hour Volume/Price?
The answer to this one is simple. The only use case SPT has is its community in which use it to "Power Up" to give rewards to other Splintertalk users via upvoting content.
How Do We Add Value To SPT
(1) Give it a use case
(2) Give it a use case
(3) Did I mention, Give it a use case
It's a shame to see a cryptocurrency in which is named after the most popular game on the HIVE network having no use case within that game (Splinterlands). The SPT token has a devoted following who are patiently waiting for such a use case.
Of course is easy to say, "Give us a use case for SPT" so I'm not going to do just that. Instead I will give a couple examples on some use cases I think can be implemented.
First A Baby Step
Splinterlands Skins is one of Splinterlands most kept secrets. Not because they are hard to find, not because they cost too much but because they never get talked about enough. Currently they can only be purchased using DEC.
Lets add SPT as a second payment option for Skins. This gives SPT a small in game use case and will put the Splinterlands community behind advertising the Splinterlands Skins. A percentage of the SPT tokens earned from sales can possibly be used to help supplement the current Splinterland tournaments being played (More Tournaments --- Yes Please!).
SPT Cards
I think a whole SPT card set might be too much to ask for and likely not to happen but why not introduce some one off SPT promo cards? One card for each rarity would be enough. The only way to purchase these directly should be with SPT tokens.
What about those who have no interest in creating content for SPT tokens?? Simple, they can buy/trade for some SPT on the Hive-Engine exchange just like all us crypto maniacs do when we want a specific token/coin. Players will also be able to buy/trade using other currencies from the players who have already purchaed the cards using SPT.
Have the rarities and cards displayed on the official site with their SPT prices and a mention of Splintertalk. This will drive even more people to the Splintertalk site in which will advertise the game that is Splinterlands (I don't see a down side here).
None Use Case Suggestion
SPT holders have been discussing a use case for SPT since the SPT tokens creation but what else can be done to help this token succeed?
As first glance (to me) it looks like too much SPT is given out daily and too much is given out per topic. The less of something on the market the more valuable it usually is. There's many topics nearing 10,000 SPT of rewards, thats a ton of SPT tokens. I wouldn't suggest cutting back right away but it might be a good idea to do so before a use case is introduced.
Do you have a suggestions for a use case for SPT?? Lets hear your thoughts on the SPT token below in the comment section!
---
---