Would you like to play one of these valuable gold foil cards for the entire length of the next Steemmonsters/Splinterlands season? You can. Join now and try your luck!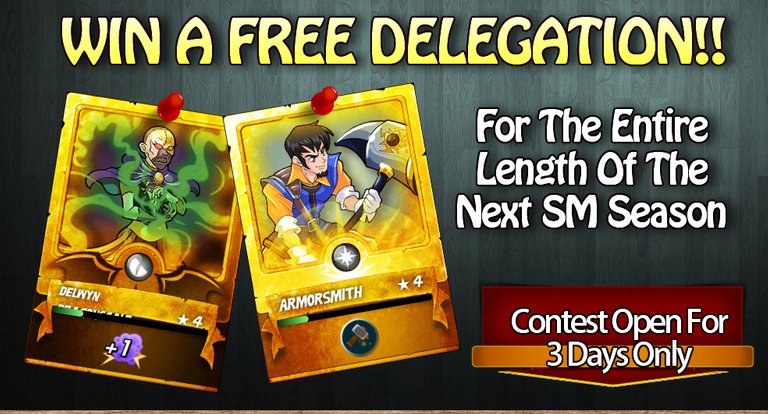 Source 1 - Source 2
DEC
Since the introduction of Dark Energy Crystals, the rental market is busier than ever.
After all, everybody wants to earn as much DEC as possible.
There are three ways you can increase the amount of DEC you earn in every battle:
win streaks
playing promo cards
playing gold foil cards
Playing golf foil promo cards is like killing two birds with one stone.
If you want to skyrocket your DEC earnings, this is the opportunity you have been waiting for.

The Delegation
I will be delegating 2 gold foil promo cards to 2 lucky winners.
Delwyn Dragonscale, the magic dragon summoner
Armorsmith, the powerful shield healer of the Life team
I will keep the delegation in place for the entire next season.
Attention: the next season will start in 3 days.I will close this contest when the current season ends - this means you have only 3 days to enter!

How To Join
To be eligible to win the delegation of one of these cards, all you need to do is leave a comment below.
In this comment you need to
tell me which card you would prefer


tag a fellow Steemmonsters player.
💡 NO UPVOTE, NO RESTEEM, NO FOLLOW REQUIRED 💡
Leaving a comment with the required elements will count towards a valid entry.
However, if you want to increase your chances on winning, you can earn extra entries by upvoting (+1) and/or resteeming (+1) this post. (Please note this is NOT required to be eligible to win.)

Selecting The Winners
The winners will be selected when this season ends, in a little more than 3 days from now.
(Actually, it will be about 3 am here, so there's a good chance I can only announce the winners a couple of hours after the season has ended.)
The winners will be selected using the Steem Random Winner Picker.
I will run it twice - once for each card.
So please don't forget to let me know which card you'd prefer - I don't want you to end up with a card you don't need/want.
The winners will be announced in a post, and the cards will be delegated for the length of the entire next season.

Source

Steemmonsters Tips & Info
[VIDEO] Steemmonsters 101
- A Steemmonsters introduction video with links to the best beginners' tutorials.
Steemmonsters - Sneak & Snipe 101
- A post that explains how the Sneak and Snipe-abilities work.


SteemMonsters Tip: Leveling Up With Cards In Cooldown
A tutorial that shows you how to use the serial numbers of the Steemmonsters cards to make cards that are in cooldown playable again.*
Don't have a Steemmonsters account yet?
Create one by clicking the banner below:
Source

DICLAIMER: This post contains affiliate links

Graphic created with The Logo Creator Software
Subscribe To RSS Feed | Subscribe To Newsletter