The end of this @steemmonsters season couldn't have been timed any worse. I had 8 hours to make up for the 4 days I hadn't been able to play. What a race it was!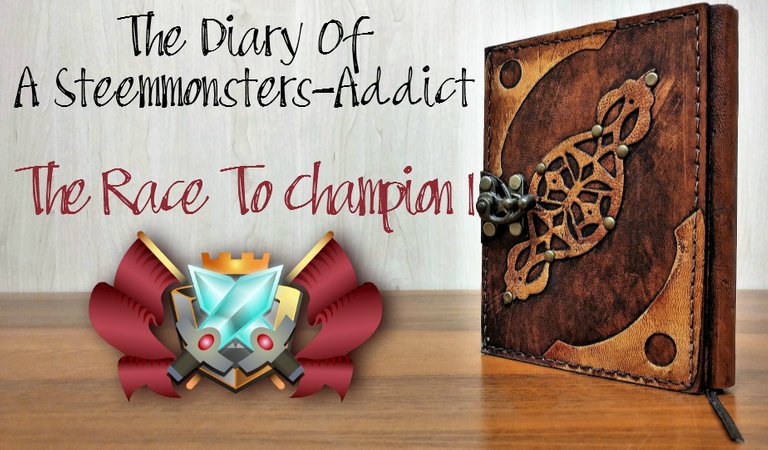 Source 1 - Source 2
Unforeseen
I had an amazing weekend. I can't even remember the last time I had the luxury to party with a truckload of my fantastic friends. We left home to attend the official wedding ceremony on Friday morning, and then partied for 3 days in a row. It was so much fun that I didn't even care about the crappy music.
However, I didn't forget about Steemmonsters and the ending season. I know I always need a little 'me'-time on such weekends, away from everyone. So I was all equipped: I had a charged phone and 2 extra batteries to recharge it when necessary, so I would be able to spend my 'me'-time in a fun way.
The one thing I did not anticipate on, was the fact that there was no internet connection available all weekend long.
It didn't really bother me at the time, but once we got home on Monday night and I checked my Steemmonsters account, I noticed I had 8 hours left to get my account from Champion 3 all the way up to Champion 1, or maybe even into the top 50.
Those are the moments you find out how addicted you are to the game, lol. The game was ON! 😎

T Minus 8 Hours
I open my account and notice the season will end in less than 8 hours. It's 1 am, and I suffer from lack of sleep already. I decide I will play for an hour or so to at least get into Champion 2. I have no idea why, but I take note of my stats.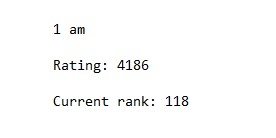 Before I start to play, I check into Steem-Engine.
...Bad idea... 😕
I find some new tokens and want to investigate. When I look up again, more than an hour has passed. Stubborn as I am, I refuse to surrender without a fight, and decide to start a battle.

T Minus 6.5 Hours
I'm a little rusty and make some stupid mistakes due to the fact that I'm tired and my phone screen seems smaller than usual. I manage to click the 'Submit Team'-button and delete my tank at the same time. Pretty often, I submit a team without re-ordering my monsters.... Silly, rookie mistakes.
Still, I manage to work my way up pretty fast. In spite of all the stupid things I do, I win about 75% of my battles. I make it into Champion 2.
No way I'm going to stop now!!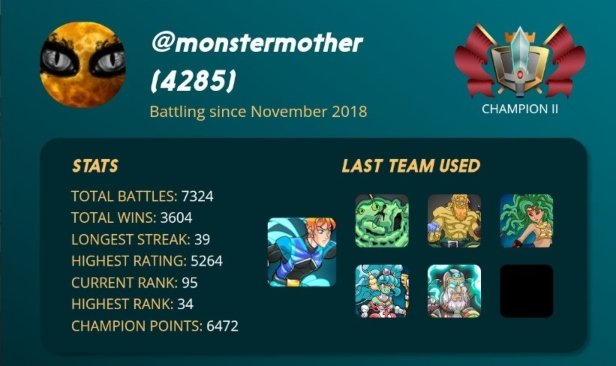 T Minus 6 Hours
Current ranking: 70.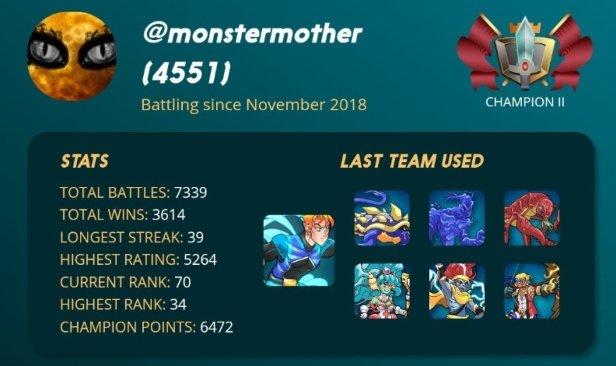 It is getting harder and harder. I give up on trying to get into the top 50, the only thing that matters at the moment is reaching Champion 1.
I'm at 4551, which means there is still a long way to go. My winning rate has dropped to 50%. I'm not surprised. Players like @palikari123, @jacekw, @masterthematrix, @marabara and @vaansteem are way better than me and out of my league. However, I keep fighting for every ranking point.
I don't even think about giving up.

T Minus 5 Hours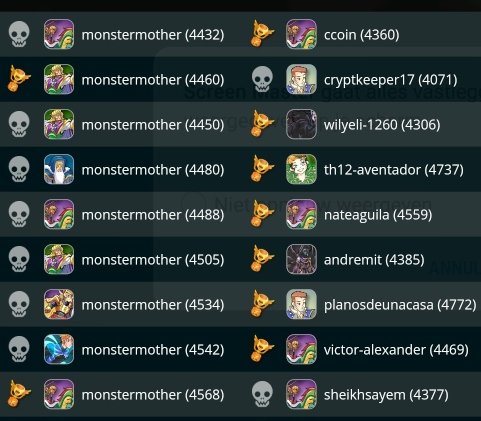 Current ranking: 79
This isn't going like planned. I just lost 6 battles in a row and dropped to 4432 again. (Thanks, @cryptkeeper17, for breaking the cycle.)
Whether I like it or not, I need a break. So does my phone - it is starting to act up. After more than 3 hours of non-stop playing, my eyes are tired. I can't even read my opponents' names anymore.
5 am... Pretty soon, everyone will be playing. Evening in the US, morning/noon in Asia... I don't stand a chance...
Still, I need that break. Rethink my strategies. Let the dragons out. That Gold Dragon is like a brick wall, and I get beaten by it too many times today.
I'm still too unfamiliar with most of the Seed-campaign dragons, but this is not the time to start experimenting.
Going over the list of battles, I'm surprised to see that I have been neglecting my beloved Prince Rennyn. Poor guy. For weeks, months even, he has been my absolute favorite card. But ever since I maxed the Mermaid Healer, I keep going for the handsome Valnamor or the badass Selenia Sky.
Maybe I should give Rennyn a little more attention...

T Minus 3 Hours
That break took longer than expected... I'd better get going... 270 ranking points in 3 hours. Let's see if I can do it...
(5 minutes later)
My fellow Team Possible members @faiyazmahmud and @mhossain crush me like pros. I need to focus and stop making rookie mistakes... The lack of sleep is taking its toll...

T Minus 2 Hours
About half an hour ago I decided to stop playing on my phone and take my laptop out again.
And then, all of a sudden this happens: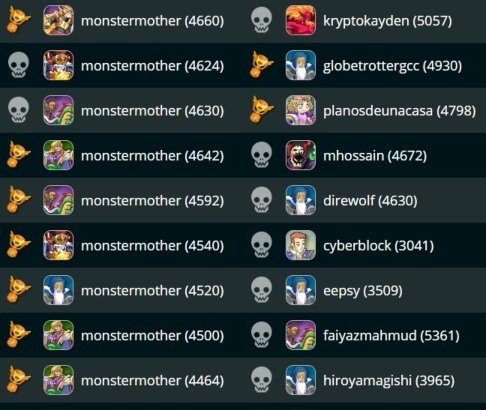 >
I return the favor and crush both my team mates, manage to win from @direwolf ánd defeat fellow TP member @kryptokayden... I'm on a roll 😎
I get up to 4694 - 6 points away from Champion 1 - but then get my ass kicked 4 times in a row and drop to 4660 again.
OMG... the frustration!!!!
It's a good thing that I gave up on getting into the top 50 hours ago, or I would not only be frustrated, but disappointed too, lol.

T Minus 1 Hour
I make it to Champion 1 with 68 minutes left on the timer. A very unexpected victory against one of those beautiful shiny teams of @endgegner brings me over that 4700 mark... Thank you, Gold Dragon!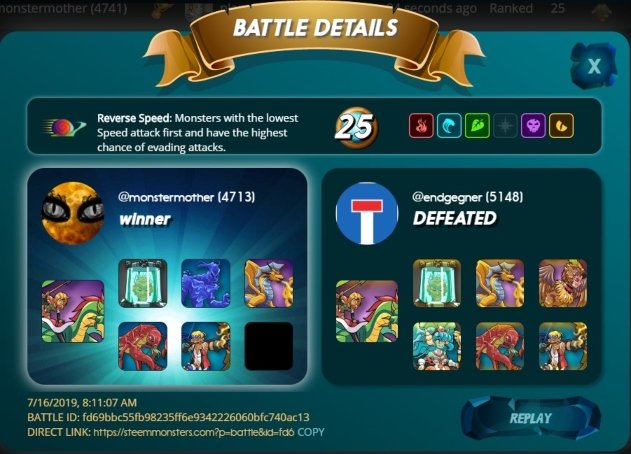 Mission accomplished! It's not top 50, but I'm satisfied.
I play a couple more matches, win 3, lose 3, and then I just stop playing. It would be stupid to drop to Champion 2 again...

Time For Rewards
While I'm waiting for the season to end, I bump into a post on SteemAce in which I see I have won one of the 4 booster packs in their daily giveaway.
Good to find that one, because the pack was sent to my own account, which I don't use to play Steemmonsters. Happy me again!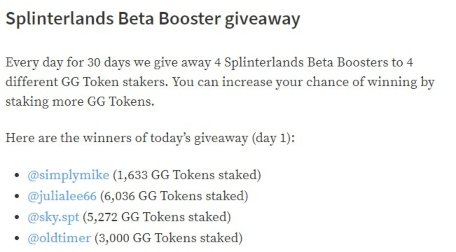 Source
By now I'm dead tired,... I have been up all night, to play a game... 👀
I can hardly believe it.
Fortunately, I get rewarded for my effort and I open the best reward card set I've ever had.
The Highlights: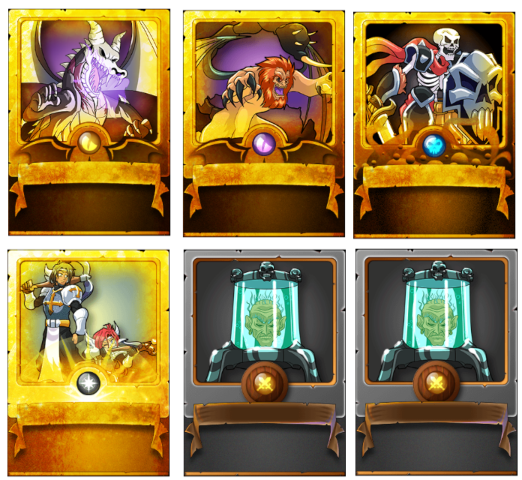 That's the stuff addictions are made of! 😉

Sleep
I don't think I will be playing Steemmonsters today; I hardly manage to get up this post. Sleep, that's what I need. Preferably all day and all night long.
I'm pretty sure I'll have sweet, golden dreams....

Steemmonsters Tips & Info
[VIDEO] Steemmonsters 101
- A Steemmonsters introduction video with links to the best beginners' tutorials.
Steemmonsters - Sneak & Snipe 101
- A post that explains how the Sneak and Snipe-abilities work.


SteemMonsters Tip: Leveling Up With Cards In Cooldown
A tutorial that shows you how to use the serial numbers of the Steemmonsters cards to make cards that are in cooldown playable again.*
Don't have a Steemmonsters account yet?
Create one by clicking the banner below:
Source

DISCLAIMER: This post contains affiliate links
Screenshots are taken from the Steemmonsters website

Graphic created with The Logo Creator Software
Subscribe To RSS Feed | Subscribe To Newsletter