Hey monster fans. There's always interest in us reaching new audiences and getting our cards into new places. That's not just coming from the players - that's what we want too. We've been quietly working on figuring out how to get Splinterlands cards to be tradeable on Ethereum as ERC-721 tokens. It's not as easy as you'd expect. Eth doesn't have simple things like account names, and all the smart contract language complicates a lot of what we do on Steem. So, it's a learning curve, a social network issue (finding the right people), and a time thing... All that said, we have a very tangible first piece done that we'd like to share!
We present the Goblin Shaman on Open Sea on the Rinkeby Testnet!!!
You can see the asset on their Rinkeby testnet site here: https://rinkeby.opensea.io/assets/0x17B6ff6c49d2EfE46129Ea5Bae5840f4be818B2F/1
Or, if clicking the link is too difficult, here's what it looks like: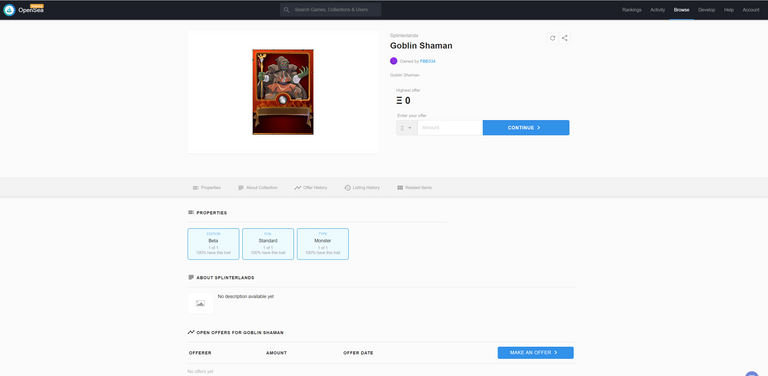 How It Will Work
When this is live, hopefully within the next couple of months, players will be able to "mint" their Splinterlands cards as ERC-721 tokens and hold them in their Ethereum wallet.
Cards that are minted on Ethereum will be "locked up" in the game, meaning they will not be able to be transferred, used in battles, delegated, or listed for sale through the game. Instead, they will be able to be transferred on Ethereum just like any other ERC-721 token and listed for sale on Ethereum-based exchanges like OpenSea.
The Ethereum tokens can then be sent back to our smart contract at any time at which point they will be unlocked in the game and transferred to the new owner's account (if there is a new owner).
Why Are We Doing This?
We don't honestly expect many people to actually transfer their cards over to Ethereum tokens, though it would be awesome if we're wrong about that. I mean, why would you list your cards on a platform that's relatively slow, has transaction fees, and not a whole lot of volume for NFTs while there is already a much faster, high volume exchange with thousands of dollars of cards traded every day?
Creating an ERC-721 contract for Splinterlands cards is more of a marketing and promotion tactic than anything else. Despite it's disadvantages, Ethereum is by far the top smart contracts blockchain platform, and a lot of people pay attention to it and stay on top of what's going on there. Our hope is that this move gets the game on the radars of a lot more people, from players to developers to investors.
Additionally, the more that people pay attention to the Splinterlands game, the more they are also likely to pay attention to Steem as a serious app development platform. We see this as a potential opportunity to show some of the folks in the much larger Ethereum community what the Steem platform is capable of!
For the Players
For the Players - hopefully we'll have a few new opponents for you to battle.
For the HODLERs - hopefully we'll have a few new whales competing for your cards on the market.
For the Traders - hopefully liquidity improves as cards can be traded on more places for more tokens.
For the Investors - hopefully this drives sales of UNTAMED and helps ensure that we have the resources to continue to grow this game far out into the future.
Lots in here for everyone. Should be fun.