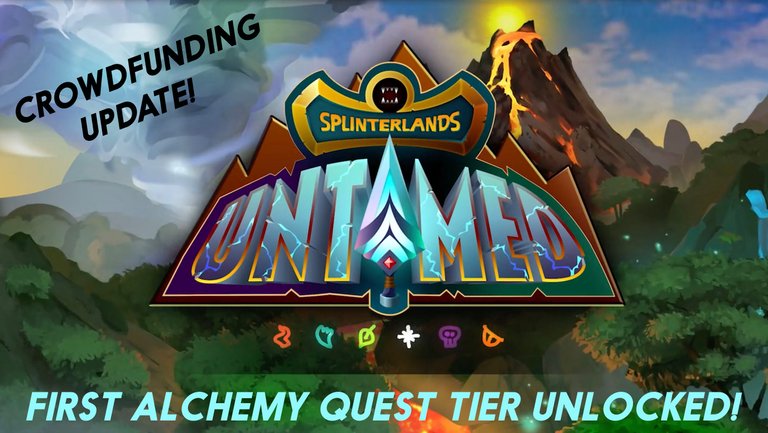 We are extremely excited to share that we have received four purchases of the $10,000 crowdfund package via private cryptocurrency transactions. This is great for everyone involved in the campaign because it gets us a lot closer to unlocking additional stretch goals!
Between the Kickstarter campaign, Fundition, and other cryptocurrency contributions, the total amount raised is currently just over $179,000 with 257 backers!

First Alchemy Quest Tier Unlocked!
We are now over both the dollar and backer amounts to unlock the first tier of the Alchemy Quest, which means everyone contributing at least $45 will receive 1 Brilliant Legendary Potion charge for each dollar spent, with increasing bonus amounts for pledges of $200 or more!
But don't forget, this quest has 2 tiers! To unlock the Brilliant Alchemy Potion part we still have some work to do. The second tier of the quest will be unlocked at $200,000 contributed and 300 backers.
That means between now and the end of the campaign on November 7th, we need to raise approximately $21,000 and get an additional 43 people involved, and we can't do it without your help!

Time to Recruit
If you've pledged $1,000 the Brilliant Alchemy Potions you'll receive if we unlock tier 2 of the quest will be worth upwards of $60. If you've pledged over $5,000 then the potions are worth upwards of $350!
We hope that provides some decent motivation to go out and recruit a few of your friends or even random people off the street to try out the game and get involved in the crowdfund. Remember to have them sign up with your referral link as well to earn 5% of everything they spend in the game too!

The Full Deal
We thought it would be good to spell out exactly what a $1,000+ contribution will get you, because you won't get another chance like this and we don't want to hear anyone complain that they didn't know what was available.
$1,000+ Contribution Rewards
Base Rewards
A starter set
A tee shirt
A Splinterlands sticker set
A beautiful, 200-page hardcover campaign guidebook
A set of physically printed game cards
A set of physically printed foil game cards
An in-game, transferable title: "The Untamed"
500 Untamed Booster packs (eligible for all 14 upcoming Untamed airdrops)
Unlocked Quest Rewards
A max level standard foil Exclusive Legendary Chain Golem card
A max level gold foil Exclusive Legendary Chain Golem card
10 additional Splinterlands stickers
71 additional physically printed standard and foil game cards
A set of physically printed Alpha game cards
1,200 Brilliant Legendary Potion charges
Almost Unlocked
1,200 Brilliant Alchemy Potion charges
That's quite a lot of stuff. This is literally the best deal we'll offer for a very long time, if not ever. Are you really going to miss this?

Good Things are Happening
The fact that you own all of your in-game assets means that we're all in this together. The funds raised through pack sales and from the crowdfunding campaign all go towards growing and improving the product - including new feature development, marketing, larger tournament prizes, mobile app development, and more. You're not going to want to miss it!
Where can you get in on the deal?
Kickstarter
Fundition
or contact us in discord for participation of $5000 or more.

Stay tuned for more updates from the Splinterlands!
Website | Blog | Discord | Telegram | Shop