Ever wonder what the rest of the world is up to on the internet?
Let me show you.....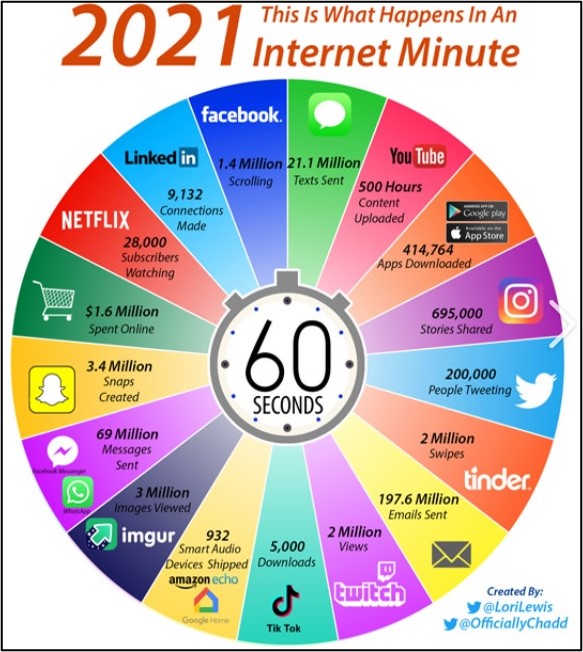 I love a good infographic. They can capture so much data with one visual punch and when tastefully done, without cramming too much data in and using the right colours, they can offer great insights into an industry or anything really. The internet minute infographic is one that I search for each year, as I find it really interesting to see what the internet population of 4.88 billion people collectively get up to online at a Macro level. Ok, so sometimes writing million, billion or trillion can remove the magnitude of a number, so here is 4.88 billion written down 4,800,000,000.
Another interesting part of this infographic are the apps that have newly entered, such as TicTok this year and also apps that I haven't heard of before like Imgur.
So let's sift through some of the data here, since you've clicked onto this page, I'm going to say that one minute has passed, as you likely spent some time looking at some of the numbers on the wheel. In that one minute:
$1,600,000 has been spent on line.
695,000 stories were shared on Instagram.
197,600,000 emails were sent.
2,000,000 people have swiped left or right on Tinder.
200,000 have tweeted.
500 hours of Youtube content has been uploaded.
69,000,000 Whats App and Messenger messages were sent.
9132 new connections were made on LinkedIn.
21,000,000 text messages were sent.
414,764 apps were downloaded from the App store and Play store.
2,000,000 videos were viewed on Twitch.
What's hot, what's not?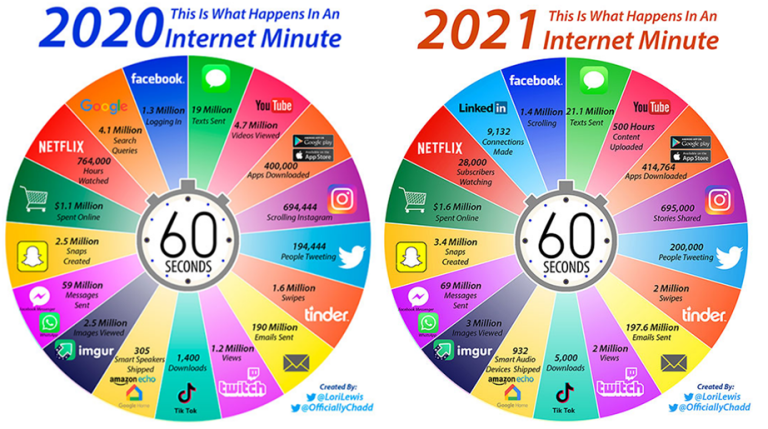 Something else that I like to do is to see what changes were seen between last year and this year. Here are just some of the noticeable changes:
Online purchases jumped from $1.1 million to $1.6 million.
Texts per minute jumped from 19 million to 21.1 million.
Messages sent on Messenger and WhatsApp went from **59 million to 69 million.
Tinder swipes are on the up, going from 1.6 million to 2 million.
Busy bees working from home mean that emails sent jumper from 190 million to 197.6 million.
Snaps created on Snapchat saw a increase of almost on million, going from 2.5 million to 3.4 million.
Twitch views per minute have risen from 1.2 million to 2 million.
Tiktok downloads per minute saw the biggest increase going from 1400 to 5,000 per minute.
Some more facts and figures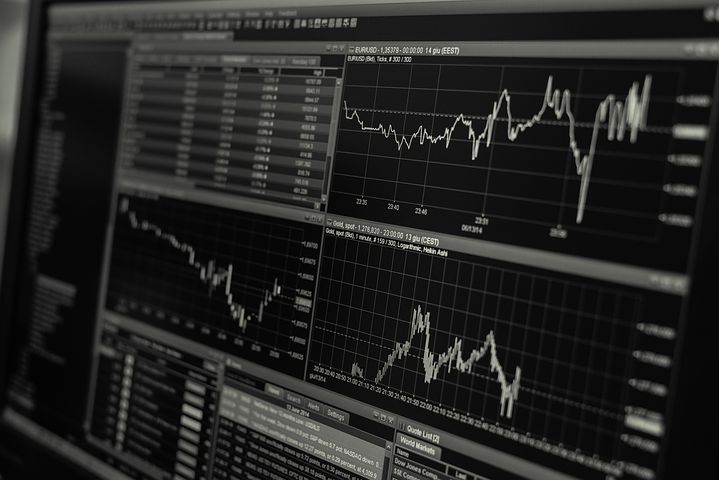 Global population 7.87 Billion people
Global internet users Oct 2021 – 4.88 Billion (62%)
Unique Mobile phone users - 5.27 Billion (66.9%)
Average time spent on Internet devices daily 6 hours, 59 minutes
Revenue per minute Amazon 2021 - $837,330
Revenue per minute Apple 2021 - $691,235
Revenue per minute Google 2021 - $426,806
Revenue per minute Microsoft 2021 - $321,805
Revenue per minute Facebook 2021 - $201,936
Revenue per minute Tesla 2021 - $80,162
Revenue per minute Netflix 2021 $55,270
Data is the new gold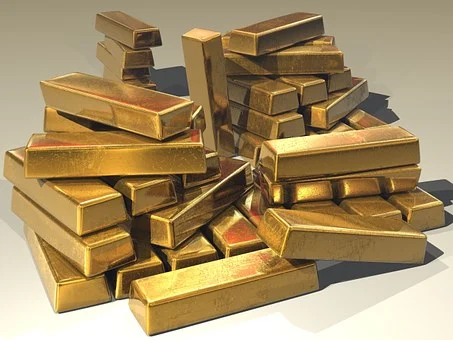 I hear this said a lot recently about Data - "Data is the new gold" While I agree that it is indeed gold, I don't think it is new anymore. If you don't know that your data is valuable commodity at this stage, then you have been living under a rock. Those most likely to be reading this will be well aware of this, as fellow hivers who are already earning from their content here on Hive. Back on the web 2.0 hyper scaler systems though the funnel of wealth goes in one direction only, upwards towards the Facebooks, Googles and Tik Toks of this world. Here on Hive and other web 3.0 systems, the monetary gain is shared across the eco system, with content creators and even content consumers sharing a piece of the pie. Games like Splinterlands are paving the way here and now large gaming companies have woken up and are currently developing games to launch into the web 3.0 world.
This model will no longer be an outlier as time goes by and web 3.0 will slowly start taking over from web 2.0 and you can expect the hyper scalers like Facebook and Google to figure out a way to continue to get as much of the pie as possible, by introducing their own blockchain systems and potentially tokenising certain parts of their models.
That's it for today, stay safe
The images used are not my own and the were found on Pixabay (link below) and the Infographic was created by twitter user @lorilewis and @officiallychadd
Peace Out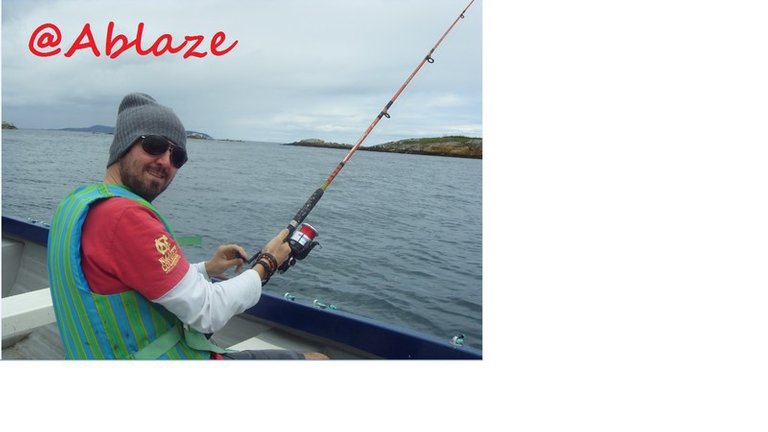 ---
---