[ENG/ITA] Top 3, but It's a Missed Opportunity / Nella Top 3, ma è Un'Occasione Mancata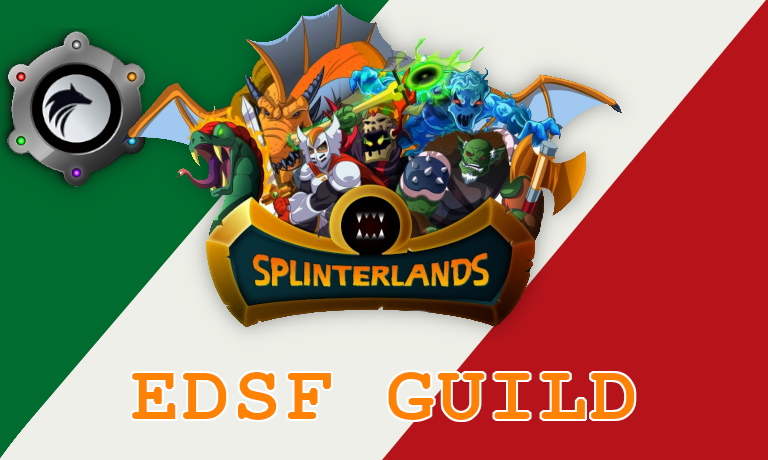 ---
La versione italiana

si trova sotto quella inglese

The italian version

is under the english one

---
Top 3, but It's a Missed Opportunity
After a long time we are back in third place, which as of today - If I recall right - is still our best placement in a Tier 2 brawl.
This is a great result, which follows the good fourth place of the previous week... and yet it leaves us a bit of bitterness in our mouths!
Third place, in fact, was achieved despite 13 games lost by forfeit, due to a pair of players who, due to outside commitments, were sadly unable to play their matches in time.
And since, in the end, we were only 4 wins away from first place, well, it's difficult not to think of this day as a missed opportunity.

Coming back, however, to what, by all means, is still a very good result, on the rewards side we got 1744 merits points and 19.825 staked SPS.
We then continue with the list of the brave who joined the brawl:
@lozio71, with 5 wins and 0 losses 🔥
@libertycrypto27, with 5 wins and 1 loss
@ilpobre, with 5 wins and 2 losses
And next:
@cryptomonica
@stefano.massari
@sweetunicorn
@arc7icwolf
@giuatt07
@garlet-68
@mad-runner
@road2horizon
@occhiblu
For a total of 38 wins and 25 losses.
Turning, to the analysis of the matches, let's go right away to analyze three wins achieved by the top three players.
click on the image to zoom or on the player's name to get to the battle on Splinterlands.com
---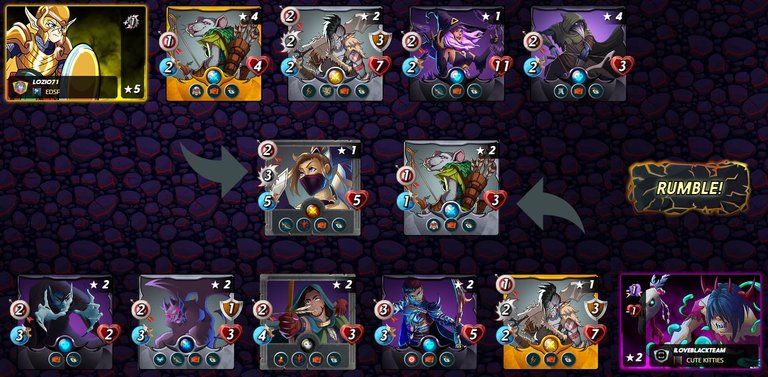 Brawl match by LoZio71 - @lozio71 confirms his excellent condition with another great performance, which adds up to those of the previous weeks: this time the Guild player delights us with 5 perfect wins, grabbing the first place in the internal ranking also thanks to this match, where he takes the best out of the equal opportunity ruleset to ravage the enemy lines.
---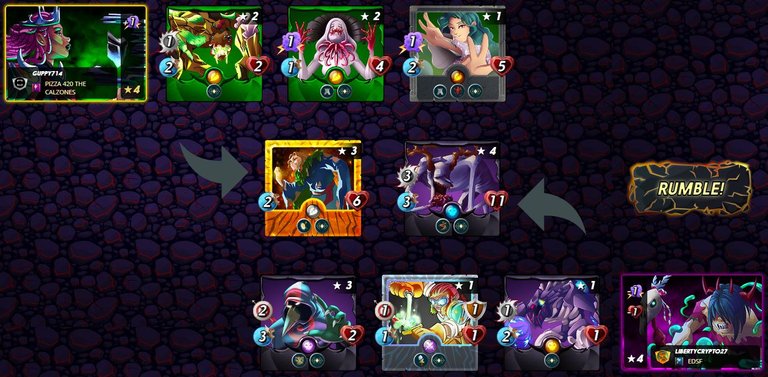 Brawl match by LibertyCrypto27 - the Co-Leader of the EDSF Guild surprises the opponent by proving himself, once again, to be a fine strategist, smashing the enemy team primarily through Weirding Warrior who, with his shatter ability, counteracts the enemy's protect abilities very effectively.
---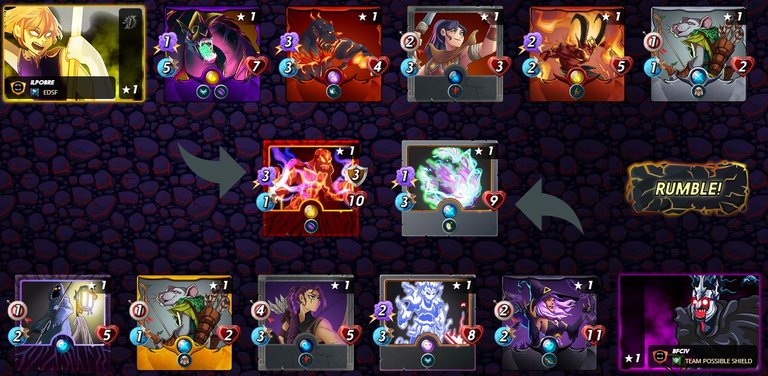 Brawl match by IlPobre - when @ilpobre deploys his teams into battle, it is very likely to see him emerge victorious and earn a place in the Guild's annals. Again, this time is no exception, and thanks to a heavy use of the void ability, his team manages to emerge victorious from the clash.

The summer break seems to have been good for us and we thus secure another positive result, although, with a bit more luck, it could have been even better!
One for all, all for one!
---
If you've read this far, thank you! If you want to leave an upvote, a reblog, a follow, a comment... well, any sign of life is really much appreciated!
And if you feel brave, you can also try following me on Twitter.
If you are not registered on Splinterlands ... well, you are still in time to do the right thing
And if you want to rent your cards automatically with a super-efficient and user-friendly bot, try the Rental Golem by Splex.GG!

---
Versione italiana

Italian version

---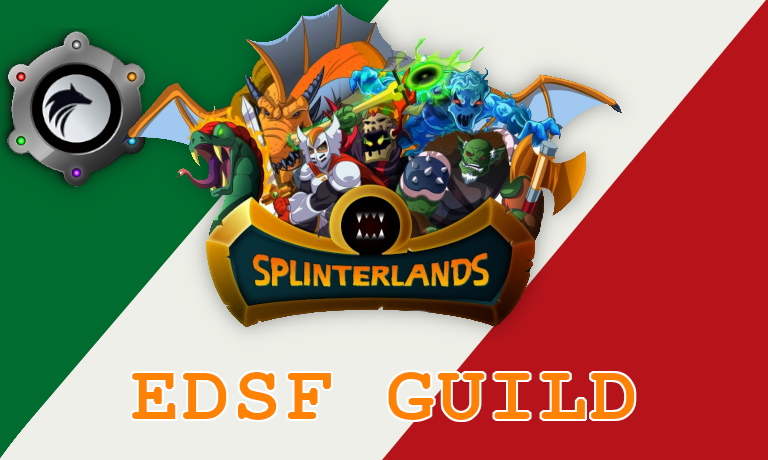 Nella Top 3, ma è Un'Occasione Mancata
Dopo parecchio tempo torniamo a conquistare il terzo posto, che ad oggi - se non ricordo male - è ancora il nostro miglior piazzamento in una brawl del Tier 2.
Si tratta di un grandissimo risultato, che segue al buon quarto posto della settimana precedente... eppure ci lascia un po' di amaro in bocca!
Il terzo posto, infatti, è stato raggiunto nonostante 13 partite perse a tavolino, a causa di un paio di giocatori che, per impegni esterni, non sono purtroppo riusciti a disputare i propri match in tempo.
E dato che, alla fine, ci siamo trovati a sole 4 vittorie dal primo posto, be', è difficile non pensare a questa giornata come ad una occasione mancata.

Tornando però a quello che, in ogni caso, rimane un ottimo risultato, lato rewards abbiamo ottenuto 1744 punti di merits e 19,825 SPS in stake.
Proseguiamo poi con l'elenco dei valorosi che hanno partecipato alla brawl:
@lozio71, con 5 vittorie e 0 sconfitte 🔥
@libertycrypto27, con 5 vittorie ed 1 sconfitta
@ilpobre, con 5 vittorie e 2 sconfitte
Ed a seguire:
@cryptomonica
@stefano.massari
@sweetunicorn
@arc7icwolf
@giuatt07
@garlet-68
@mad-runner
@road2horizon
@occhiblu
Per un totale di 38 vittorie e 25 sconfitte.
Passando, invece, all'analisi dei match, andiamo subito ad analizzare tre vittorie ottenute dai primi tre giocatori.
cliccare sull'immagine per ingrandirla o sul nome del giocatore per essere portati direttamente alla battaglia su Splinterlands.com
---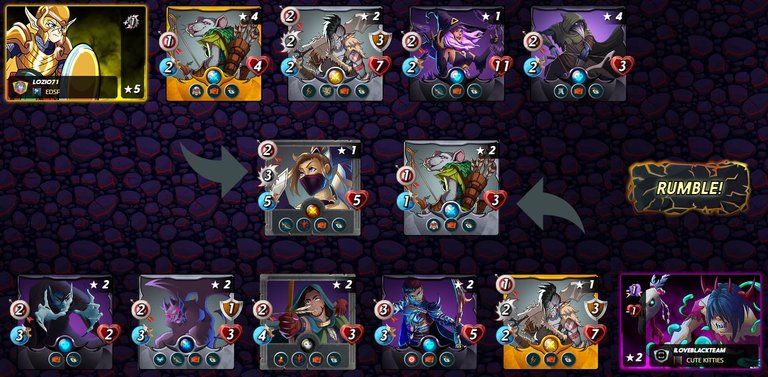 Partita brawl di LoZio71 - @lozio71 conferma la sua ottima condizione con un'altra grande prestazione, che si aggiunge a quelle delle precedenti settimane: stavolta il giocatore della Gilda ci delizia con 5 vittorie perfette, agguantando il primo posto nella classifica interna grazie anche a questa partita, dove sfrutta al meglio il ruleset equal opportunity per devastare le linee nemiche.
---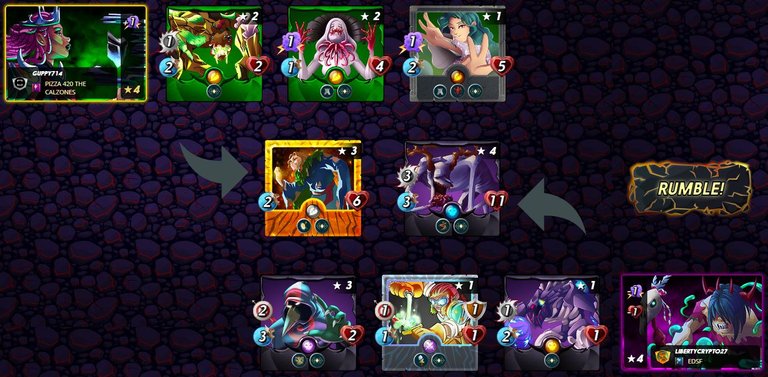 Partita brawl di LibertyCrypto27 - il Co-Leader della Gilda EDSF sorprende l'avversario dimostrandosi, ancora una volta, un fine stratega, distruggendo il team avversario soprattutto grazie a Weirding Warrior che, con la sua abilità shatter, contrasta efficacemente le abilità protect del nemico.
---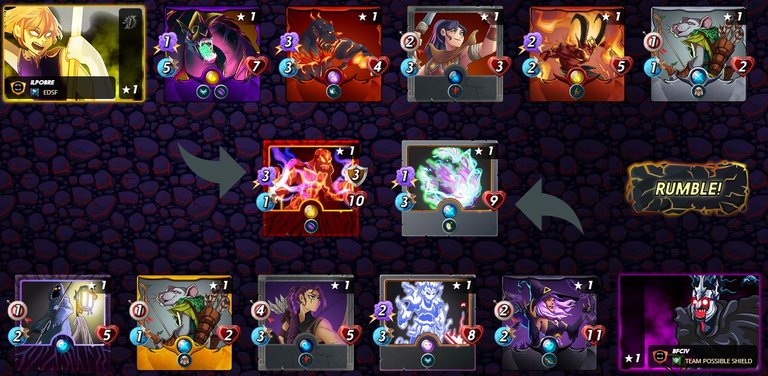 Partita brawl di IlPobre - quando @ilpobre schiera i propri team in battaglia è molto probabile vederlo emergere vincitore e conquistarsi un posto negli annali della Gilda: anche questa volta non fa eccezione e, grazie ad un abbondante uso dell'abilità void, il suo team riesce ad emergere vincitore dallo scontro.

La pausa estiva sembra averci fatto bene e mettiamo così in cassaforte un altro risultato positivo, per quanto, con un pizzico di fortuna in più, le cose potessero andare ancora meglio!
Uno per tutti, tutti per uno!
---
Se sei arrivato a leggere fin qui, grazie! Se hai voglia di lasciare un upvote, un reblog, un follow, un commento... be', un qualsiasi segnale di vita, in realtà, è molto apprezzato!
Se poi ti senti coraggioso, puoi provare a seguirmi anche su Twitter.
Se non sei registrato su Splinterlands... be', sei in tempo per rimediare.
E se vuoi rentare automaticamente le tue carte grazie ad un comodissimo e super-efficiente bot, prova il Rental Golem by Splex.GG!
---
---