Midweek Report. Local Splinterland Player Not Happy That He Only Got 756 Riftwatchers Packs.

"Darn, Blast, God Dam it" were the words on one local Splinterlands player after the new Chaos Legion Expansion Launch presale sold out in 2 minutes.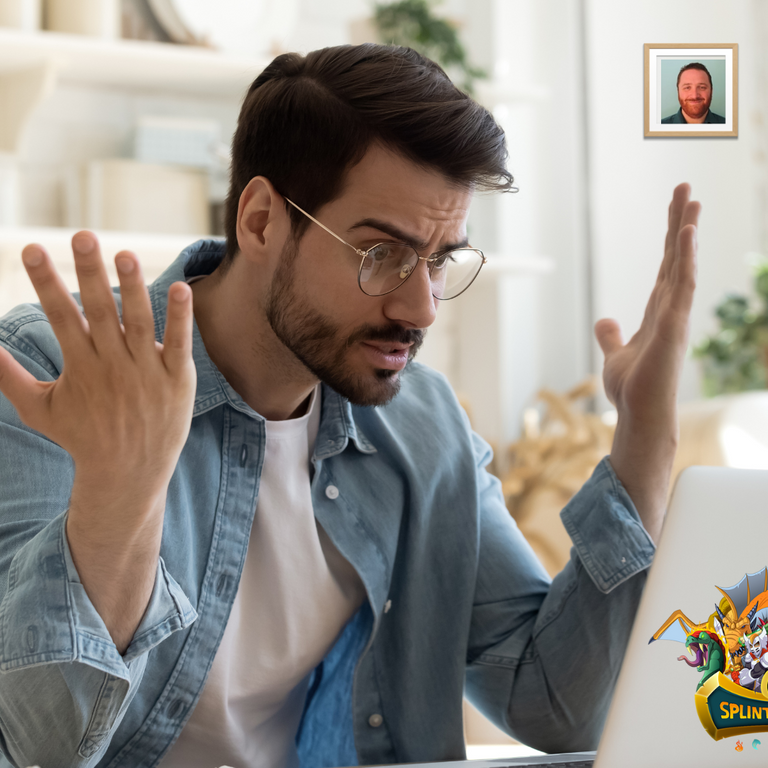 Source
" I only bloody managed to buy 500 packs initially," claims Gary from L.A.
"But I got in a block or two too late on the other 256 but thankfully the good people of Splinterlands honoured the purchase and included it in the presale"
"I needed 1500 packs to ensure my Riftwatcher cards would be maxed out."
"I'm livid."
"Why am I so unlucky???"
Gary who packs shelves at a local supermarket had dedicated one quarter of his SPS for the sale and most of his vouchers.
A millionaire on paper from his Collection Power alone without even talking about his gold foil alpha legendarys, the last thing on Gary's mind is to sell up.
"Riftwatcher packs are starting at $5 in SPS plus one voucher" said a Splinterlands source.
"There is discounts if you buy 100, 500 or 2000 packs so this is what some players do."
"Mage Garlord has done well to get the 756 packs," claims guildmaster Shelia.
"But I know he is not happy from his post on Hive. Gary goes into detail on all the land he owns including 2 regions, 10 tracts and 495 plots."
Gary's post went down well on Hive with the usual comments from the Splinterlands brigade.
"Wow you own quite alot of Splinterlands assets"
"Unlucky on getting only 756 packs man , I only got 1186 packs myself.I feel like shit."
"I hope the Splinterlands devs know what they are doing."
However there were some contrasting reports. We dug a bit deeper on these and sent our reporter into the field.
Our reporter spoke to some Hive Community members that don't have two liquid Hives to rub together.
He spoke to @wenky from Bangledeish who worked 3 hours overtime on top of his usual 14 hour shift to sew the helms of 2000 cardigans to be able to afford a 1 BCX Pelacor Mercenary. Drinking tea in his little tidy and cosey shack he was very hospitable and offered our reporter some tea.
"If someone purchased me 1 Riftwatcher pack, I would have a framed photo of them on my mantlepiece and pray for them every day. I would be happiest man on Earth." cries @wenky
Our Reporter then visited Alan in Bulgaria who lives with his pet owl in a run down tenement which can only be described as an absolute shithole. It made @wenky's house look like Buckingham palace.
"Gary tells us he has purchased 756 packs which is nice for him but this is a dream for me."
"I am currently trying to find shelter for myself and Ollie the Owl for the Winter."
"But he shits and pisses all over the fucking place so we can't find anywhere decent and warm".
"What about the smell?" asked our reporter.
"Oh Ollie the Owl has got used to it," replied Alan.
Meanwhile back in L.A , Gary is cleaning up with his Splinterlands Youtube streams and his card rentals. Friends prompt him to give up the supermarket job and cash in on some of his assets to look after his future. Maybe buy a property, go on holidays.
"I can't claims Gary. I have Riftwatchers, Land Expansion , Genesis League and Runi. I don't have the time. This is just the start. Onwards and upwards.
Both @wenky, Alan and his owl were given gold foil Pelacor Mercenaries as a gratuity for making of this report.
---
---