📚📝Diary of My Splinterlands Journey Week 23📝📚 - (also my 23rd 🎁🧧Giveaway 🧧🎁)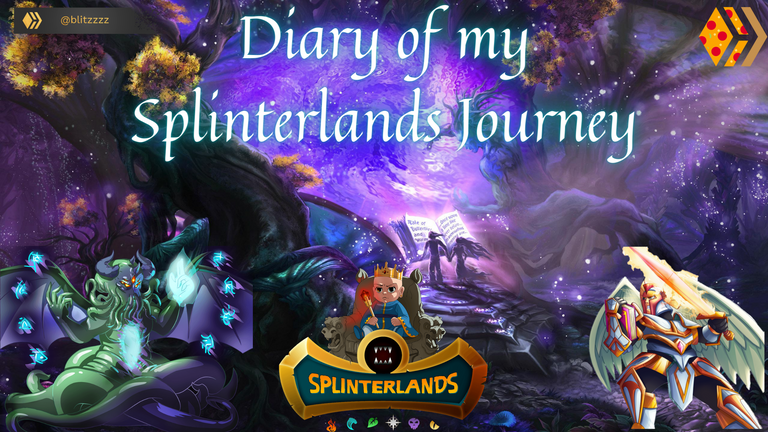 Good Day to all Splinterlands players! (and people of HIVE! 😜) A new week always means a new entry in my "weekly diary". (although the day of the week I post in varies due to how busy my schedule is 😅. These past weeks have been rather hectic for me 😭.)
This is now the 23rd consecutive week writing in my Diary (of sorts) detailing my Splinterlands Journey ever since I started this game. Of course, this also marks my 23rd weekly giveaway! 🎉🥳🎊
---
The End of Season Madness (as I like to call it) will be upon us in a matter of hours!!! 😱🤯😱🤯😱🤯
How's everyone doing with your climb up the leagues and your procurement of collection power? I hope it'll all goes well for everyone out there. ✨👍🏻✨
I've been so busy (as I said) that my attempts to rent for Collection Power is abysmal at the moment. I might have to resign myself to a much lower ranking than what my rating allows me to be at. 😭😭😭
But of course, the main prize that everyone is aiming for is the chance for that mythical Gold Foil Legendary in one of the reward chests (which is about 0.008% 🤣 - yes it's that low!). The best of luck to everyone. I've not had the luck to get a Gold Foil Legendary from any chests or packs so far since I started the game. Here's hoping that I finally get lucky too! 🤞🏻🍀🤞🏻🍀🤞🏻🍀
But enough about my End of Season wishes 😊. No week goes by in Splinterlands without some news event happening though. And here's my pick of some of the most interesting ones in my opinion. 📰📰📰

🤖🤖🤖Bots - ✅AYE or ❎NAY?🤖🤖🤖

Once again, one of the "HOT" topics in this week's Splinterlands Town Hall AMA is regarding bots. Here's what the Splinterlands team has to say about this.
---
Bots:
"You can't have a decentralized game and a centralized authority determing who can play, and who can't" - Aggroed
Team understands the current impacts of bots, and are working on things behind the scenes to counter them
This will be a constant work-in-progress

There isn't just one solution to get it all right
Team will continue to push out updates, monitor them, and determine what changes need to be made next
---
As we can see, the topic of bots is highly divisive amongst the community. While some feel that they're a necessary evil, others abhor them. 🔪💔🤖
As it is now, bots have to rent cards at the higher leagues, so they're contributing to the cashflow in the market just like any normal human player would. They also provide the matchups so that a human player will not be left stuck waiting for a game matchup during "off peak" hours. 💰⏳
However, we can also say that the main aim of bots is simply to extract money out from the system, no matter how fine the margins are. Especially when it comes to bot farms with hundreds or even thousands of accounts, even a small monetary amount earned by each bot account will quickly add up to a significant sum of money flowing out of the economy. 💸💸💸
It is great that the Splinterlands team has acknowledged the problem and are "working behind the scenes" (as they put it) to find the right balance. I think that we should, as a community, also continue giving constructive feedback regarding our thoughts and experiences regarding bots to the Splinterlands team. 📝📝📝

💰⚔️💰Brawl Economy Changes💰⚔️💰

Guild Brawls aren't something that the majority of players in Splinterlands take part in. At least, from my own anecdotal experience, it is mostly the more serious/invested players. As a new player or casual player, you probably wouldn't care too much about these changes. However, it is still rather important because the Guild (to me) is a major part of the game experience which allows players to form bonds in game that will serve to retain/grow the playerbase.
---
But back to the topic, these changes have the following goals:
Decrease the disparity in Brawl prizes between top performing guilds and lower performing guilds.
Better incentivize guilds to move up to higher Brawl Tiers.
---
Arena Rewards Multiplier will be changed.
The following table shows the changes in the multiplier effect of crowns the guild will receive after each brawl at the different levels of the Arena building.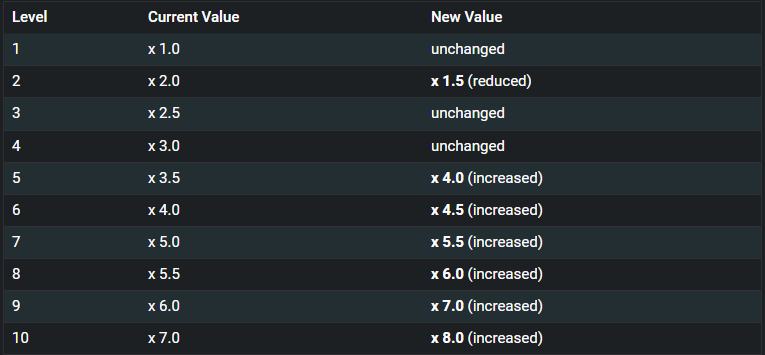 ---
There will be a reduction for the Top 3 Bonus Crown Amount
Right now, 30% of the total Crown pot for each Brawl gets allocated to the top 3 winning guilds (15% to 1st, 10% to 2nd, 5% to 3rd).
The remaining 70% is split among all guilds in the Brawl (including the top 3), proportionally according to each guild's pts score vs. the sum of all pts for the Brawl. This results in the top 3 getting far more Crowns than 4th+ finishers, so much so that it is often better to be top 3 in a lower Tier than to be 4th in a higher Tier.
This will result in a smoother Crown distribution among participating guilds, with less disparity between the top 3 and everyone else.

---
High level Guild Buildings will have their Crown cost increased.

---
According to the developers, the idea behind all these changes is such that an average guild will take LESS time to max out their buildings, whilst an elite guild will take a SLIGHTLY LONGER time to do so.
I do feel that these are positive changes to even the playing field somewhat. It's never good for any game to be too "top heavy", so to speak.
These changes will become effective on April 30 EDT, during the results phase of the current Brawl cycle, meaning the current brawls we're partaking in will be the last of them that are under the old system.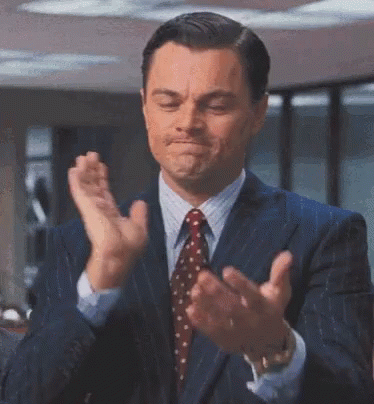 Weekly Chaos Legion Sales Tracker

And now, for an update on the number of Chaos Legion packs sold thus far. About 47k sold since last week. Still not too bad. That is still quite an amazing sales figure! 😄
Here's the current count (as of the moment I'm writing this post) of the number of packs sold, and we're 718k away from the 9 million mark! 😄 Which also means everyone has a chance to get in now and grab more packs for the remaining airdrops! 😜
My fingers are crossed! 🤞🏻🤞🏻🤞🏻 Hopefully I'll get some amazing luck for the next round! 🍀🍀🍀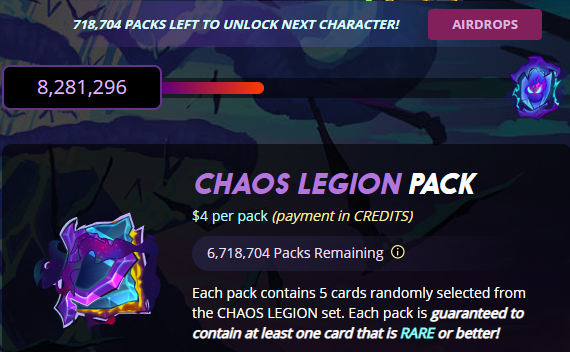 ✨🎁✨Weekly GIVEAWAY✨🎁✨

The next card for GIVEAWAY #23 is...
✨🎁✨Choose One of these Reward Cards✨🎁✨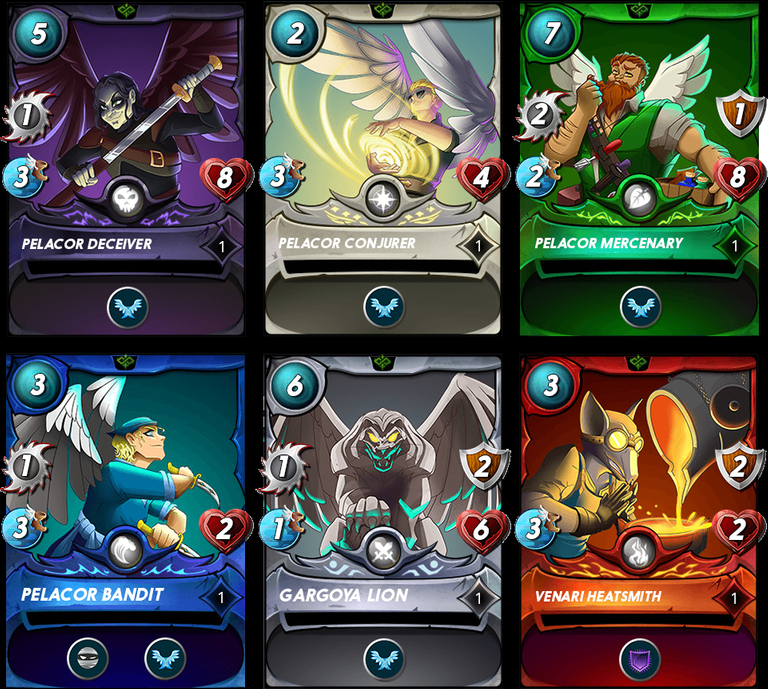 Instead of continually going through my list of common reward cards I can afford to give away each week, I've decided to let YOU CHOOSE WHICH YOU PREFER! 😜
This is probably more helpful, especially for new players who join my giveaways, as they can then finetune their decks with what they need (if they're lucky enough to win 😉🍀).
Of course, all these options are while stocks last, if I'm unable to offer you the card you've chosen should you win it, I will send you one of these cards in the list instead. They are all very useful for new players, and even veterans who level these cards up to high levels will find them pretty strong too! 👍💪

📖✨🎁Rules for Giveaway🎁✨📖
Giveaway #23 will last until the next week's post, with 1 random lucky winner being picked. All winners in my Giveaways will also receive a slice of 🍕PIZZA🍕 token.
All you need to do to participate is to COMMENT and leave your Splinterlands name if it is different from what you use to post.
Winners will have to acknowledge their win within 48 hours by leaving a comment in the winner announcement post. This is so I don't send cards to non human accounts. (I'd strongly recommend you to FOLLOW me so that you can keep yourself updated should you be one of the winners 😉)
In cases of non responses, prizes will be forfeited at my discretion.
I will also be VERY grateful for any UPVOTES, FOLLOWS & REBLOGS. 😍
🤑💰🍕Added Bonus of PIZZA Token🤑💰🍕
I will use my staked 🍕PIZZA🍕 to share a slice of 🍕PIZZA🍕 with anyone in the comments who also FOLLOWS & REBLOGS my post in the interests of spreading the Word of Pizza 🤣🤣🤣
Just let me know if you've done that so I can double check and ensure I set aside some Resource Credits to reply back on your comments 👍
Any fellow 🍕PIZZA🍕 connoisseurs who !PIZZA me will also receive 🍕PIZZA🍕 back from me. 😊

🥇🏆🎁WINNER of Giveaway #22🥇🏆🎁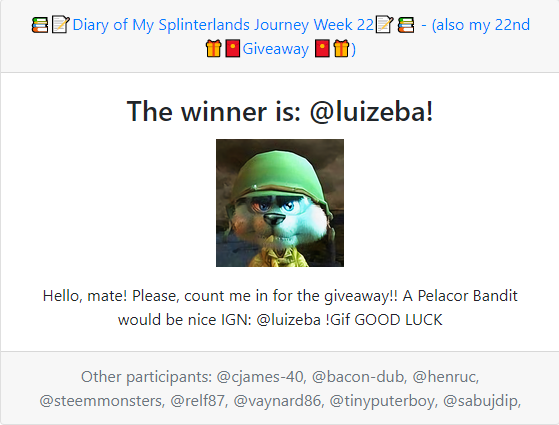 🎉🎉🎉@luizeba CONGRATULATIONS!🎉🎉🎉
Please send me a message on the comments section to acknowledge (and auto enroll you for the next giveaway 😂 unless you wish to opt out) before I send the card to you.
(P.S, I might take some time to reply and send out the cards sometimes 😅. So all winners, please be patient, as long as you reply and acknowledge, I WILL definitely get it done 😜.)

📣🍕SHOUTOUT to HivePizza📣🍕
The guys over at PIZZA DISCORD have been very helpful throughout my Splinterlands journey. I strongly recommend that you guys check it out if you haven't already done so.
PIZZA is an active gaming and creative arts crypto community on the HIVE blockchain. Popular games on HIVE like SPLINTERLANDS, RISING STAR, EXODE, HASHKINGS, WOO, BANG!DEFENSE have their own PIZZA communities here.

Don't miss out more events that are always being organised. Join the PIZZA DISCORD. Even if you aren't interested in the 💰🍕🎁GIVEAWAYS & AIRDROPS💰🍕🎁, there is a vibrant and friendly community there awaiting you.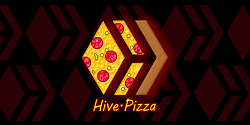 CLICK THIS LINK TO JOIN PIZZA DISCORD!!!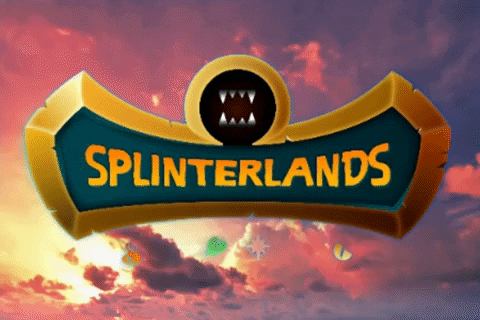 Here's to wishing everyone all the best for the upcoming week 🎉🍀.
To any new players who wish to explore the world of Splinterlands, do feel free to sign up with my REFERRAL LINK 😊.
---
---