Splinterlands SHARE YOUR BATTLE Weekly Challenge - ⚜️🪓🛡️CHAOS KNIGHT⚜️🪓🛡️ "So Tough you can't even Scratch me!"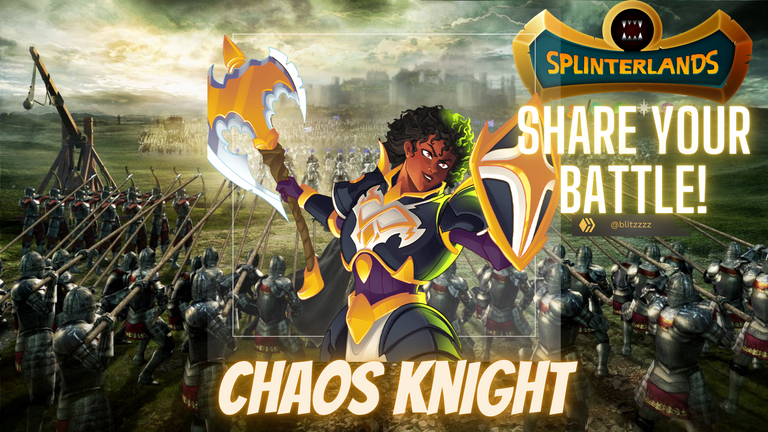 ---
A Knight in Shining Armor 😉. Well, probably not your typical Knight that'll swoop in to save the day, given that their lore states that they work for the Chaos Legion, leading the frontal charge of their armies. I give you the CHAOS KNIGHT!
(Instead of writing about the Tenyii Striker, I've changed my mind and decided to write about what we can consider it's Life counterpart, the Chaos Knight. I've had a battle this week which shows this card in all it's glory, and thus simply had to share it instead 😱)
Chaos Knights are most often found at the front line of the Chaos Legion's invading forces, although they are sometimes enlisted to defend garrisons, leadership, and other high-value assets. They are heavily armored and wield massive battle axes that are able to cut down even the mightiest of foes.
⚜️🪓🛡️From Splinterlands Lore on Chaos Knight⚜️🪓🛡️
---
The Chaos Knight is a Common card released during the Chaos Legion expansion. I'd daresay it's the mainstay of MANY Life decks. At level 1, it has 2 MELEE ATTACK and 2 SPEED, with 3 ARMOR and 4 HEALTH. He also has the SHIELD ability.
These stats alone make the Chaos Knight an extremely tough unit with decent attack and speed to boot. It will have no problem wading into the thick of battle and coming out intact with a few kills under it's belt.
The Chaos Knight's true strength lies in it's SHIELD ability, which allows it to hold the frontlines, tanking for the entire team! At 6 MANA cost, it is quite an expensive card to use, but all it's stats and abilities make it well worth the cost! I would consider this card to be VERY STRONG and is definitely a TOP TIER Tank card! 👍🏻👍🏻👍🏻
---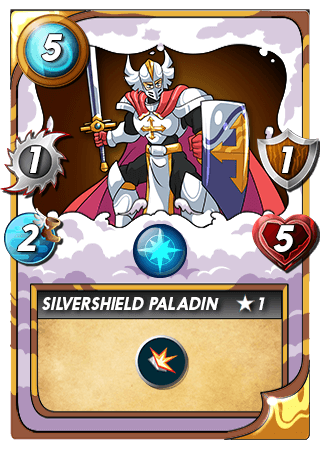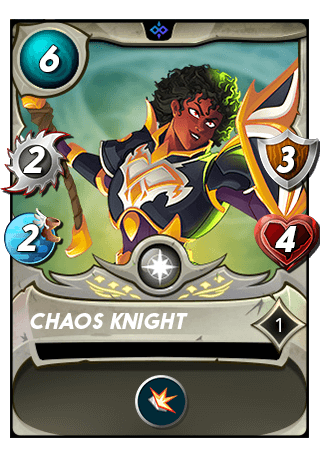 ---
The release of Chaos Legion gave the LIFE splinter another tank in the form of the Chaos Knight. His direct competitor, the Silvershield Paladin, whilst having less firepower and less health and armor, costs 1 less MANA. Both of them also have the shield ability. However, I would say that it's almost definitely obvious that the new Chaos Knight has displaced the Silvershield Paladin as the premier upper mid range cost Tank card. Superior all round stats at just 1 more mana makes the Chaos Knight the clear winner.
---
📊Card Stats by Level📊
---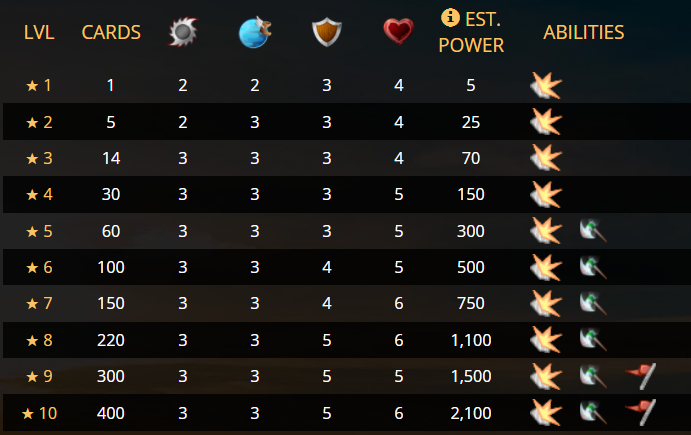 As we can see here, the main purpose of the Chaos Knight is to support the team with his Tanking ability. Stats wise, his attack and speed improves by a maximum of 1 at higher levels, while his health and armor gets quite a significant bump, thus increasing his ability to stay alive. At the maximum level, he gains the GIANTKILLER and INSPIRE abilities, giving him support abilities as well as the power to take down high costing cards on his own.
---
📝Important Rulesets Rundown📝
---
Here, I detail the list of combat rulesets that may affect the Chaos Knight.
---
🤔💭✅❌🤔💭❓❓❓
👍🏻 his attack will never miss
👍🏻 Gives itself more protection. Always good, especially for a Tank unit
👎🏻 Loses it's abilities
N.A
N.A
👎🏻 No flying, although with his armor, should last slightly longer.
👍🏻 with its hp on the lower side, this is almost definitely an increase in hp
👍🏻👎🏻 could go either way here. His hp of just 4 could make him one of the targets, meaning your opponents are just wasting their attacks, or his tank status could be bypassed entirely if the other units have lower hp.
👍🏻 Even summoning cost
👎🏻 Bypasses him to hit unprotected units
N.A
N.A
Situational. Could add more damage if the opponent's front unit is stunned
👍🏻 Improve it's own survivability
👎🏻 It's a melee unit
👎🏻 Costs 6 mana
👍🏻 It's a common card
👍🏻 Magic units cannot be used
👍🏻 Gives melee the positional attack advantage enjoyed by ranged/magic
👎🏻 Will die in 2 roundsp
👎🏻 Even summoning cost
👍🏻 It's slow speed makes it fast
👍🏻 It's a common
👍🏻 Doesn't really depend on Summoner abilities
👎🏻 Enrage always works out well for tank units
N.A
👍🏻 All it's abilities stay intact
👎🏻 Makes the backline vulnerable
N.A
N.A
👎🏻 loses a significant chunk of it's defensive ability
👎🏻 Only Melee units can be used
👍🏻 Magic attacks hit armor instead of bypassing it usually
---
---
⚔️🛡My Battle Showcase🛡⚔️
---
Let me present a battle I fought recently in which I used the Chaos Knight. My opponent used the FIRE splinter while I went for the LIFE splinter. 🔥👼🏻
My opponent actually had quite the advantage as his summoner was level 4 VS mine at level 3.
My opponent used a mainly physical damage team, just as I did.

Given the similarities, I had expected this to be a close fight.

Both of us fielded an anti melee tank, with several opportunity/sneak units in an attempt to take out each other's backline.
I would say that the Chaos Knight was DEFINITELY one of the MVPs of this match, having played a big role in turning the tide of battle. It's SHIELD ability allowed it to keep taking damage as it reliably held the frontlines for the entire fight. Not only that, it allowed the entire team to make it through the entire battle unscathed while taking ZERO damage on it's own too! 😱
Ths ensured that the other units could eventually wear down the opponent until victory was achieved! 🏆🏆🏆
---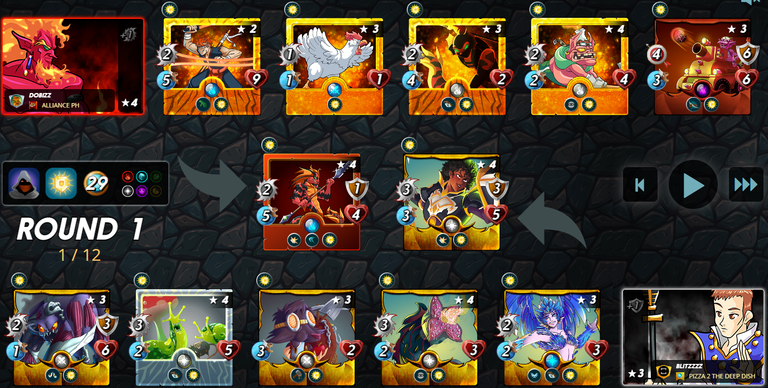 LINK TO FIGHT WITH MY CHAOS KNIGHT
---
👯‍♀️👯👯‍♂️LINEUP CHOICES👯‍♀️👯👯‍♂️
---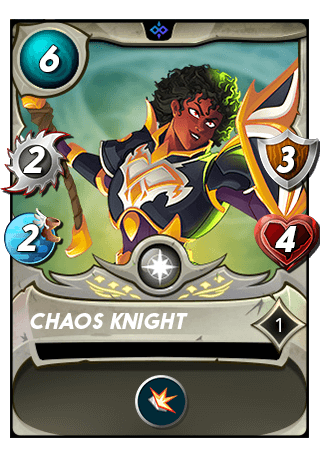 1st CARD SLOT
The Chaos Knight takes the role of the Main Tank in the first slot here. It will be the most important role since the backline will fall if the Main Tank goes.
---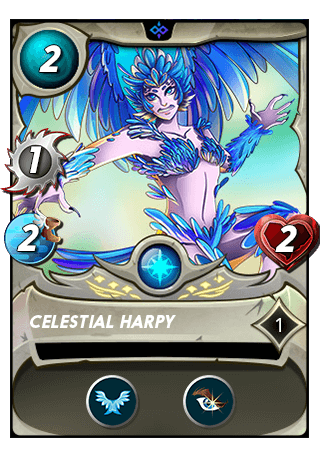 2nd CARD SLOT
The Celestial Harpy occupies slot 2. It's role is to hide behind the tank and dish out damage to take out the opponent's weakest units via it's Opportunity skill.
---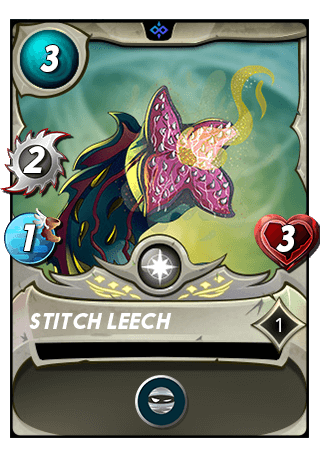 3rd CARD SLOT
The Stitch Leech occupies slot 3. It's role is also to hide safely behind the main tank and take out the opponent's backmost unit via it's Sneak ability.
---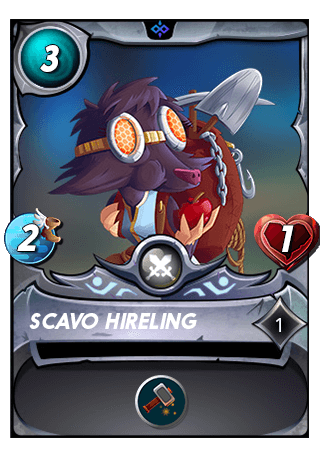 4th CARD SLOT
The Scavo Hireling sits safely protected in the middle here. It's role is to restore the armor of the Main Tank and Backline Tank.
---
(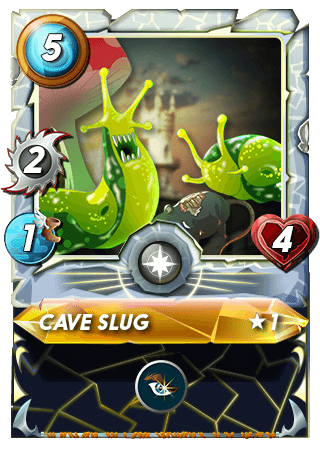 5th CARD SLOT
The Cave Slug occupies slot 5. Just as the units before it, it's job is to sit safely behind while it picks off the opponent's weakest units via Opportunity.
---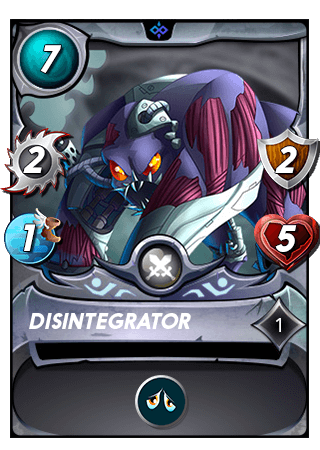 6th CARD SLOT
The Disintegrator occupies the last slot. It serves as a backline anti-sneak Tank and also debuffs the entire opponent's army with a -1 damage to melee attack via it's DEMORALIZE ability.
---
⚔️🛡Battle Action Report🛡⚔️
---
As you can see, both of us fielded very similar decks from different splinters. I would say it's a clash of opposing factions! 😜 Both of us were heavily melee/physical based, with lots of "assassin" units who could pick off weak unprotected units from anywhere on the battlefield!!!
🔥 FIRE 🔥 VS 👼🏻LIFE👼🏻
My opponent used the Serpentine Soldier as his main tank in the first slot. This is a pretty good choice considering it's SHIELD and DODGE abilities make it a superb anti melee tank. His Fineas Rage occupied the 2nd slot as a backup tank and DPS with it's REACH ability. The Furious Chicken occupied slot 3 as an Opportunity magnet. His Serpentine Spy and Kobold Miner occupied the next 2 slots as DPS which picked off weak units via their OPPORTUNITY and SNEAK abilities respectively. While his Lava Launcher rounder off the rest of his team.
My choice of the Main Tank was the Chaos Knight. It is perfectly suited to the role with it's SHIELD ability. It was followed by my Celestial Harpy and Stitch Leech, both of whom are perfect as DPS who will take out any weak stragglers. The Scavo Hireling follows next and it's role is to give both from and back tanks some extra protection with REPAIR. My Cave Slug, which is yet another OPPORTUNITY unit, rounds off my DPS team. The Disintegrator sits right behind to act as a Sneak Tank.
The battle started out with all our units just duking it out pound for pound. It was a mid ranged mana game with 29 mana as the limit. The rulesets were Silenced Summoners and Holy Protection.
The 1st wave ended with none of my units dying surprisingly. I had expected some casualties given the array of units who could target the weakest units. It was probably thanks to the ruleset and both armies were just trying to take out each others initial shields. I managed to take out the opponent's Furious Chicken though 😜.

The 2nd round saw my Scavo Hireling nearly dying, but it survived with 1 HP remaining. I managed to take out the opponent's Serpentine Spy though. Yet another win for me! 😁

Round 3 saw no casualties on both sides.

Round 4 saw his Main Tank get taken out.

This was all over for the opponent at this point. His entire army fell after his Tank was gone.
Talk about doing WAY MORE than it was supposed to!!! 😱🤯🥳 All i expected from the Chaos Knight was for it to take a few hits before dying. Yet it did more than that and lasted through the entire battle AND did so WITHOUT taking any damage at all! Surely that made it the Man of the Match for this battle, punching way above it's weight!
Well as you can see here in this GIF of my battle, the results were pretty good! 👍🏻👍🏻👍🏻
This was truly an eye opener! 😁🏆
Slowly, but surely, I wore down the opponent's team and the match was won handily with my entire team intact. My team selection proved to be the edge I needed to eventually overpower my opponent. 💪🏻
---
🔮🔮🔮Hindsight is 20/20🔮🔮🔮
---
Would I have done anything differently? 🤔 This might have seemed like a match that would prove to be a challenge at the start because of the opponent's superior cards as compared to my team. However, with my PERFECT VICTORY with ZERO casualties, IF I had to use the same cards again, there would be no better lineup than what I had already used for the match. Any other combination MIGHT have resulted in a loss for me. I'm really satisfied with the results against such a worthy opponent. 🏆🥇
---
💭🧐💭Ending Thoughts💭🧐💭
---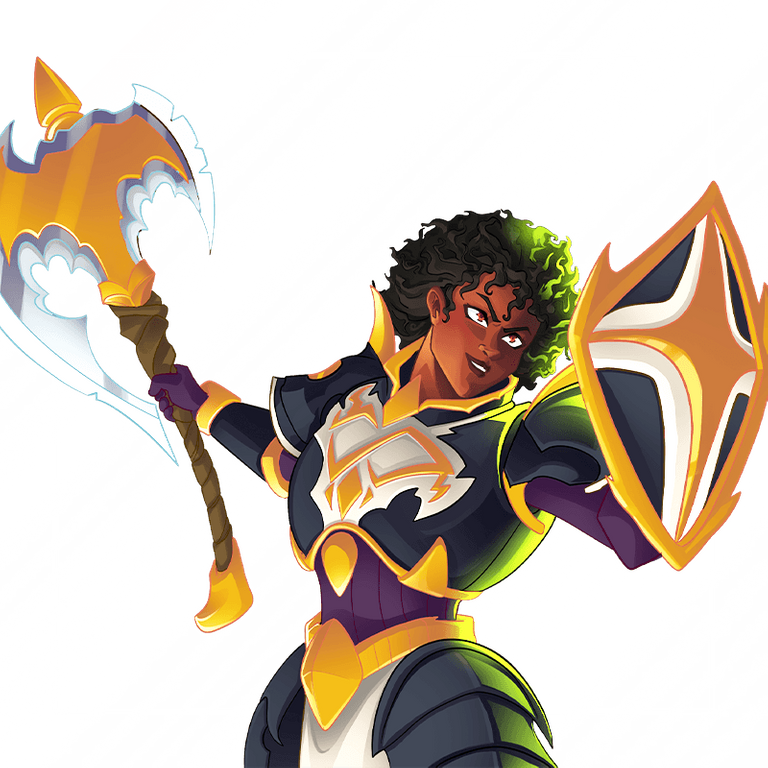 ---
I definitely can appreciate the Chaos Knight and it's strengths. This is one of those cards which are very strong if surrounded with the proper team. The role it brings to the battlefield will give a player the edge in squeezing out every tiny advantage to get the win. 👍🏻
For any players looking to try out the Chaos Knight, I hope this article has given you some insight into its potential. 😉
---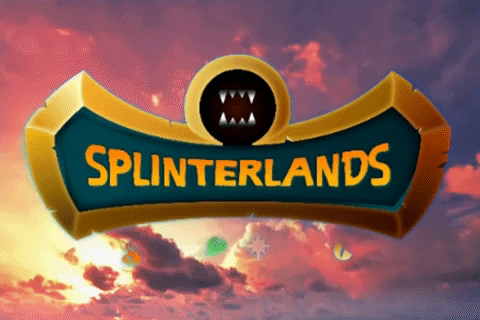 To any new players who wish to explore the world of Splinterlands, do feel free to sign up with my REFERRAL LINK 😊.
---

I am also a member of the SPLINTERLANDS PIZZA guild and the PIZZA community.
PIZZA is an active gaming and creative arts crypto community on the HIVE blockchain. Popular games on HIVE like SPLINTERLANDS, RISING STAR, EXODE, HASHKINGS, WOO, BANG!DEFENSE have their own PIZZA communities here.
Don't miss out more events that are always being organised. Join the PIZZA DISCORD. Even if you aren't interested in the 💰🍕🎁GIVEAWAYS & AIRDROPS💰🍕🎁, there is a vibrant and friendly community there awaiting you.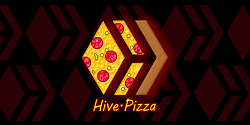 CLICK THIS LINK TO JOIN PIZZA DISCORD!!!
---
---