BATLLE GIVEAWAY!! #5 - TAZZ VS DJINN CHWALA (ENG / ITA)
---
👉ENG VERSION👈

(Segue version Italiana)
---
Good morning warriors!!
Another battle has just ended, no one would ever have said it but today there was yet another twist of scenes because, in reality, almost everyone said it and they let him win, our favourite saxophonist who also this week knock down yet another monster from the Splinterlands team despite being a RARE edition.
Splinterlands has to flex its muscles if it wants to win at least one battle and it will have to do so by deploying an EPIC monster but first let's see this week's fighters, who is out and who is in, who hit the hardest to take home the winner.

This week the warriors who took part in the challenge were thirteen and the victory is overwhelming for TAZZ who wins the match by seven with two hits, four users missed the target which I ask you to pay attention to who has to fight by choosing one of the two.
Let's see the clash and the various blows struck: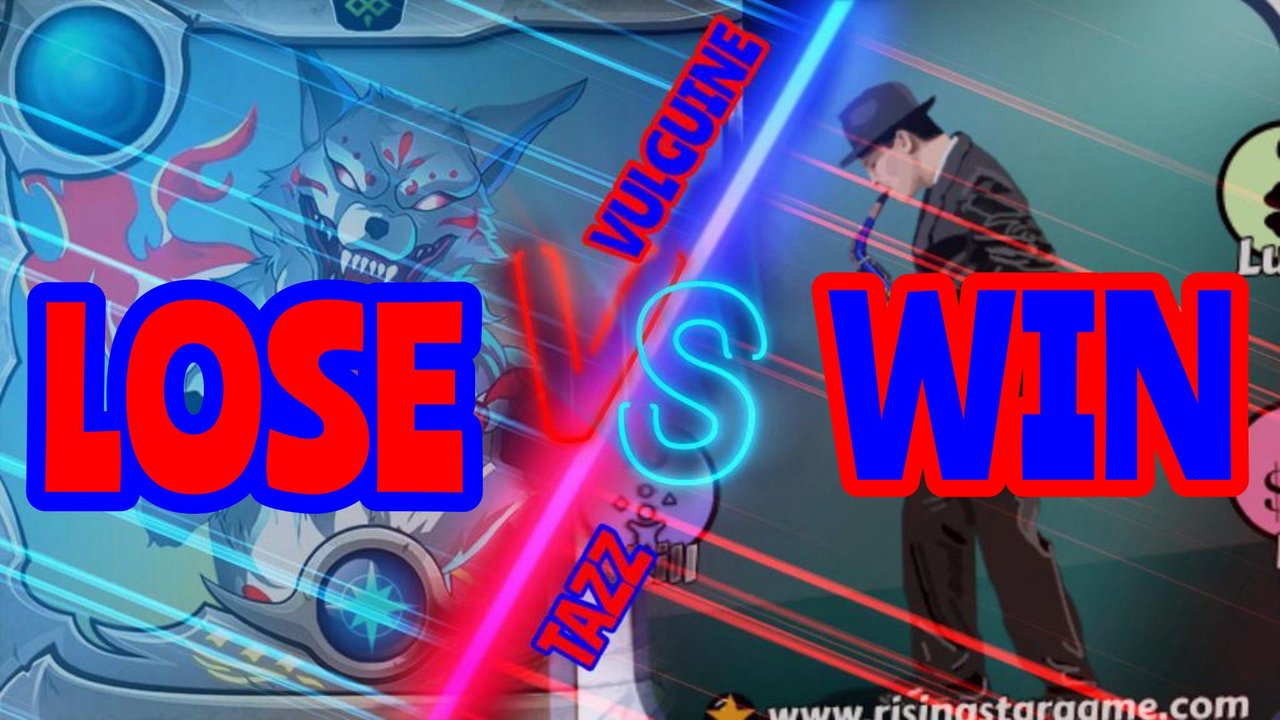 The victory as written above was overwhelming and TAZZ wins over VULGUINE.
VULGUINE leaves the scene and with him, all the users who voted for him will not be able to participate in the final extraction including those who missed the target.
There are seven participants in the extraction, ie the boys who voted for TAZZ and let's see Who among these seven hit the enemy harder.
It's @rtonline to land the last blow and hit with a FATALITY VULGUINE and win TAZZ by taking home a copy of the champion of this battle! Well done!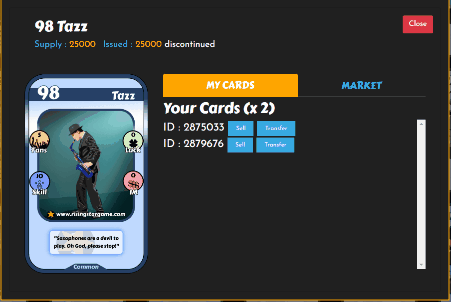 Let's start a new challenge but first a quick review of the rules:
HOW TO PARTICIPATE?
It is not mandatory to vote or share even if being supported is always nice :).

Comment with your preference for the card you would like to win in the challenge and your name in the game.

Deadline seven days from the release of this post and the card will be sent on the Thursday following this post to the winner.
One eliminates the other, for example: in the event of card A winning, whoever voted B will not be able to participate in the draw.
EXAMPLE OF VALID COMMENT
Victory for (card name)
I am (your name in the game)

The two games in the challenge are SPLINTERLANDS and RISINGSTAR, perhaps the two most famous and oldest games in the HIVE Blockchain and at which I play.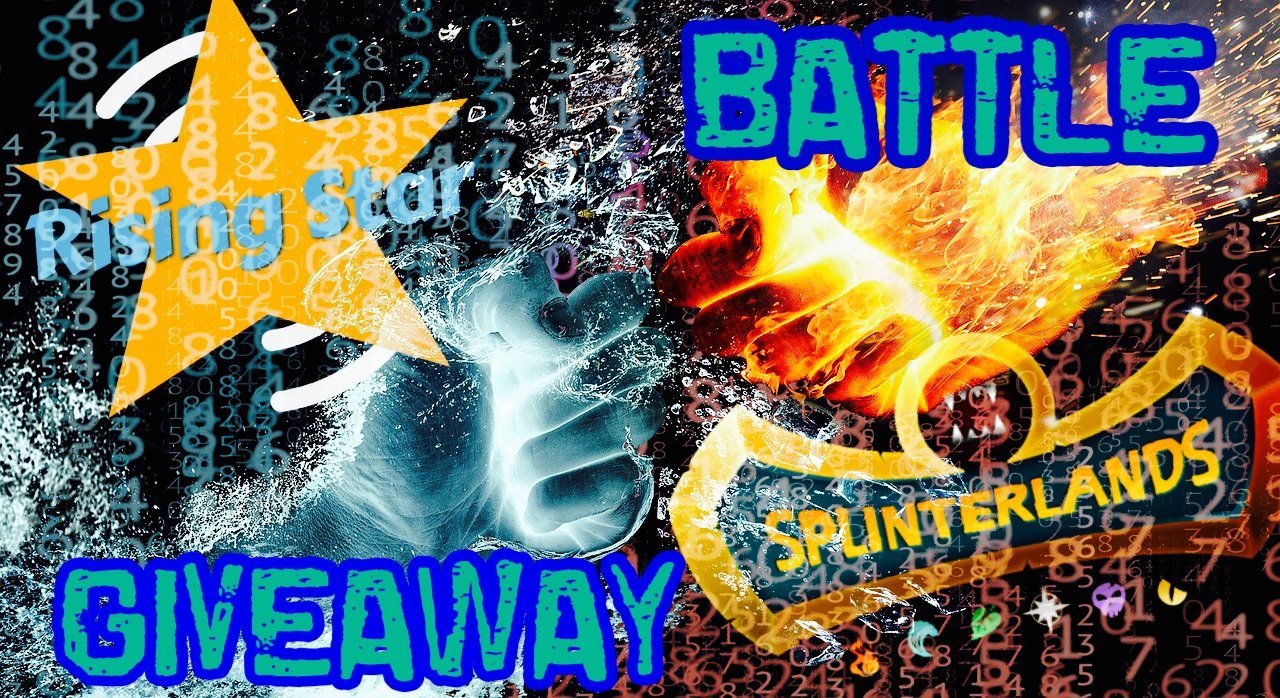 HOW DOES IT WORK:
Two community cards challenge each other to a duel, whoever wins reigns and a copy of it will be given to the winner in the final draw.
The same card will come back the following week for a new challenge.
The loser evolves and becomes stronger by changing shape, colour and name, in other words, he changes the card, from common to rare and if he loses again he will transform into epic, maximum evolution for the moment. Once the EPIC VS EPIC challenge has been completed, it resets and starts from COMMON VS COMMON.
---
Splinterlands comes out defeated again this week, but it is certainly not the type that throws in the towel and brings one of my favourite monsters of the DRAGON element into the ring, he positions himself in the left corner DJINN CHWALA cruel monster armed to the teeth.
He possesses a MELEE attack of two and is equipped with an infinite life of nine and a shield of five.
This monster is not very fast but to its advantage, it has the THORNS ability which allows it to return part of the damage caused by MELEE attacks to the sender.
I think this time the Splinterlands team played one of their best cards and TAZZ can't win against this monster but never say never TAZZ could pull an ace out of the saxophone.
VS
Risingstar puts the crazy saxophonist TAZZ (98) back in the ring, a card that has five FANS and ten SKILLs while having zero LUCK and zero IM.
This sax virtuoso showed us what he's made of by winning numerous fights even against monsters where it seemed impossible and in question, clash seems impossible.
Will he be able to take home the skin even in this battle?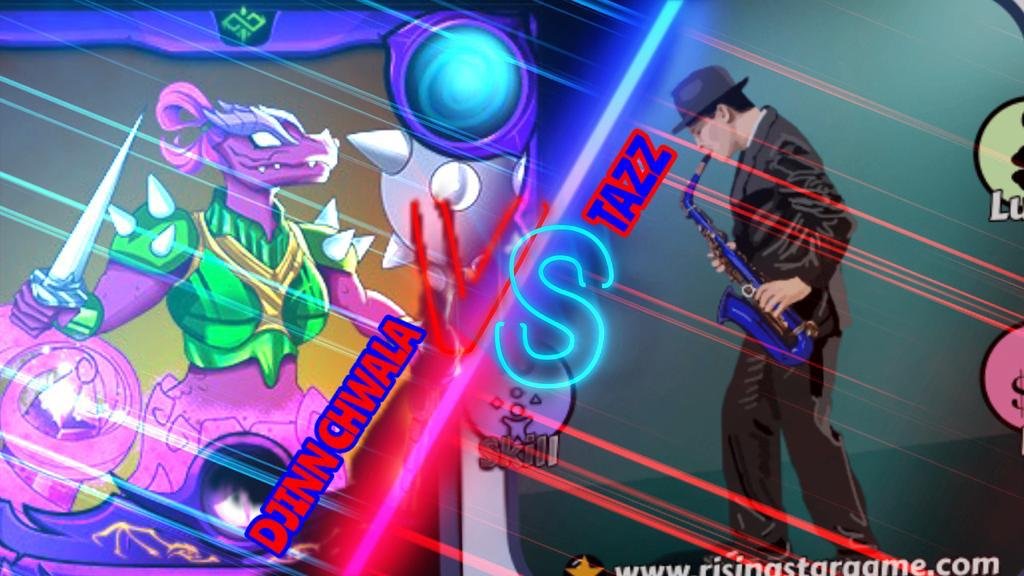 These are the two cards in the challenge this week and one of them will be yours, quoting a famous phrase on junk television I would say "OFFICIALLY DECLARE TELEVOTO OPEN" give your preference and win your favourite card.
Don't forget to enter your game name and mention your friend.
For any clarification, doubt or perplexity on the functioning of the game, please write it in the comments to improve the format, young game and I may have missed something.

If you haven't tried this game yet my advice is to do it this is my link referral you can use the link if you like it or not but the point is always the one game to try! :-)
https://splinterlands.com?ref=blumela
If you don't like using it;) below it is without ref !;)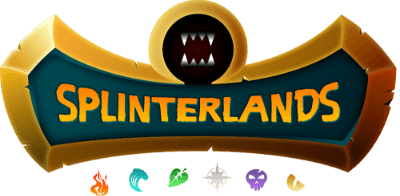 ---
---
If you still don't play RISING STAR I leave you my referral link if you like using it is welcome:
https://www.risingstargame.com?referrer=blumela
If you do not like it, the advice is to try it anyway it requires little time and the satisfactions it can give are many. You can find the game at this link
https://www.risingstargame.com


The photos and images are screenshots taken from the Splinterlands and Risingstar games.
The logos are taken from the pages of the respective games.
Some backgrounds are taken from pixabay.
https://images.hive.blog/0x0/https://files.peakd.com/file/peakd-hive/blumela/23tGKEKg68etEuS7sfRbq1r9quAqDE9cU6XcWufSaKvWeLQwSmDDvAAy7F8SwrKDxweot.webp
---
👉ITA VERSION👈

---
Buongiorno guerrieri!!
Un'altra battaglia si è appena conclusa, nessuno l'avrebbe mai detto ma oggi c'è stato l'ennesimo colpo di scene perchè in realtà quasi tutti l'hanno detto e hanno fatto vincere lui, il nostro saxofonista preferito che anche questa settimana butta giù l'ennesimo mostro della squadra Splinterlands nonostante fosse una edizione RARE.
A Splinterlands tocca mostrare I muscoli se vuole vincere almeno una battaglia e dovrà farlo schierando un mostro EPIC ma prima vediamo I combattenti di questa settimana, chi è fuori e chi è dentro, chi ha colpito più duro portandosi a casa il vincitore.

Questa settimana i guerrieri che hanno partecipato alla sfida sono stati tredici e la vittoria è schiacciante per TAZZ che vince l'incontro per sette a due colpi sferrarti, quattro utenti hanno mancato il bersaglio a cui chiedo di prestare attenzione a chi deve scontrarsi scegliendo uno dei due.
Vediamo lo scontro e i vari colpi sferrati: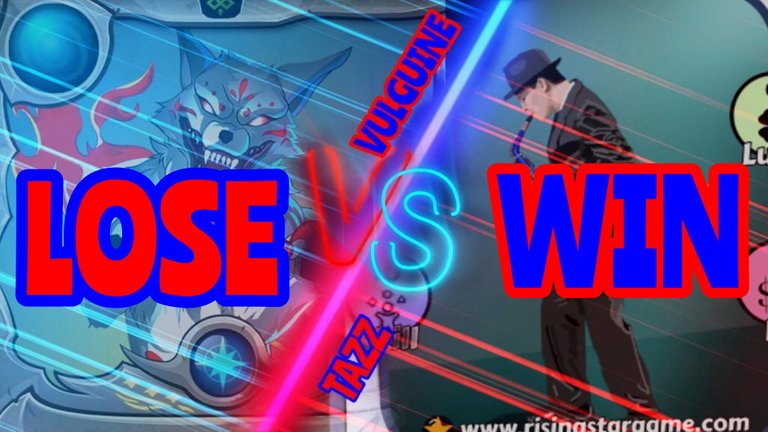 La vittoria come scritto sopra è state schiacciante e TAZZ vince in modo netto su VULGUINE.
VULGUINE esce di scena e con lui escono tutti gli utenti che hanno votato per lui che non potranno così participate all'estrazione finale compreso quelli che hanno mancato il bersaglio.
I partecipanti all'estrazione sono sette, ovvero i ragazzi che hanno votato per TAZZ e vediamo Chi fra questi sette ha colpito più forte il nemico.
E' @rtonline ha sferrare l'ultimo colpo e coplisce con una FATALITY VULGUINE e fa vincere TAZZ portandosi a casa una copia del campione di questa battaglia! Complimenti!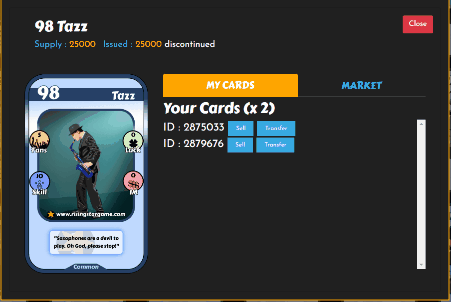 Diamo il via a una nuova sfida ma prima un ripasso veloce alle regole:
COME PARTECIPARE?
Non è obbligatorio votare o condividere anche se essere supportati fa sempre piacere :).

Commentare con la vostra preferenza la carta che vorreste far vincere nella sfida e il vostro nome nel gioco.

Deadline DOMENICA e la carta verrà inviata il Giovedì successive a questo post al vincitore.
Una elimina l'altra, esempio: in caso di vittoria della carta A chi ha votato B non potrà partecipare all'estrazione.
ESEMPIO DI COMMENTO VALIDO
Vittoria per (nome carta)
Sono (tuo nome nel gioco)

I due giochi in sfida sono SPLINTERLANDS e RISINGSTAR i due giochi forse più famosi e anziani della Blockchain di HIVE e ai quali gioco.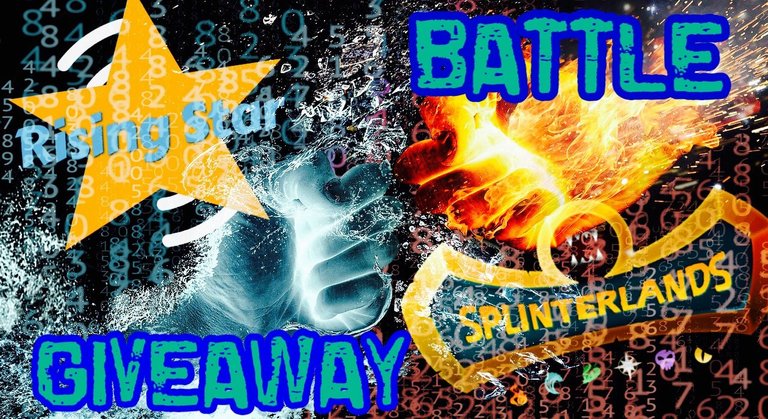 COME FUNZIONA:
Due carte comuni si sfidano a duello chi vince regna e una sua copia verrà regalata al vincitore nell'estrazione finale.
La stessa carta si ripresenterà la settimana successiva per una nuova sfida.
Chi perde si evolve e diventa più forte cambiando forma, colore e nome, in parole povere cambia la carta, da comune passa a rara e dovesse perdere ancora muterà in epica, massima evoluzione per il moment. Una volta effettuata la sfida EPIC VS EPIC si azzera e si riparte da COMMON VS COMMON
---
Splinterlands esce sconfitto anche questa settimana, ma non è certo tipo che getta la spugna e fa salire sul ring uno dei miei mostri preferiti dell'elemento DRAGON, si posiziona all'angolo di sinistra DJINN CHWALA crudele mostro armato fino ai denti.
Possiede attacco MELEE di due ed è dotato di una infinita vita di nove accompagnato da uno scudo di cinque.
Non molto veloce questo mostro ma a suo vantaggio ha l'abilità THORNS che gli permette di restituire al mittente parte del danno provenuto dagli attacchi MELEE.
Credo che questa volta il team Splinterlands abbia giocato una delle sue carte migliori e che TAZZ non possa vincere contro questo mostro ma mai dire mai TAZZ potrebbe tirare fuori un asso dal sazofono.
VS
Risingstar rimette sul ring il saxofonista folle TAZZ (98) carta che possiede cinque FANS e dieci SKILL mentre possiede zero LUCK e zero IM.
Questo virtuoso del sax ci ha fatto vedere di che pasta è fatto vincendo numerosi scontri anche contro mostri dove sembrava impossible e in question scontro sembra davvero impossible.
Riuscirà a portare a casa la pelle anche in questa battagli?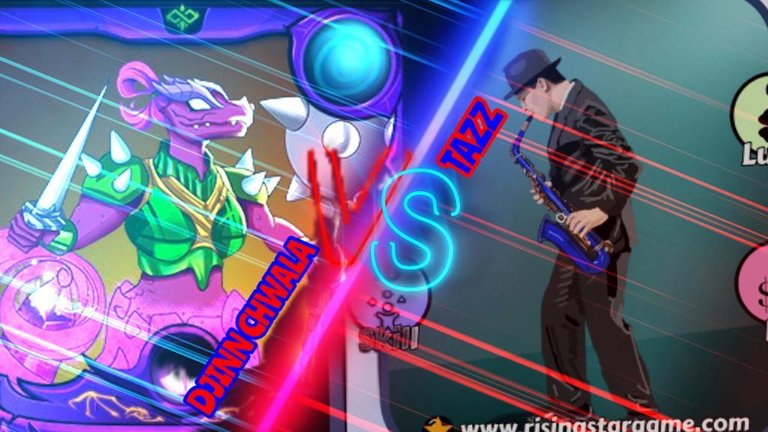 Queste sono le due carte in sfida questa settimana e una di queste sarà vostra, citando una frase famosa della televisione spazzatura direi "DICHIARO UFFICIALMENTE APERTO IL TELEVOTO" date la vostra preferenza e fate vincere la vostra carta preferita.
Non dimenticate di inserire il vostro nome gioco e di citare un vostro amico.
Per qualsiasi chiarimento, dubbio o perplessità sul funzionamento del gioco vi prego di scriverlo nei commenti in modo da migliorare il format, gioco giovane e potrei aver tralasciato qualcosa.

Se ancora non hai provato questo gioco il mio consiglio è quello di farlo questo è il mio link refferal puoi utilizzare il link se ti fa piacere oppure no ma il punto è sempre quello gioco da provare! :-)
https://splinterlands.com?ref=blumela
Se non vi fa piacere utilizzarlo ;) qui sotto è senza ref!;)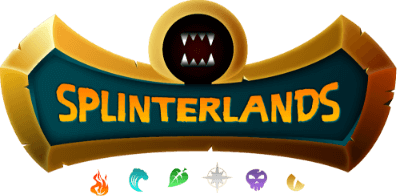 ---
---
Se ancora non giochi a RISING STAR ti lascio il mio referal link se ti fa piacere utilizzarlo è cosa gradita:
https://www.risingstargame.com?referrer=blumela
Se non ti fa piacere il consiglio è quello di provarlo ugualmente richiede poco tempo e le soddisfazioni che può dare sono tante trovi il gioco a questo link
https://www.risingstargame.com


Le foto e le immagini sono screenshot fatti ai giochi Splinterlands e Risingstar.
I loghi sono presi dalle pagine dei rispettivi giochi.
Alcuni sfondi sono presi da pixabay.

---
---