Splinterlands Share Your Battle Challenge — PIZZA Brawl Report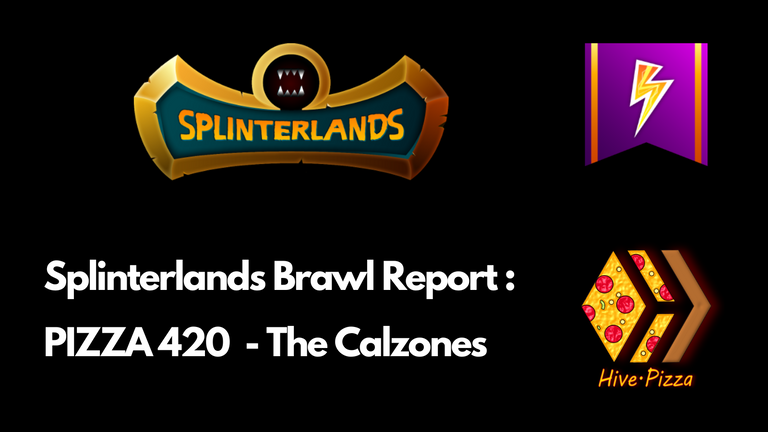 Splinterlands — SPS rewards in Brawls!!!



🐲 Brawl Report 🐲

I typically like to leave some suspense to my reports and highlight results later, but with SPS new to the fun I couldn't help but share our winnings! Look at that 10 SPS 💥💥💥 I've always enjoyed Brawls as they are an opportunity to battle as a team, use Gladiator cards and change the game play up a bit, but this change has made them even more exciting.

Someitmes you just need the heaviest hitters!
Last week I changed the format of my reports up to focus on one battle and try and extract a deeper learning. I focused last Brawl on a loss that taught me some lessons on how to better strategize for the Little League ruleset. I choose this week to go in the opposite direction and share one of my wins that depended on finding the heaviest hitters.

Some background on the options available. This was a Silver level Chaos only battle. The mana cap was 58, all splinters except Dagon were available. The rulesets were the key to my pre battle strategies. No magic and no abilities. With magic and abilities off the table I ruled out Death and Earth. My Sloan strategies rely on a lot of the range attackers' abilities such as Arbalest's Double Strike or Prismologit's Blast.
That left Water and Fire. I love Kelya teams for the damage and armor, but my Tarsa teams have the higher health and damage, without the armor buff. I opted for the Tarsa lineup as I assumed this battle would come down to who could do more damage. I wish some of the newer Rift cards would have been available to use for the range assistance, but I was feeling okay about my choices.
| | ME | OPPONENT |
| --- | --- | --- |
| | 64 | 22 |
| | 22 | 3 |
| | 0 | 0 |
| | 2 | 11 |
| | 16 | 3 |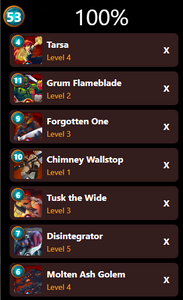 My opponent went with the range attack play hoping that having more attackers would overcome the low health and armor. If my opponent had been a higher level it may have been a closer battle, but as it was my leveled cards we just too much to get through. Had abilities been available my opponents Arbalest may have been able to do more damage. The thinking on my opponents part wasn't totally wrong, as the range attackers should have given them more oomph, but the low health was a bigger factor. As you can see my opponent had a 0% chance of victory and the heavy hitters with high health were the key to victory
Health and Damage
| Card | Synergy |
| --- | --- |
| | I won't share images of them all, but the meat of the lineup was my heaviest hitters with high health |
| | I should have used more range cards. Tough to critique a 100% chance of victory, but had my opponent been a higher level my lack of back row attacks could have done me in |

🥳🥳 3—1. Nice to be back on the winning side of things! 🎉🎉

The Calzones are on fire 🔥🔥🔥 two second place finishes in a row and 120 total points this Brawl! Not a bad way to start the first Brawl with SPS rewards.


SPS is an exciting addition to Brawls and is going to make each battle more important. Slowing down and studying each battle, learning better strategies and synergies and bettering my collection are going to become even more important. The Calzones are on a tear and I can fell a first place finish coming!

Other Pizza Guild Brawl Reports
@kqaosphreak
—
Brawl Report #53
@vaynard86 — Brawl report and social media challenge
🍕🍕🍕 What is PIZZA? 🍕🍕🍕
As with most activities connected to Hive, and the crypto world in general, I discovered PIZZA because of Splinterlands. Also like most Hive connected activities I discovered a world of possibilities beyond what I expected. So what exactly is PIZZA?
1️⃣ PIZZA is a trade-able token that can be staked for rewards and tipping, used to purchase games or traded for other tokens.
2️⃣ PIZZA is also an active Discord community for gamers and creatives. (I personally frequent the foodies-lounge, splinterlands and rising-star channels)
What are you waiting for, come check out the PIZZA Discord and join in the fun 🎉

---
---