Splinterlands — Social Media Challenge and Brawl Report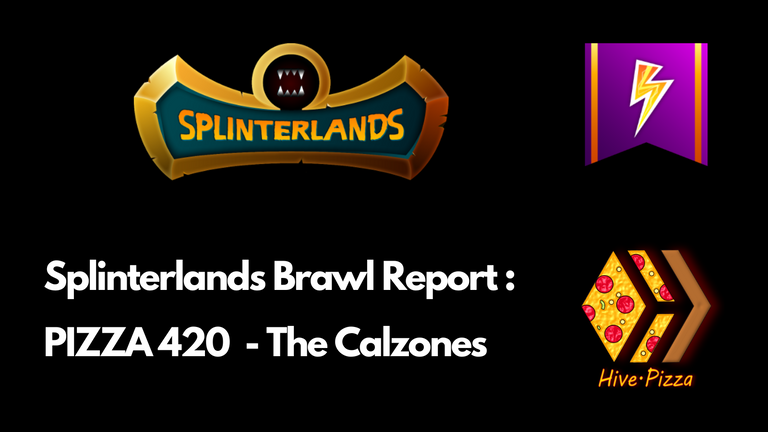 Splinterlands — Keep the rewards coming!



🐲 Brawl Report 🐲
The Calzones are coming off two straight second place finishes and we were excited to show off our newly upgraded Hall. Okay you can't really show off the Hall, just wanted to brag that we managed to upgrade our Hall to level three and are working on the Arena next. The Calzones are coming for you 😀

Play smarter, not harder
Last week I choose to dig deeper into a battle I won by brute force. This week, I took a closer look at a loss that I should have focused more on abilities and strategy than brute force.

A much lower mana cap to dissect this week at a cap of 17. It was an interesting combination with all splinters available, except Earth, melee being able to attack from any position and all monsters gaining the Enrage ability.
My choice of Thaddius may seem an odd selection with the major Chaos magic damage dealer not available, but I was looking at Thaddius' health debuff assuming with a low mana cap that most cards would have low health.
| | ME | OPPONENT |
| --- | --- | --- |
| | 15 | 12 |
| | 8 | 4 |
| | 0 | 0 |
| | 0 | 0 |
| | 3 | 13 |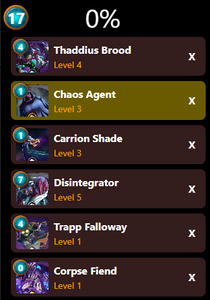 My thinking was sound on the health front, I led the battle at the outset 15 to 12. What is clear from the above that I failed to think through was armor and abilities. Not only does my opponent have a massive 13 to 3 advantage with armor, but Alva up front has Shield and Scavo in the middle has repair. Even with my 8 to 4 melee attack advantage I had a 0% chance of victory. I have to play smarter than this! Brute force is not always the answer. Sure last week proved sometime sit is, but at low mana caps that is usually not the winning play.
What would have been better?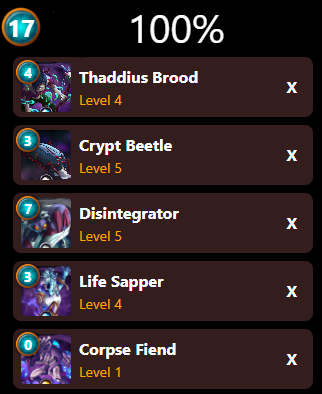 Just about anything would have been better than a 0% chance of victory 😂 Sticking with my original strategy of using Thaddius' health debuff, I further refined my strategy by using a combination of the Shield and Demoralize abilities. Using Crypt Beetle up front, and Disintegrator to back it up, my opponent would have a difficult time breaking through my tank. Life Sapper would be free to clean up the competition from the back line, all while gaining more health with Life Leech. In fact that would take my 0% chance of victory to 100%.
Learnings
| Card | Synergy |
| --- | --- |
| | Shiled is always a nice ability, but in smaller mana matches it can be unstoppable |
| | Make Shield even more powerful by decreasing your opponents melee damage with Demoralize |


Or go the direction my opponent did and use Shield with Repair.

🫤🫤 3—3. A hard fought .500 this time around 🫤🫤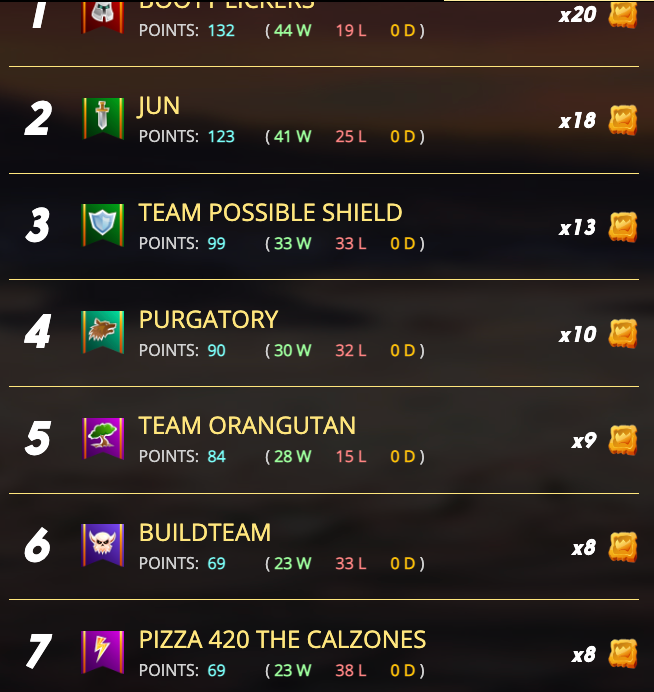 The Calzones were served a bit of humble pie after two straight second place finishes 😀 There were some highly ranked guilds and some tough battles fought. The Booty Lickers lived up to their name and smoked everyone with a total score of 132 points! Nearly double the Calzones 69 😳 The good news is we will be back for another Brawl in a few days with a chance to redeem ourselves. The next Brawl will also open up RiftWatcher cards for my Chaos only fray so I'm looking forward to seeing and using some new strategies and synergies.

The 359 Merit reward didn't put me in a position to purchase another Gladius case, but the 6 SPS is a nice welcome reward. Hopefully next Brawl we will bounce back, earn some more Merits and I can share another Gladius pack opening!

Other Pizza Guild Brawl Reports
@lucimorningstar — More PIZZA 420
@kqaosphreak — Brawl Report #54
@vaynard86 — Brawl report and social media challenge
🍕🍕🍕 What is PIZZA? 🍕🍕🍕
As with most activities connected to Hive, and the crypto world in general, I discovered PIZZA because of Splinterlands. Also like most Hive connected activities I discovered a world of possibilities beyond what I expected. So what exactly is PIZZA?
1️⃣ PIZZA is a trade-able token that can be staked for rewards and tipping, used to purchase games or traded for other tokens.
2️⃣ PIZZA is also an active Discord community for gamers and creatives. (I personally frequent the foodies-lounge, splinterlands and rising-star channels)
What are you waiting for, come check out the PIZZA Discord and join in the fun 🎉

---
---