Character creation based on "VAMPIRIC BLOSSOM" | Splinterlands Art Contest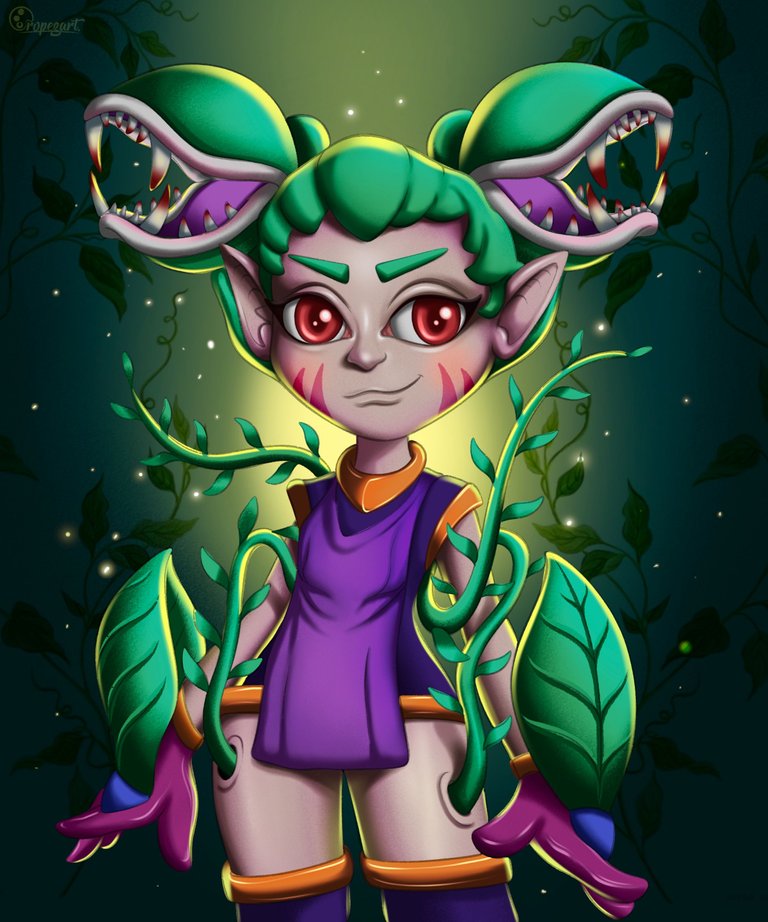 VAMPIRIC BLOSSOM
Hello all bloggers, today I bring you a new participation for the @splinterlands art contest, this time I tried again a character that a few days ago I tried to do and no sketch was right XD, and I have occurred to me to do an exercise I do not know if I call it so to create a character from an existing one of the many that are in splinterlands and this is one of those that I like, today I created a character inspired by VAMPIRIC BLOSSOM I tell you how it was done and the step by step I followed for it.
Hola a todos blogueros, el día de hoy les traigo una nueva participación para el concurso de arte de @splinterlands, esta vez he intentado nuevamente un personaje que hace unos días intente hacer y ningún boceto quedo bien XD, y se me ha ocurrido hacer un ejercicio no se si llamarlo así de crear un personaje a partir de uno existente de los tantos que hay en splinterlands y este es uno de los que mas me gusta, hoy cree un personaje inspirado en VAMPIRIC BLOSSOM te cuento como fue hacerlo y el paso a paso que seguí para ello.

| | |
| --- | --- |
This time I gave myself a little more time thinking about the idea for a few days and how I wanted the character to look like, so the sketching stage was in every moment that an idea came to mind I took the i pad and added it and it seemed a little more liberating than doing it all in one day, imagine the carnivorous plant as a human girl with characteristics of plants, from the hair that is formed by two huge mouths to the vines with which perhaps it captures its victims.
Esta vez me he dado un pco mas de tiempo pensando la idea unos días y como quería que se viera el personaje, así que la etapa de boceto fue en cada momento que se venia una idea a la mente tomaba el i pad e iba agregándolo y me pareció un pco mas liberador que hacerlo todo en un solo día, imagine a la planta carnívora como una chica humana con características de plantas, desde el cabello que es formado por dos bocas enormes hasta las enredaderas con las que tal vez captura a sus victimas.

| | |
| --- | --- |
| | |
| --- | --- |
The costume I imagined it a little more basic because I didn't want to add armor, I didn't imagine her as a warrior with armor and sword but better as a girl who is half plant and is only ready when she gets in trouble or someone wants to harm her, at first I wanted her skin to be green but then I thought "it will look very dirty" and better leave the flesh color something violet that I like to put lately to my characters. Also in certain parts I added pink tones playing a little with the blending mode of the layers because for example the armor stood out a lot because of those golden tones and it looked a little weird.
El vestuario lo imagine un poco mas básico porque no quería agregar una armadura, no la imaginaba como una guerrera de esas de armadura y espada si no mejor como solo una chica que es mitad planta y que solo esta preparada cuando se le presente problemas o que alguien quiera dañarla, en un inicio quise que su piel fuese verde pero luego pensé "se va a ver muy sucia" y mejor le deje el color carne algo violeta que me gusta colocarle últimamente a mis personajes. También que en ciertas partes agregue tonos rosas jugando un poco con el modo de fusión de las capas porque por ejemplo la armadura resaltaba mucho por esos tonos dorados y se veía algo raro.

| | |
| --- | --- |
As for the rest of the color plate, I only lowered the saturation to those greens and took them close enough to the white tone, I wanted his "armor" if you could call it that, to look very pastel and soft, plus the green color is a color that you have to be careful with because if you don't handle it well you end up with a drawing that looks like a firefly incarnated by the strong brightness it has XD. For the background I placed this time the backlight there, it was again interesting that the character was illuminated by this light, I feel that it makes them look in a certain way more interesting. What do you think about this character creation? I didn't want to make a story as such, tell me what it transmits to you and make the story for him.
En cuanto a la demás platea de color, solo le he bajado la saturación a esos verdes y los lleve bastante cerca al tono blanco quería que sus "armaduras" si se podría llamar así, se viesen muy tono pastel y suaves, además que el color verde es un color del cual hay que cuidarse porque si no lo manejas bien terminas con un dibujo que parece una luciérnaga encarnada del brillo tan fuerte que tiene XD. Para el fondo coloque esta vez la contraluz allí , se me hizo de nuevo interesante que el personaje lo iluminase esta luz siento que los hace ver en cierta manera mas interesante, ¿Qué te ha parecido esta creación de personaje? no quise hacerle una historia como tal cuéntame que te transmite y hazle tu la historia.

❉ Here is the final result of the Illustration/Aquí el resultado Final de la ilustración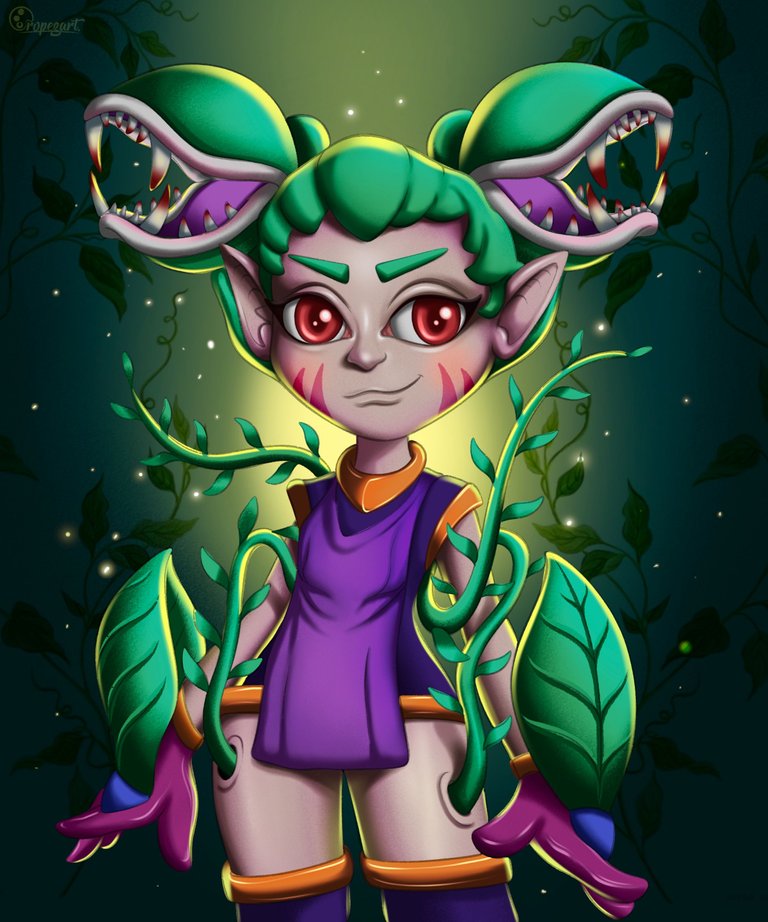 Original by : Jesus Oropeza @oropezart
Program:Procreate Programa: Procreate

Reference/Referencia: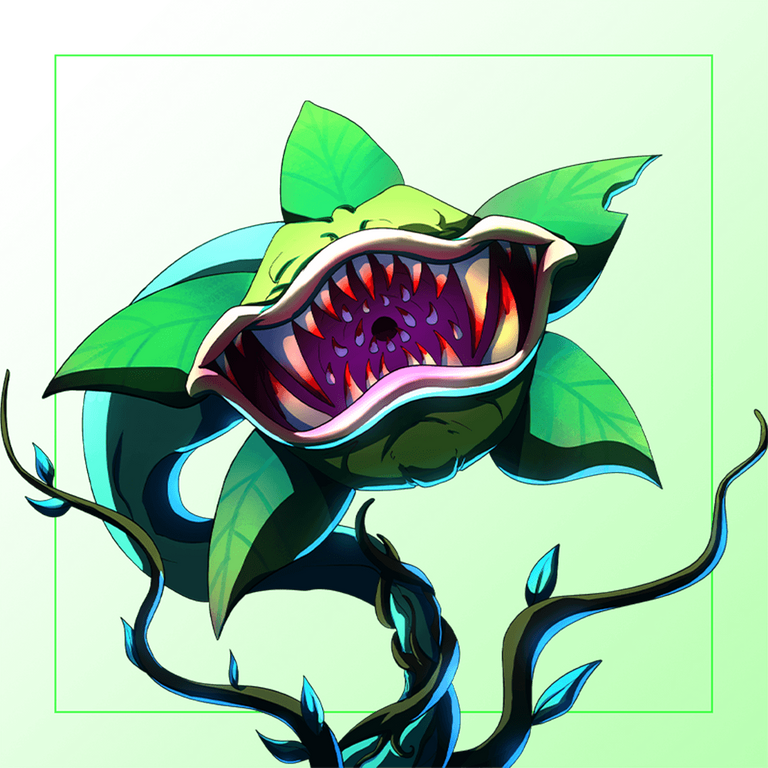 VAMPIRIC BLOSSOM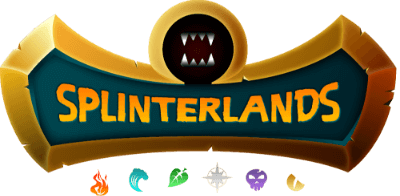 ➽The separator banner was created by me especially for this post and is my property.
➽El banner separador fue creado por mi especialmente para este post y es de mi propiedad.
Do you like it?
¿te ha gustado?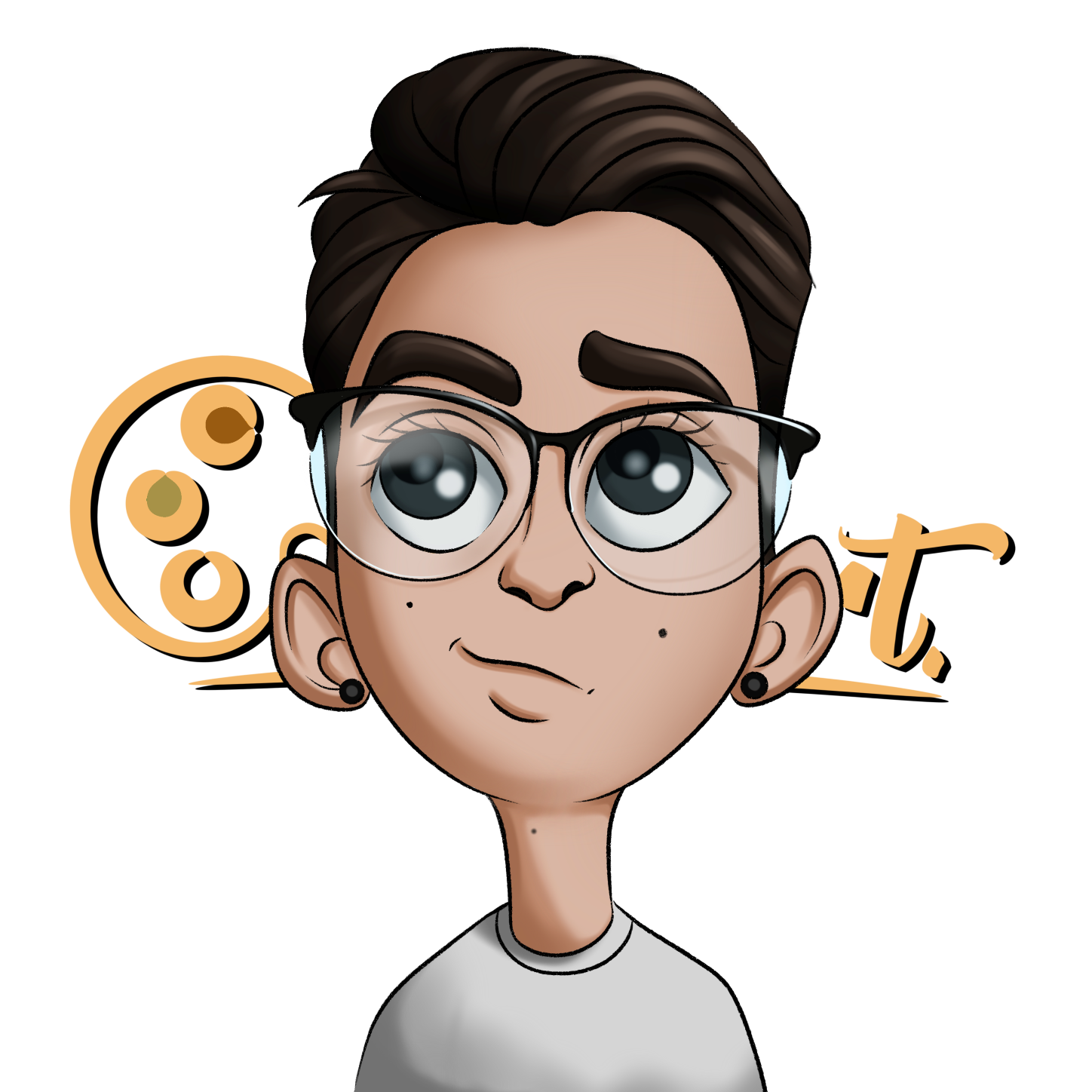 Original illustration by:@chopiliart (Oropezart)
ilustración original por: @chopiliart(Oropezart)
I hope my article has been to your liking, leave me your opinion about
illustration and if you have any questions about
illustration you can ask it and I will gladly answer in the comments. Until another post.
Espero mi artículo haya sido de tu agrado, déjame tu opinión acerca de la ilustración y si tienes alguna duda sobre ilustración puedes hacerla que con gusto responderé en los comentarios. Hasta otro post.
Follow me on/ Sígueme en instagram: @oropezart.digitalart
NFT available at /NFT disponibles en : Opensea
Translation by/Traducción gracias a: Deepl


---
---