LAVA SPIDER on my desk | @Splinterlands Social Media Challenge!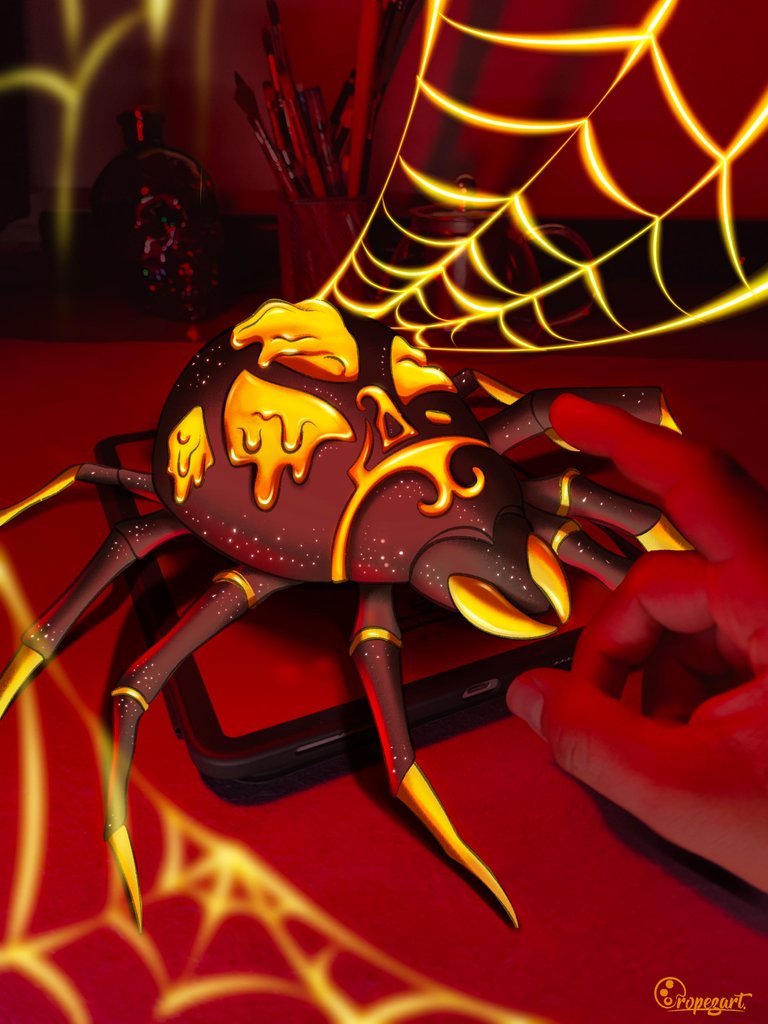 Hello bloggers, I hope you are very well, today I bring you once again a fanart of @splinterlands in this style of photo-manipulation that I've been doing, where I mix my two hobbies; drawing and photography, this time drawing on my desk LAVA SPIDER challenging me with those colors that I like to avoid, I tell you how was the process and step by step to make it.
Hola blogueros, espero estén muy bien, el día de hoy les traigo una vez mas un fanart de @splinterlands en este estilo de foto-manipulacion que he estado haciendo, en donde mezclo mis dos hobbies; dibujar y fotografiar, en esta ocasión dibujando sobre mi escritorio a LAVA SPIDER retándome con esos colores que me gusta evitar, te cuento como fue el proceso y el paso a paso para hacerla.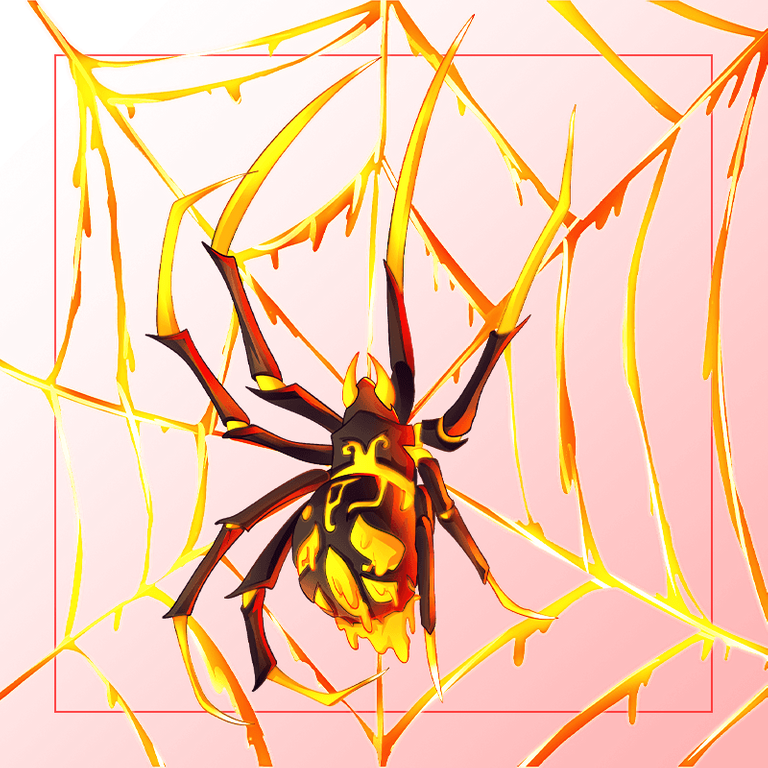 LAVA SPIDER
Link to reference card /Link de la carta de referencia
---
It took me several attempts but the colored lights in my studio helped a lot to get this shot, what I would like for next time is to make things visible but the colored light is not so intense, I haven't figured out how to do it yet and I'm not very skilled in Photoshop Xd but I'll try it next time.
Me tomo varios intentos pero las luces de colores de mi estudio ayudaron mucho a conseguir esta toma, lo que me gustaría para la próxima vez es lograr que las cosas sean visibles pero que la luz de colores no sea tan intensa aun no descubro como hacerlo y en el Photoshop no soy muy experto que digamos Xd pero lo intentare una próxima vez.

The idea was to draw the spider on my i pad, as I suffer with the perspective of the drawings, my brain starts to heat up even though I helped me a little with the guide lines that the PROCREATE program gives you but ok it does not do the task for you, let's say that something that helped a lot is that the spiders are not very difficult to draw despite what appears to draw the spider was not difficult, the difficult thing is to draw the positions in which they can be found because a spider has many, many perspective poses.
La idea fue dibujar a la araña sobre mi i pad, como sufro con la perspectiva de los dibujos, mi cerebro se empieza a calentar a pesar que me ayudo un poco con las líneas de guía que te proporciona el programa PROCREATE pero ok no hace la tarea por ti, digamos que algo que ayudo mucho es que las arañas no son muy difíciles de dibujar a pesar de lo que aparenta dibujar la araña no fue difícil ,lo difícil es dibujar las posiciones en la que se pueden encontrar porque una araña tiene muchas, muchas poses de perspectiva.

About the character
Few explorers dare to go deep within the volcanoes of the world. Tales are told of great spiders that weave threads of fire and trap their enemies in webs of flame. An inescapable and painful death.
When the Chaos Legion entered the Splinterlands through the great volcano in the center of Praetoria, they saw the lava spiders and used them to their advantage. Transporting these spiders into areas that need defense is a win-win for both groups. For the Chaos Legion, it is an easy barrier to ward off unwanted visitors. And for the lava spiders, they get free meals from the curious, the foolish, and the unwary adventurers that seek to strike at the Chaos Legion.If you want to know more access the lore LAVA SPIDER
Sobre el personaje
Pocos exploradores se atreven a adentrarse en las profundidades de los volcanes del mundo. Se cuentan historias de grandes arañas que tejen hilos de fuego y atrapan a sus enemigos en telarañas de llamas. Una muerte ineludible y dolorosa.
Cuando la Legión del Caos entró en las Tierras Esparcidas a través del gran volcán en el centro de Praetoria, vieron las arañas de lava y las utilizaron en su beneficio. Transportar estas arañas a zonas que necesitan defensa es una ventaja para ambos grupos. Para la Legión del Caos, es una barrera fácil para ahuyentar a los visitantes no deseados. Y para las arañas de lava, obtienen comida gratis de los curiosos, los tontos y los incautos aventureros que buscan atacar a la Legión del Caos.Si quieres saber más accede al lore LAVA SPIDER

| | |
| --- | --- |
These colors and I simply are not friends XD every time I take a warm color palette my drawing ends up looking weird to me, people close to me say it's just my imagination and that I'm crazy but I know that something is strange with these colors in my drawings, maybe I'm crazy and it's just my point of view. I had to make several adjustments of light and shadows and above all blend mode because if you don't do this the drawing doesn't seem to be inside the photo, with this I mean that if the room was illuminated in red the spider was obviously going to adopt that tone in its body, it is more than obvious that I look totally inside the photo because my style is not realistic but there are little things that can make your fanrat in this style of photo-manipulation look much better, tell me what you thought of this fanart and if you would like to see another creature.
Estos colores y yo sencillamente no somos amigos XD cada vez que tomo una paleta de color cálida mi dibujo termina viéndose raro para mi, las personas cercanas dicen que solo es mi imaginación y que estoy loco pero yo se que algo esta extraño con estos colores en mis dibujos, quizá si estoy loco y solo es mi punto de vista. tuve que hacer varios ajustes de luz y sombras y sobre todo modo de fusión porque si no haces esto el dibujo no parece estar dentro de la foto, con esto me refiero a que si la habitación estaba iluminada de rojo la araña obviamente iba a adoptar ese tono en su cuerpo, igualmente es mas que obvio que yo se ve totalmente dentro de la foto porque mi estilo no es realista pero hay cositas que pueden hacer que tu fanrat en este estilo de foto-manipulación se vea mucho mejor, cuéntame que te ha parecido este fanart y si te gustaría ver otra criatura.

❉ Here is the final result of the Illustration/Aquí el resultado Final de la ilustración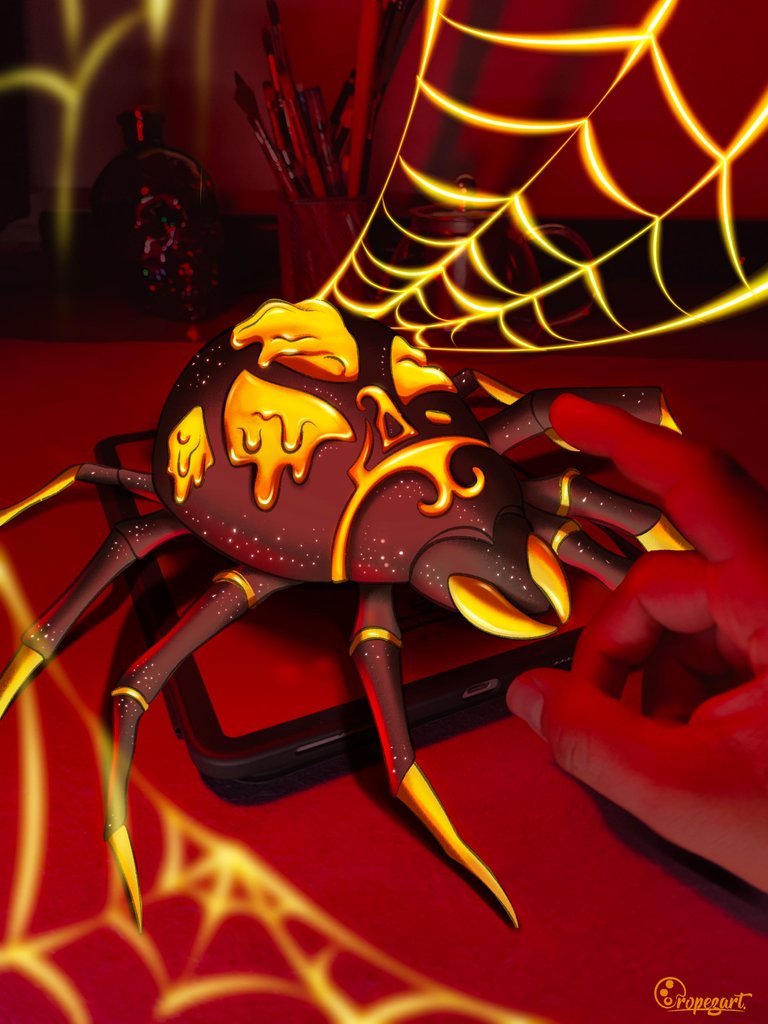 Original Illustration by:@chopiliart (Oropezart)
🖌Ilustración Original por @chopiliart (Oropezart)
Program:Procreate for i pad
Programa: Procreate para i pad
---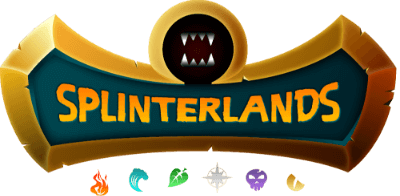 ➽The separator banner was created by me especially for this post and is my property.
➽El banner separador fue creado por mi especialmente para este post y es de mi propiedad.
Do you like it?
¿te ha gustado?
Original illustration by:@chopiliart (Oropezart)
ilustración original por: @chopiliart(Oropezart)
I hope my article has been to your liking, leave me your opinion about
illustration and if you have any questions about
illustration you can ask it and I will gladly answer in the comments. Until another post.
Espero mi artículo haya sido de tu agrado, déjame tu opinión acerca de la ilustración y si tienes alguna duda sobre ilustración puedes hacerla que con gusto responderé en los comentarios. Hasta otro post.
Follow me on/ Sígueme en instagram: @oropezart.digitalart
NFT available at /NFT disponibles en : Opensea
Translation by/Traducción gracias a: Deepl

---
---