Frist post: Silvershield paladin pixel art animation / primer post: Silvershield paladin pixel art animacion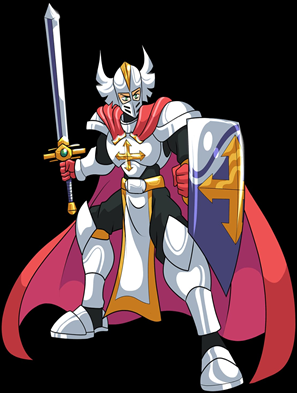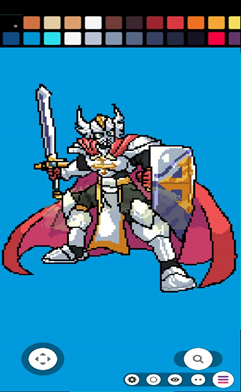 Photos taken from my phone
Fotos extraídas desde mi teléfono


Good morning splinterlands community my name is darloso and this is my first post in this community I have heard that they do drawing competitions and I would like to participate and publish some drawings related to the splinterlands game, for this case I bring you a pixel art drawing of the slivershield paladin card, if there are any other cards you want to see in this format I will be happy to draw and practice
Buenos días comunidad de splinterlands mi nombre es darloso y este es mi primer post en esta comunidad he oído que hacen competiciones de dibujo y me gustaría participar y publicar algunos dibujos relacionados con el juego de splinterlands, para este caso les traigo un dibujo pixel art de la carta slivershield paladín, si hay alguna otra carta que quieran ver en este formato estaré encantado de dibujar y practicar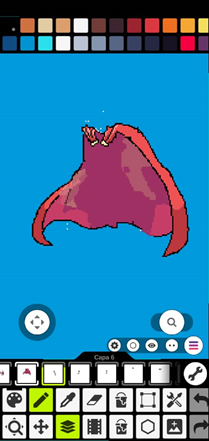 Photos taken from my phone
Fotos extraídas desde mi teléfono


To start with the drawing, I created a layer of blue color on which I began to draw the knight's cape, I took some references from the letter and completed it by applying a bit of perspective, I started with the layer since it would be one of the first capable ones and the one that would be almost at the bottom.
Para iniciar con el dibujo cree una capa de color azul sobre la cual empecé a dibujar la capa del caballero, tome unas referencias de la carta y la complete aplicado un poco de perspectiva, inicie con la capa ya que sería una de las primeras capaz y la que estaría casi al fondo.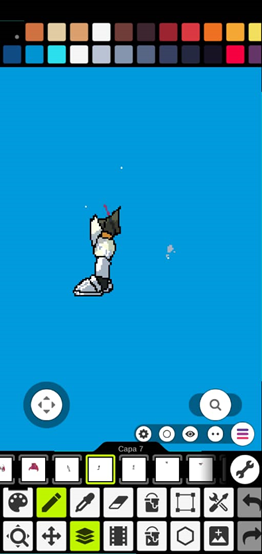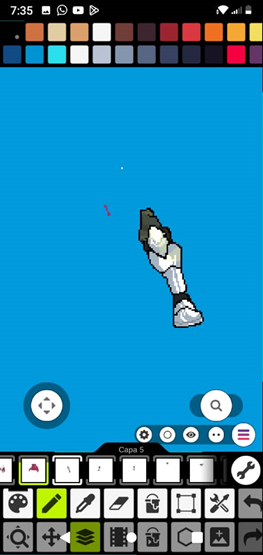 Photos taken from my phone
Fotos extraídas desde mi teléfono


for this part of the drawing on separate layers draw each of the knight's legs, try to apply the most similar colors possible in order to achieve the necessary depth and shadows, in this part you can notice that the left leg is a bit uneven in accordance with the original drawing, I think I made it a little smaller than in the original letter.
para esta parte del dibujo en capas separadas dibuje cada una de las piernas del caballero, trate de aplicar los colores más parecidos posibles con el fin de lograr la profundidad y las sombras necesarias, en esta parte de puede notar que la pierna izquierda quedo un poco dispareja en conformidad del dibujo original, creo que la hice un poco más pequeña que en la de la carta original.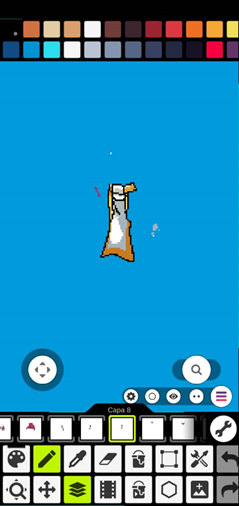 Photos taken from my phone
Fotos extraídas desde mi teléfono


For the next layer I began to draw the paladin's skirt, here I had to be careful so that it did not cover the legs too much, on the right side of the skirt it can be seen that I had to make certain modifications since something strange was left in sight, with the finished drawing looks better, but separately it can look somewhat crooked.
Para la siguiente capa empecé a dibujar la falda del paladín, aquí tuve que tener cuidado para que no tapara mucho las piernas, en el costado derecho de la falda puede apreciarse que tuve que realizar ciertas modificaciones ya que quedaba algo extraño a la vista, con el dibujo terminado se ve mejor, pero por separado si puede llegar a verse algo chueco.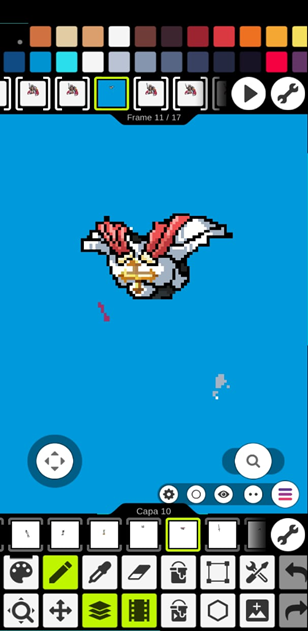 Photos taken from my phone
Fotos extraídas desde mi teléfono


In this layer make the chest of the character for practical purposes cut and paste part of the layer of the first layer of the drawing, in this part I only draw the outlines and I began to apply color, the part of the cross of the chest is a little crooked due to that the drawing, being pixel art, is not worked in the same dimensions as the original.
En esta capa realice el pecho del personaje para fines prácticos corte y pegue parte de la capa de la primera capa del dibujo, en esta parte solamente dibuje los contornos y empecé a aplicar color, la parte de la cruz del pecho queda un poco torcida por que el dibujo al ser pixel art no se trabaja en las mismas dimensiones que el original.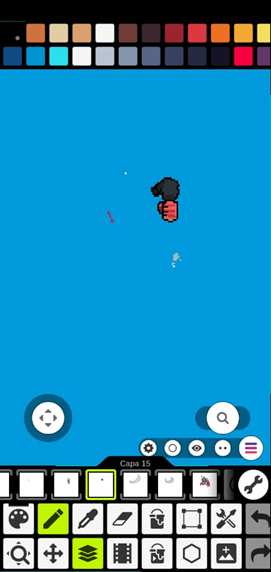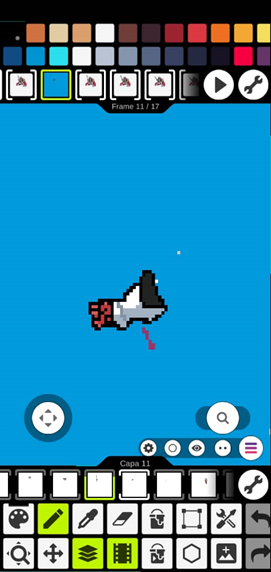 Photos taken from my phone
Fotos extraídas desde mi teléfono


For the following layers I proceeded to draw the arms, the right arm is almost completely improvised since in the original image it is covered by the shield, on the other hand, the left one was the easiest to recreate since it has a more complete view, as in the previous cases the most similar colors were taken to begin to fill the contours.
para las siguientes capas procedí a dibujar los brazos el brazo derecho está casi totalmente improvisado ya que en la imagen original esta tapado por el escudo, por otra parte, del izquierdo fue el más fácil de recrear ya que tiene una vista más completa, como en los casos anteriores se tomaron los colores más parecidos para empezar a rellenar los contornos.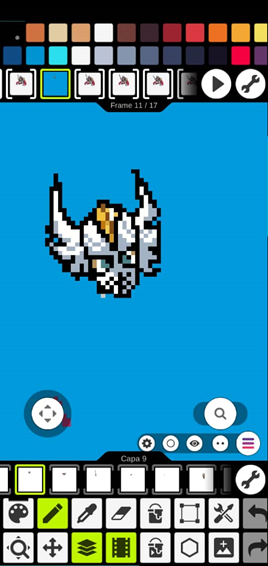 Photos taken from my phone
Fotos extraídas desde mi teléfono


For this part of the drawing, I replicated the paladin's helmet on a small scale, the same thing happens as in other parts of the drawing when working in this format, a bit of detail is lost with respect to the original drawing, this part was a little more complicated than expected. which seems to be due to the fact of making the eyes fit at the correct Angle, in addition to selecting the most ideal colors for the gold part of the helmet.
Para esta parte del dibujo replique a una pequeña escala el casco del paladín, pasa lo mismo que en otras partes del dibujo al trabajarse en este formato se pierde un poco de detalle con respecto al dibujo original, esta parte fue in poco complicada más de lo que parece por el hecho de hacer encajar los ojos en el Angulo correcto, además de seleccionar los colores más ideales para la parte de oro del casco.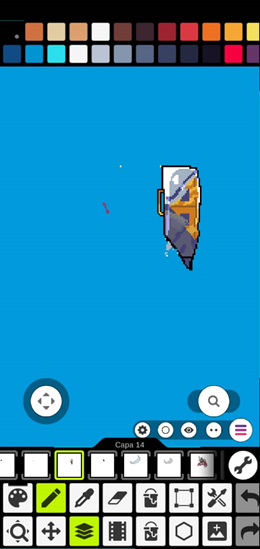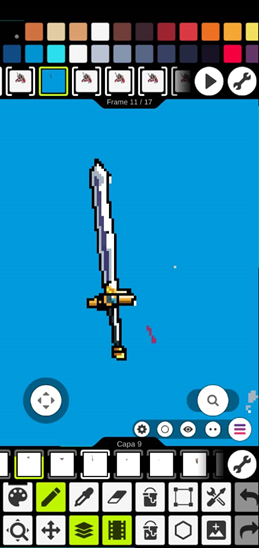 Photos taken from my phone
Fotos extraídas desde mi teléfono


Now to culminate with the part of the drawing in the last two layers I drew the shield that in my opinion I think was quite similar to the original drawing, it should be noted that it was the part that took me the longest to draw since with respect to the other parts The drawing has more detail and a better combination of colors, so finding the right colors was complicated, however, it has a detail that can be perceived later, a problem that I had not noticed until now, on the other hand, the sword was not simpler I wanted to give you a lot of detail since this will be essential for the final phase of this post.
Ya para culminar con la parte del dibujo en las últimas dos capas dibuje el escudo que en mi opinión creo que quedo bastante parecido al del dibujo original, cabe resaltar que fue la parte que más me tarde en dibujar ya que con respecto a las otras partes del dibujo tiene más detalle y más combinación de colores con lo que acertar los colores adecuados fue complicado sin embargo tiene un detalle que podrá percibirse más adelante , un problema que no había notado hasta el momento, por otra parte la espada si fue más sencilla no quise darle mucho detalle ya que esta será fundamental para la fase final de este post.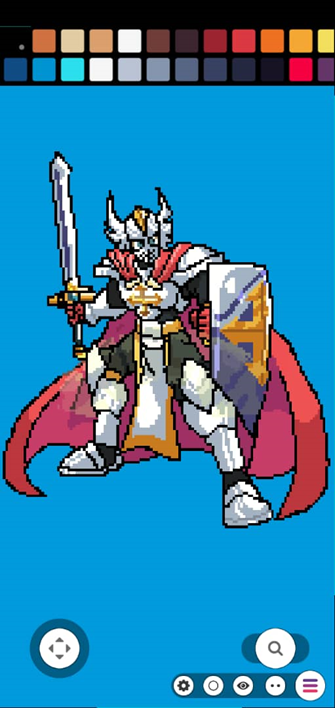 Photos taken from my phone
Fotos extraídas desde mi teléfono


Here you can see the complete work by showing all the layers at the same time, here you can see a little what I was saying about the colors, selecting the most appropriate colors is not always easy, so some more parts can be noticed clearer than others, do not change the colors since I personally feel that it looks good and that it is learning for me, there are also some shadows that are not as perfect as I would like, but it is a start.
To finish the post I want to show why the sword was a very important part, then I present a very short animation, I hope you like it.
Aquí se puede apreciar el trabajo completo al mostrar todas las capas a la vez, aquí sí se puede notar un poco lo que comentaba con respecto a los colores, seleccionar los colores más adecuados no siempre es fácil por lo que se pueden notar algunas partes más claras que otras, no cambie los colores ya que siento en lo personal que queda bien y que me queda de aprendizaje, también hay algunas sombras que no están tan perfectas como quisiera, pero es un inicio.
Para culminar el post quiero mostrar por que la espada era una parte muy importante, a continuación, les presento una muy corta animación, espero que sea de su agrado.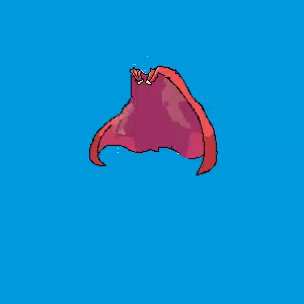 This is my first post in this community, most of my posts will be related to drawing and animation practices with splinterlands cards, I would like to know your opinions and advice regarding this type of content, have a happy afternoon.
Este es mi primer post en esta comunidad, la mayoría de mis post estarán relacionados al dibujo y prácticas de animación con las cartas de splinterlands , me gustaría saber sus opiniones y consejos con respecto a este tipo de contenido que pasen una feliz tarde.
---
---