(ENG/SPA) FANART: QUEEN OF CROWS ♥ | Splinterlands Art Contest | @DAVIDEAZUL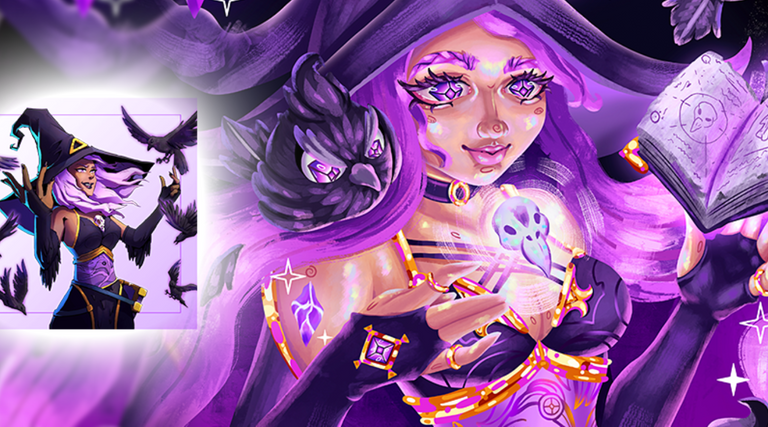 REFERENCE
ENTER SPLINTERLANDS

♥ QUEEN OF CROWS ♥



¡Hola a Todos! Estoy muy emocionado por participar en el concurso de arte @splinterlands, le he puesto todo mi empeño, tiempo y corazón a este arte y es uno de mis favoritos. Por favor, te invito a leer mi publicación para que puedas apreciar este hermoso proceso.
Hi Everyone!!! I am very excited to participate in the @splinterlands art contest, I have put all my hard work, time and heart into this art and it is one of my favorites. Please, I invite you to read my post so you can appreciate this beautiful process.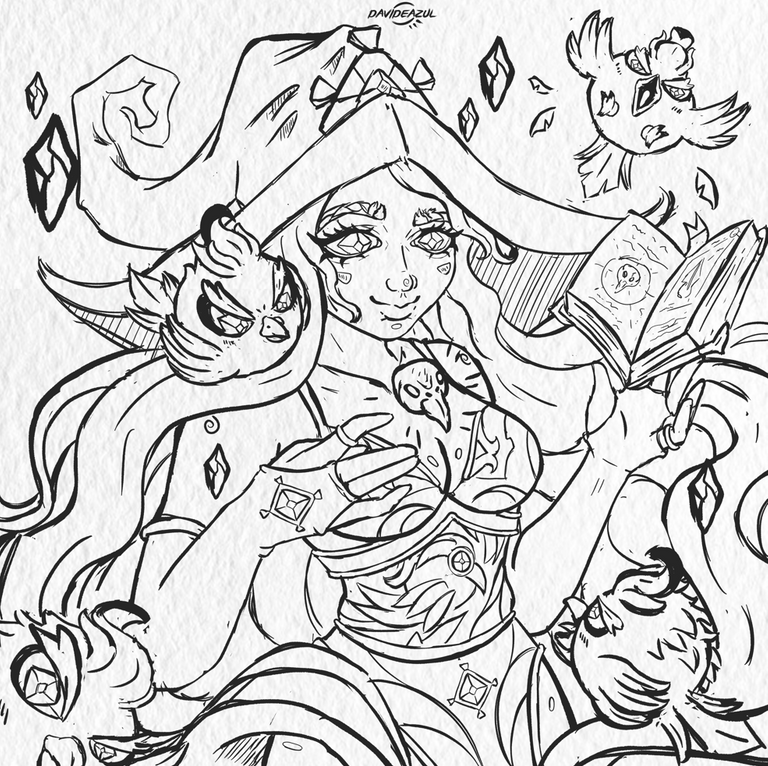 La carta que elegí está vez fue: Queen Of Crows, me estoy guiando por cartas donde se mantengan una paleta de colores Analogas, en este caso, predominaba el color morado de manera principal. Si quieres ver más del proceso de este boceto, puedes leer la anterior publicación.
The card I chose this time was: Queen Of Crows, I'm going for cards where I keep an Analogous color palette, in this case, the main color was purple. If you want to see more of the process of this sketch, you can read the previous publication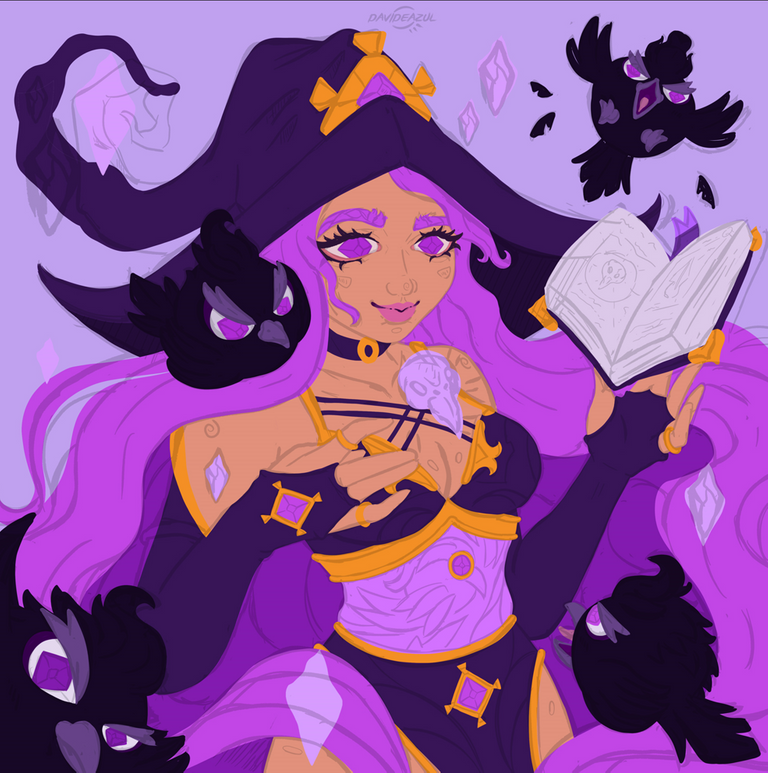 Estos fueron los colores planos, solamente elegí amarillo para contrarestar un poco los colores fríos, pero de resto, el color morado es lo que mas predomina. Tenía una gran curiosidad por pintar los cuervos, pues como logras detallar, no los dibujé de manera realista como en la ilustración original, sino que los caricaturicé, pero aún así quería mantener ese maldad en su diseño.
These were the flat colors, I only chose yellow to counteract a little the cold colors, but otherwise, the purple color is what predominates the most. I was very curious to paint the crows, because as you can see I didn't draw them in a realistic way as in the original illustration, but I caricatured them, but I still wanted to keep that evilness in their design.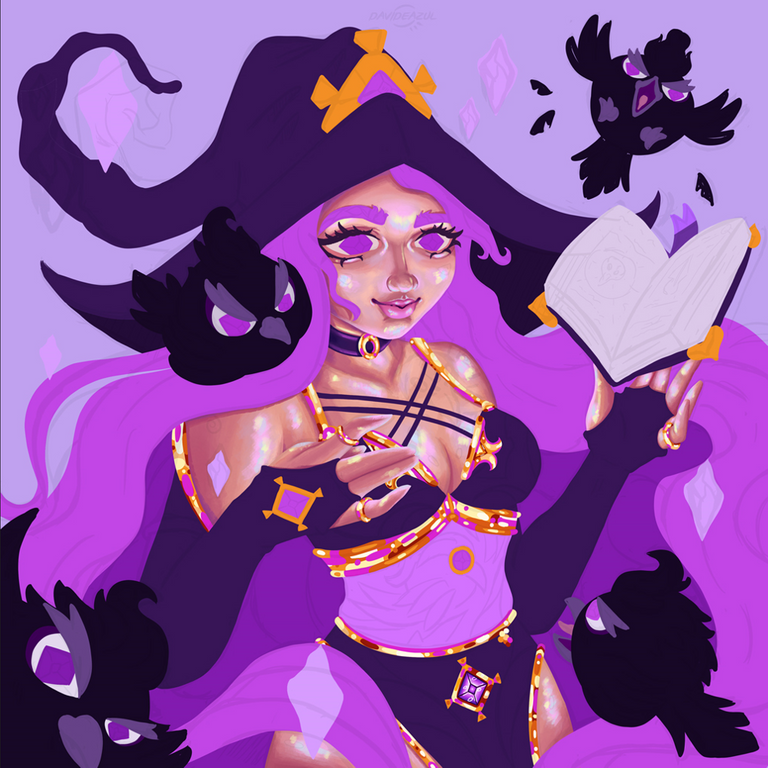 Mi versión de bruja es un poco más mágica, no es tan terrorífica como se pudo haber dibujado. Me encantaron los brillitos de colores de la piel, estoy utilizando pinceles con texturas para que la ilustración sea más atractiva visualmente.
My version of this witch is a bit more magical, not as scary as it could have been drawn. I loved the colored glitters on the skin, I'm using textured brushes to make the illustration more visually appealing.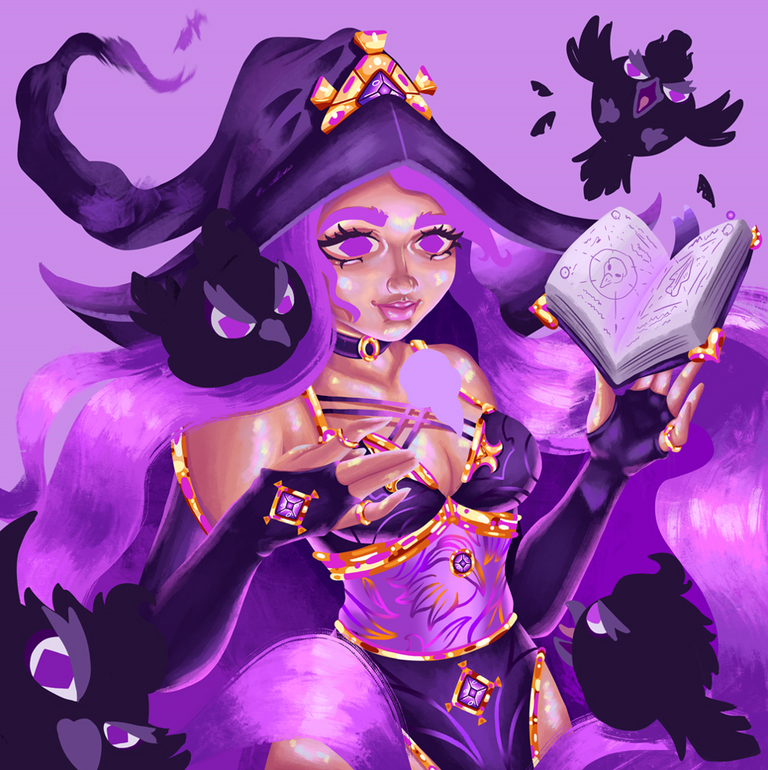 Pinté el cabello con unos pinceles que había descargado hace meses pero que nunca había usado; debo decir que el resultado me encantó. La punta del sombrero de la bruja la diluí como si fuese la cola de un fantasma, pero que adopta un tono más tétrico y mágico. Debo confesar que me encantó la forma en que pinté el oro de la ropa, me resulta muy atractivo a mis ojos, además que es una manera poco común de pintarlos.
I painted the hair with some brushes that I had downloaded months ago but had never used; I must say that I loved the result. The tip of the witch's hat I diluted it as if it were the tail of a ghost, so it adopts a more gloomy and magical tone. I must confess that I loved the way I painted the gold on the clothes, it is very attractive to my eyes, plus it is an unusual way to paint them.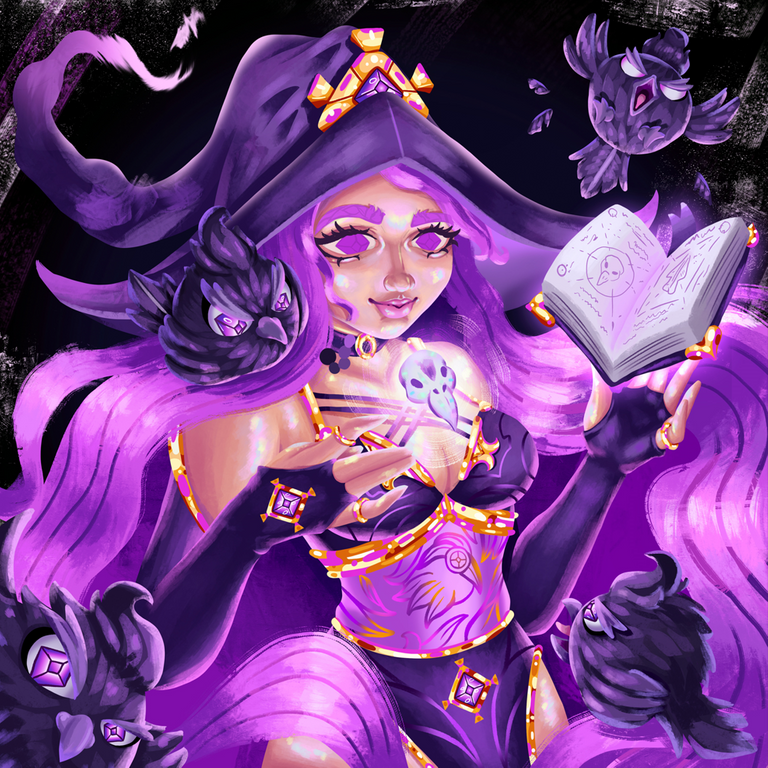 Una de las cosas donde invertí más tiempo fue en darle un buen acabado artístico a los cuervos, con un pincel simulé sus gruesas y negras plumas, que por estar cerca de una fuente de luz, llegan a reflejar la iluminación. Era inevitable, además, no dibujarle gemas en los ojos, creo que ese detalle es un plus para su diseño ♥
One of the things where I invested more time was to give a good artistic finish to the crows, with a brush I simulated their thick and black feathers, which by being close to a light source, come to reflect the lighting. It was inevitable, also, not to draw gems in his eyes, I think that detail is a plus for his design ♥

♥ FINISHED ILLUSTRATION! ♥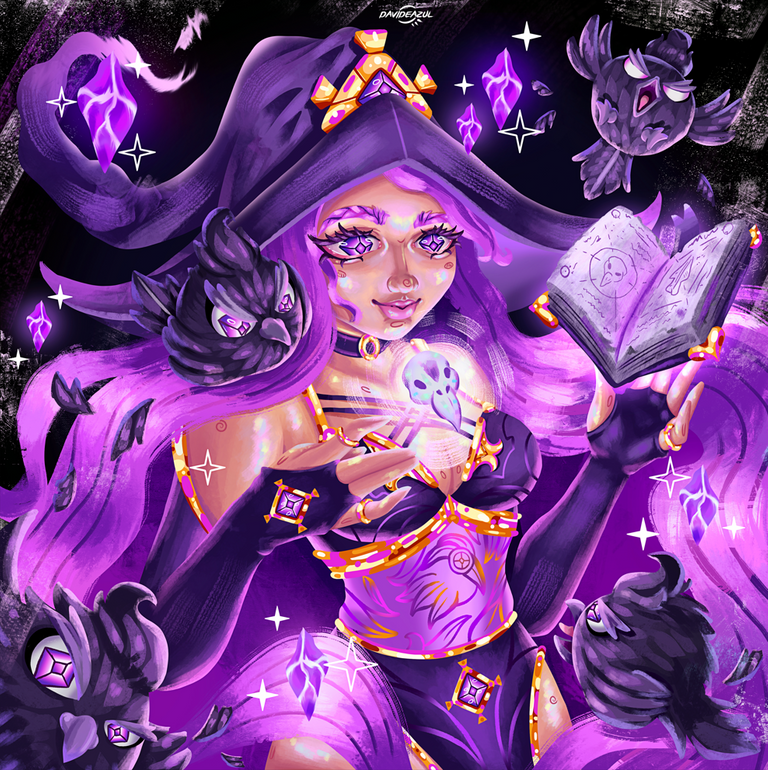 ENTER SPLINTERLANDS
DURATION: 8 hours.
PROGRAM: Adobe Photoshop.
I used a graphic tablet: Kamvas 20"
Por último, pero no menos importante, agregué algunas gemas flotando junto a las características estrellas que he venido integrando recientemente en mis ilustración. Estoy maravillado con la cantidad de texturas que probé en esta ilustración, creo que es el camino donde quiero dirigir mi arte.
Last but not least, I added some floating gems next to the characteristic stars that I have been integrating recently in my illustrations. I'm amazed with the amount of textures I tried in this fanart, I think that's the way I want to direct my art.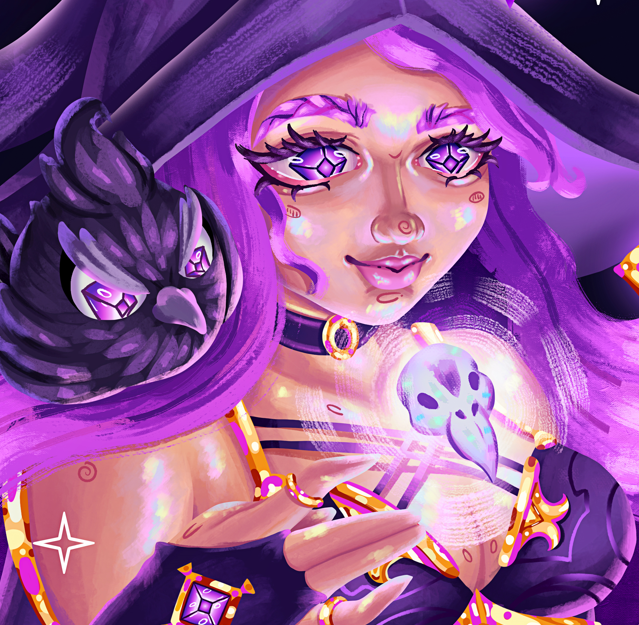 I hope you liked the result, see you in a future post!
THESE ARE MY RECENT FANARTS ABOUT @SPLINTERLANDS!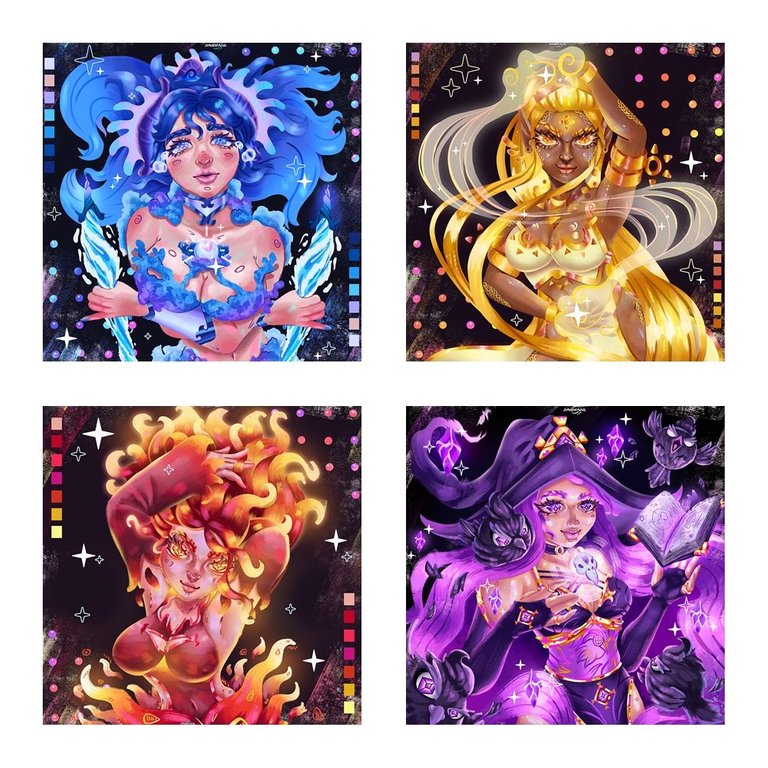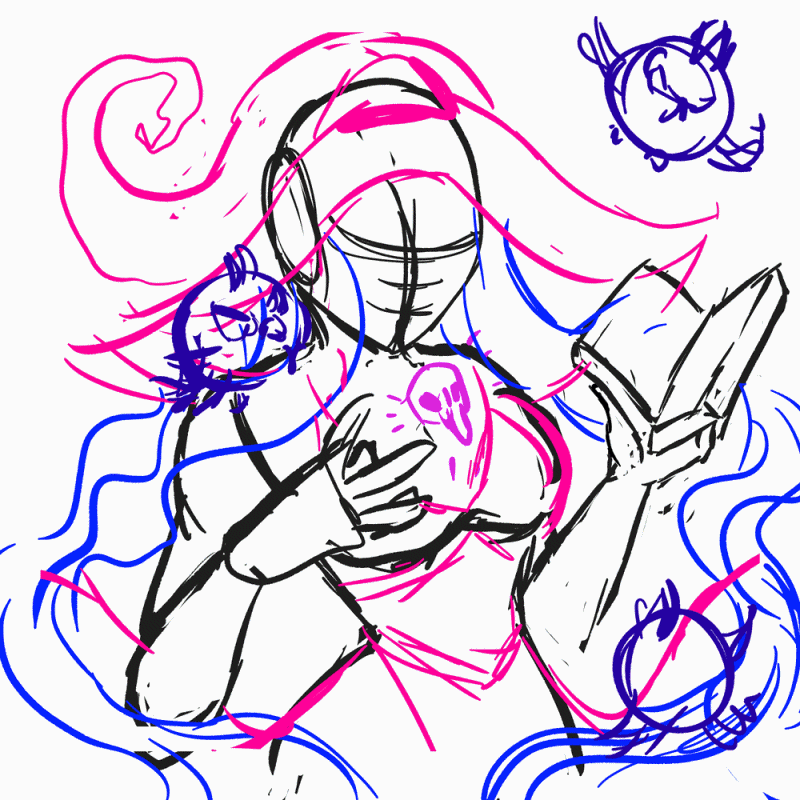 THANK YOU AGAIN FOR TAKING THE TIME TO APPRECIATE MY ART! ♥

My social networks:
| About Davideazul... 💎 | INSTAGRAM! |
| --- | --- |
| Roger Duran, Venezuelan. He is a digital artist, his style is based on cartoons with semi-realistic painting. He is also a 2D animator, an element present in some of his artistic works. / Roger Durán, venezolano. Es un artista digital, su estilo se basa en caricaturas con pintado semi-realista. Además es animador 2D, elemento presente en algunos de sus trabajos artísticos. | |
HAVE A GOOD DAY / AFTERNOON / NIGHT. SEE YOU IN THE NEXT ILLUSTRATION! ♥
---
---