SOCIAL CHALLENGE ⚔WARRIOR⚔ [EN/DEU]
Hello human warriors
Today I present you the splinter BATTLE Weekly Challenge with the card LEGIONNAIRE ALVAR which presented me with a great challenge, but I discovered a new God very little known in @splinterlands; this card is beautiful in its art although I had to arch it since I don't own it and I don't know but it brought me memories of the movie Gladiator, without further ado I tell you the super battle that was unleashed:
https://splinterlands.com?p=battle&id=sl_11f734943a66853760d7b114d9bfe225&ref=davot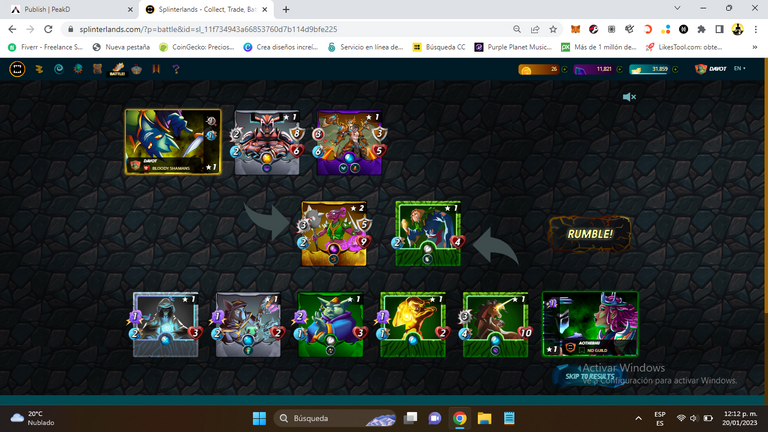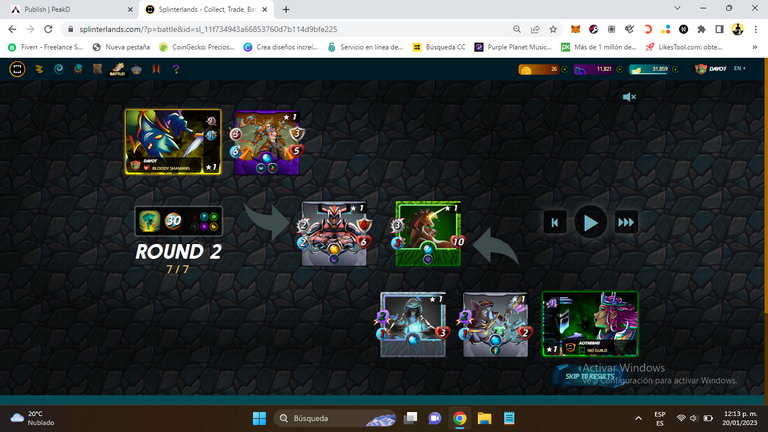 ---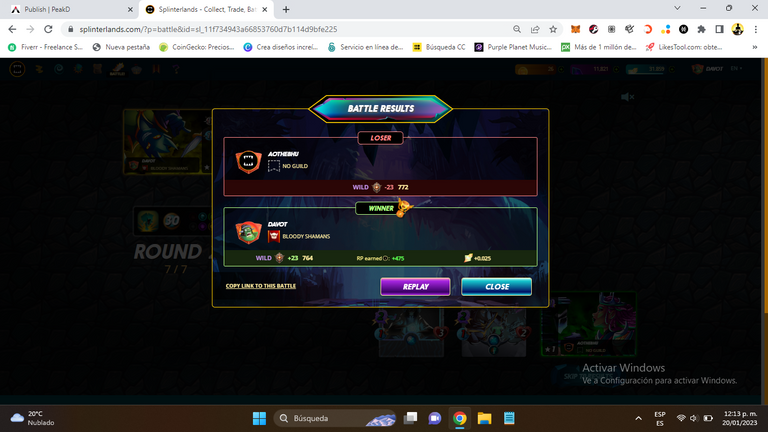 Said encounter happened in the humble bronze 1 with my alignment that I call DRAGON KNIGHT in which we faced a known ranks on land with that Unicorn that is very difficult to beat ( you have to nerf it hehe ); the battle was not easy but we rose with the victory.🙂
ADVANTAGES:
All hehe, it is a card that by his skills as a whole can be associated with a tank (endures melee and magic damage), but for his stats does a good job in the front line attacking.
DISADVANTAGES:
The sad thing is its high mana cost which makes it a very circumstantial card or if you like to risk as I can give you great joys; the other bad point is that if you attack with a card that removes armor will be an easy corpse hehe.


The truth is that I really liked the challenge, it is one of the most fun and exciting; let's hope for official challenges using 2 or 3 cards to increase the difficulty and improve as players.
That's all for today, don't forget to play @splinterlands, play sports, learn something new and most importantly BE HAPPY.
Blessings ah leave me tips on how to beat that Unicorn hehe....
my referral link, I invite you to use it and I'll give or delegate you a letter:
https://splinterlands.com?ref=davot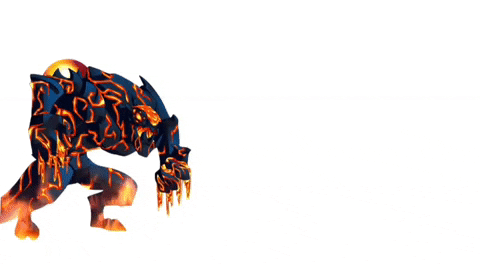 Hallo menschliche Krieger
Heute präsentiere ich euch die splinter #BATTLE Weekly Challenge mit der Karte LEGIONNAIRE ALVAR, die mich vor eine große Herausforderung gestellt hat, aber ich habe einen neuen Gott entdeckt, der in @splinterlands sehr wenig bekannt ist; diese Karte ist wunderschön in ihrer Kunst, obwohl ich sie archen musste, da ich sie nicht besitze und ich weiß nicht, aber sie hat mich an den Film Gladiator erinnert, ohne weiteres erzähle ich euch die Superschlacht, die entfesselt wurde:
https://splinterlands.com?p=battle&id=sl_11f734943a66853760d7b114d9bfe225&ref=davot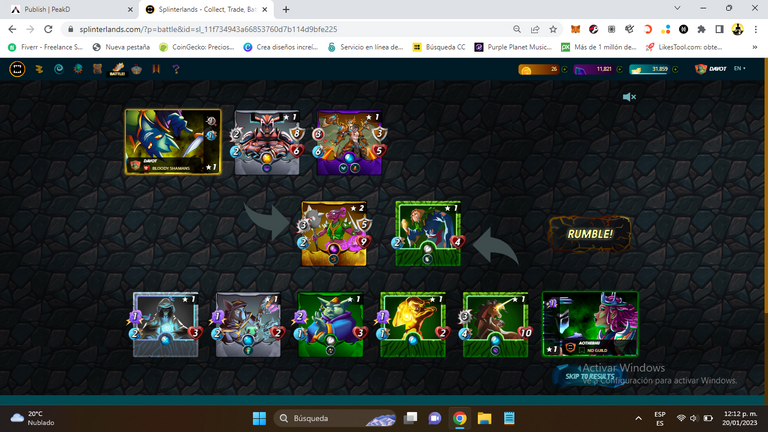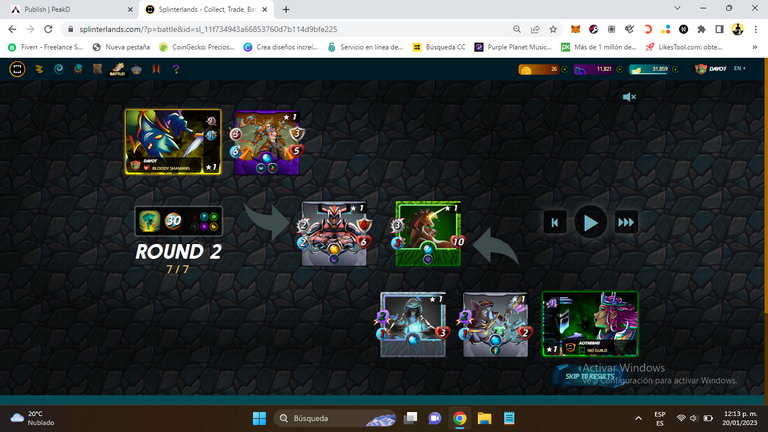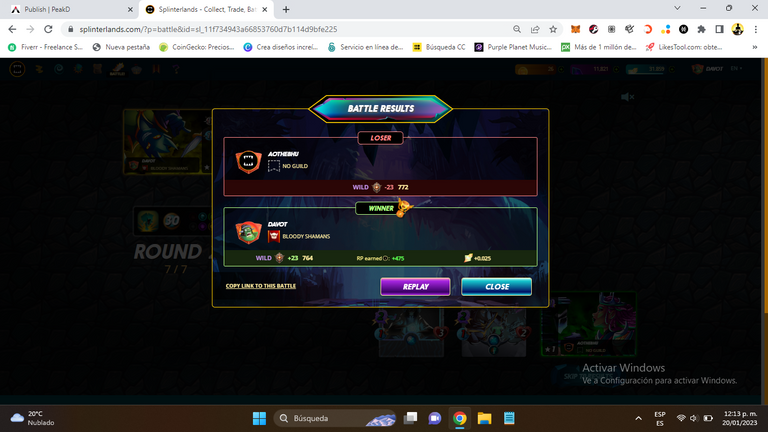 Die besagte Begegnung fand in der bescheidenen Bronze 1 mit meiner Ausrichtung statt, die ich DRAGON KNIGHT nenne, in der wir einem bekannten Rang auf dem Land mit diesem Einhorn gegenüberstanden, das sehr schwer zu besiegen ist (man muss es nerfen, hehe); der Kampf war nicht einfach, aber wir gingen mit dem Sieg hervor.🙂
VORTEILE:
Alle hehe, es ist eine Karte, die durch seine Fähigkeiten als Ganzes mit einem Tank assoziiert werden kann (erträgt Nahkampf- und Magieschaden), aber für seine Stats macht einen guten Job in der vordersten Linie angreifen.
NACHTEILE:
Die traurige Sache ist seine hohe Manakosten, die es eine sehr umständlich Karte macht oder wenn Sie zu riskieren, wie ich kann Ihnen große Freuden; der andere schlechte Punkt ist, dass, wenn Sie mit einer Karte, die Rüstung entfernt angreifen wird eine einfache Leiche hehe.


Die Wahrheit ist, dass ich wirklich mochte die Herausforderung, es ist eines der am meisten Spaß und spannend; lassen Sie uns für offizielle Herausforderungen mit 2 oder 3 Karten hoffen, um die Schwierigkeit zu erhöhen und als Spieler zu verbessern.
Das war's für heute, vergesst nicht, @splinterlands zu spielen, Sport zu treiben, etwas Neues zu lernen und vor allem GLÜCKLICH zu sein.
Blessings ah lassen Sie mich Tipps, wie man das Einhorn hehe.... schlagen
mein Empfehlungslink, ich lade dich ein, ihn zu benutzen und ich werde dir einen Brief geben oder delegieren:
https://splinterlands.com?ref=davot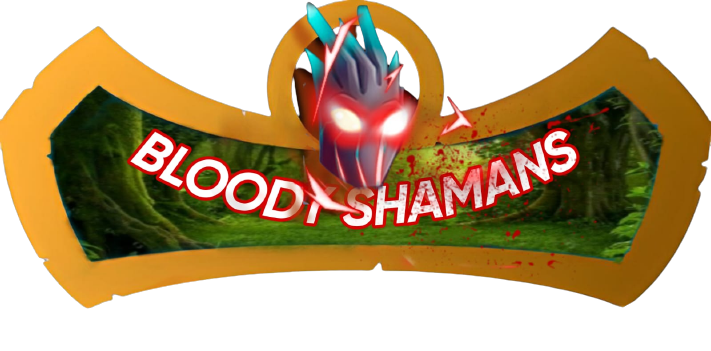 CREDITS:
To whom it may concern; Use of images from the mentioned project under my
editing and I.A. My native language is Spanish, I use translator. Thanks
Posted using Splintertalk
---
---