For Guild & Glory: May 1, 2022 Personal Brawl Report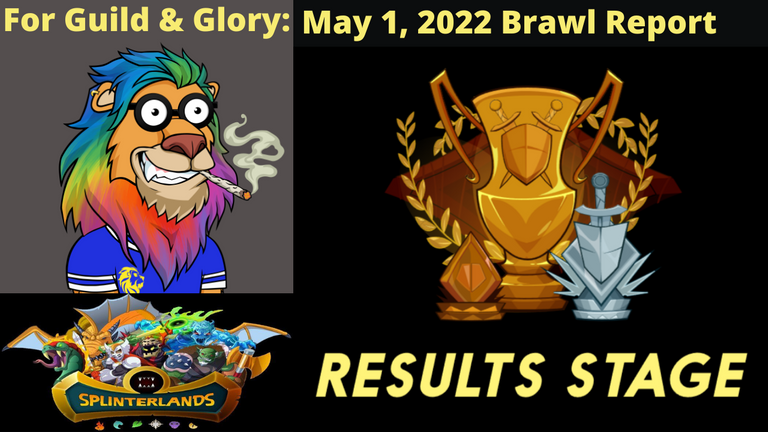 Welcome back to the first May edition of "For Guild & Glory," where I share the travails of brawling with my two accounts: @ducecrypto, who battles with the Top3-ranked guild @shield-of-glory in Tier 2, and @shaelien, who is a co-leader of The Gold Syndicate which battles in Tier 1 as the 2nd division of the @the420syndicate.
---
Overview
After another quick check of the landscape in Tier 3, it was again decided to keep Shield of Glory in Tier 2 due to the smaller than desired amount of guilds willing to battle in the higher tier. But the competition was still fierce, with half of the 10 guilds in the Top25 of the Tier 2 brawl. In the end, Shield of Glory bested Legendary Wyverns by a single win to take first place with a 67-35 record for spoils of 62 crowns and 3875 merits.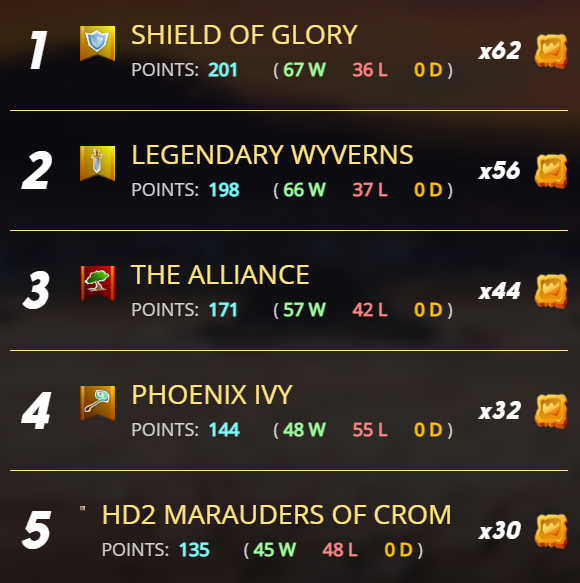 ---
Down in Tier 1, it was a slightly frustrating finish for The Gold Syndicate. While its record was greatly improved from prior weeks, there was still one brawler who failed to submit their matches, resulting in a could-have-been-better third place finish just one win behind T&A Legion III. The final record was 51-30 and third place paid out 16 crowns an 738 merits.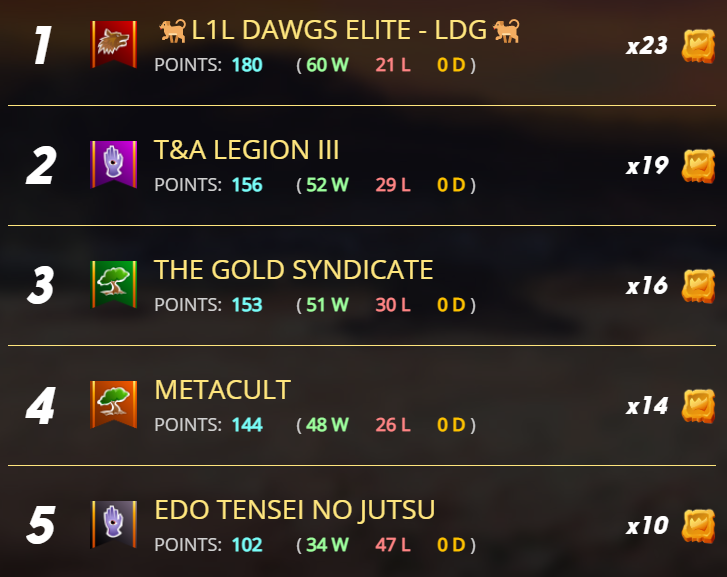 ---
Personal Record
I resumed my customary positions defending my guilds' Gold Foil frays. DuceCrypto had another strong showing in Tier 2 Fray 14, GF Modern Bronze league, with a 5-1 performance. Shaelien finished similarly well in Tier 1 Fray 11, GF Wild Bronze league, with a bounce-back 3-1 record.
---
DuceCrypto Battles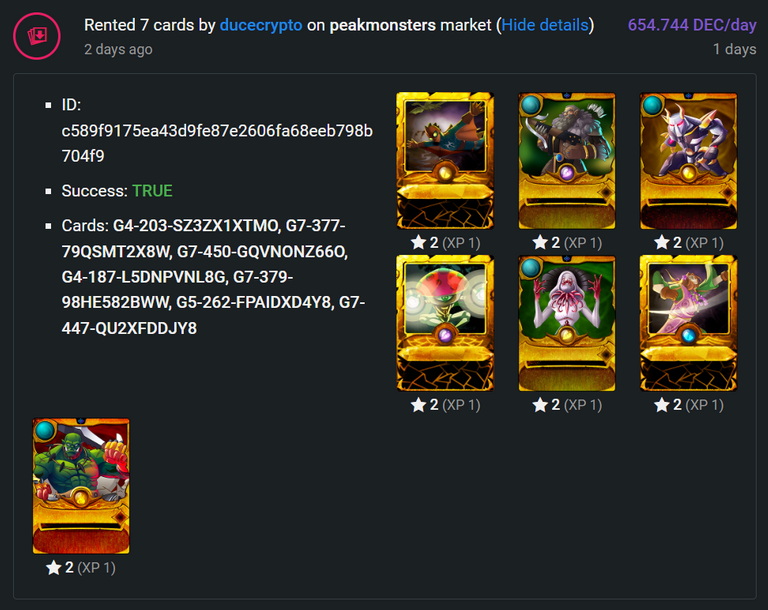 This brawl was interesting from the perspective of rentals because the usual heavy hitters like Yodin and Llama were priced way out of my range for some unknown reason. With a Mylor now in my collection, I added Brighton Bloom and a few strong monsters, like Dragon Jumper and Carnage Titan, at a decent value truth be told.
Here are my battle results and the replays: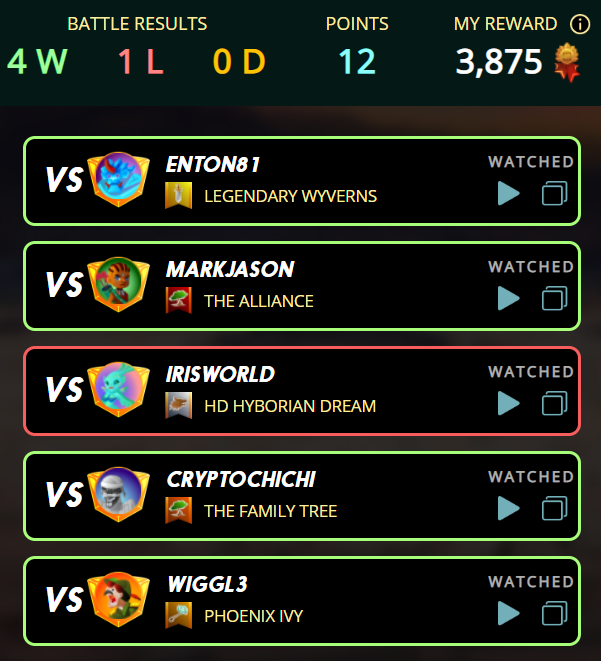 Battle 1 vs. @enton81 --> Replay
Battle 2 vs. @markjason --> Replay
Battle 3 vs. @irisworld --> Replay
Battle 4 vs. @cryptochichi --> Replay
Battle 5 vs. @wiggl3 --> Replay
Mylor did a ton of work for me in this brawl cycle, winning two of the battles including the deciding contest against Legendary Wyverns' Enton81. It was a 12cc, no heal, odd monster battle, and we both opted for Mylor with Hill Giant as tank. But their choice of Disintegrator was no match for my flying two 1cc dorks and Royal Peryton, who evaded four straight attacks en route to a decisive and well-played victory.
Once again my only loss of the brawl came in a life-on-life matchup, as it was the only splinter available for the 54cc even monster ruleset against Irisworld. My only GF gladius card, Ajax Lightfoot, will have to wait another week to taste his first win, as the range-heavy General Sloan lineup was no match for the Lorna Shine and Kralus-led mostly magic lineup from my opponent.
The third battle of note was the last one against Wiggl3, as I was able to best their GF Gladius Witch of Warwick in a Thaddius Brood death mirror-match. My 5cc Silent Sha-vi proved to be too much to handle for their life leaching, bloodlusting witch, while my Scavo Hireling repairing armor helped turn the tide as our Cursed Windekus stared each other down from the tank position.
---
Shaelien Battles
I felt badly about a few back-to-back poor records, so I did a little bit more delegating than usual to make sure Shaeline's forces were fortified for battle in the GF Wild Bronze league Fray 11 in Tier 1. In turn, Shaelien responded with a strong 3-1 performance.
Here are my battle results and the replays: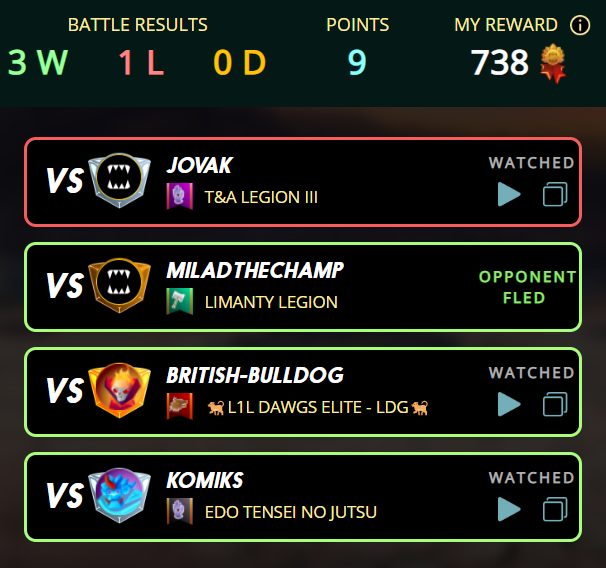 Battle 1 vs. @jovak --> Replay
Battle 2 vs. @miladthechamp --> Fled
Battle 3 vs. @british-bulldog --> Replay
Battle 4 vs. @komiks --> Replay
My only loss in Ter 1 came to a beefy GF gladius card in another low mana matchup. Reverse speed and earthquake were the battle conditions for this 12cc contest, Jovak's Alva the Crusher absolutely crushed the two weak flyers I submitted, along with the help of Vera's snare ability.
Another interesting brawl was Battle 3 against British-Bulldog, which happens to also be the name of my favorite soccer pub in Denver, CO, home to the lovable Rocky Monntain Blues Chelsea supporters group. We both chose water for the 23cc earthquake battle, but my smaller flying lineup with Alric proved to powerful for his beefier non-flying Kelya lineup featuring Deeplurker and Djinn Oshannus.
---
New Brawl Preview
Before touching on our upcoming matchups, I wanted to share some of my spoils from the prior brawl season. Big finishes mean big rewards, so I was able to purchase two gladius cases for the DuceCrypto account and although it once again lacked any Gold Foils, there were quite a few new powerful monsters.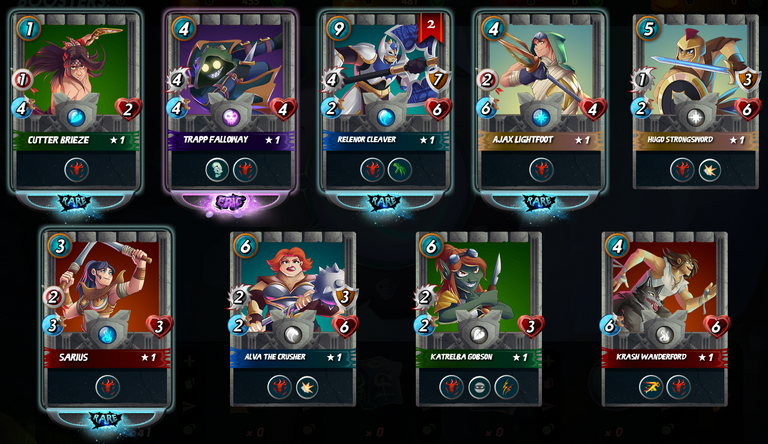 Half of the 10 cards were rares and one was epic, meaning just 40% of the opened cards were commons - pretty lucky after all! The death epic Trapp Falloway looks strong, but unless I'm ever afforded a break from Gold Foil duty, they will remain on my bench for brawls.
In Tier 2, Shield of Glory faces its toughest competition from TEAM KR and Team Possible Diamond. Down in Tier 1, The Gold Syndicate faces off against two Top60 guilds in its brawl, Baby Mercenaries and Phoenix From The Ashes.
Thanks as always for joining me on my journey "For Guild & Glory," and I'll catch you back here in a few days. Best of luck battle mages!
---
---