[ES-EN] REVIEW OF THE NEW REWARD CARDS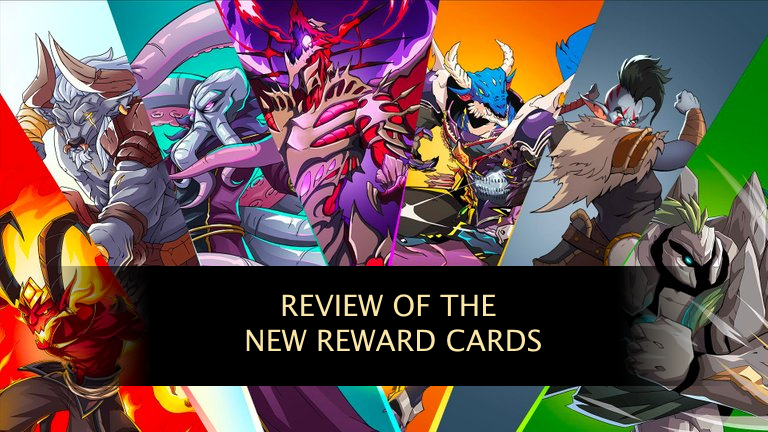 My analysis of the new cards and my first experiences, although somewhat limited by not being able to rent them.
Mi analisis de las nuevas tarjetas y mis primeras experiencias aunque algo limitadas al no poder rentarlas.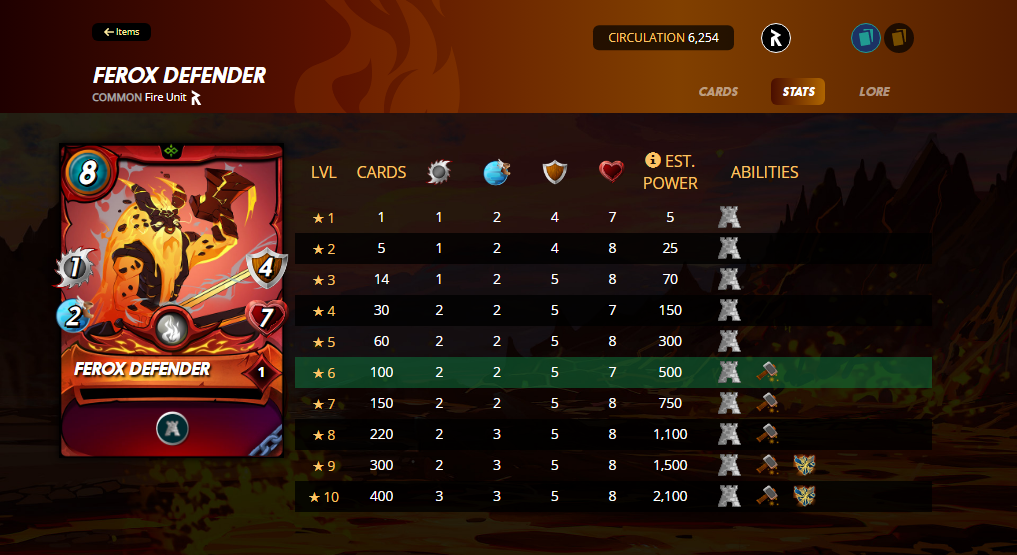 A reinforcement to protect the team with its PROTECT and REPAIR but due to its type of attack its use would be in the first position and due to its statistics and abilities it will not be a very good tank.
Un refuerzo para proteger al equipo con su PROTECT y REPAIRpero que por su tipo de ataque su uso seria en la primera posición y que por sus estadísticas y habilidades no será muy buen tanque.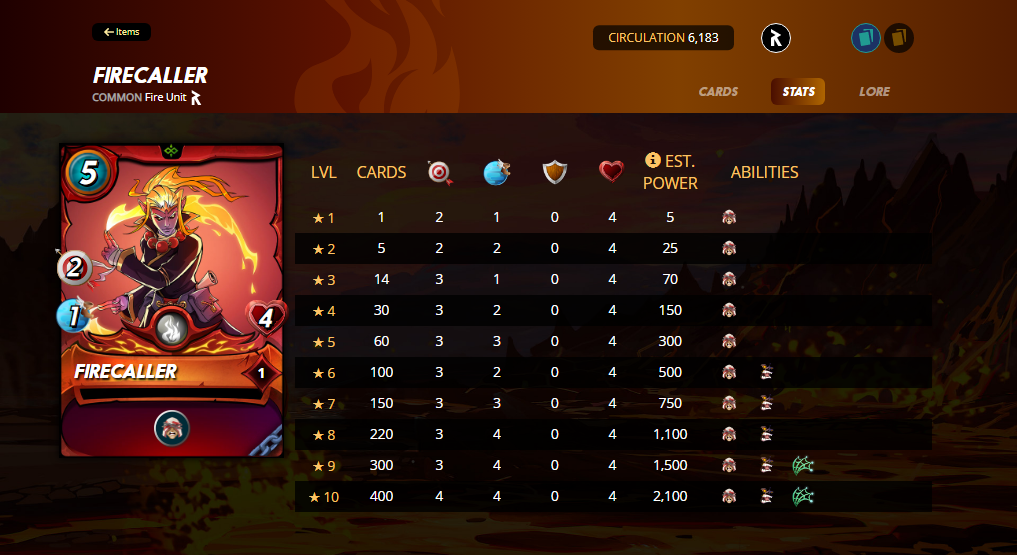 A card with bad stats but with MARTYR which makes it difficult to qualify but can have great utility in penultimate position without a problem, especially if a unit with camouflage is used in last position.
Una carta con malas estadísticas pero con MARTYR lo cual la hace difícil de calificar pero que puede tener una gran utilidad en penúltima posición sin problema en especial si se usa de última posición una unidad con camuflaje.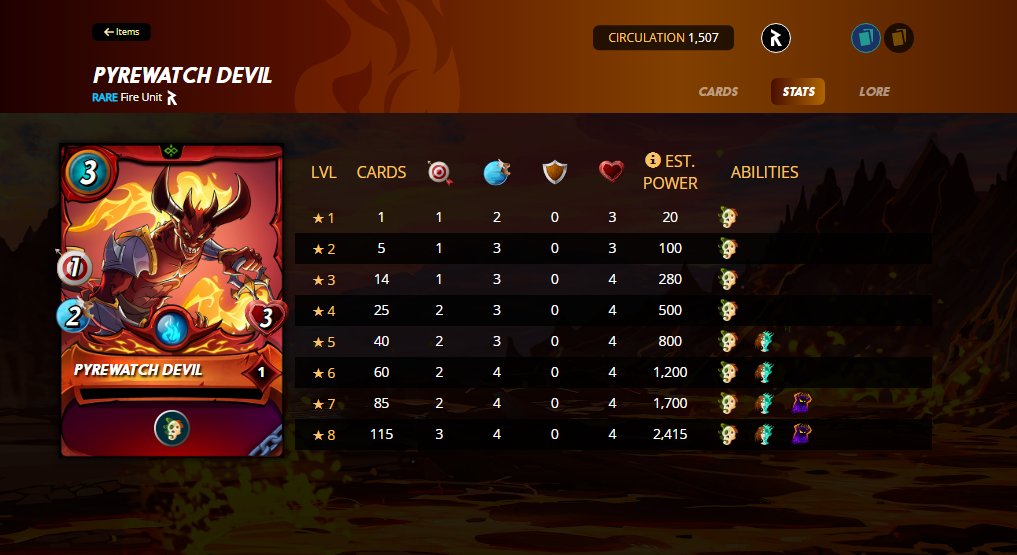 A low-cost, mana-filling card that can snowball and with the right rules can be a pain in the ass for your opponent.
Una tarjeta de bajo coste que permite completar el mana y que puede tener un efecto bola de nieve y que con las reglas correctas puede ser un dolor de cabeza para el rival.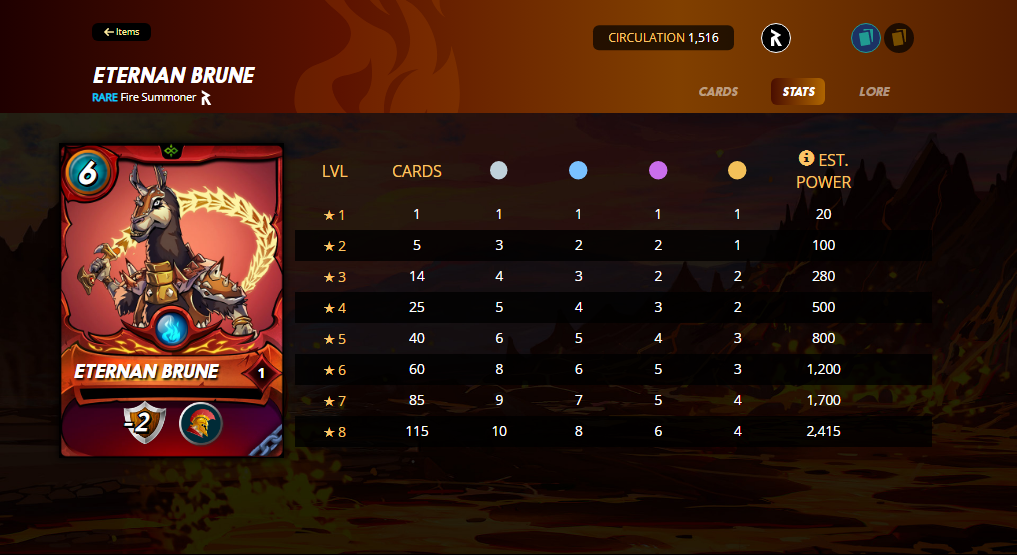 The new summoner of fire that with the arrival of many cards with PROTECT will allow you to ignore these in offensive equipment and that with CONSCRIPT allows you a card with bloodlust that creates a considerable combination but for its cost It can be used mostly from time to time in high leagues.
El nuevo invocador de fuego que con la llegada de muchas tarjetas con PROTECT te permitirá ignorar estas en equipo ofensivos y que con CONSCRIPT te permite una tarjeta con bloodlust que te crea una combinación considerable pero que por su coste puede ser usada en su mayoría de vez en ligas altas.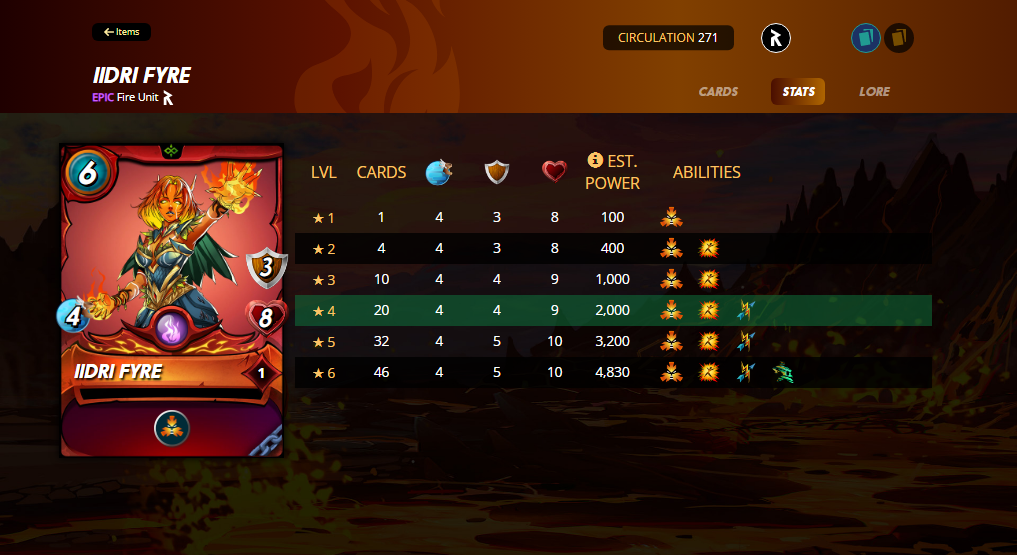 New decoy card that with WEAPONS TRAINING can be used offensively and if it cannot absorb damage and cause at least one damage to all enemies.
Nueva carta señuelo que con WEAPONS TRAINING puede dar un uso ofensivo y si no puede absorber daño y causar uno de daño a todos los enemigos por lo menos.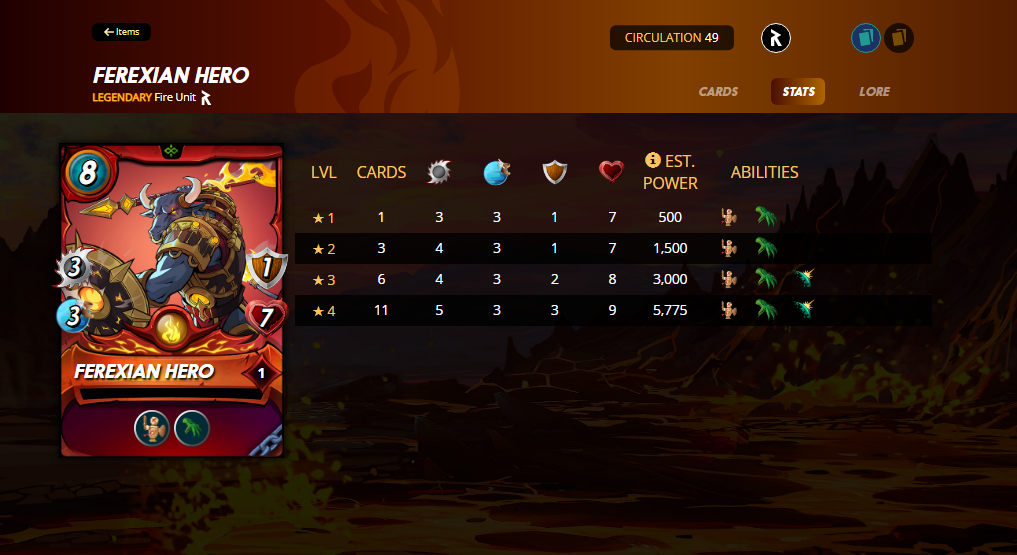 New legendary designed for the second position and that seems to be good in regular games and brutal with specific rules.
Nueva legendaria diseñada para la segunda posición y que parece ser buena en partidas regulares y brutal con reglas especifica.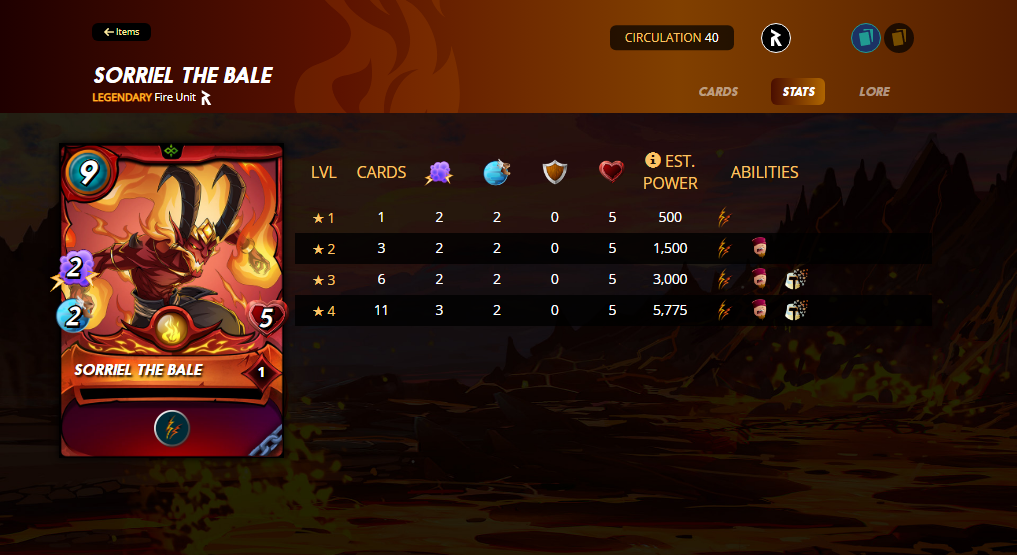 The new legendary card of fire and that due to its low stats may not be very flashy but combined with the correct summoners it can be the key to a victory.
La nueva tarjeta legendaria de fuego y que por sus bajas estadísticas puede no ser muy llamativa pero combinada con los invocadores correctos puede ser la clave de una victoria.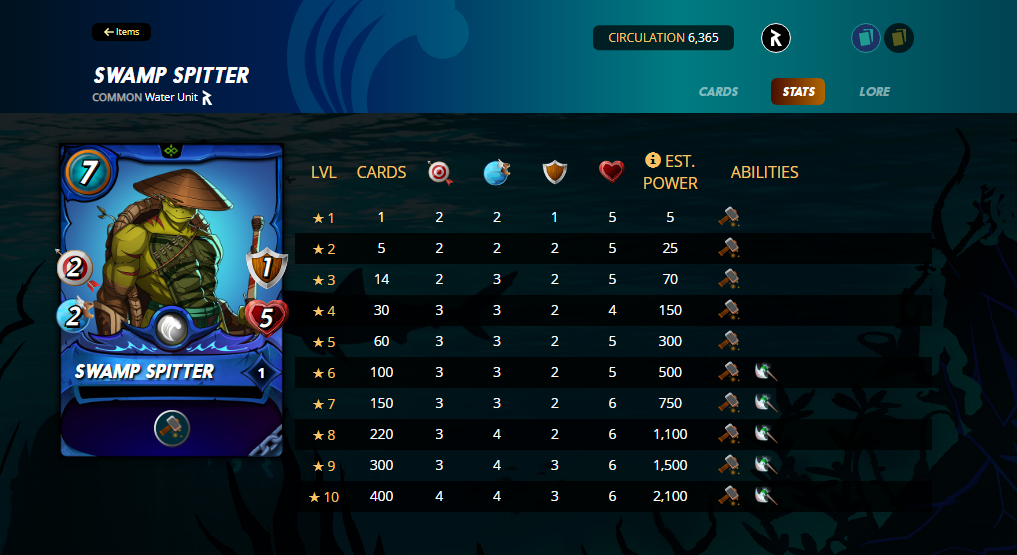 Reinforcement card but due to its low statistics and its cost it can be ignored despite its REPAIR.
Tarjeta refuerzo pero que por sus bajas estadísticas y su costo puede ser ignorada pese a su REPAIR.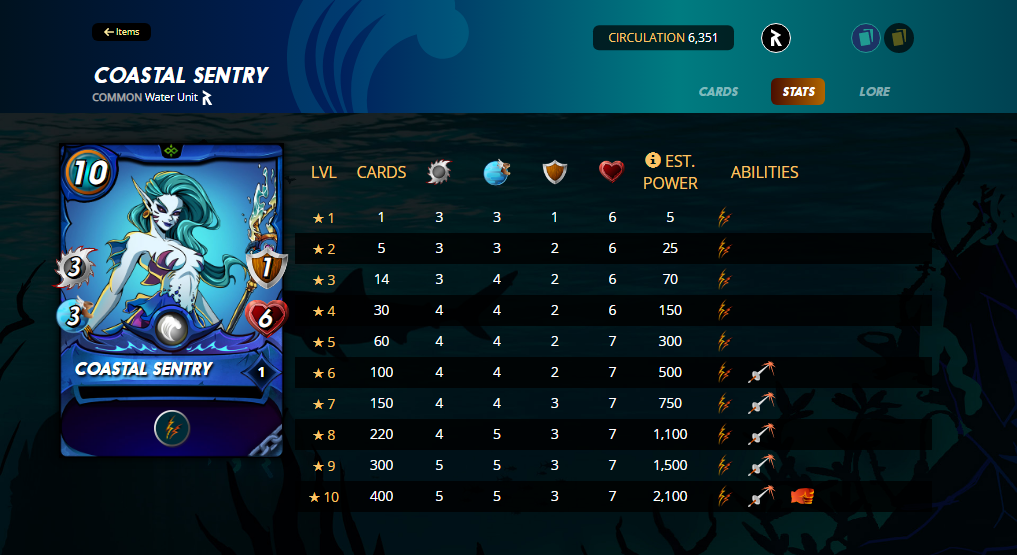 One of my favorite cards of the new cards because of its combination with POSSIBILUS THE WISE but solo it's not a very good card compared to other cards with DOUBLE STRIKE.
Una de mis cartas favoritas de las nuevas tarjetas por su combinación con POSSIBILUS THE WISE pero que en solitario es una carta con no muy buena en comparación con otras tarjetas con DOUBLE STRIKE.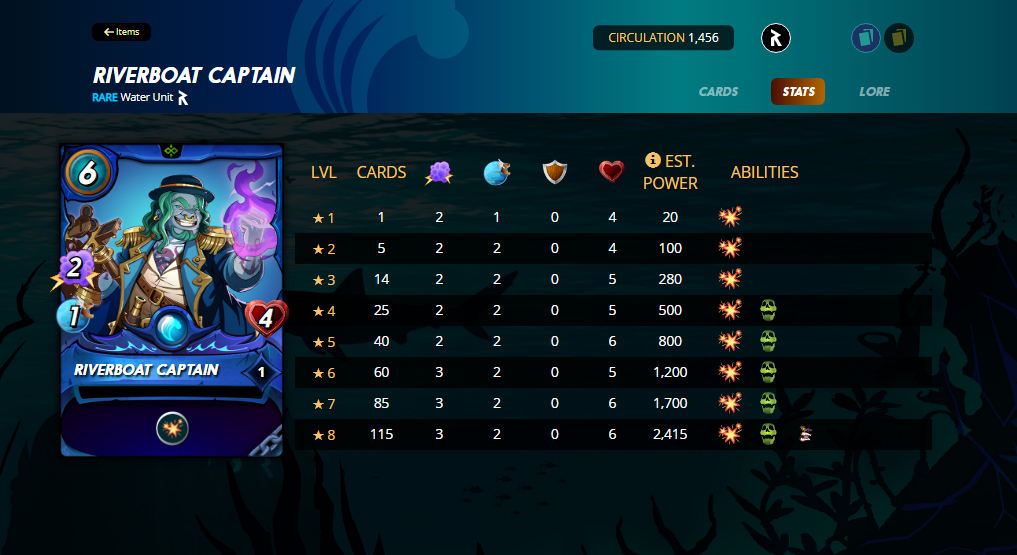 More items for magic attack teams but will have a hard time competing with other cards.
Más elementos para equipos de ataques de magia pero que tendrá dificultad compitiendo con otras tarjetas.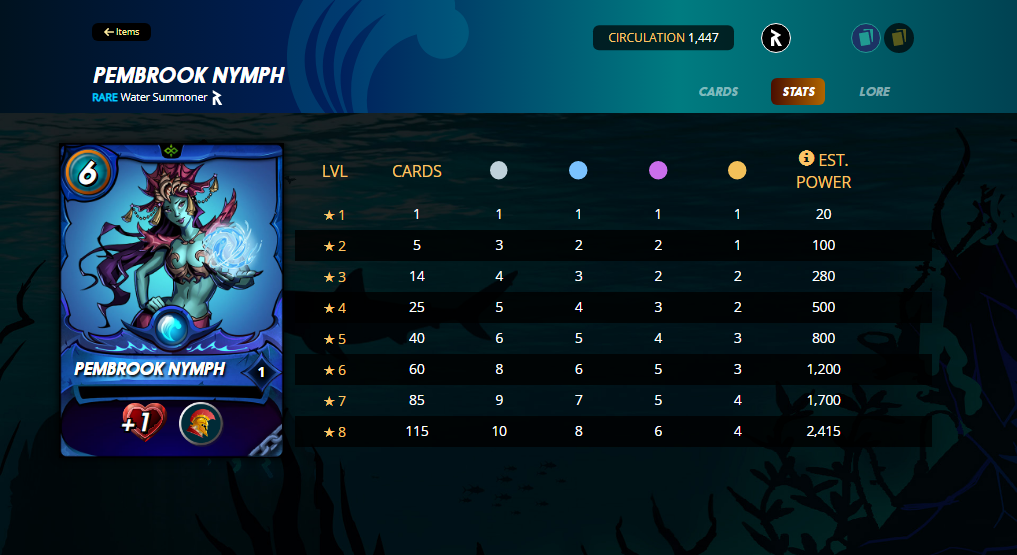 The new water summoner with CONSCRIPT that also increases one health that can be a decisive factor in some games or completely irrelevant in others, especially compared to other summoners.
La nueva invocadora de agua con CONSCRIPT que aparte aumenta uno de salud que puede ser un factor decisivo en algunas partidas o completamente irrelevante en otras en especial en comparación a otros invocadores.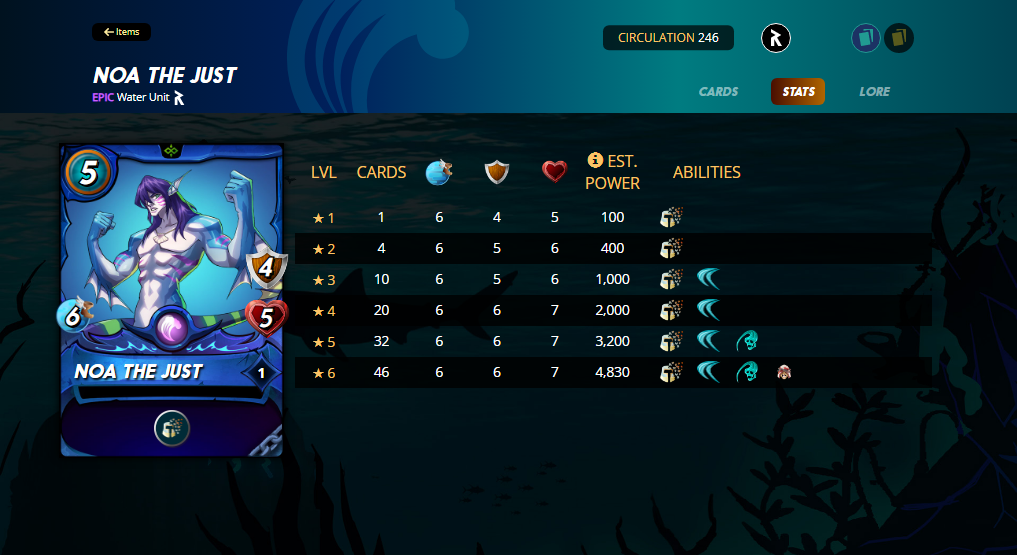 A good lure card for ranged and melee fights due to its ease of dodging attacks due to its speed and abilities.
Una buena tarjeta de señuelo para peleas de ataques a distancia y cuerpo a cuerpo por su facilidad de esquivar ataques por su velocidad y habilidades.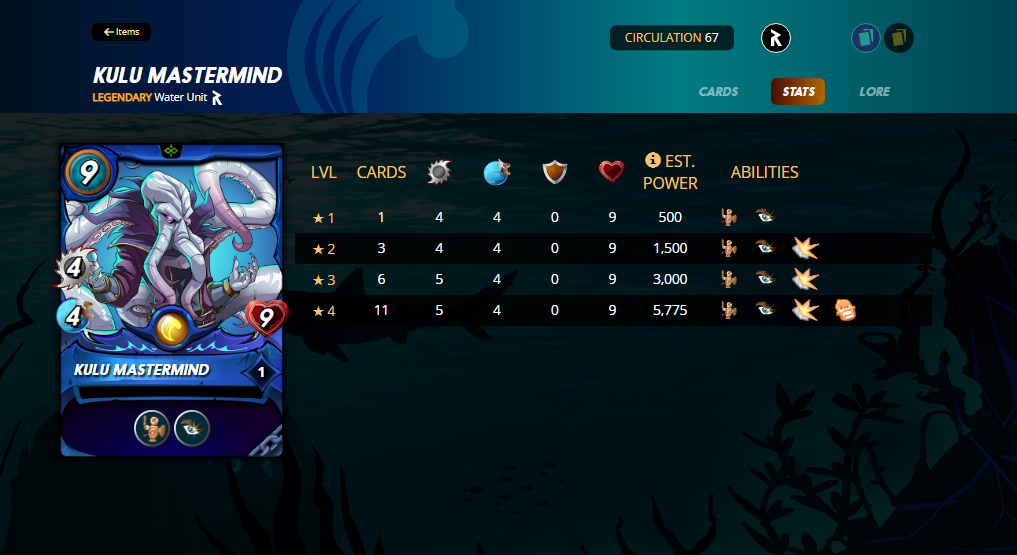 A card with great power but can be difficult to set up due to its abilities, especially against opponents like DEEPLURKER.
Una tarjeta con gran potencia pero que puede ser difícil de colocar por sus habilidades en especial con rivales como DEEPLURKER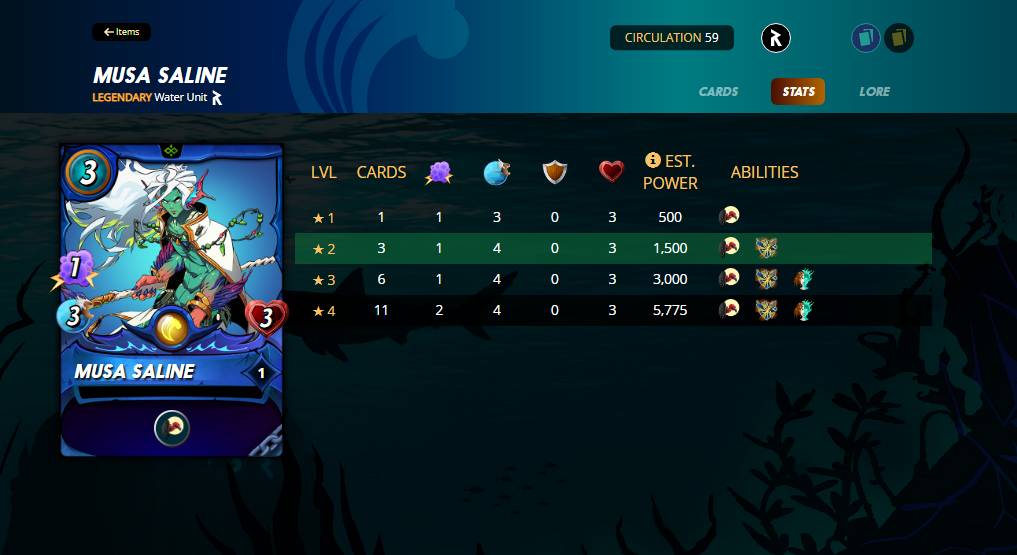 The other legendary water card is a low cost magic attack card which gives it a lot of flexibility when using it which can be very good to get rid of annoying VOID ARMOR.
La otra legendaria de agua una carta de bajo costo y de ataque mágico lo que le da mucha flexibilidad a la hora de usarla la cual puede ser muy buena para quitarse molesta VOID ARMOR.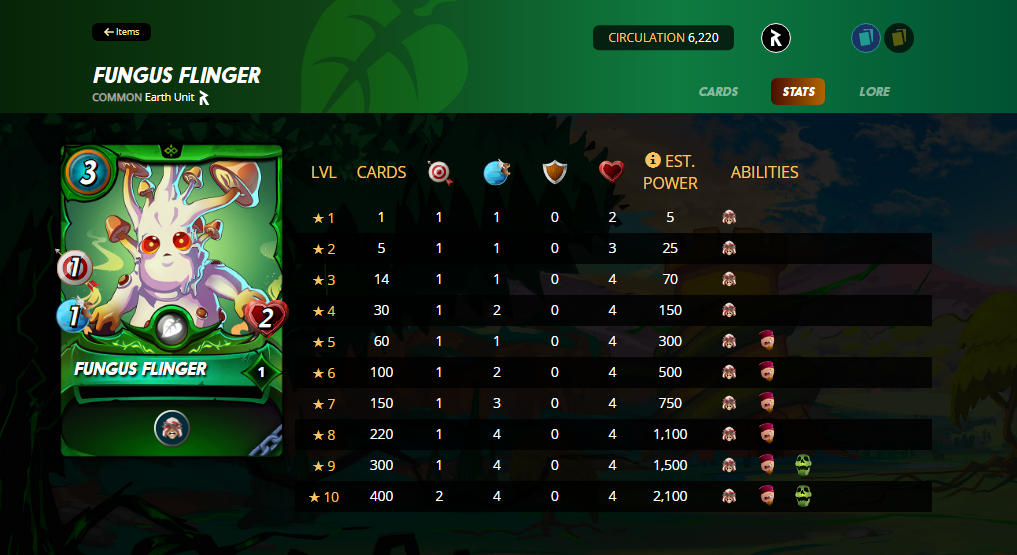 Very useful card to be able to strengthen already strong combinations of Earth such as SCARRED LLAMA MAGE and KRON THE UNDYING among many others and that is easy to activate due to its low life.
Tarjeta muy útil al poder fortalecer combinaciones ya de por si fuerte de Tierra como SCARRED LLAMA MAGE y KRON THE UNDYING entre muchas otras y que es fácil activar por su baja vida.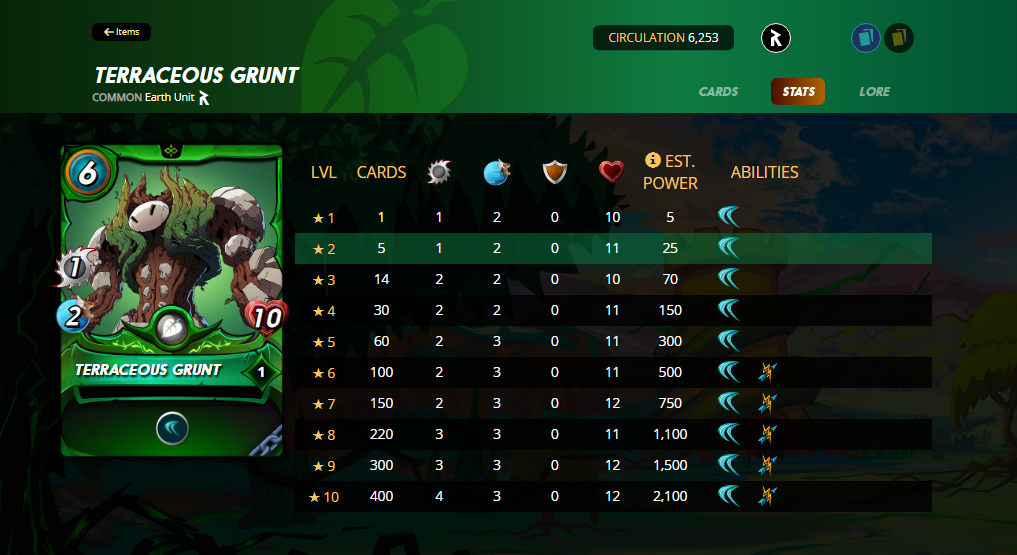 Filler card for your stats and abilities.
Tarjeta de relleno por sus estadísticas y habilidades.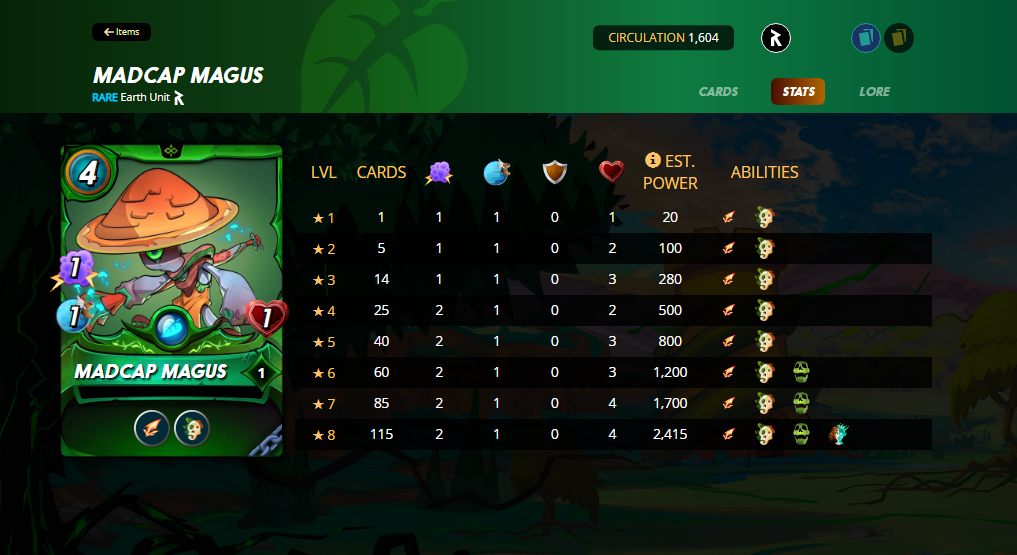 Rare card with very useful abilities, but lowest possible stats only useful in specific rules battles.
Tarjeta rara con habilidades muy útiles, pero con estadísticas más bajas posibles solo útil en batallas de reglas específicas.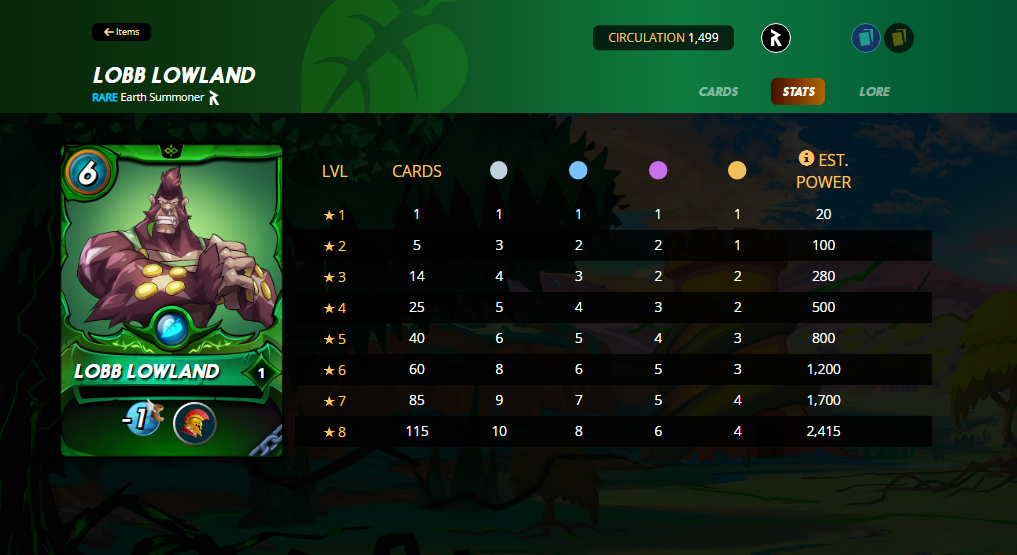 The new summoner of earth with speed reduction for the enemy that is usually useful in almost all games and CONSCRIPT.
El nuevo invocador de tierrà con reducción de velocidad para el enemigo que suele ser útil en casi todas las partidas y CONSCRIPT.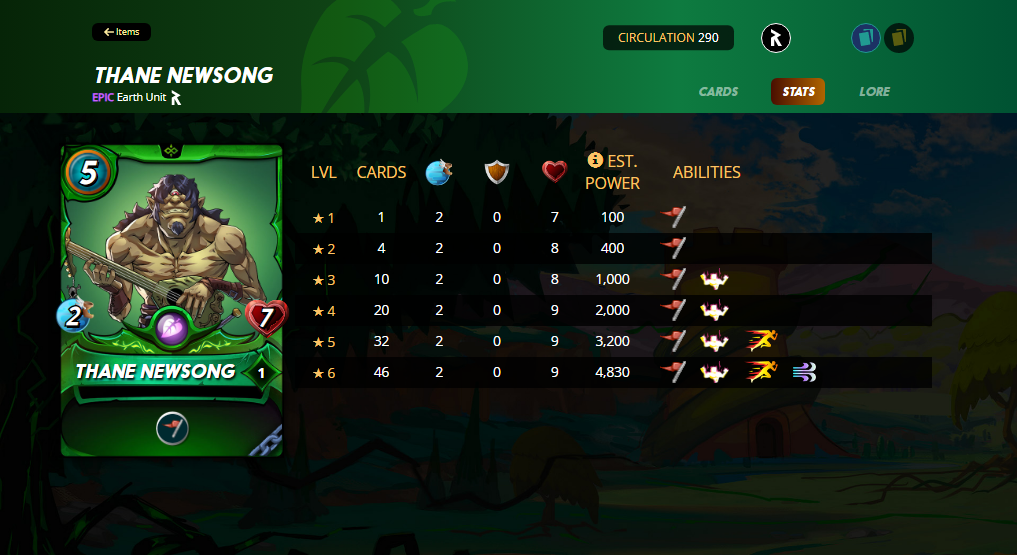 Good card to strengthen the team offensively.
Buena tarjeta para fortalecer al equipo de manera ofensiva.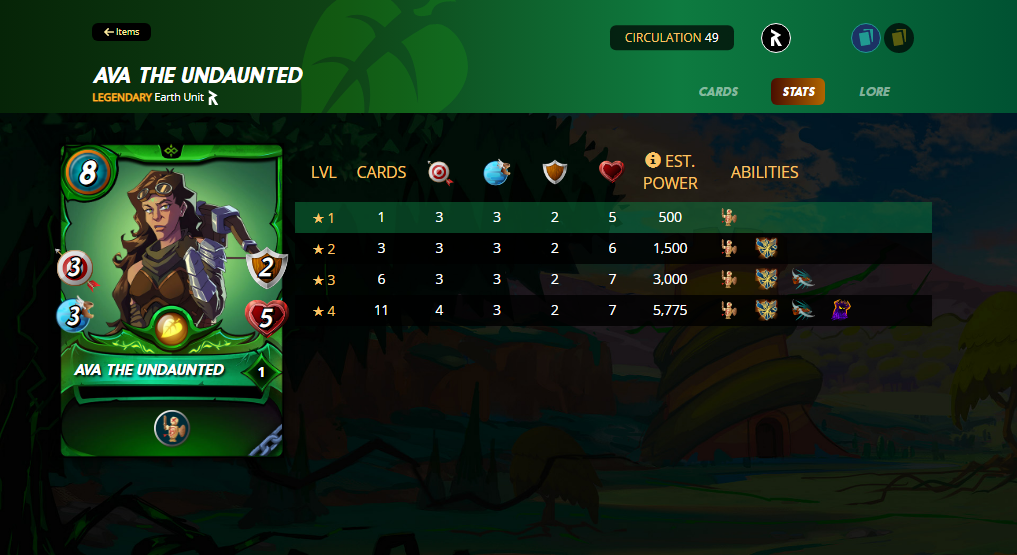 Legendary with many abilities with the indicated summoner and depending on the rules of the battles, but difficult to use due to its type of attack and cost.
Legendaria con muchas capacidades con el invocador indicado y dependiendo de las reglas de las batallas, pero difícil de usar por su tipo de ataque y costo.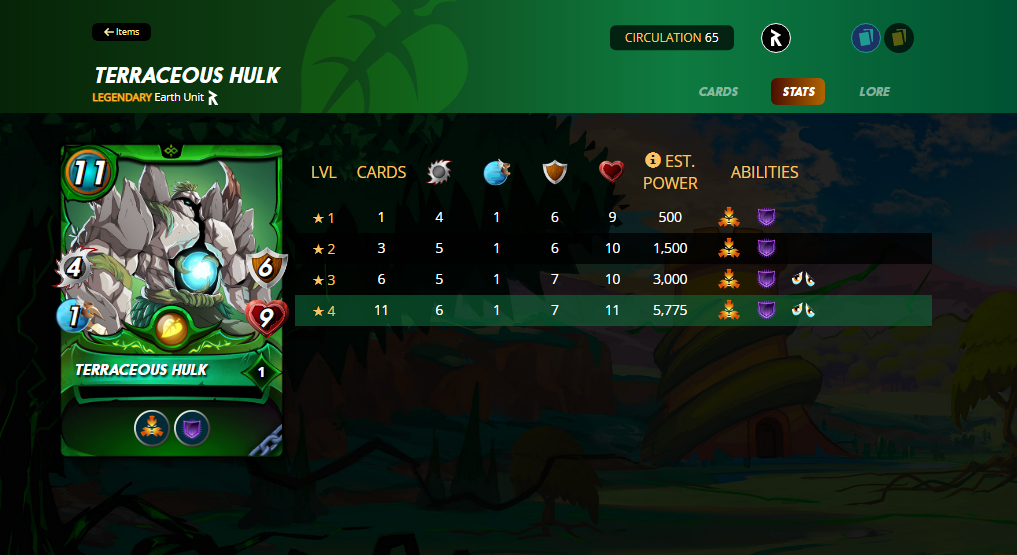 The new legendary tank that can be an annoying tank to take out but can easily fall prey to GIANT KILLER and FURY.
El nuevo tanque legendario que puede ser un tanque molesto de eliminar pero que puede ser víctima fácil de GIANT KILLER y FURY.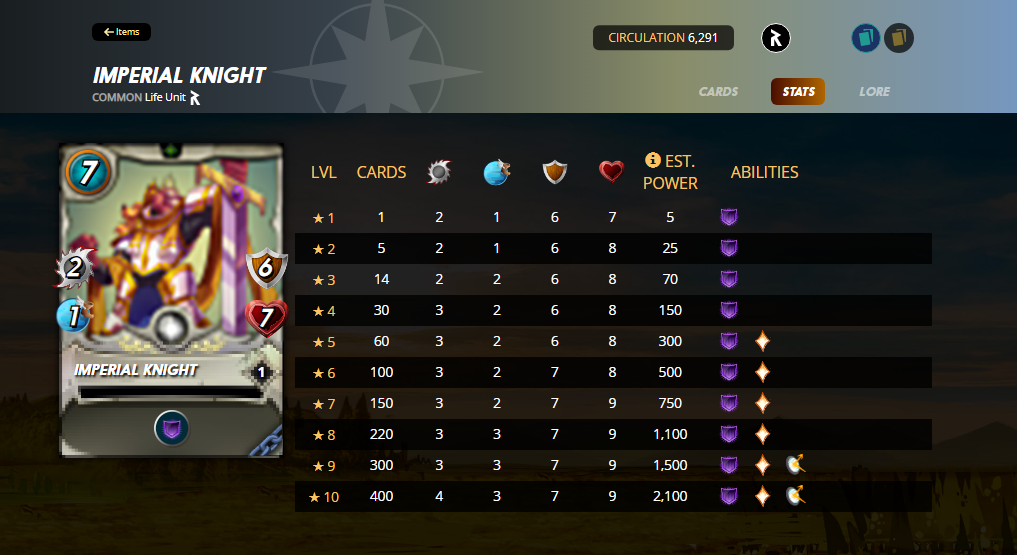 A new life tank that can be very effective with the RESURRECT that life has.
Un nuevo tanque para vida que puede muy efectivo con los RESURRECT con los que cuenta vída.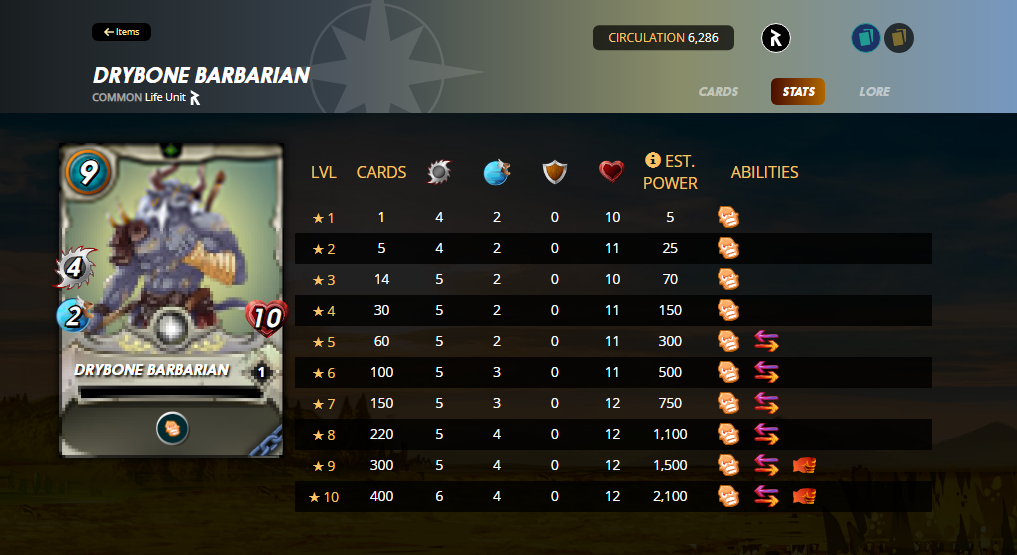 A melee-only or rules-specific tank that can be a shredder.
Un tanque para peleas de solo cuerpo a cuerpo o con reglas específicas que puede ser trituradora.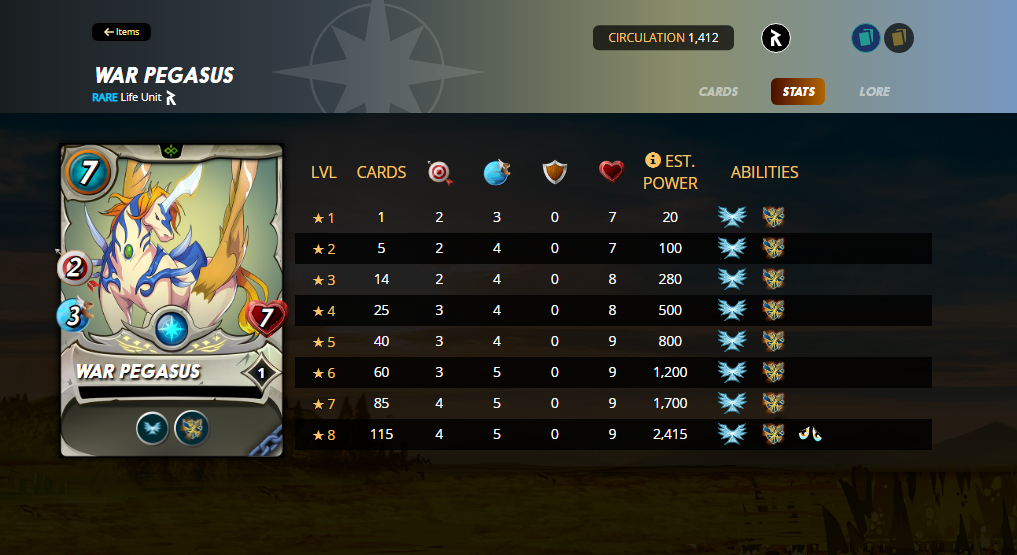 More reinforcements for ranged attack teams that can remove pesky armor before other attacks.
Mas refuerzos para equipos de ataques de distancia que puede quitar las molestas armaduras antes de los otros ataques.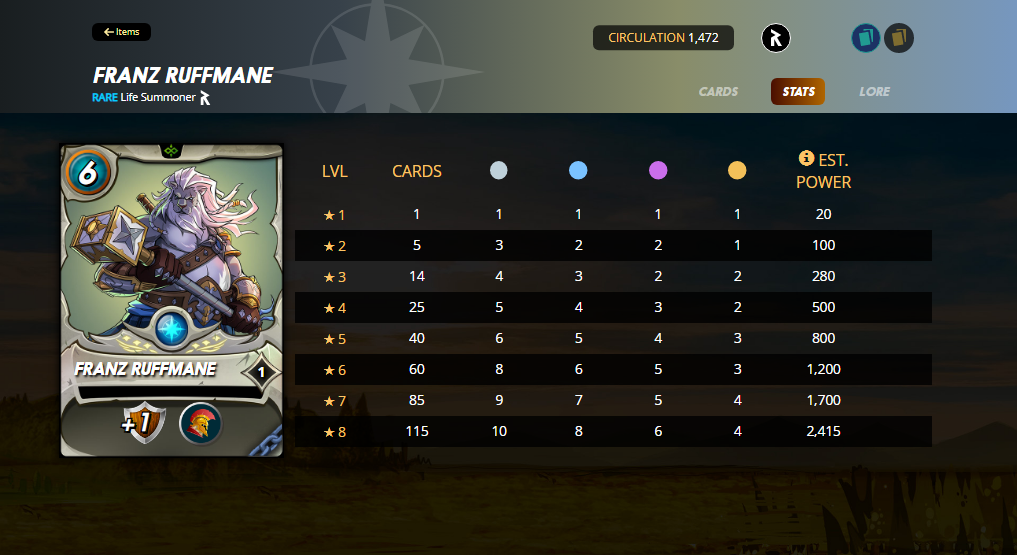 The new summoned of life in summary a TYRUS PALADIUM that for 3 more mana allows you to use gladiators it will be seen how much the change will be worth.
El nuevo invocado de vida en resumen un TYRUS PALADIUM que por 3 de mana más te permite usar gladiadores se verá que tanto valdrá el cambio.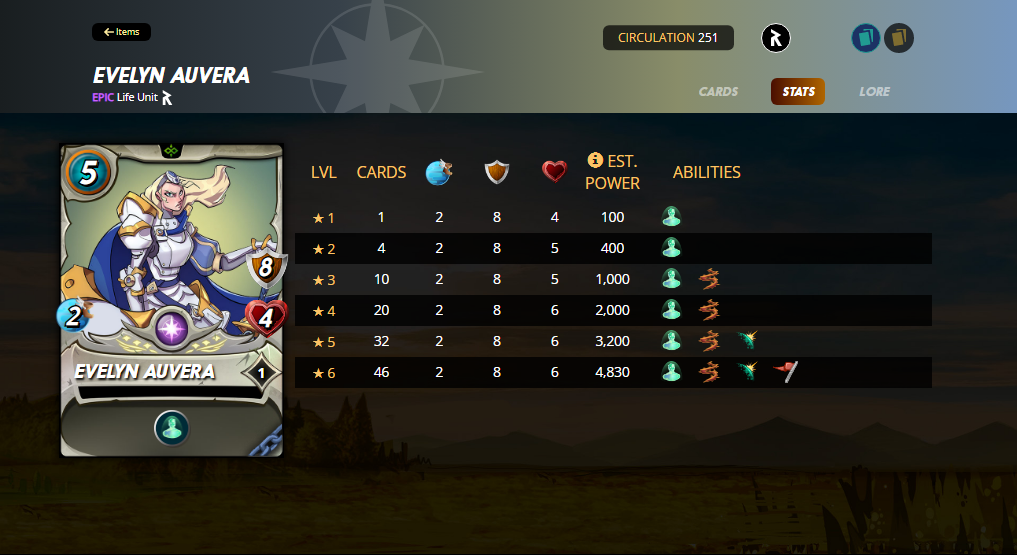 Decoy card that can be useful to distract enemies with OPPORTUNITY.
Carta señuelo que puede ser útil para distraer a los enemigos con OPPORTUNITY.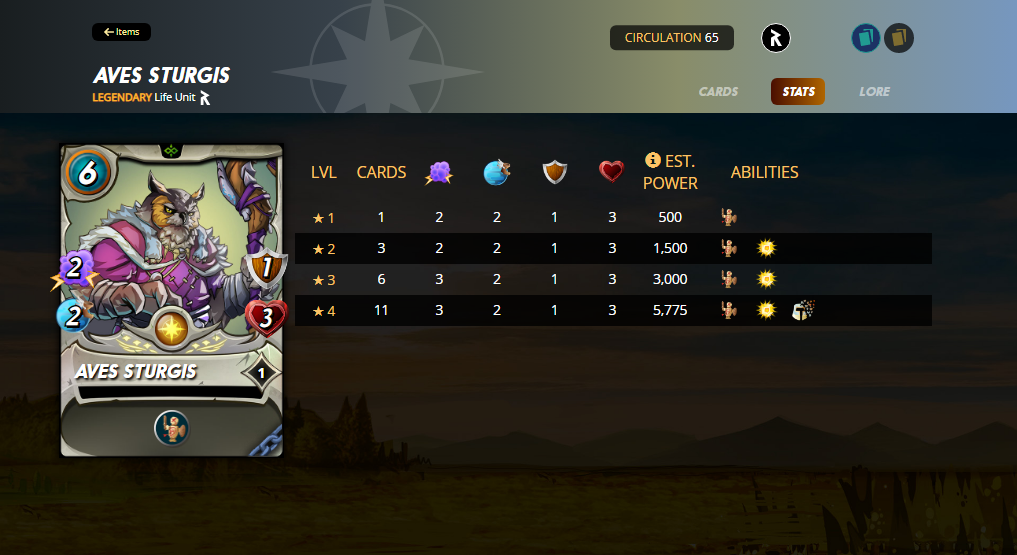 Legendary that can give offensive value to many of the support cards that it has life.
Legendaria que puede dar valor ofensivo a muchas de las tarjetas de apoyo que tiene vída.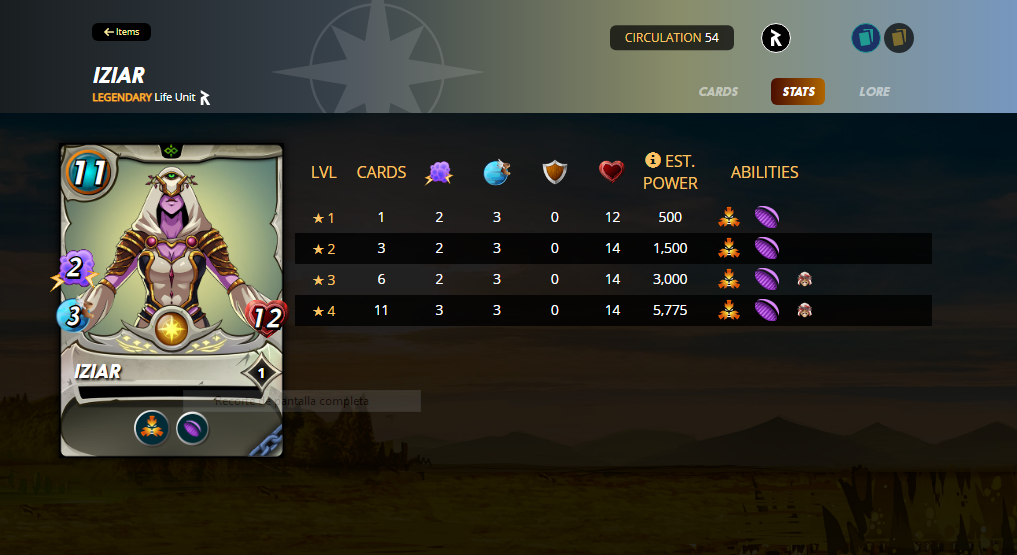 The other legendary of life an excellent tank against magic and that thanks to MARTYR can strengthen others.
La otra legendaria de vida un excelente tanque contra magia y que gracias a MARTYR puede fortalecer a los demás.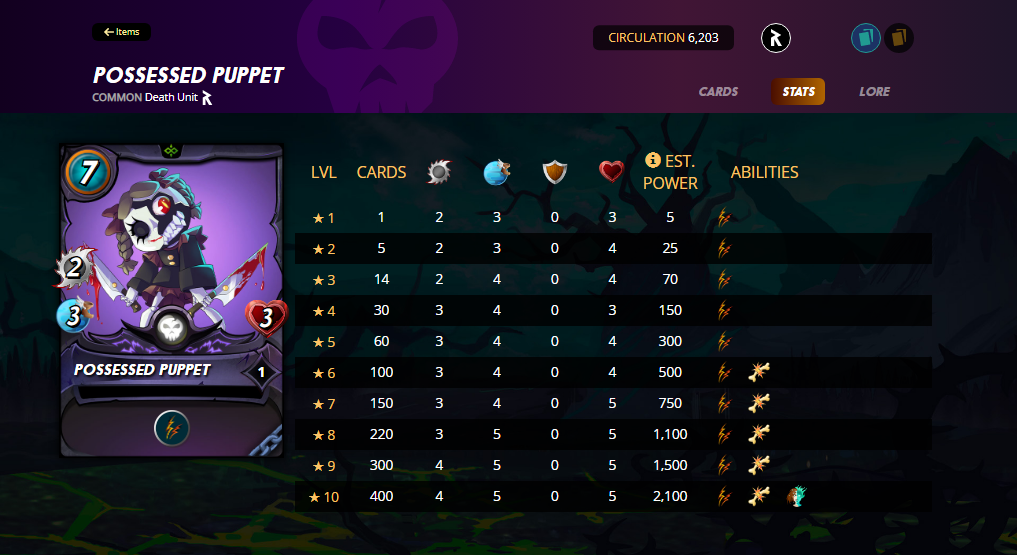 Filler card that can be very effective in very specific games but in a few games it will be useful.
Carta de relleno que puede ser muy efectiva en partidas muy específicas pero que en pocas partidas será útil.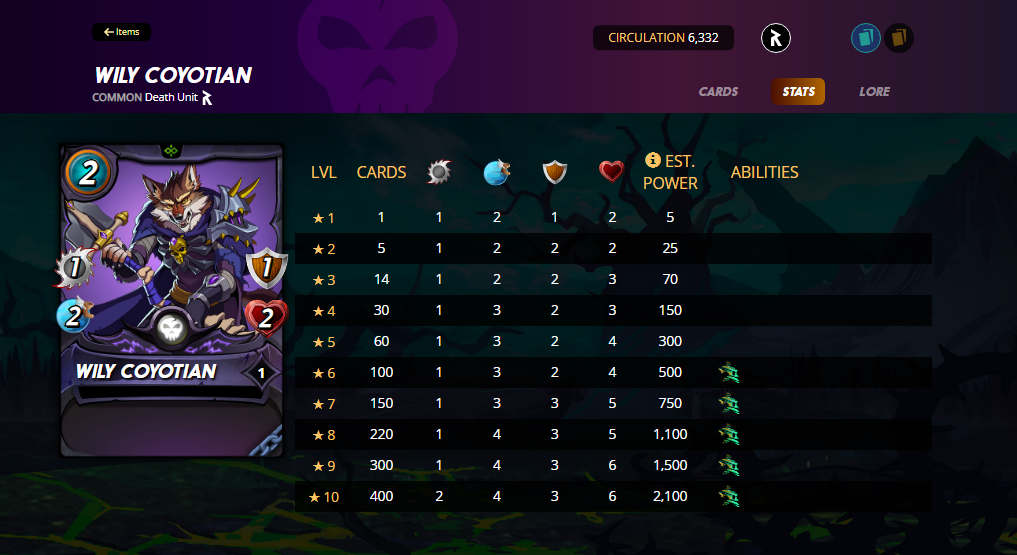 Card to complete mana in battles, very little use due to its statistics and lack of abilities.
Tarjeta para completar mana en batallas muy poca utilidad por sus estadísticas y falta de habilidades.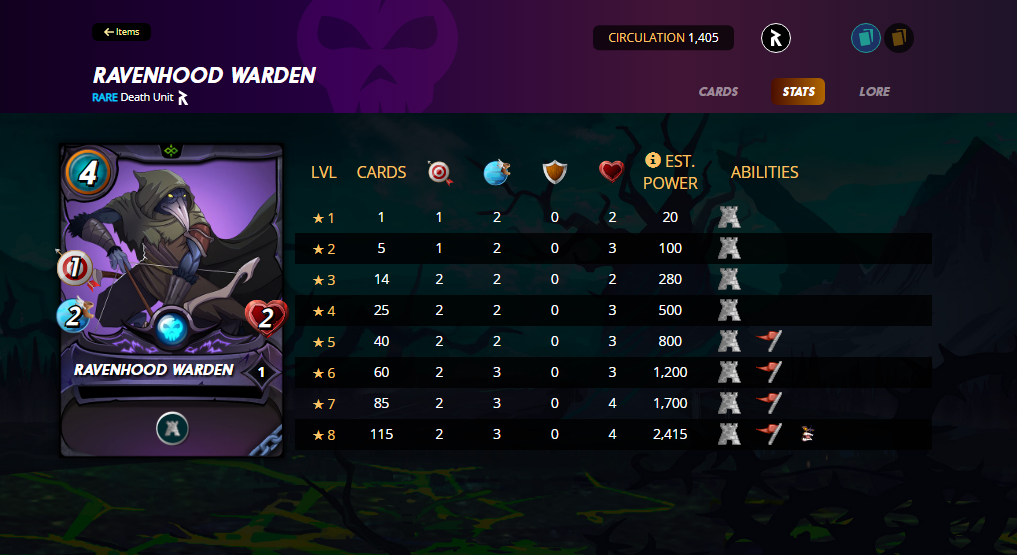 Good support card for his abilities, but very vulnerable for his stats.
Buena tarjeta de apoyo por sus habilidades, pero muy vulnerable por sus estadísticas.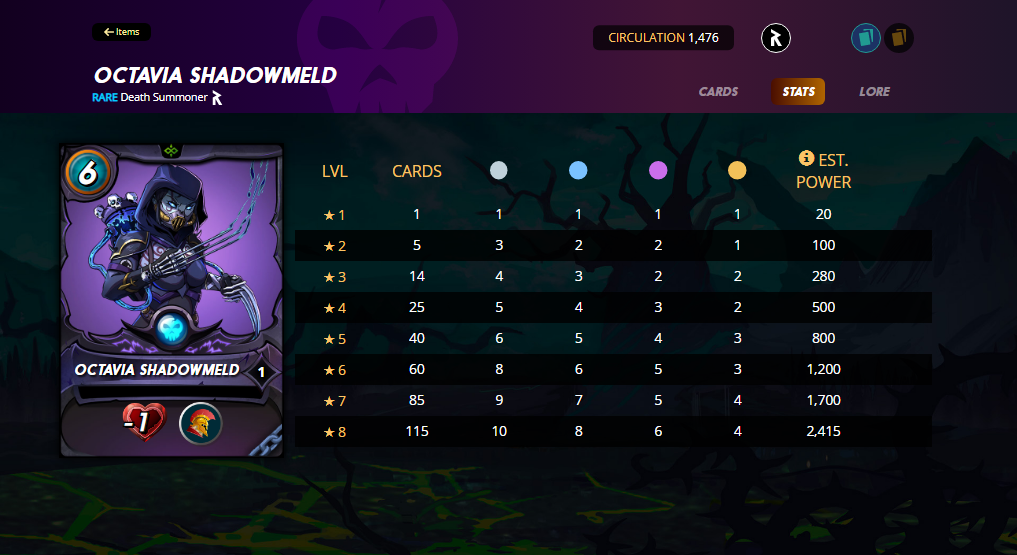 New death summoner a good combination the lower health more BLOODLUST of the gladiators.
Nueva invocador de muerte una buena combinación el reducir vida más BLOODLUST de los gladiadores.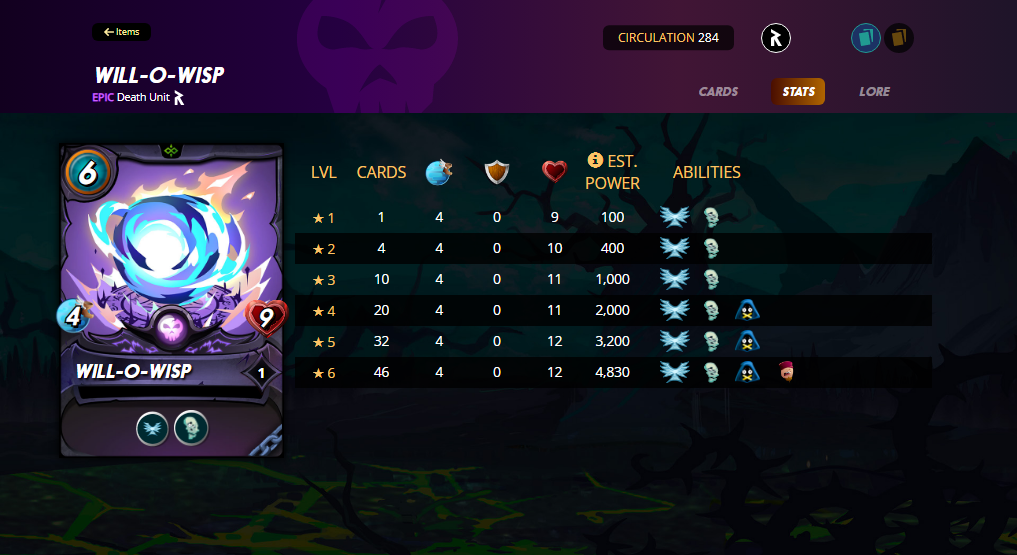 Debilitating card good for battles where melee attacks are not allowed.
Carta debilitadora buena para batallas donde no se permita ataques cuerpo a cuerpos.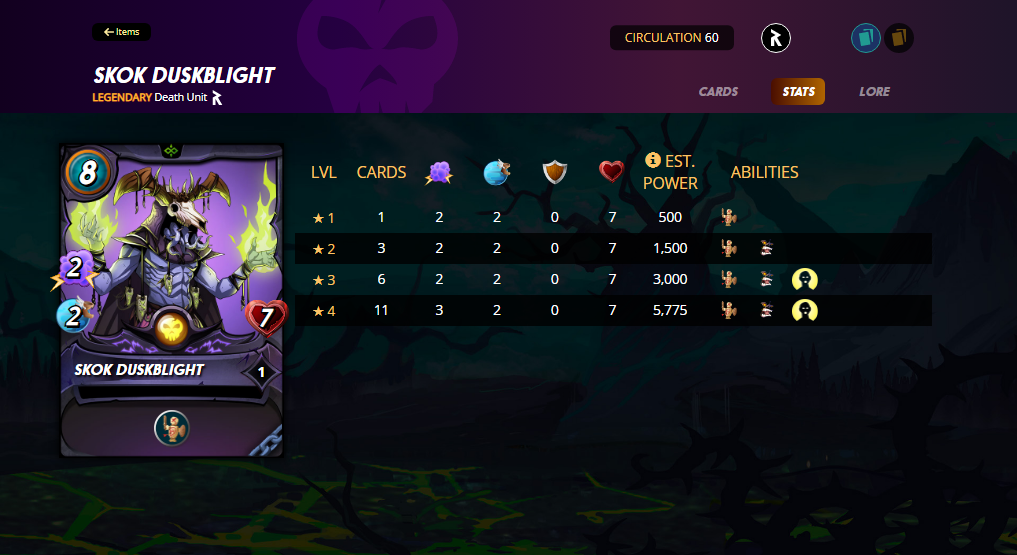 Legendary useful for her WEAPONS TRAINING with magic attacks with specific death summoners like WAKA SPIRITBLADE.
Legendaria útil por su WEAPONS TRAINING con ataques mágico con invocadores específicos de muerte como WAKA SPIRITBLADE.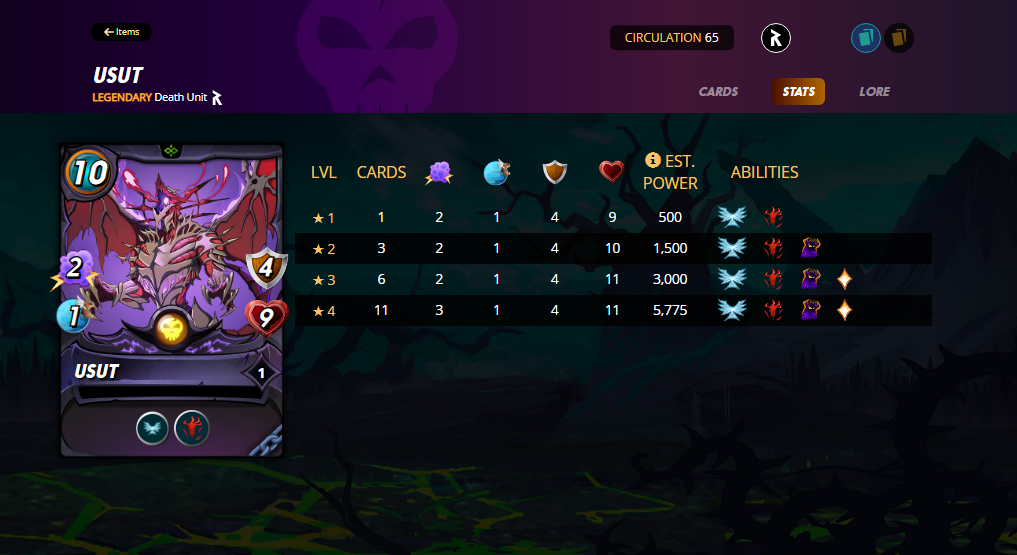 The other relatively bad legendary due to its low damage, its speed and its disadvantage against GIANT KILLER.
La otra legendaria relativamente mala por su bajo daño, su velocidad y su desventaja contra GIANT KILLER.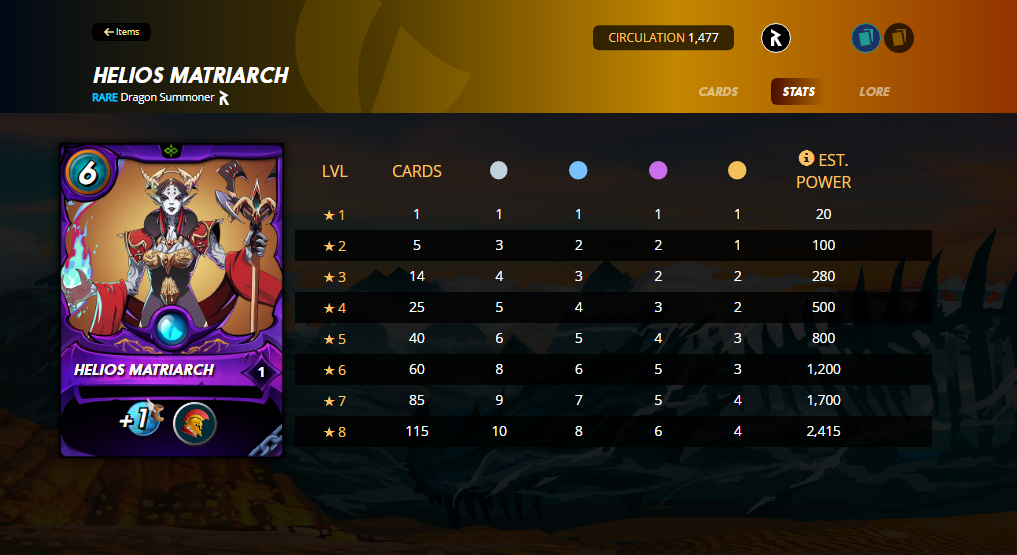 New dragon summoner good speed boost combo with gladiators with BLOODLUST whoever strikes first kills first.
Nueva invocadora dragón buena combinación de aumento de velocidad con gladiadores con BLOODLUST que el que ataca primero mata primero.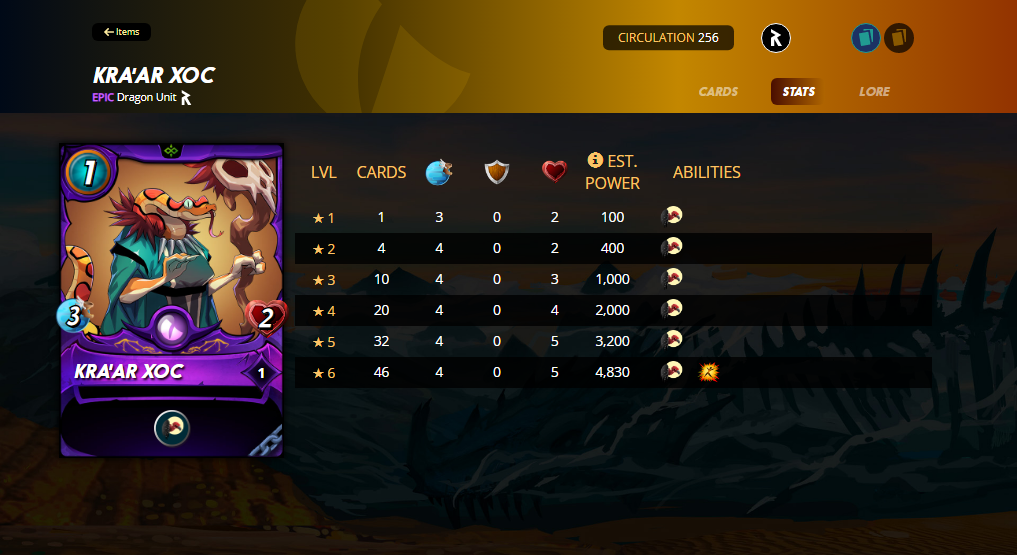 Good card to combine with ** WEAPONS TRAINING ** because of his low mana and his abilities.
Buena carta para combinar con WEAPONS TRAINING por su bajo mana y sus habilidades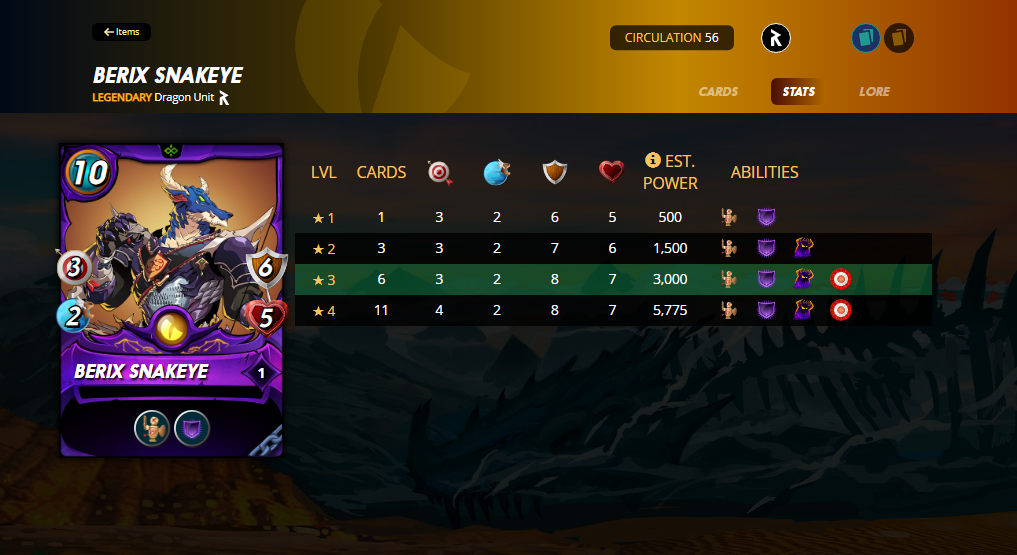 Another high cost legendary card for dragon but one that competes with other various cards it has.
Otra tarjeta legendaria de alto costo para dragon pero que compite con otras tarjetas de varias que tiene.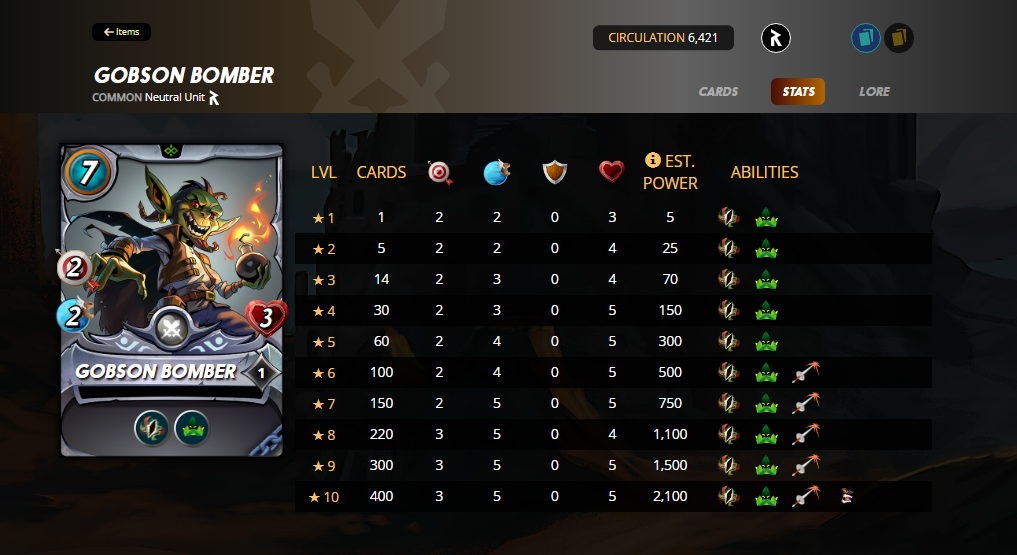 Good combo of abilities to lock in RECHARGE's attack, but it's still vulnerable due to its low health and high cost.
Buena combinación de habilidades para asegurar el ataque de RECHARGE pero que sigue siendo vulnerable por su poca vida y su alto costo.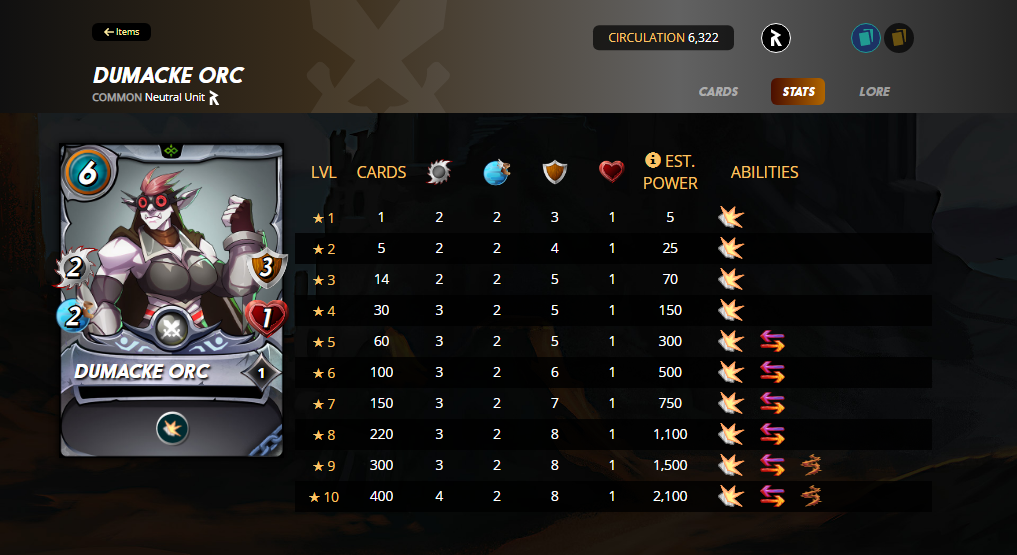 Curious card to distract OPPORTUNITY but weak against magic and POISON.
Carta curiosa para distraer OPPORTUNITY pero débil ante magia y POISON.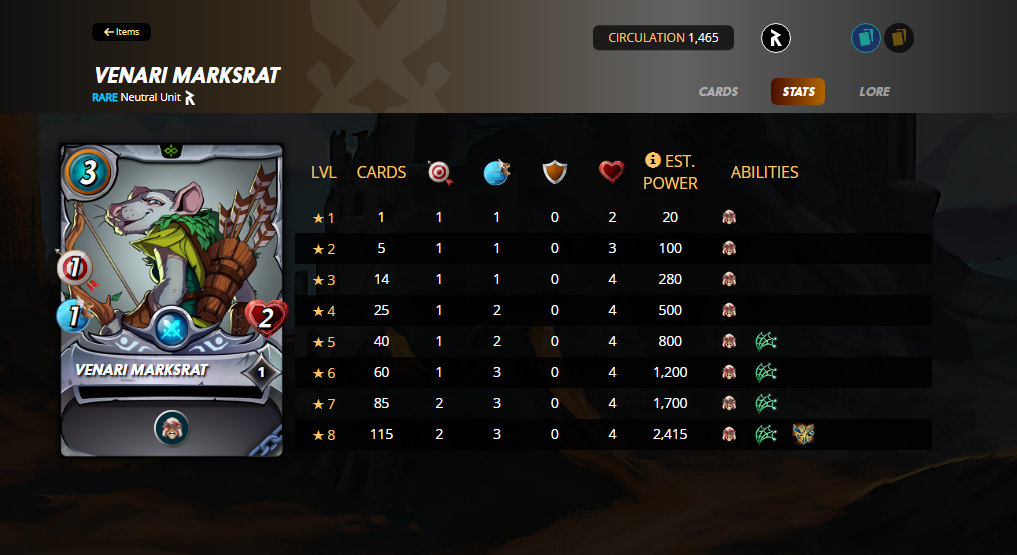 Good card with MARTYR easy to position and activate due to its low cost and life.
Buena carta con MARTYR fácil de posicionar y de activar por su bajo costo y vida.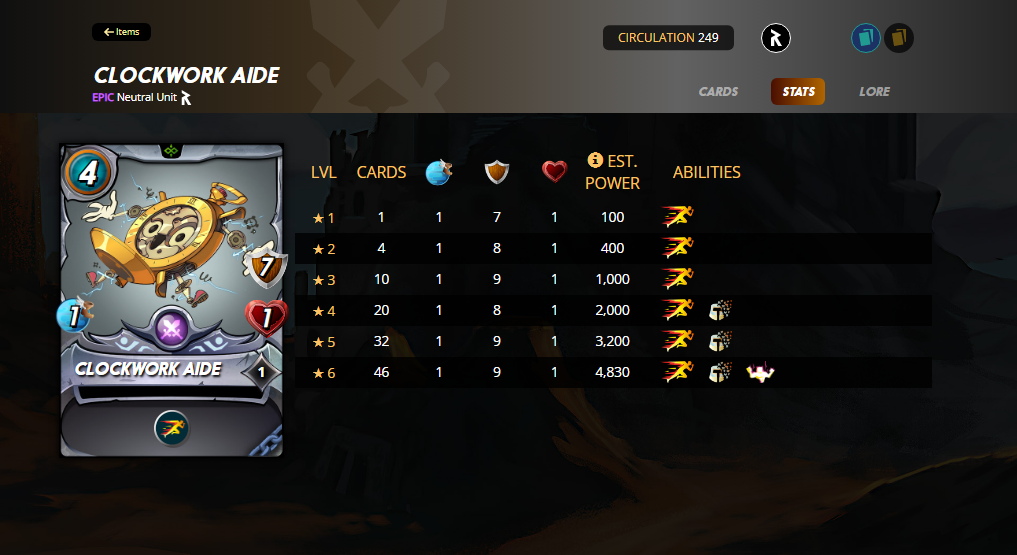 Good card to combine with WEAPONS TRAINING in aggressive teams.
Buena carta para combinar con WEAPONS TRAINING en equipos agresivos.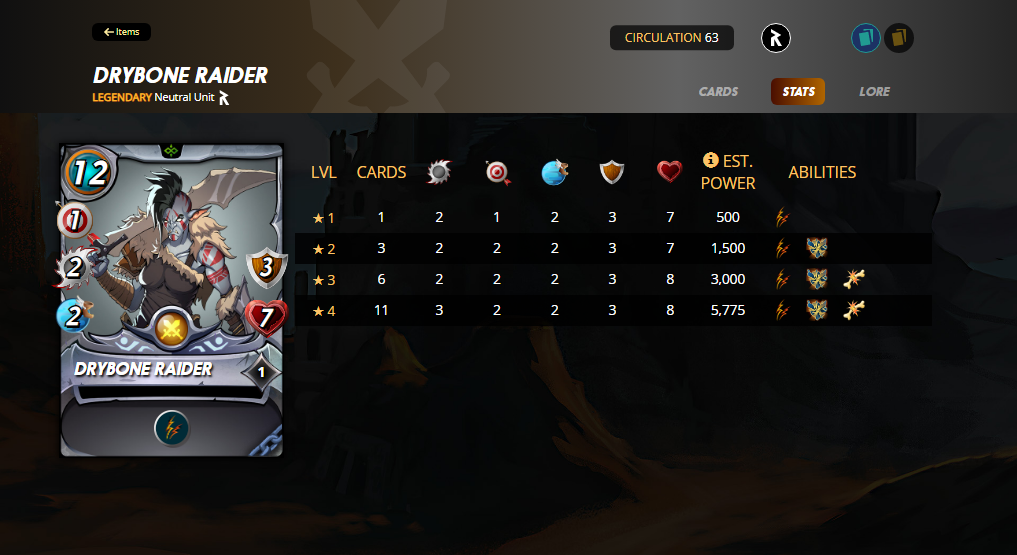 Neutral version of THE VIGILATOR for all elements but with more aggressive abilities.
Versión neutral de THE VIGILATOR para todos los elementos pero con habilidades más agresivas.
BONUS
The first day one of the new legendary :)
El primer dia una de las nuevas legendaria :)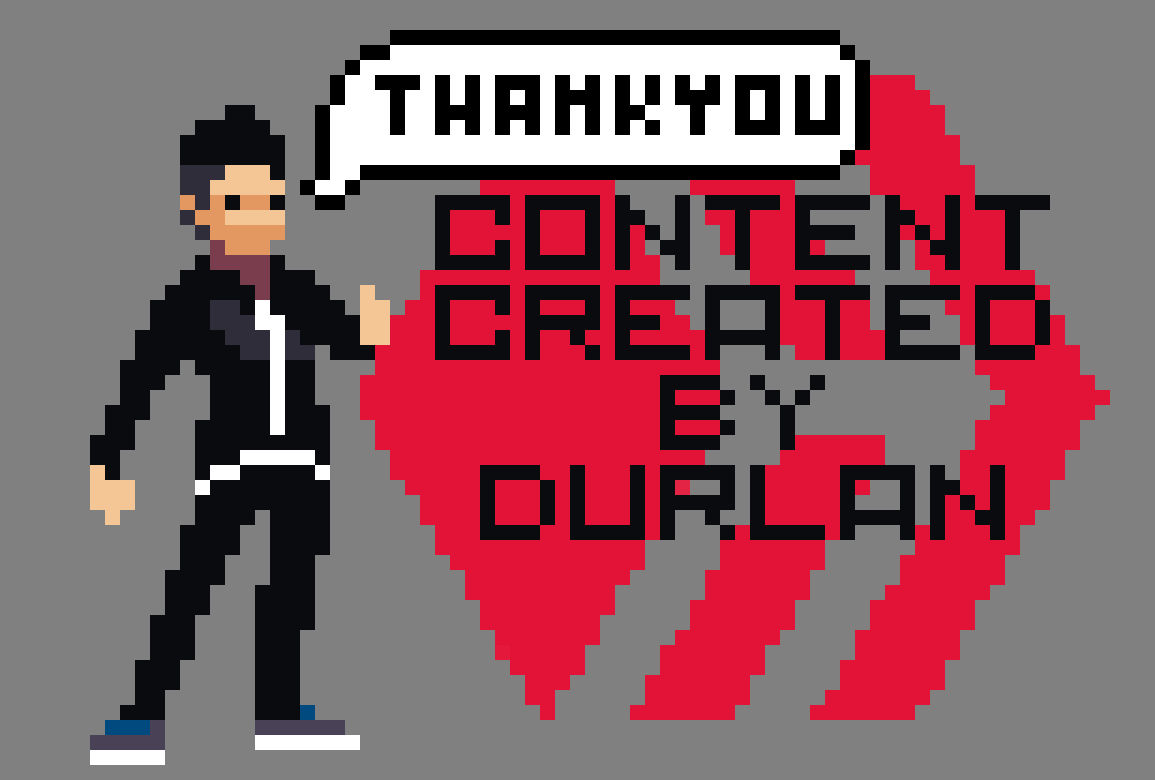 [ES/EN]Splinterlands Art Contest // Week 225// Oaken Behemoth
Posted using Splintertalk
---
---