[ES-EN] 👊🏻Winning with the magic of 🔥"Obsidian" in 💥"Rise of the Commons" - ‍⚜️El Cholito Santo⚜
---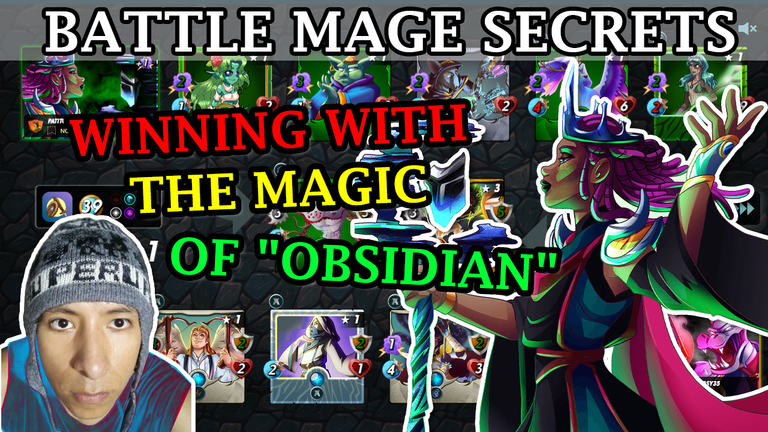 Fuente / Source
Estas imágenes han sido mezcladas por mí / These images have been mixed by me.

Saludos a toda la comunidad de "Splinterlands", Es una batalla de "mana 39" con un mazo "Earth" y me enfrenté a "RODNEYVBSY35" que usa un mazo "Life". En esta batalla no están disponibles los monstruos de los elementos "Fire" y "Drake".
Greetings to the entire "Splinterlands" community, It's a "mana 39" battle with an "Earth" deck and I faced "RODNEYVBSY35" who uses a "Life" deck. Monsters with the "Fire" and "Drake" elements are not available in this battle.
---

Ruleset: "Rise of the Commons"
Esta regla de batalla establece que solo se pueden usar monstruos de rareza común y rara, pero los invocadores no se ven afectados por esta restricción.
This battle rule states that only monsters of common and rare rarity can be used, but summoners are not affected by this restriction.
---


Mi invocador es mágico y mi tanque tiene "shield".
Decido usar a "Obsidian" para dar a mis monstruos mágicos "+1 de ataque mágico".
Mi primer monstruo es "Mycelic Infantry" con "shield", resistirá los ataques "melee" y "ranged".
My summoner is magic and my tank has shield.
I decide to use "Obsidian" to give my magic monsters "+1 magic attack".
My first monster is "Mycelic Infantry" with "shield", it will resist "melee" and "ranged" attacks.
---
| | |
| --- | --- |
| | |

Ubico 2 sanadores atrás.
Para mantener la salud de mi tanque he convocado a "Wood Nymph", un mágico que se encargará de sanar a mi primer monstruo.
Mi tercer monstruo es "Goblin Psychic", otro "tank heal" que sanará a mi tanque.
I place 2 healers behind.
To maintain the health of my tank I have summoned "Wood Nymph", a magician who will be in charge of healing my first monster.
My third monster is "Goblin Psychic", another tank heal that will heal my tank.
---
| | |
| --- | --- |
| | |

Ubico 3 monstruos mágicos al final.
Aca tengo a "Venari Spellsmith", con su habilidad "dispel" eliminará los efectos positivos en el tanque enemigo.
Luego tengo a "Regal Peryton", un monstruo con "flying" muy ágil contra ataques "sneak".
Y mi último monstruo es "Centauri Mage" con buena salud y devolverá el fuego de los arqueros con "Return Fire".
I locate 3 magical monsters at the end.
Here I have "Venari Spellsmith", with its "dispel" ability it will eliminate the positive effects on the enemy tank.
Then I have "Regal Peryton", a monster with very agile flying against sneak attacks.
And my last monster is "Centauri Mage" with good health and will return the archers' fire with "Return Fire".
---

Me enfrenté a un "team" con ataques "melee" y "ranged".
Mi rival ha usado el invocador "General Sloan" de "nivel 2", gold, este dará "+1 de ataque ranged" a todos sus arqueros.
Su tanque es "Chaos Knight" de "nivel 3", gold, con "shield", muy resistente contra ataques "melee" y "ranged".
I faced a team with melee and ranged attacks.
My rival has used the "General Sloan" summoner of "level 2", gold, this will give "+1 ranged attack" to all his archers.
His tank is "Chaos Knight" of "level 3", gold, with "shield", very resistant against "melee" and "ranged" attacks.
---
| | |
| --- | --- |
| | |

Mi tanque es atacado con "melee" y "magic".
El segundo monstruo enemigo es "Luminous Eagle", podrá atacar porque tiene "reach" y su "flying" lo vuelve muy escurridizo.
Su tercer monstruo es "Time Mage", muy rápido y su "slow" reducirá la velocidad de mi "team".
My tank is attacked with "melee" and "magic".
The second enemy monster is "Luminous Eagle", it will be able to attack because it has reach and its flying makes it very elusive.
His third monster is "Time Mage", very fast and his "slow" will reduce the speed of my "team".
---
| | |
| --- | --- |
| | |

Mis enemigos se cubren de "armor", atacan con full flechas y ponen un "taunt" al final.
Para defenderse de los ataques no-magic mi rival ha ubicado a "Truthspeaker" para dar a todo su "team" "+2 armor".
"Pelacor Arbalest" es su quinto monstruo, hará mucho daño a mi tanque porque tiene "double strike".
Y su último monstruo es "Shieldbearer", este recibirá todos mis ataques porque tiene "taunt".
My enemies cover themselves with armor, attack with full arrows and put a taunt at the end.
To defend against non-magic attacks my opponent has placed "Truthspeaker" to give his entire team "+2 armor".
"Pelacor Arbalest" is his fifth monster, it will do a lot of damage to my tank because it has "double strike".
And his last monster is "Shieldbearer", this one will receive all my attacks because it has "taunt".
---

¿Funciono mi estrategia? ¿Qué intentaré diferente la próxima vez?
Mi estrategia dio resultados, mi tanque con "shield" pudo resistir el ataque enemigo, mientras que mis sanadores lo sostuvieron,
permitiendo que mis monstruos mágicos eliminen al tanque enemigo sin problemas.
La próxima vez usaré un "team" "Life" con la habilidad "Return Fire".
Strategy work? What will you try differently next time?
My strategy paid off, my shield tank was able to withstand the enemy attack, while my healers held it,
allowing my magic monsters to eliminate the enemy tank without problems.
Next time I'll use a "Life" team with the "Return Fire" skill.
---
---
Si aún no juegas "Splinterlands", puedes registrarte con mi enlace.
If you don't play "Splinterlands" yet, you can sign up with my link.
---

La traducción se hizo con / The translation was done with:
https://translate.google.com/?hl=es

---
▶️ 3Speak
---
---