Esp/Eng Splinterlands Fue mí entrada a Hive un mundo sin Fronteras/Splinterlands was my entrance to Hive a world without Borders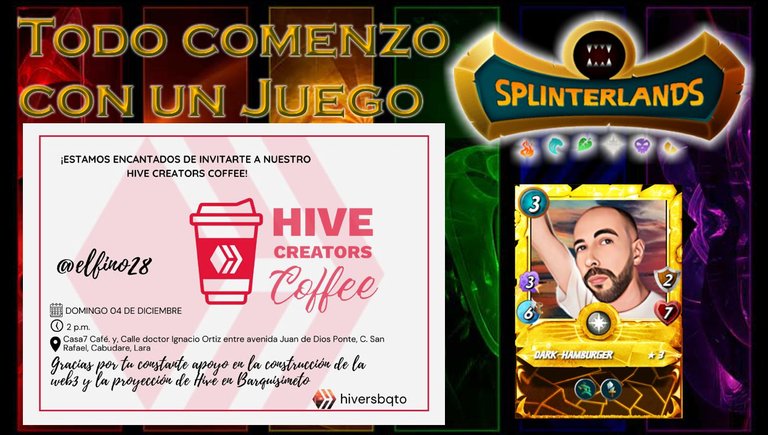 Conocí a Hive en un momento de desesperación en mi vida buscando una fuente de ingresos legal y segura, me encontré primeramente con el juego
#Splinterlands
en Octubre del año pasado con el Boom de los juegos NFT y siendo sinceros no imagine que al crear esa cuenta cambiaria mi vida, al principio pensé que solo era un juego más del montón y ni siquiera note que al comprar el libro del hechicero me daban una cuenta de Hive ni siquiera sabía que era, para ese momento yo solo usaba el Metamask y es que me faltaba mucho por aprender. Sin duda Splinterlands me demostró que era mucho más que un simple juego del montón, va mucho más allá un gran juego de cartas coleccionables que además te genera ingresos por divertirte, por algo ya tiene más de 4 años en el mercado y es que está en la mejor red de todas.
I met Hive at a desperate moment in my life looking for a safe and legal source of income, I first came across the
#Splinterlands
game in October last year with the NFT Boom, and to be honest, I didn't imagine that by creating that account It would change my life, at first I thought it was just another typical game. I didn't even notice that when I bought the sorcerer's book they gave me a Hive account, I didn't even know what it was, at that time I only used the Metamask and it just made me there was much to learn. Undoubtedly, Splinterlands showed me that it was much more than just an ordinary game, it goes much further than a great collectible card game that also generates income for having fun, for a reason, it has been on the market for more than 4 years and that is that it is in the best network ever.

Splinterlands me abrió las puertas Hive aunque no comprendía realmente lo que era para ese entonces, yo solo entraba a www.splintertalk.io para buscar información del juego y comencé a notar que los jugadores publicaban sus post y recibían recompensas del juego así que me anime a publicar algo, así que hice mi primer post, lo publique y milagrosamente tuve 3 votos y 2 comentarios y digo milagrosamente porque ahora que lo vuelvo a ver, noto que hice todo mal cometí todos los errores que puede tener una novato jejejeje.
Splinterlands opened the Hive doors for me although I didn't understand what it was at the time, I just went to www.splintertalk.io to look for information on the game and I began to notice that players published their posts and received rewards from the game so I was encouraged to publish something, so I made my first post, I printed it and miraculously I had 3 votes and 2 comments and I say miraculously because now that I see it again, I notice that I did everything wrong, I made all the mistakes that a newbie can have hehehehe.

Luego gracias a la ayuda de @rutablockchain comprendí un poco más de todo este gran ecosistemas que es Hive comenzando por presentarme formalmente a la comunidad y desde ese momento comprendí como es que se debe hacer una post. Por eso soy fiel creyente de que debemos ayudar a las personas a que entienda más sobre este hermoso ecosistema de Hive, ahora que ya tengo 1 año en la plataforma y que me ha ayudado a conocer grandes personalidades en persona, algo que pocas redes social pueden lograr y aquí lo noto en cada evento que he asistido comenzando desde el Hive Creators Day Baquisimeto,que fue el que encendió la chispa de toda esta hermosa comunidad crepuscular, luego tuve el honor de ser parte del equipo organizador del 1er #HivePlay2Earn en Barquisimeto con el gran privilegió de dar a conocer a Splinterlands a muchas personas hablando de este maravilloso juego y que ahora me llego la invitación a mi 1er Hive Creators Caffee donde espero fluyan muchas ideas para continuar llevando este conocimiento de la evolución de la Web 3 en este gran ecosistema de Hive y sin duda ahora comprendo que va mucho más allá que una simple red social, es todo un ecosistema acto para desarrollar infinidades de proyectos y posibilidades en comunidad. Una gran muestra de esto es Splinterlands que es el juego insignia de todo este ecosistema, y es que estoy seguro que muchos de los jugadores aún están como yo que no sabía que este juego te abre las puertas a este gran ecosistema y todos sus beneficios.
Then, thanks to the help of @rutablockchain, I understood a little more about this great ecosystem that is Hive, starting by formally introducing myself to the community, and from that moment I understood how to make a post. That is why I am a faithful believer that we should help people understand more about this beautiful Hive ecosystem, now that I have been on the platform for 1 year and that it has helped me meet great personalities in person, something that few social networks can achieve and here I notice it in each event that I have attended starting from Hive Creators Day Baquisimeto, which was the one that ignited the spark of all this beautiful twilight community, then I had the honor of being part of the organizing team of the 1st #HivePlay2Earn in Barquisimeto with the great privileged to make Splinterlands known to many people talking about this wonderful game and now I have received the invitation to my 1st Hive Creators Caffee where I hope many ideas will flow to continue bringing this knowledge of the evolution of Web 3 in this great ecosystem of Hive and no doubt now I understand what e goes much further than a simple social network, it is an entire ecosystem act to develop infinities of projects and possibilities in community. A great example of this is Splinterlands, which is the flagship game of this entire ecosystem, and I am sure that many of the players are still like me who did not know that this game opens the doors to this great ecosystem and all its benefits.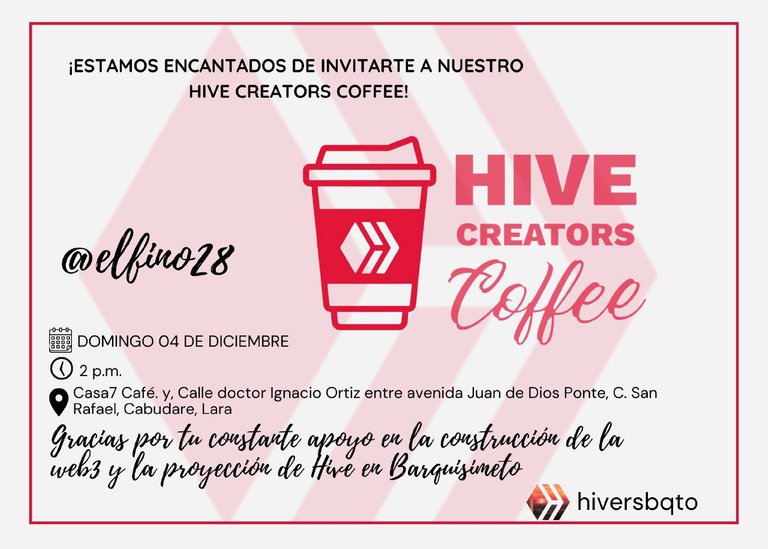 Por eso para mí Splinterlands cambio mi vida al darme esta gran oportunidad, ni siquiera soñaba en ser creador de contenido como ahora lo soy y hacer lo que realmente me gusta, jugar y disfrutar con mis compañeros y que además de eso pueda interactuar y recibir incentivos de esta gran comunidad que ahora siento como mi hogar.
That's why for me Splinterlands changed my life by giving me this great opportunity, I didn't even dream of being a content creator like I am now and doing what I really like, playing and enjoying with my colleagues and also being able to interact and receive incentives of this great community that I now feel as my home.

Splinterlands
Comunidad Oficial de Splinterlands en Español
My social networks
Hive: @elfino28
https://twitter.com/ElFinoNFT
https://www.instagram.com/ElFinoNFT
https://www.youtube.com/user/KBI93X
telegram https://t.me/ElFinoNFT


---
---