Chaos Legion is now on General Sale and Opening Pack at Splinterlands [ESP/ENG]
Greetings, to all friends at Splintertalk and to all users of the fabulous Hive Blockchain. We are excited about our favorite game and we are moving forward in a year that promises good things, not only for this great community but also for the whole spectrum involving cryptocurrencies and blockchain as the technology that makes it all possible.
Saludos, a todos los amigos en Splintertalk y para todos los usuarios de la fabulosa Hive Blockchain. Estamos entusiasmados con nuestro juego favorito y vamos avanzando en un año que promete cosas buenas, no solo para esta grandiosa comunidad, sino también para todo el espectro que involucran las criptomonedas y la blockchain como tecnología que hace todo esto posible.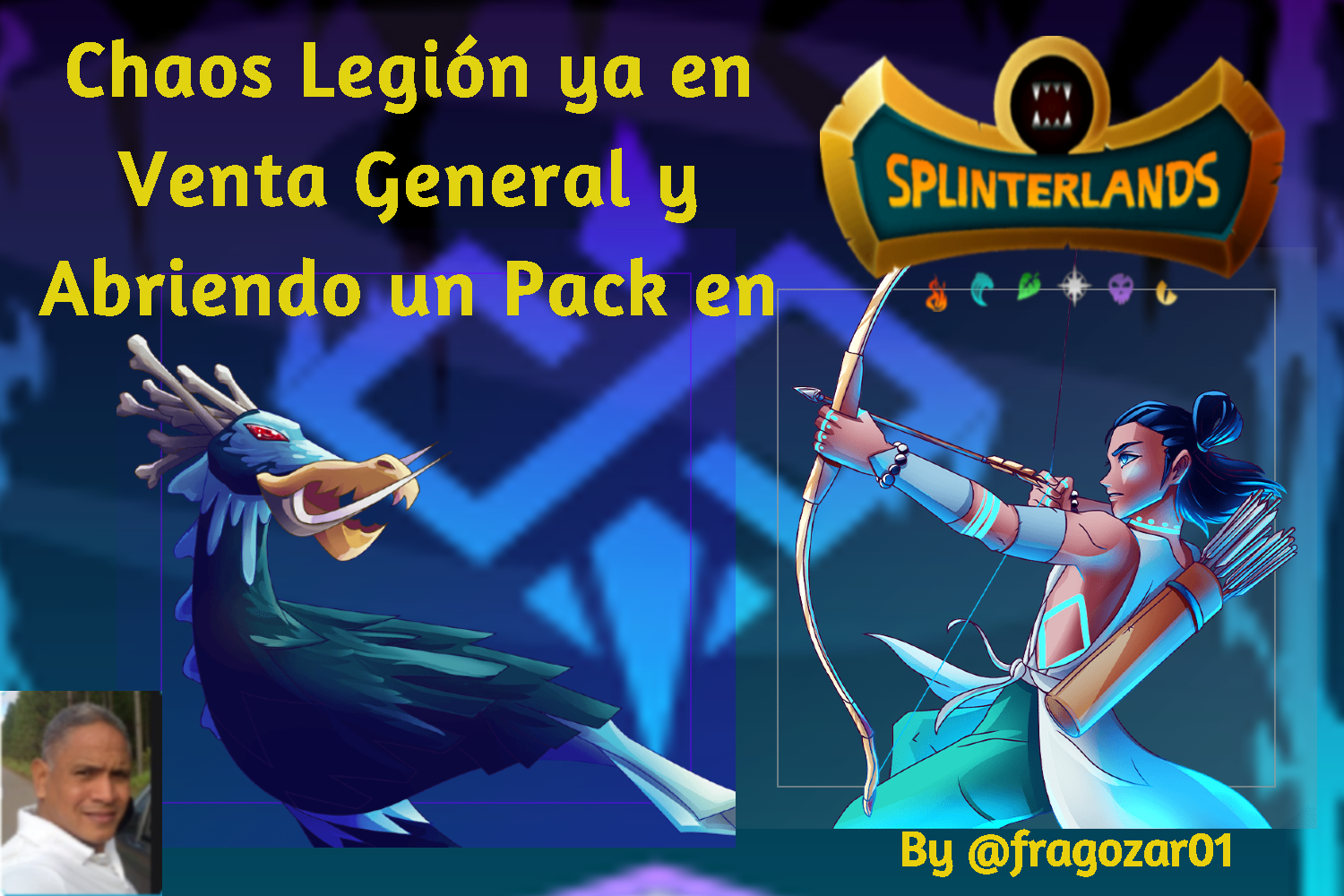 Editing Image in/Imagen Editada en Pixlr.com
---
Chaos Legion is now on General Sale and Opening Pack at Splinterlands
The general sale of the Chaos Legion expansion has already begun with some real excitement in pack purchases. I have had some difficulties with resource availability starting this year, so I have not been able to purchase more packs of this set of cards. Hopefully, I will be able to sort it out in the next few days and qualify for more opportunities to get my hands on even one of the cards added to the AirDrop offered to be unlocked in the general sale. This is one of the most interesting options and one that I am sure will positively move interest in our PlayToEarn.
Chaos Legión ya en Venta General y Abriendo un Pack en en Splinterlands

La venta general de la expansión Chaos Legión ya se ha iniciado con un verdadero entusiasmo en las compras de paquetes. He tenido algunas dificultades con la disponibilidad de recursos comenzando este año, por lo que no he podido adquirir más paquetes de este conjunto de cartas. Espero poder solucionar en los próximos días y poder optar a más oportunidades de hacerme aunque sea de una de las cartas añadidas al AirDrop ofrecido para ser desbloqueadas en la venta general. Esta es una de las opciones más interesantes y que estoy seguro moverá de manera positiva el interés por nuestro PlayToEarn.


The general sale started off well and in just 24 hours, more than 2400000 packs were sold, so two more of these AirDrop cards will be unlocked in the next few hours. Although there were some hiccups, as they explain very well in this post, there have been no major problems. Fortunately, behind Splinterlands is a committed development team focused on providing high-quality solutions and care. If the initial pace is maintained, with the usual downward curves in pack interest, the next card unlocks from this AirDrop could happen very soon. It becomes necessary to purchase more packs, to qualify for this cool AirDrop.
La venta general comenzó con buen pie y en tan solo 24 horas, se vendieron más de 2400000 paquetes, por lo que serán desbloqueadas dos tarjetas más de este AirDrop en las próximas horas. Aunque hubo algunos inconvenientes, como lo explican muy bien en esta publicación, no ha habido mayores problemas. Afortunadamente, detrás de Splinterlands se encuentra un equipo de desarrollo comprometido y enfocado en brindar soluciones y atención de gran calidad. Si se mantiene el ritmo inicial, con las consabidas curvas de descendencia en el interés por los paquetes, los siguientes desbloqueos de cartas de este AirDrop podrán ocurrir muy pronto. Se hace necesario adquirir más paquetes, para optar a este genial lanzamiento aéreo.


The first two cards in this AirDrop were unlocked last week. I had no luck on these two occasions, but with the few packs I have acquired, my chances are pretty low. I'm excited to acquire some additional packs soon and we'll see how we do. This time around, the Splinter of the Legendary Lira The Dark type will be unlocked, a Death element monster, with a powerful ranged attack and exceptional speed, which can also bring it to team members and, the Splinter Iza the Fanged, an Earth element monster and with generous stats in ranged attack and speed, as well as increasing his health with the death of enemy monsters.
Las dos primeras cartas de este AirDrop se desbloquearon la semana pasada. No tuve suerte en estas dos ocasiones, pero con los pocos paquetes que he adquirido, mis posibilidades son bastantes bajas. Estoy entusiasmado para adquirir pronto algunos paquetes adicionales y veremos que tal nos va. En esta ocasión, serán desbloqueados los Splinter del tipo Legendario Lira The Dark, un monstruo del elemento Muerte, con un poderoso ataque a distancia y una velocidad excepcional, que además puede aportarla a los miembros del equipo y, el Splinter Iza the Fanged, un monstruo del elemento Tierra y con generosas estadísticas en ataque a distancia y velocidad, además de aumentar su salud con la muerte de los monstruos enemigos.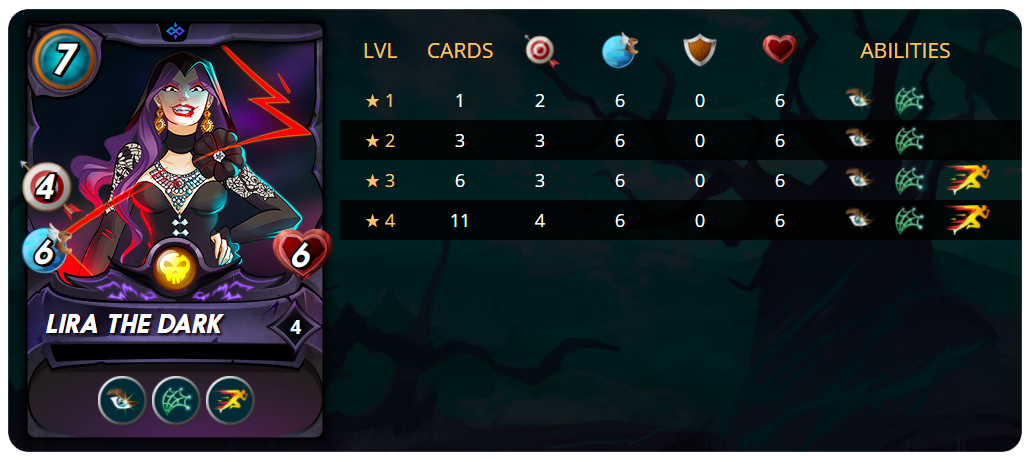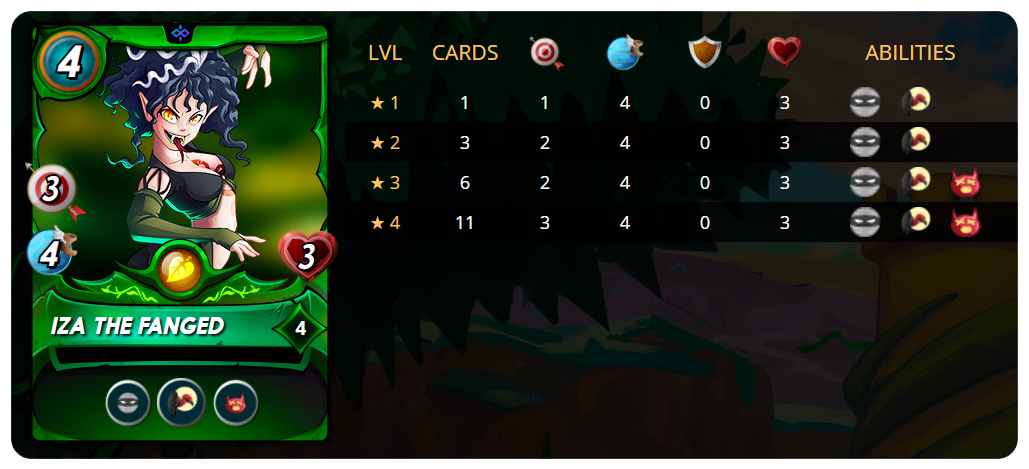 I have so far 176 SPS staked and whenever I have more available through the airdrop, I place them at stake immediately. I made a purchase in recent days of some DEC and SPS tokens through TribalDex and have used them to add liquidity in the liquidity pools available in the BeeSwap application. I have included myself in the SWAPHIVE/DEC, ONEUP/SPS, and DEC/SPS pools with a small investment. This has brought me as an additional benefit, the increased allocation of applicable points to get the SPS from the airdrop still in effect. Something that I have found super cool and that allows me to continue increasing even more what I have obtained in this way. This is something that no Splintrlands player should miss and which you can learn more about if you visit my post about this application at this link.
Tengo hasta el momento 176 SPS apostados y cada vez que tengo más disponibles a través del lanzamiento aéreo, los coloco en stake de inmediato. Realice una compra en días pasados de algunos token DEC y SPS a través de TribalDex y los he utilizado para agregar liquidez en las piscinas de liquidez disponibles en la aplicación BeeSwap. Me he incluido en las piscinas SWAPHIVE/DEC, ONEUP/SPS y DEC/SPS con una pequeña inversión. Esto me ha traído como beneficio adicional, el incremento en la asignación de los puntos aplicables para obtener los SPS del airdrop aún vigente. Algo que me ha parecido súper genial y que me permite seguir incrementando aún más lo obtenido por esta vía. Esto es algo que ningún jugador de Splintrlands debe desaprovechar y del cual puedes informarte mejor, si visitas mi post sobre esta aplicación en este enlace.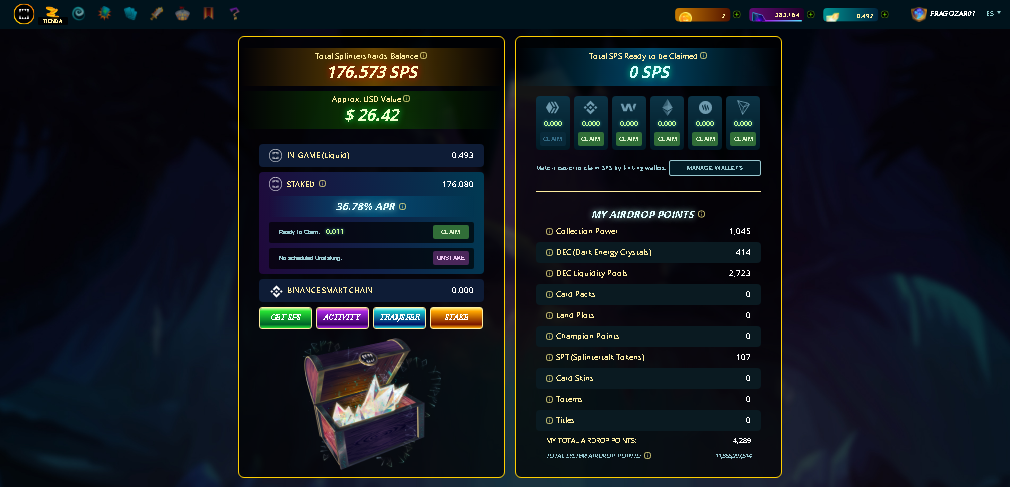 While constructing this post, I decided to buy a pack of Chaos Legion and open it. I loved it and upon opening it, I got this result. A Rare type card, the Splinter Xenith Archer, belonging to the Neutral element, with the ranged attack but without many remarkable abilities. The other four cards are of the Common type and I noticed that out of the five cards, three of them are of the Neutral element. With this new purchase, I increase my Power to 1075, quite low to be honest, but that keeps me safely at the Bronze II level. I have to wait now to see how I do in the next AirDrop card unlocks, I'll keep you posted.
Mientras construía este post, decidí comprar un paquete de Chaos Legión y abrirlo. Me ha encantado y al abrirlo, he obtenido este resultado. Una carta del tipo Rare, el Splinter Xenith Archer, perteneciente al elemento Neutral, con ataque a distancia pero sin muchas habilidades destacables. Las otras cuatro cartas son del tipo Común y me llamo la atención que de las cinco cartas, tres de ellas son del elemento Neutral. Con esta nueva compra, aumento mi poder a 1075, bastante bajo para ser honestos, pero que me mantiene seguro en el nivel Bronce II. Me toca esperar ahora a ver que tal me va en los próximos desbloqueos de cartas del AirDrop, les estaré informando.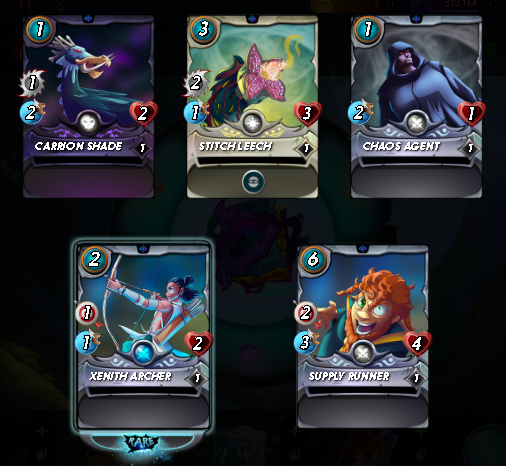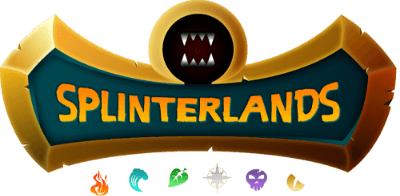 Este post es de mi autoría y expreso en él, mis experiencias y aprendizajes cada día en este Blockchain. Todas las imágenes son editadas por mí y corresponden a capturas realizadas en mi PC y las fuentes están indicadas en cada caso. Si te gusta, puedes dejar un comentario u opinión y tu voto favorable.
---
This post is of my authorship and I express in it, my experiences and learnings every day in this Blockchain. All images are edited by me and correspond to captures made on my PC and the sources are indicated in each case. If you like it, you can leave a comment or opinion and your favorable vote.


Join me/Unete a mi Fan Base en/in Hive.Vote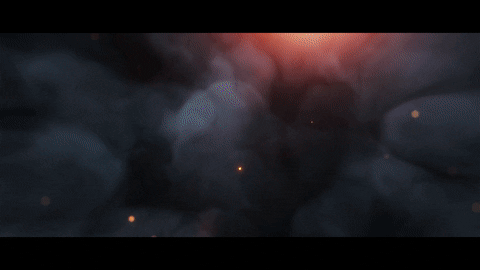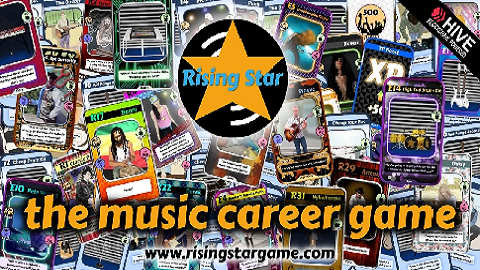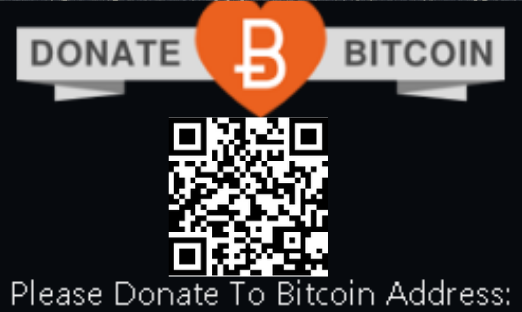 |
Si Te Gusto el Contenido
Puedes Donar Bitcoin a esta Direccion:

If You Like the Content
You can donate Bitcoin to this Address:
|

1FP9J4tJWwECH7LfcMsVEuUH7YWdtkf7CG
---
Edición de Imágenes con/Images Editing by Pixlr.com

Traducido con/Translate with DeepL Traductor

Ortografía y Gramática con/Spelling and Grammar with Corrector Castellano.com
---
---