Splinterlands Art Contest Week 253: Grum Flameblade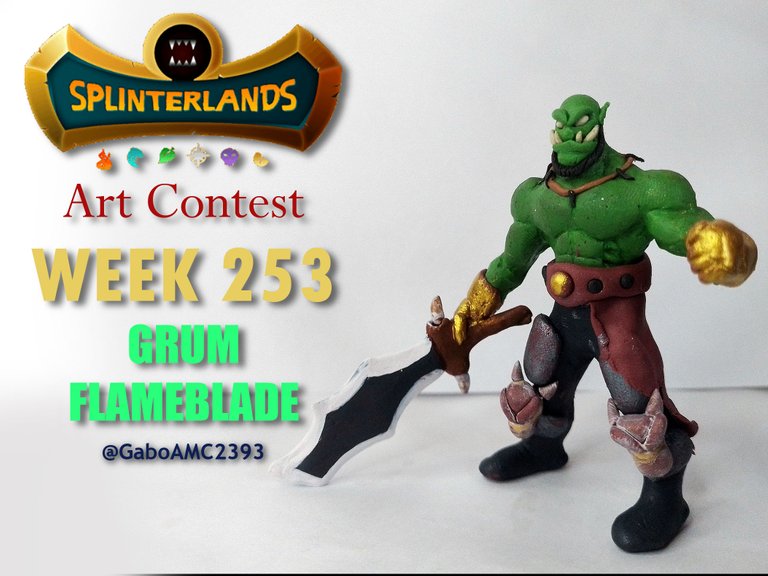 ---

Greetings to all, fellow art lovers. Another week, another chance to participate in the weekly Splinterlands contest.
You can read more about the contest by following this link:
https://peakd.com/hive-13323/@splinterlands/splinterlands-art-contest-week-253
This time I would like to share with the community a sculpture inspired by a splinterlands character. With the difference that I documented the whole process in video.
Below you can see the whole creative process of this cool sculpture, I hope you like it.

Saludos a todos, compañeros amantes del arte. Otra semana, otra oportunidad para participar en el concurso semanal de Splinterlands.
Puedes leer más sobre el concurso siguiendo este enlace:
https://peakd.com/hive-13323/@splinterlands/splinterlands-art-contest-week-253
En esta ocasión me gustaría compartir con la comunidad una escultura inspirada en un personaje de splinterlands. Con la diferencia de que todo el proceso lo documenté en video.
Abajo pueden ver todo el proceso creativo de esta genial escultura, espero les guste.
---
---
---
---
Description
The sculpture is inspired by a rather intimidating character physically speaking. In a way it reminded me of Thanos, an imposing character too, giant, strong, with a gigantic sword.
The name of the character is Grum Flameblade, below you can see an image of the character and my sculpture.
Descripción
La escultura está inspirada en un personaje bastante intimidante físicamente hablando. En cierta forma me recordó Thanos, un personaje imponente también, gigante, fuerte, con una espada gigantesca.
El nombre del personaje es Grum Flameblade, abajo pueden ver una imagen del personaje y de mi escultura.
---
Image Source / Fuente de la imagen
https://next.splinterlands.com/card-detail/447/regular/7?tab=lore
---
Step by step
To make this sculpture I used the same materials I usually use for my sculptures, wire, tape, paper, plasticine and paints.
For this sculpture I used a skeleton that curiously I had already saved to make another character, but it looked good with the one for this sculpture.
Paso a paso
Para hacer esta escultura utilicé los mismos materiales que suelo utilizar para mis esculturas, alambre, cinta, papel, plastilina y pinturas.
Para esta escultura utilicé un esqueleto que curiosamente ya tenía guardado para hacer a otro personaje, pero que quedó bien con el de esta escultura.
---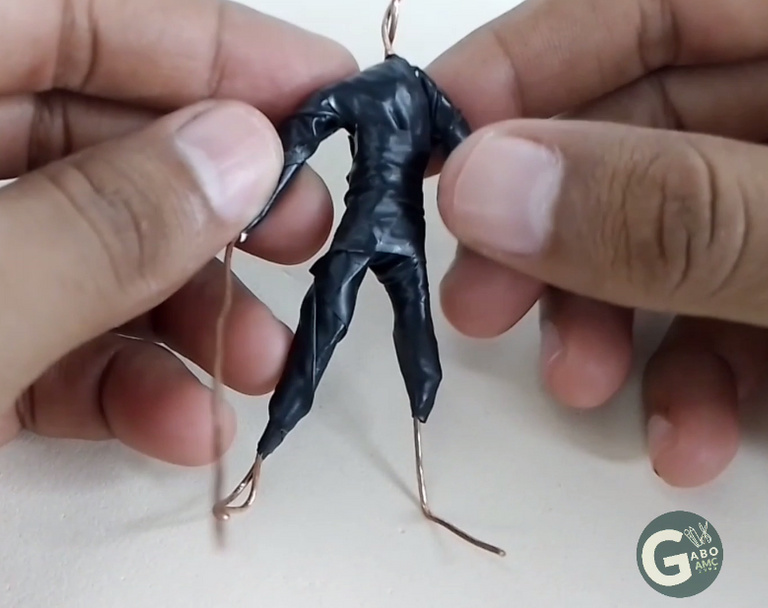 ---
As usual I started working on the legs. I used brown plasticine because I didn't plan to leave it that color, but to paint it later.
I made the legs thick, just like the character's legs.
Como siempre comencé a trabajar en las piernas. Usé plastilina marrón pues no planeaba dejarla de ese color, sino pintarla posteriormente.
Hice las piernas gruesas, tal como las del personaje.
---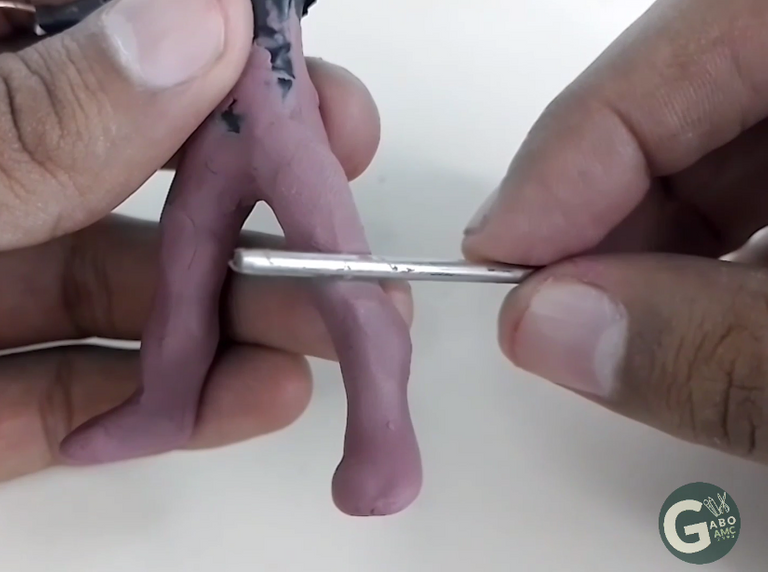 ---
For the torso area I did use green plasticine, as I didn't want to use paint for this area, so the muscles would be more noticeable, because if you use paint afterwards, the lines and details that are placed on the body disappear a bit.
Para el área del torso sí usé plastilina verde, pues no quería usar pintura para esta área, así los músculos se notarían más, pues si se usa pintura luego, las líneas y los detalles que se le colocan en el cuerpo desaparecen un poco.
---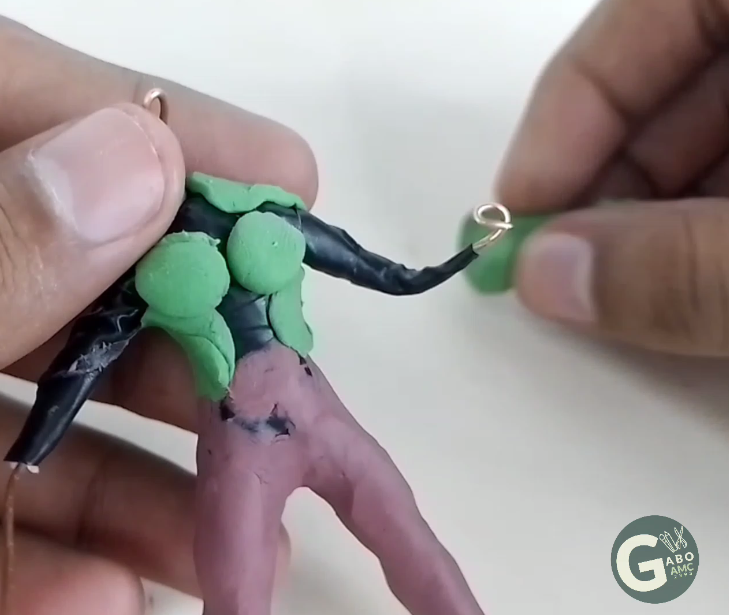 ---
Below you can see a lot of details I added to the torso, which is well defined, just like the sculpture.
A continuación pueden ver un montón de detalles que agregué al torso, que está bien definido, tal como la escultura.
---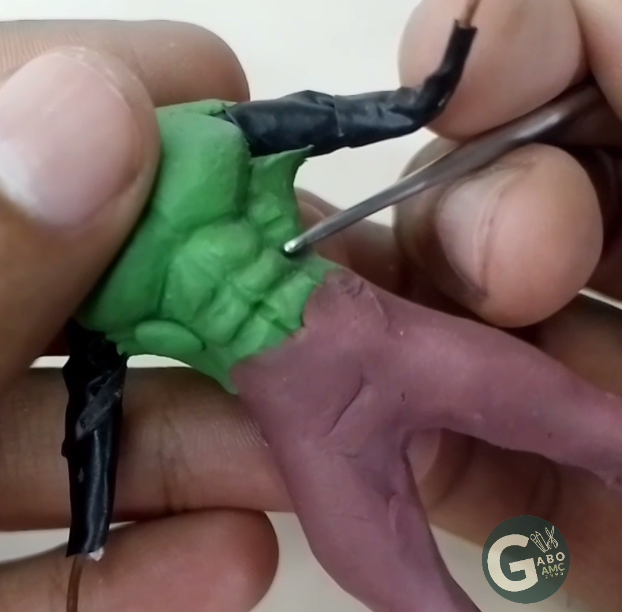 ---
The arms, like the torso, were also worked with the green plasticine.
I used a knitting needle to try to give as much detail as possible, highlighting the muscles in the necessary areas, so that the arms would have a musculature according to that of the torso.
Los brazos, al igual que el torso, también los trabajé con la plastilina verde.
Usé una aguja de tejer para tratar de dar la mayor cantidad de detalles posibles, resaltando los músculos en las áreas necesarias, para que los brazos tuvieran una musculatura acorde al del torso.
---
---
This character has a huge sword. Although I couldn't make it exactly the same, I tried to be as faithful to the original design as possible. Not only with the sword, but also with the gloves.
Este personaje tiene una espada enorme. Aunque no pude hacerla exactamente igual, traté de ser lo más fiel al diseño original. No solo con la espada, sino también con los guantes.
---
---
The character's face was certainly a challenge. I couldn't make it 100% the same, but I tried to keep the features as best I could, I think it turned out well in the end, all things considered.
El rostro del personaje ciertamente fue un reto. No pude hacerlo 100% igual, pero traté de conservar los rasgos lo mejor que pude, creo que al final quedó bien, dentro de todo.
---
---
As I told you, my intention with the sculpture, at least in some parts, was to paint it when all the pieces were finished.
Below you can see some of the parts I painted.
Como les dije, mi intención con la escultura, al menos en algunas partes, era pintarla cuando todas las piezas estuvieran terminadas.
A continuación pueden ver unas partes que pinté.
---
---
Finally I added the last accessories of the character, which in this case were the belt and the skull knee pads. Small but cool details.
Finalmente agregué los últimos accesorios del personaje, que en este caso fueron el cinturón y las rodilleras de cráneos. Detalles pequeños pero geniales.
---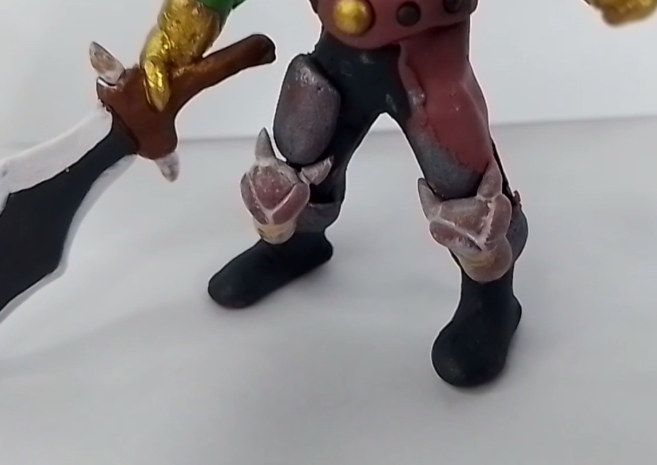 ---
Below are the photos of the final process of the sculpture:
A continuación las fotos del proceso final de la escultura:
---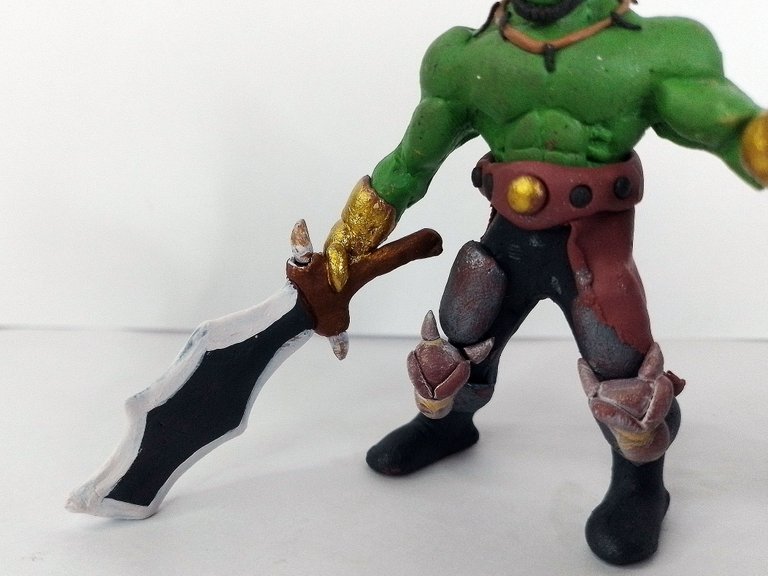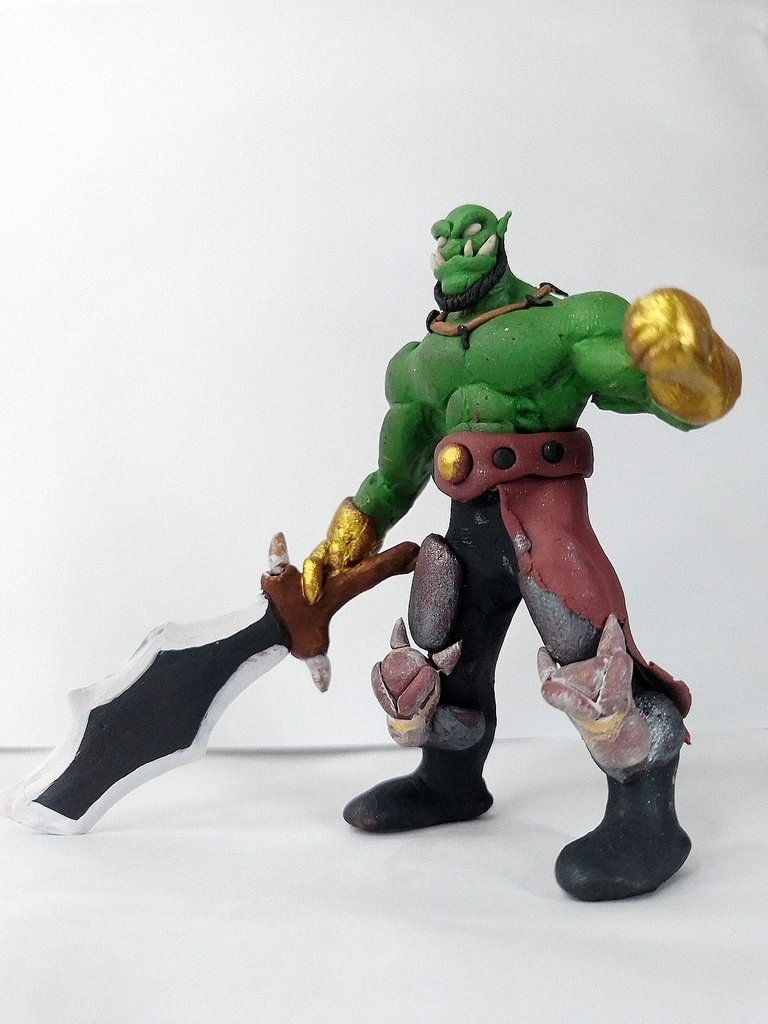 ---
Well friends, that's all for now. I would like to invite you to leave your opinions below in the comments, as always I will be happy to read them. I appreciate you taking the time to watch my video. With nothing more to add, I'll take my leave then...
See you next time!
Bien amigos, esto ha sido todo por ahora. Me gustaría invitarlos a dejar sus opiniones abajo en los comentarios, como siempre estaré encantado de leerlos. Agradezco que se tomaran el tiempo de ver mi video. Sin más que agregar, me despido entonces...
¡Hasta la próxima!
---


Video edited with Inshot / Video editado con Inshot**
MUSIC SOURCE - FUENTE DE LA MÚSICA
Música de https://www.fiftysounds.com/es/
▶️ 3Speak
---
---