No more rewards for new players!!? Increased rewards for bots?! (Long'term problems!)
If you read this, you are probably not a new player.
Just imagine this: you join spinterlands excited to get your first gaming NFT's and tryout some battles and see if you can get good at this.
After your first battle you notice you will not get anything, ok, ok. So you take some time and effort to do you first crypto transaction and buy the spellbook. Exciting! Then you play another game, you loze some against bots and than you WIN one! You get absolutely nothing?! Ok, mightbe if you play for a week and your league increases? NOPE! YOU CANNOT INCREASE IN LEAGUE!
NO rewards, NO progress!
Even if you manage to get some rewards in , for some reason splinterlands thought people in low leagues need more potions...
Talking about the new reward system:
Quote Daily quests will change to daily "focus" where players will receive a certain amount of reward chests based on the total amount of reward shares they have earned from ranked battle wins using the focus element (splinter) over a 24 hour period.
So if you would play a lot of battles (ultimately 24/7) you will get more rewards, guesse who plays the most battles, yes bots. There is a ERC correction, but this is linear, just like DEC rewards, they simply get more.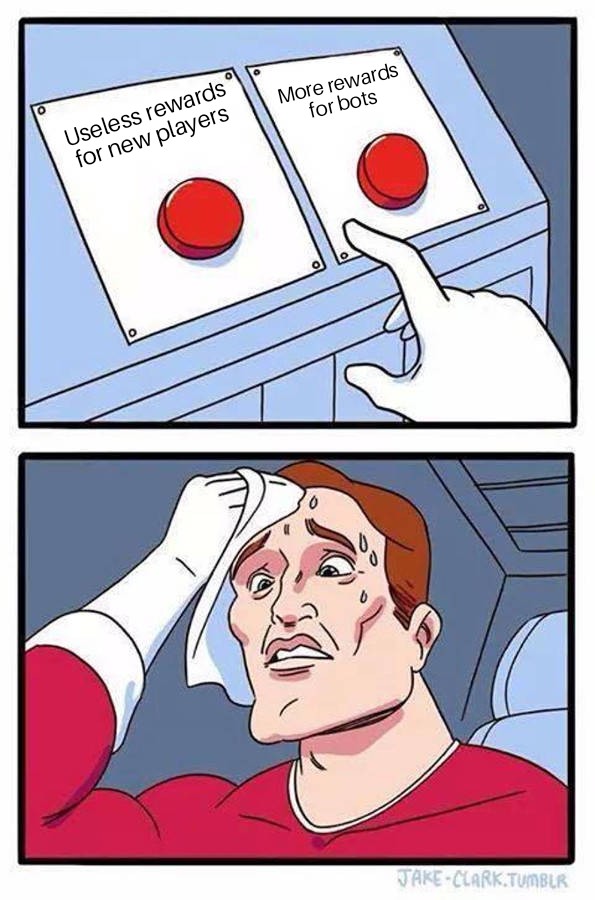 Nobody is going to drop a few hundred dollars into a game that gave them nothing.
The amound of active players is already not increasing, this will make it worse.
Posted using Splintertalk
---
---