How much can you earn in Splinterlands by Putting in the Hours?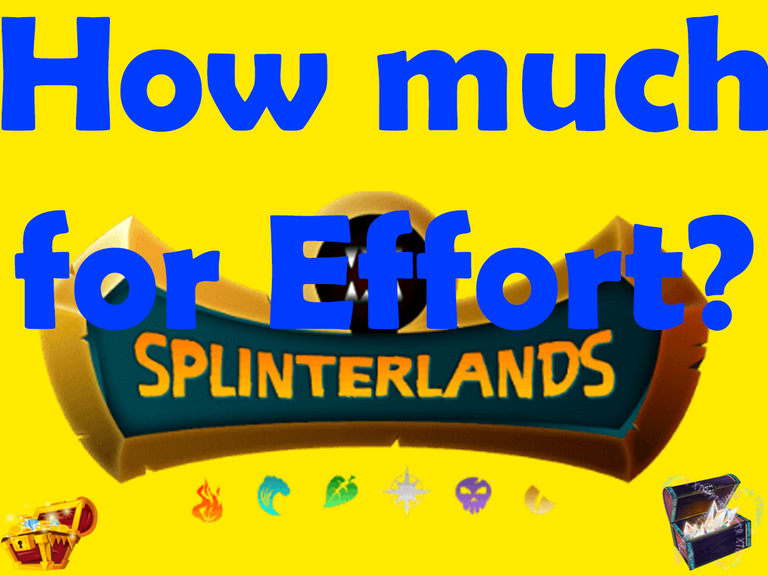 As the devs have explicitly said in one of the last AMA's, Splinterlands is not a Free to Play game(F2P), but a Play to Earn(P2E) game, and as such you'll always have to invest some capital to get something in return. But how much must you invest to get a decent return on your capital, and can you make money by putting the hours in Splinterlands?
Well, that's exactly what I have been doing so far, so let's see how it is going.

Initial Investment
I created my Splinterlands account in June of 2021, around 4 months ago, and I have initially invested only the $10 necessary for the Spellbook. As I played the game a lot and loved the game, I was sure that Splinterlands was going to succeed, and one month after that I tried to pull some money into it. As I do not have a lot of money, the maximum I was able to invest was $30, and with that I bought DEC, which I used to rent and buy some cards that I thought were very underpriced. Those $30 were worth ~23K DEC at the time and after some time I sold those cards for good profit, and to be honest I just sold them because I needed to liquidate some cards into DEC, I still think those cards will be worth a lot more in the future. Following is a table of those transactions:
| Date | Card | Price | Price/BCX | Selling Price |
| --- | --- | --- | --- | --- |
| July 12th | Crustacean King Lvl 3 - 5 BCX | $5.68 | $1.14 | $36 |
| July 12th | Lobstradamus Lvl 1 - 1BCX | $9.65 | $9.65 | $39 |
| July 12th | Torhilo the Frozen Lvl 1 - 1 BCX | $1 | $1 | $14 |
| July 12th | Mushroom Seer Lvl 3 - 5 BCX | $3.93 | $0.79 | $80 |
The date in the chart is the date I bought the cards, I didn't actually registered the date of selling, but as you can see it had a very nice ROI, and that income is what helped me staying in the higher leagues to collect good rewards.
So much for my initial investment, let's look at what my hours in the game have brought me so far.

In-game Assets
Cards
So long as I have been profiting DEC vs my rental cost, I have always used that to buy more cards, and that has not always been the case. Some season I had losses with rentals, some I had profits. But no matter what I have always tried to rank high to get good season rewards plus better daily quests, trying to improve my chances of getting some good cards. As it stands right now, I have a total of ~$520 in cards, many of which I have dropped from loot chests.

This is not only incredible for a guy that have only invested a little bit of money plus a good amount of time, but if you look at the peakmonsters image, you'll see that I'm earning ~63 DEC/day by renting some cards, and that I have ~100 DEC listed. With the current price of DEC, that means that I could make more than $1/day worth just by renting the cards I gained so far. That's FANTASTIC!
SPS
My cards do not only allow me to make some money by renting them out, but they provide me airdrop points as well, so I can earn some SPS too. In those 4 months of playing, I have been religiously staking my airdrop earnings of SPS, DAILY. Everyday I stake every single SPS I earn in the airdrop, and I won't stop unless something changes in the future. Right now, I have a total of 541 SPS staked, and you check it how my airdrop points stand in the image bellow.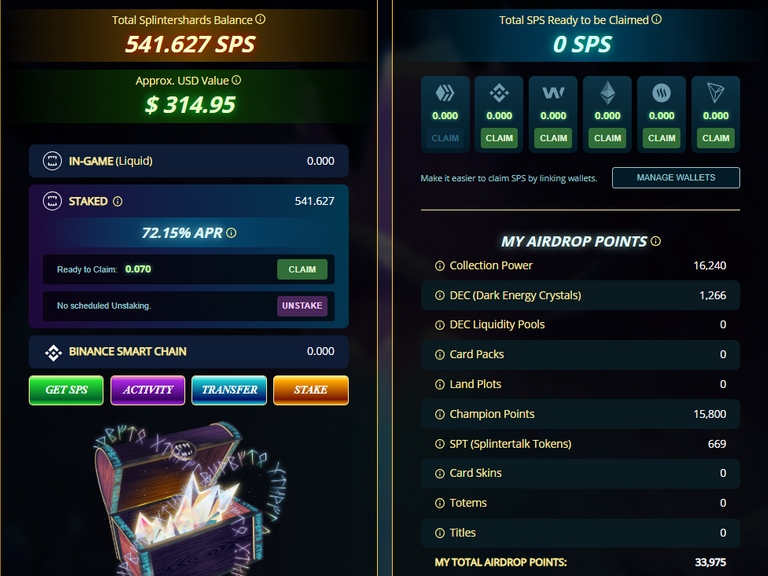 The last three seasons I have made it into Champion II, and that has given me a lot of Champion Points that have boosted my earnings in the airdrops. It wasn't easy, and sometimes even expensive to do so, but as I believe SPS will be worth a lot more in the future, I'm playing the very, very, very long-game.
I do not own any land, and I'm trying very hard to focus on accumulating some earnings towards buying a plot, but heavens know if it will happen or not. I'll keep grinding it out as much as I can!

Blogging, SPT and Hive
Hive blogging has been a blessing that I haven't taken into consideration when I started playing Splinterlands. I did not know it existed, and it has changed my life completely. If you are going to put in the hours into Splinterlands in order to make some money, you might as well dive deep into the Splintertalk blog, any second layer hive front end blogs, and the whole Hive community. I'm sure you'll find great people, and if you produce good content with the right tags, you'll be rewarded by your work. I have been using some of my rewards to buy SPS, DEC, or cards, and some of them I gave back to @monster-curator to keep helping the community back. Some I keep with me in Power form. If you want to know more about blogs, I'll leave some posts here, many of them helped me a lot and I'm sure they'll help you as well.
https://peakd.com/tutorial/@carrieallen/ultimate-markdown-tutorial

Final Thoughts
I do not want to imply that if you guys put the same effort I did, you'll manage the same gains. Our entry points are different, and that can change a lot of things within the game, but what does not change is the fact that if you invest a little of your money and put the hours to make that investment to work, you'll be rewarded generously in Splinterlands, and if you happen to actually have some capital to invest in the game, there are many ways to earn passive income and to make even more money out of it.
Splinterlands have experienced explosive growth in the last months, and it does not appear to be stopping any time soon. Sometimes, specially in crypto, we think we're late to the party because someone arrived earlier, when in reality we're just the second to arrive. It is still very early.


Thank you for Reading!
If you enjoyed the content and wanna follow along I'd be very honored to have you.
If you're interested in my content, here are some of my latest posts:
---
If you haven't started your Splinterlands journey, just start now!
---
---