Recap of the Annoucement - Packs, Vouchers, SPS utility and Price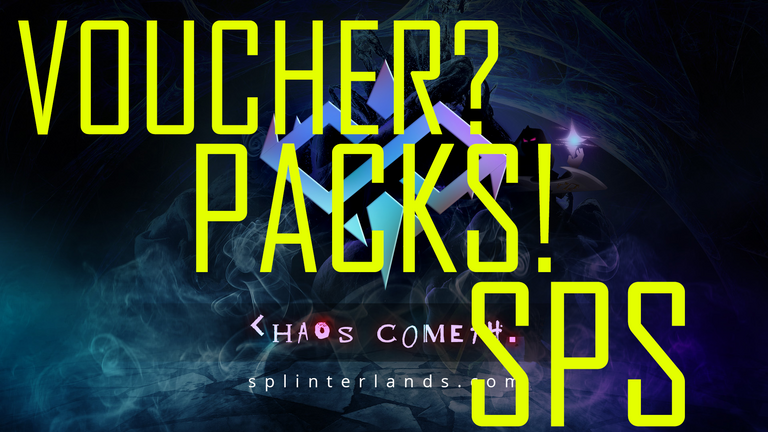 The infomation used to make this post can be found in the Splinterlands release, and before anything else I must say I'm not a finantial advisor, nor this is finantial advice.
---
Recap of the Chaos Legion Announcement
Total Number os Packs: 15M (10x the Untamed Edition), with 5 cards each, one of which will be rare or better. The chances of receiving rare, epic and legendary are the same as all previous editions.

Drop rate of 71.42% for Common, 19.20% for Rare, 3.84% for Epic, and 1.54% for Legendary.
Cost of $4 in the shop that can be paid with Credits, SPS and DEC, which will be valued at the current external market price.

1M out of the total 15M available Chaos Legion packs will be available to purchase in the presale which is set to last for 30 days, beginning Monday, October 18th, 2021 and ending Wednesday, November 17th.

There will be a 10% discount for any presale packs bought using SPS.

While Chaos Legion presale packs will not be able to be opened until the set is released, they will still be able to be transferred and tokenized on the Hive Engine platform and the WAX blockchain where they can be bought and sold on third party markets.

33,333.333 VOUCHER tokens will be created daily over the course of the 30 presale period (1M VOUCHER tokens in total) and will be awarded to all players who have SPS tokens staked in their in-game account based on the amount staked as a percentage of the total staked across all players in the game.

Please note that accounts with over 1M SPS tokens staked will be counted as only having 1M SPS staked for the purposes of the VOUCHER token awards in order to spread the tokens a bit more evenly among the player base.

There will be a total of 13 airdrop cards released as part of the Chaos Legion set as well as one special limited-edition promo card that will be airdropped at the end of the presale. A new card will be released and airdropped to all previous pack purchasers after the next batch of 1M Chaos Legion packs have been sold.

When Chaos Legion is released, Splinterlands will split the ranked battles and two week seasons into two different formats - Modern Format, and Wild Format. Players will be able to choose in which format they wish to play on the battle screen in the game.

The Modern Format will only allow cards from the Untamed, Azmare Dice, and Chaos Legion editions, as well as the newer Reward edition cards, and any new cards added into the game until the next core set is released after Chaos Legion sells out. The easiest way to tell if a card is allowed in Modern Format battles is if it has the Untamed edition card frame or the new Chaos Legion card frame. The Wild Format will allow ALL cards in the game to be used, from Alpha through Chaos Legion.
Each edition will have its own, separate DEC reward pool, as well as its own separate SPS reward pool once SPS rewards for ranked battles are released. More details about the separate formats and the rewards will be available as Chaos Legion gets closer to final release. (It is unclear still if there are going to be separate ECR's [Energy Capture Rates] for the Wild and Modern formats.)
VOUCHER's
We also anticipate that VOUCHER tokens may be used for various other benefits in the game going forward, and they will continue to be earned by holding staked SPS tokens and may also be available via liquidity pools and other sources in the future. More details about future use of VOUCHER tokens will be available as that gets closer.
With this statement we have a very interesting new information about the nature of VOUCHER's. The addition of utility to the VOUCHER token adds another layer of complexity to the foundation of this new economy that's just around the corner of Splinterlands. Here there's a superb opportunity for speculation since nobody actually knows what vouchers will be used for in the future. People might sell it without considering the full value of a voucher token, or they can sell it pretty high with a vision filled with expectation in the future usage of vouchers.
VOUCHER's are a very welcome surprise for the Splinterlands ecosystem.
Let's dig the numbers
33,333.333 VOUCHER tokens will be created daily over the course of the 30 presale period (1M VOUCHER tokens in total) and will be awarded to all players who have SPS tokens staked in their in-game account based on the amount staked as a percentage of the total staked across all players in the game.
Also remember that anyone holding 1M or more SPS will be considered as holding just 1M SPS. Right now this are the only 3 accounts with more than 1M SPS staked, and we will do our calculation considering that each of them have 1M staked.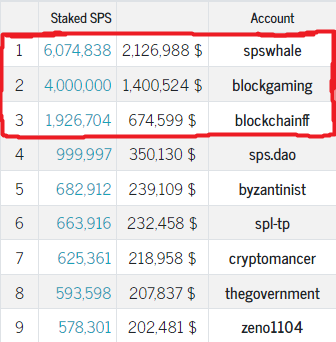 source: Splintercards
We have a total of 94.3M staked today, and you can track those stats down in the future on Splintercards. If you take out the extra from spswhale, blockgaming, and blockchainff, we will have instead 85.3M staked SPS. So if the airdrop of voucher's was to start with these numbers we would have that for each SPS staked, players would receive 0.00039 vouchers. That means that you'll need approximately 2,564 SPS staked in order to receive a while voucher a day. I urge you to have in mind that this number is a good approximation based on today's Staked SPS, but that may change substantially from the future numbers that we will see when the airdrop begins.
You can always get a hold of this numbers by yourself and calculate those variables without much trouble, and Splintercards provides the best tools for the job!
SPS
As said before, and now in front of our eyes, the founders reaffirmed their convictions on the SPS token and there's a clear sign that SPS will continue to have more and more utility as updates come to Splinterlands. There are a lot of incentives to hold SPS and those seems to be just at the beginning.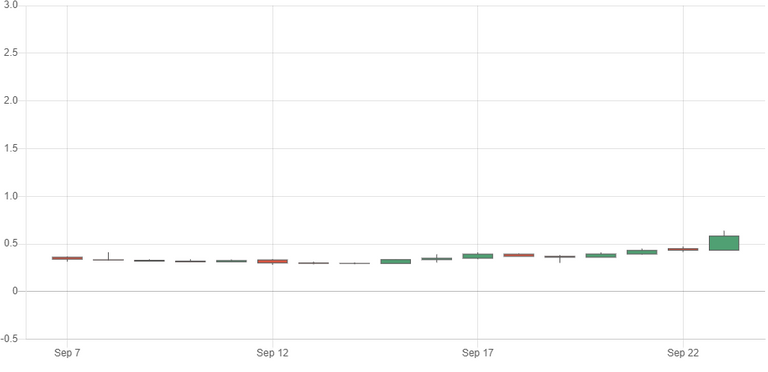 Market prices for SPS reflected all the aligned incentives that this new white paper brings for Splinterlands, and the price that was around $0.23~0.26 for some time, reached $0.36 at the time of this writing.
Final Thoughts
Chaos Legion will bring a lot of new features into Splinterlands, both in the gameplay mechanics, with the Modern and Wild format, and in the whole economy around it, with voucher, packs and card airdrops. Land is not very far from reaching Splinterlands also, and the next 6 months of this game have all the indications of a roller coaster filled with exciting promises.
The absurd growth of the Splinterlands community that we have been seeing, combined with all those features just around the corner can provide for endless opportunities for players, both old and new, to prosper economically as well as having fun while doing it. The fact that things are being carried with calm, precision and transparency is one of the most important aspects of this period of change in Splinterlands to me. It shows the founders respect for the community, players, and even more important, their respect for their own creation, the game itself. There can be no value to any asset in Splinterlands without the game itself, and I'm quite excited about all the new features, I hope you're as well!
Thanks for Reading!
If you enjoyed the content and wanna follow along I'd be very honored to have you.
Latest Posts:
To Buy or not to Buy - Economics of the New Reward Cards
Opening the Splinterlands Toolbox - Changing a Player's Experience in Splinterlands
Theory Crafting #1 Brighton Bloom - A Misunderstood Summoner
If you haven't started your Splinterlands journey, just start now!
---
---