🐉 105 SPS Giveaway 🎁 Hunting Midnight Contest #13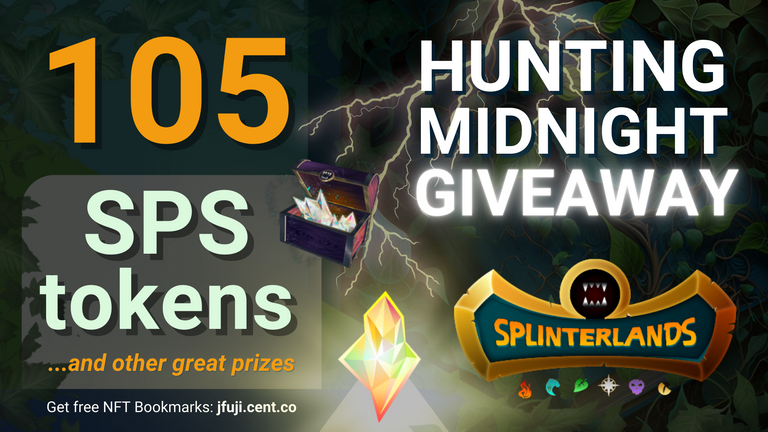 👻
I'm publishing a serial paranormal story in the Scholar and Scribe community. To celebrate and promote it: generous weekly(ish) giveaways.
Leo Threads users! Be sure to check out this week's 🎫 Bonus chance 🎫 for earning entries below.
The WINNERS from Giveaway #12 are announced at the end of this post.
🎁 PRIZES 🎁
This week, seven lucky winners will receive 15 SPS each
If you win, you can earn spins on the 🎡 Bonus Prize Wheel! 🎡 This week's bonus wheel includes:
15 SCHOLAR tokens 5% chance
10% prize boost (this prize stacks!) 5%
1 Hive SBI 11%
5% beneficiary on the next contest post 11%
9 SCHOLAR tokens 11%
6 SCHOLAR tokens 22%
3 SCHOLAR token 22%
50 DEC 11%

⭐ HOW TO ENTER ⭐
To enter, leave a comment in this post that quotes your favourite line from Hunting Midnight. This can be from any of the parts!
 
🎫 Bonus chance! 🎫 Post a story quote OR a link to this contest as a Leo Thread for an additional entry. Use the #gosh tag so I can track entries (this will earn you some $GOSH tokens too!)
If you use #scholarandscribe & #huntingmidnight you will also likely get a curation upvote from @leo.scholar (earning you some $LEO tokens). For a full "how to" regarding Threads, read this post. You will only have about 200 characters to work with, so if you're choosing a quote for this bonus entry make it short (it can be different than the entry on this post).
 

▶️ Here's a link to the start of the story.
📜 Here's a link to a list of all the story parts.
🎡 How to get Bonus Wheel spins 🎡
Each of these conditions or actions earns you one spin if you win the main draw (prizes stack).
📚 Be on the Hunting Midnight readlist.
✒️ Be a member of the Scholar and Scribe community on Hive.
📣 Share any related Hunting Midnight content (including this giveaway) on non-Hive social media, and comment with a link to your social media post. First person to do this gets an additional free spin, whether they win the main prize or not!

Rules and other things
Upvotes / reblogs on this post or the story posts are appreciated, but not necessary for entry. Note: The Scholar and Scribe community account will receive 10% beneficiary from this post's payout!
Only one entry per account per giveaway
Deadline to enter = Payout of this post
Seven winners will be chosen by random draw
Winners will be announced in the next giveaway post
To claim a prize, you will need to respond to the winner announcement post in the next contest. Unclaimed prizes may be liquidated to support future contests
If you claim a free bonus wheel spin and land on the 10% booster prize, I'll spin again and apply the 10% bonus 😉
🐲 Splinterlands is the crown jewel of Hive games! You've probably heard of it... ;) ~ Play Splinterlands here.
You can see the loose schedule for future giveaways in my story index post. Generally, they will occur weekly until the story's finished.
 

🎉 Giveaway #12 winners! 🎊
The following users win 111 DREEM each
(The contest post said "77.7 DREEM" each, but I goofed the simple math. 777 divided by 7 is not 77.7 lol...)
ALL users won extra prizes from their bonus spins.
❕❗ Please comment on this post to claim ❗❕
@emaxisonline (2️⃣ spins: 12 SCHOLAR)
@arc7icwolf (4️⃣ spins: 16.5 SCHOLAR + 66 DREEM (via 10% booster) )
@relf87 (2️⃣ spins: 9 SCHOLAR)
@wrestlingdesires (2️⃣ spins: 6 SCHOLAR + 5% bene on this post)
@yeckingo1 (2️⃣ spins: 15 SCHOLAR)
@hhayweaver (2️⃣ spins: 6.6 SCHOLAR + 11.1 DREEM (via 10% booster))
@candnpg (2️⃣ spins: 6 SCHOLAR + 1 HSBI)
@arc7icwolf was the first to share social media content, which got them that 4th spin 😁
 
Participation acknowledgement
I'm keeping track of whoever enters any of these giveaways, win or lose... there's no announced grand prize event. But I always find ways to make sure that participants get some goodies...
Folks who (eligibly) entered giveaway #12: @arc7icwolf @henruc @yeckingo1 @candnpg @relf87 @pero82 @gwajnberg @hhayweaver @alex2alex @joseal2020 @emaxisonline @wrestlingdesires @wanderingmoon

Collect Hunting Midnight NFT Bookmarks here

📚 Readlist 📚
These users get pinged on new parts & earn occasional token airdrops!
@relf87 • @jonimarqu • @wrestlingdesires • @cescajove • @gwajnberg • @yeckingo1 • @twicejoy • @pero82 • @candnpg • @emaxisonline • @olaf.gui • @emrysjobber • @thinkrdotexe • @thoth442 • @leemah1 • @henruc • @alex2alex • @arc7icwolf • @susurrodmisterio • @mavericklearner • @seki1 • @alessandrawhite • @grindan • @samsmith1971 • @shadowspub • @lisamgentile1961 • @stevermac1966 • @engilhramn • @joseal2020 • @oblivionlost • @treefrognada • @alicia2022 • @slothlydoesit • @iskawrites • @hhayweaver • @jhuleader • @wanderingmoon • @ivanslait • @acidtiger

Thank you for reading. The image for this post was created using some logos and art from Splinterlands. Episode 3 cover art was made with a Canvo Pro license as well as a Midjourney AI art generator prompt. Follow me or the #huntingmidnight tag so you don't miss new parts! I can also @ tag folks to alert you, just ask in the comments to join the readlist.
---
---