Don't Let the Name Fool You - It's Delicious & Just In Time for Christmas | DIRTY RICE (Cajun Rice)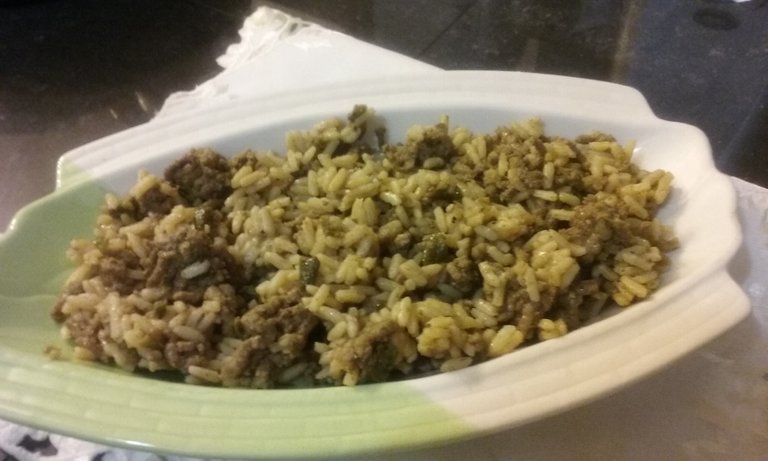 A delicious side disk or main meal, this quick and easy Dirty Rice recipe is one of my go-to dishes when I'm in a hurry for a satisfying meat and rice combination. As a young mother, I was constantly on the go constantly with either work or transporting kids different places.
As soon as we'd walk in the door, they were ready to eat. With this main or side dish, I'd cook it the night before if I knew I'd be running late. That way, I'd be half way finished. The vegetables usually green peas, broccoli or green beans was an easy fix.

History of Dirty Rice
Dirty Rice an traditional Creole dish, originating in Louisiana whose roots can be traced back to the days of the plantations.
During the era of slavery, the plantation workers prepared food with whatever the plantation owners (called masters) would give them that was left over.
However, the slave workers were ingenious, resourceful, and diligent in taking a small amount of leftovers, then combining and seasoning whatever they had to create plentiful and fulfilling meals to feed their families.
Their traditions are still alive today as Dirty Rice, together with other dishes, spread to numerous southern states. Southerners in the U.S. have kept the traditions alive. They've also reinvented them by diversifying and adding to the original recipes.
It's called Dirty Rice because the white rice turns a "dirty" brown color while cooking from the various spices. The dish can be cooked with several types of meat. However, chicken or ground beef is most popular.
It's also called "Rice Dressing" and is used to stuff whole meats such as turkeys, duck, chicken, or hens during the holidays.
The dressing is also eaten as a holiday side dish. During that time, I like to use chicken gizzards as a substitute for the ground beef.
However, as an everyday side dish or meal, it's delicious and easy to prepare.
The different flavorings that is cooked into the rice and meat help to bring out the dark-brown color when finished cooking.

How to prepare Dirty Rice
My Ingredients:
1 lb. ground beef (90% lean and above)
1 cup uncooked white rice
1 Strip bacon
Onion (yellow or red, diced)
Bell pepper
1/4 tsp. Salt
1/4 tsp. Black pepper
1/2 tsp. Cajun Season
1/2 tsp. Garlic Powder
Green onions (if preferred)
1 package French onion soup
1 2/3 cup. Water
OR (if you want a truly moist and creamy dish, substitute)
1 can Campbell's Mushroom Soup, plus 1 cup water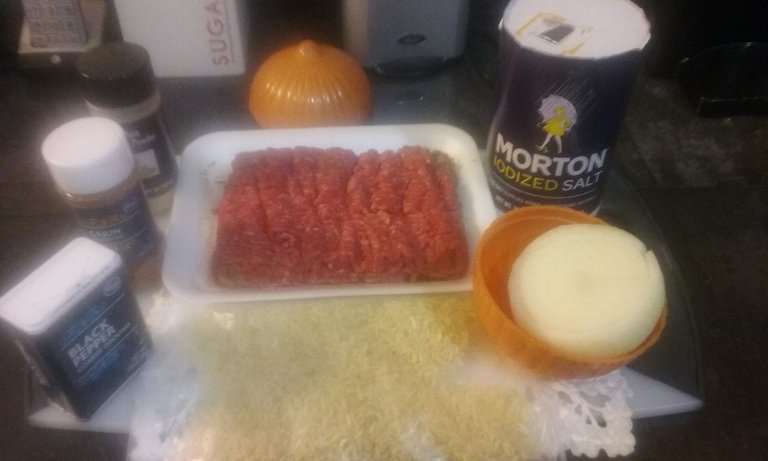 ---
Assembly is quick and easy.
First, in your favorite pan, saute the onion, bell peppers, and bacon until translucent.
Remove to a plate.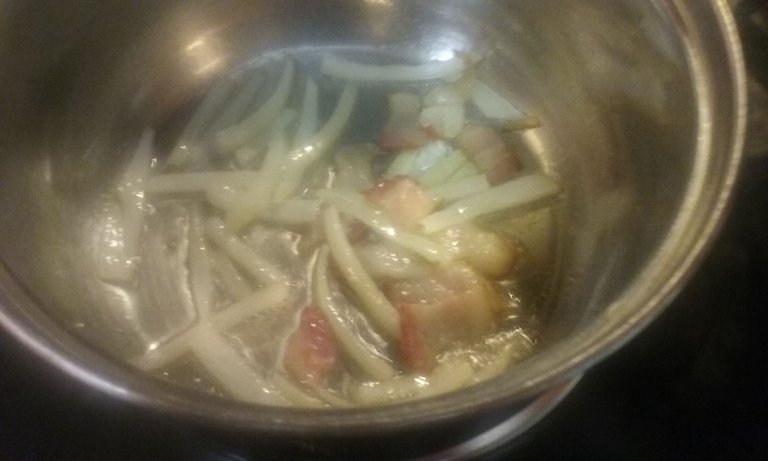 ---
Second, in the same pan, add the ground beef, salt, black pepper, French onion soup, Cajun season, garlic powder, and green onions (if you prefer).
Brown until well done.
You can drain the fat (if any).
This will ensure the meat soaks up the seasonings while cooking.
Apologies for the blurred image.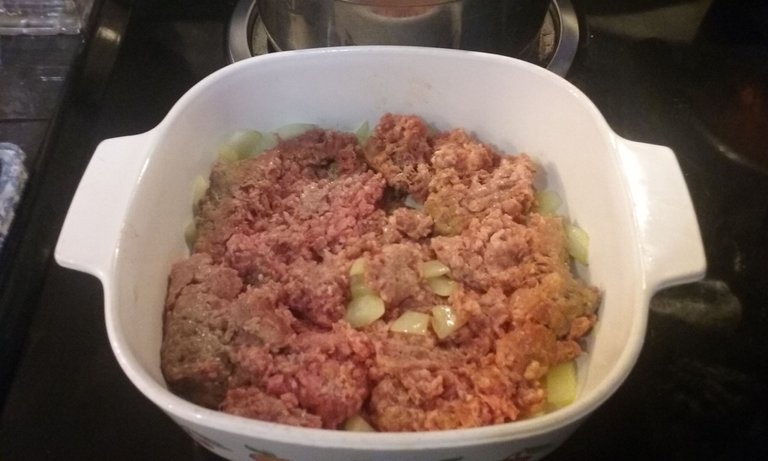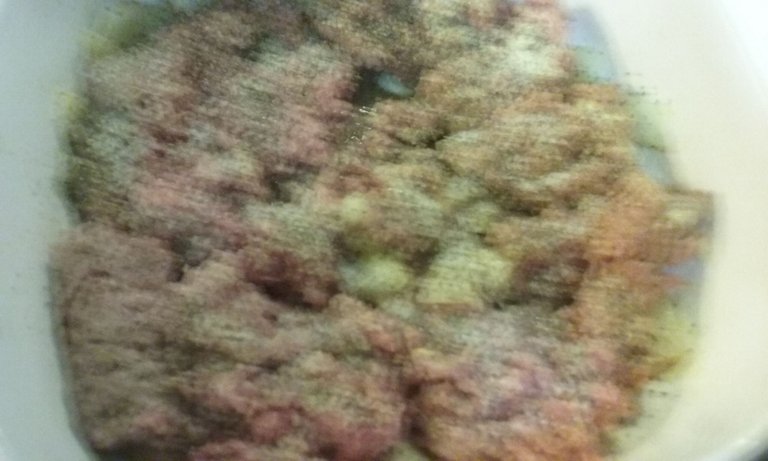 ---
Third, add rice and water (or bullion / cream of mushroom soup).
Bring to a boil, then reduce heat. Cover and simmer twenty-five minutes (25 minutes).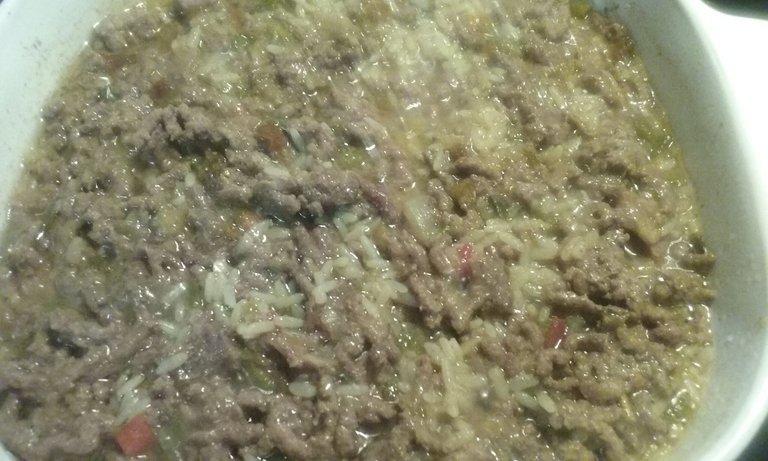 Below is the finished Dirty Rice dish.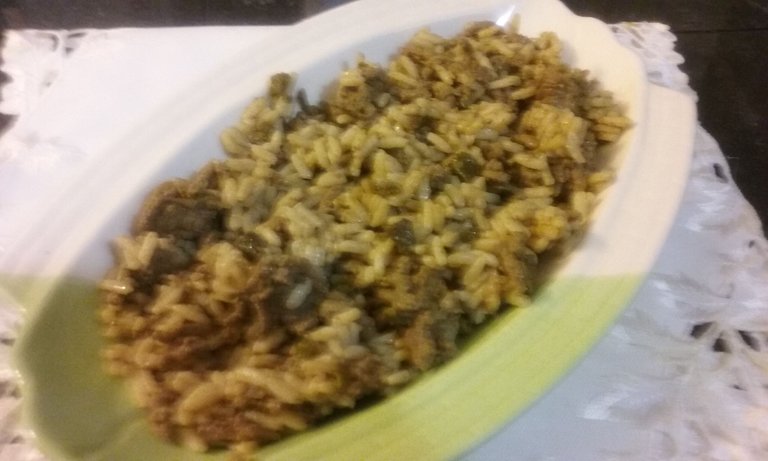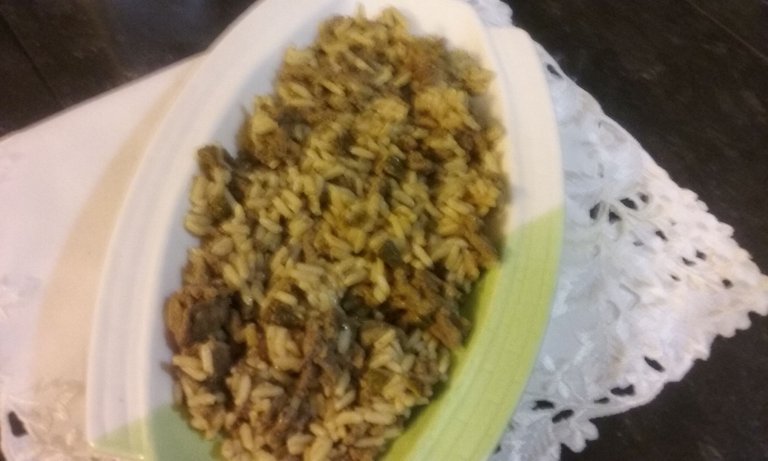 You can create several variations of this dish by substituting different meats.
It's easily converted to:
Cornbread Dressing by substituting cooked corn bread for the white rice.

Seafood dressing by substituting cooked meats for fresh or grilled seafood at the end of the cooking process.
Thanks for your visit.

Thanks,
@justclickindiva
Happy rest of the week everyone with whatever your endeavors.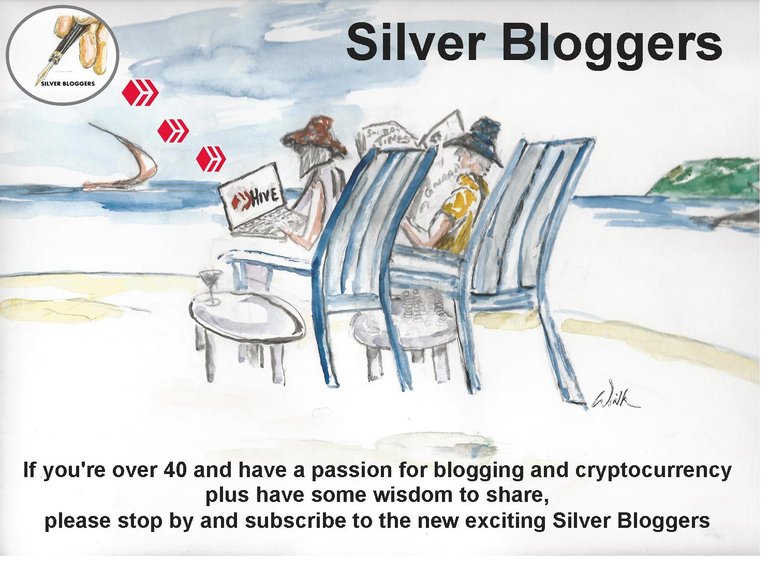 SOURCES:
a) JustClickindiva's Footer created in Canva utilizing its free background and images used with permission from discord admins.
b) Unless otherwise noted, all photos taken by me with my (i) Samsung Galaxy 10" Tablet, (ii) Samsung Phone, & (iii) FUJI FinePix S3380 - 14 Mega Pixels Digital Camera
c) Purple Butterfly part of purchased set of Spiritual Clip Art for my Personal Use
d) All Community logos, banners, page dividers used with permission of Discord Channel admins.
e) Ladies of Hive banner used with permission of and in accordance with the admin's guidelines.

Your Personal Terminal Discord Invite


---
---