Splinterlands: How to WIN IN SILVER 1 - Win rate and play rate analysis #5


This is the fifth post in a series concerning the overall win rate of different summoners in Splinterlands. We also highlight the decks of some winning summoners, and go over the highest win rate non-legendary cards, and the worst cards overall. The previous posts in this series covered the win rates in Novice - Silver 2 and can be found here:
Win rate and play rate statistics #4: Silver 2
Win rate and play rate statistics #3: Silver 3
Win rate and play rate statistics #2: Bronze 1 and 2
Win rate and play rate statistics #1: Novice and Bronze 3
This time, we look at the win rate for ratings between 1600 and 1900. For players matching the rating and collection power criteria Splinterlands uses for its leagues, this is the range of Silver 1.
Winning summoners: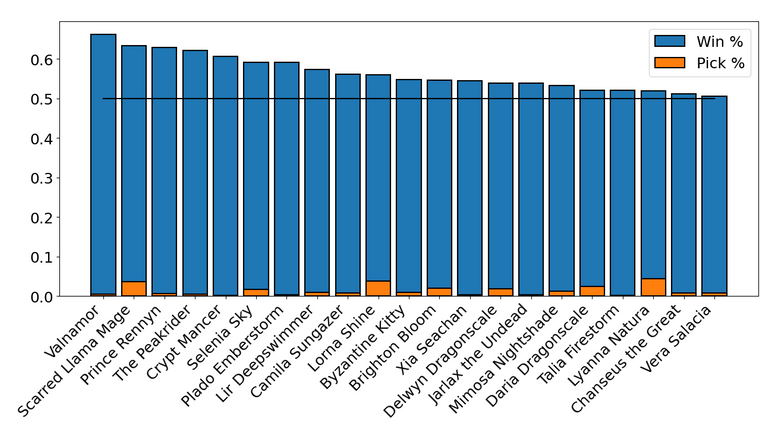 Key takeaways:
In Silver 1, there are not really any go-to decks that works for every matchup (We dont worry about Scarred Llama Mage, that "deck" is not interesting). A range of summoners have good win rates, and as a result, your skill in card selection begins to matter more.
The highest play rates of winning summoners are for Scarred LLama Mage, Lorna Shine, Lyanna Natura, Selenia Sky, Brighton Blom, and Delwyn and Daria Dragonscale.
Losing summoners: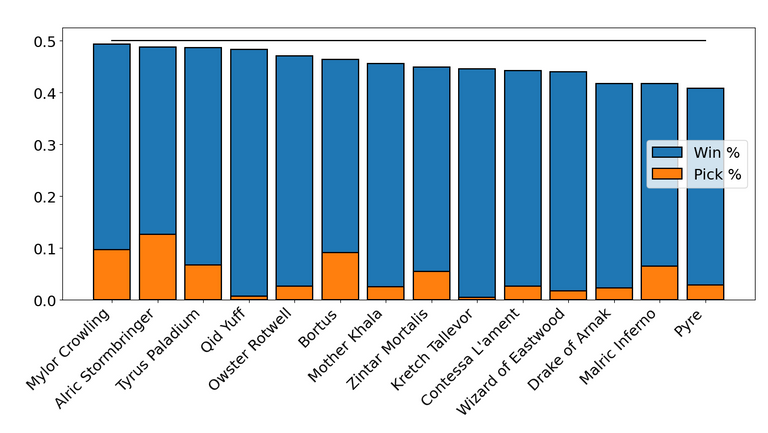 Key takeaways:
Mylor Crowling, Alric Stormbringer, and Tyrus Paladium are popular picks that sit just below 50% win-rate. These decks can likely be used by skilled players to climb towards Gold.
Fire summoners are not effective. Malric Inferno and Pyre sit at the very bottom of the list. Death Summoners, apart from Mimosa Nightshade, also do not perform well.
Bortus, who has had pretty easy time at lower ratings, struggles in Silver 1.
Which cards do you need to win in Silver 1?
Silver 1 has a range of summoners and decks that do pretty well. Lyanna Natura's and Lorna Shine's decks were covered in the previous post, and perform well here also. With Lorna, winning dekcs in Silver 1 use more Defender of Truth, while with Lyanna, there is a bit more use of Brownie and Beatrix Ironhand in the winning decks than we saw for Silver 2.
This time, we look at Daria Dragonscale, and revisit Alric Stormbringer. Daria Dragonscale plays these cards: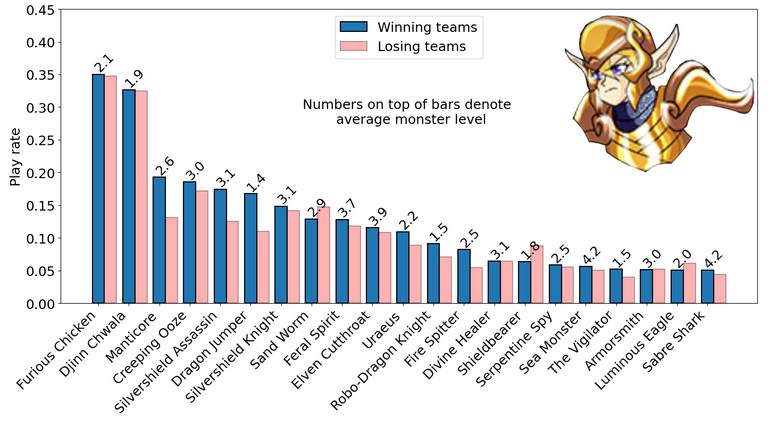 Djinn Chwala is the go-to tank for Daria, but has only a slightly positive win rate. Cards that perform very well are Manticore, Silvershield Assasin, and Dragon Jumper. The latter two target the backline and weaker monsters with heavy damage, and leaving only the sturdier monsters alive after the first rounds. Silvershield Knight can be used to further boost the melee damage for this strategy along with Feral Spirit, Elven Cutthroat, and Uraeus. As we have seen for other decks as well, Shieldbearer is not a card you want to include, even though many players obviously find it very tempting. Daria does play leveled cards at this rating, in particular if she wants to use the life deck. She also makes good use of the legendary cards Robo-Dragon Knight and The Vigilator. Another card that does very well for Daria is Fire Spitter. At the lower play rating range we do see some water cards appearing with positive win rates, so this is also an alternative you might want to explore.
Alric Stormbringer plays these cards: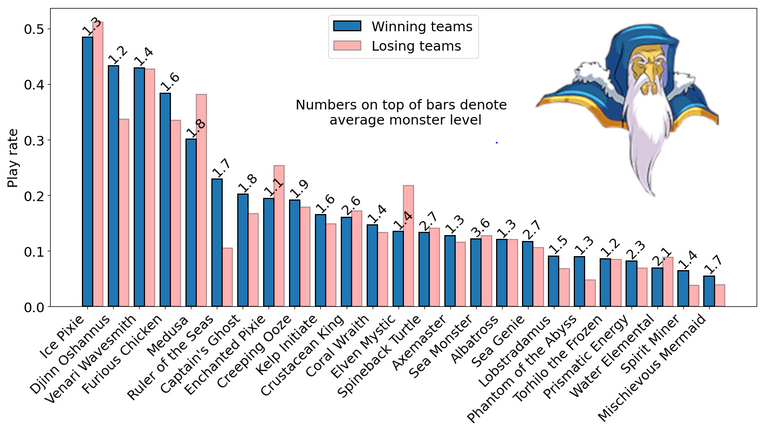 Alric's stats are useful. It is worth noting that even at this rank, Alric doesn't really need to play leveled cards. However, it is clear that winning in Silver 1 with Alric requires replacing Medusa, Enchanted Pixie and Elven Mystic with stronger cards. Ice Pixie remains relevant due to its low mana cost, but also this card loses more than it wins. Djinn Oshannus and Ruler of the Seas are huge improvements you might want to consider. The other largest improvements can be found in Captain's Ghost, Lobstradamus and Phantom of the Abyss. Finally, Kelp Initiate, Coral Wraith, Axemaster, Sea Genie, Prismatic Energy, Spirit Miner and Mischievous Mermaid are cards that have positive win rates with Alric, and might be worth adding for flexibility in your deck.
Best non-legendary cards:
If we look at all cards except legendaries, and sort them after win rate, these are the results (cards to the left have the best win rates):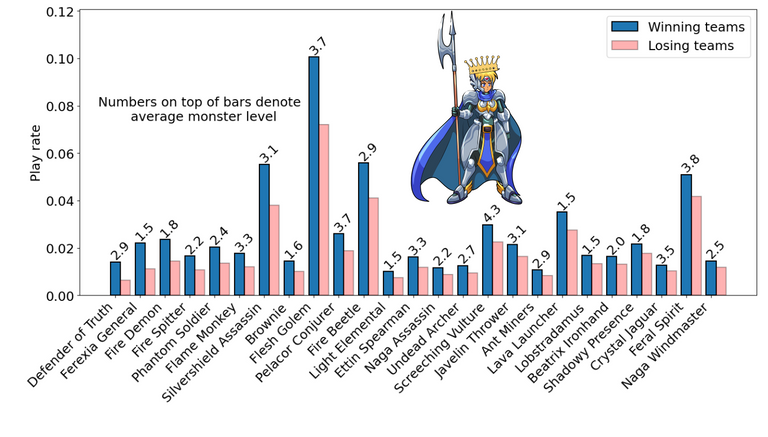 Defender of Truth gets the crown this time. He doesn't see that much play, in fact he is picked less than two percent of matches, but he is apparently quite powerful. At level 3 he has Protect and 2 magic damage, effectively becoming a better version of Venari Wavesmith. It is also pretty interesting to see so many fire cards on this list. It is tempting to think that Yodin Zaku affects these cards, but he has less than 0.1% play rate so he cannot be the reason. There might be more potential in the fire summoners than players have picked up.
You want these cards:
These cards are recommendations for the decks we have covered. In addition, the image above shows more monsters you might want to consider.





























Losers list
These are the monsters that perform the worst in Silver 1: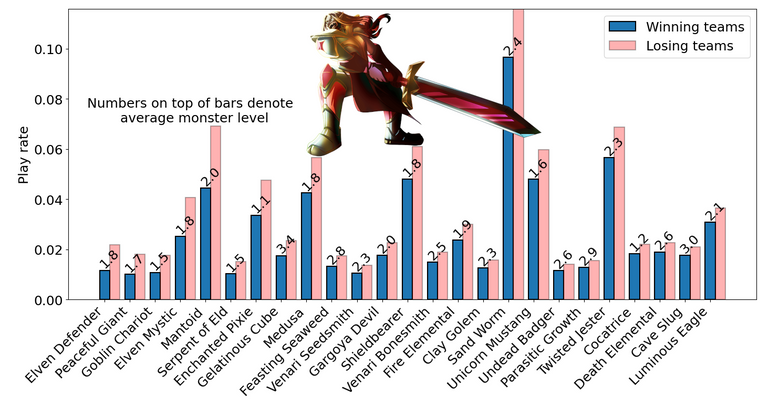 Elven defender sits at the very bottom and gets the King of the Losers title this time. Many of these cards are simply neutral cards that players likely slot in at higher mana, or when they are forced to play a rule which they have no good setup for. We find a few of Alric's go-to f2p cards on this list (Elven Mystic, Enchanted Pixie, Medusa). Sand Worm shows up here (maybe don't use that one when its not Reverse Speed), and also other high mana monsters such as Shieldbearer and Unicorn Mustang.
Closing remarks
Some summoners were excluded from the above statistics. Those are the ones with less that 0.1% play rate. Information about these summoners is not useful for the common player, as they will not show up in your matches, unless you pick them yourself.
Rule set strategies
The data shown here include all rules. We are also creating guides for specific rules. You can find them here:
Strategycorner with Mammuter #4: How to WIN in Melee Mayhem
Strategycorner with Mammuter #3: Noxious Fumes
Strategycorner with Mammuter #2: Earthquake
Strategycorner with Mammuter #1: Super Sneak.
If you would like to see more of this content, please let me know, like and share the post. Also, if you have not yet started playing Splinterlands, you can join and support me and the same time with the following link
Best of luck in Splinterlands!
Kalkulus


---
---