Splinterlands: How to WIN IN SILVER 2 - Win rate and play rate statistics #4

This is the fourth post in a series concerning the overall win rate of different summoners in Splinterlands. The first three were concerned with the win rates in Novice – Silver 3 and can be found here:
Win rate and play rate statistics #3: Silver 3
Win rate and play rate statistics #2: Bronze 1 and 2
Win rate and play rate statistics #1: Novice and Bronze 3
This time, we look at the win rate for ratings between 1300 and 1600. For players matching the rating and collection power criteria Splinterlands uses for its leagues, this is the range of Silver 2
Winning summoners: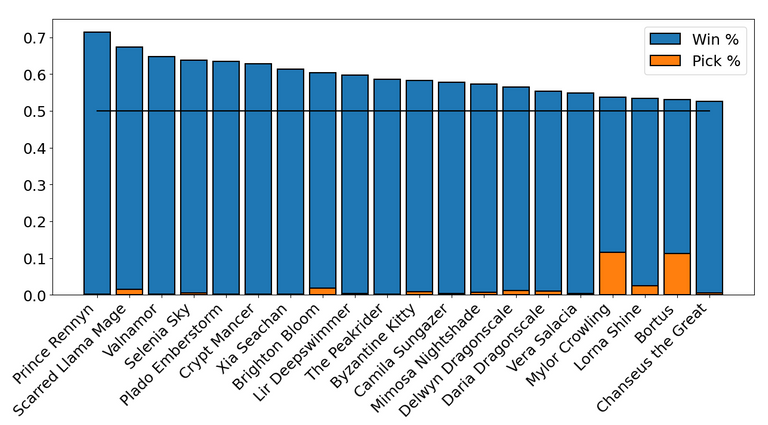 Key takeaways:
Mylor Crowling and Bortus are still good. The sit comfortably above 50% win rate with high play rates.
Less common but still somewhat regularly played winning summoners are Scarred Llama Mage, Brighton Bloom, Byzantine Kitty, Delwyn Dragonscale, Daria Dragonscale and Lorna Shine
Losing summoners: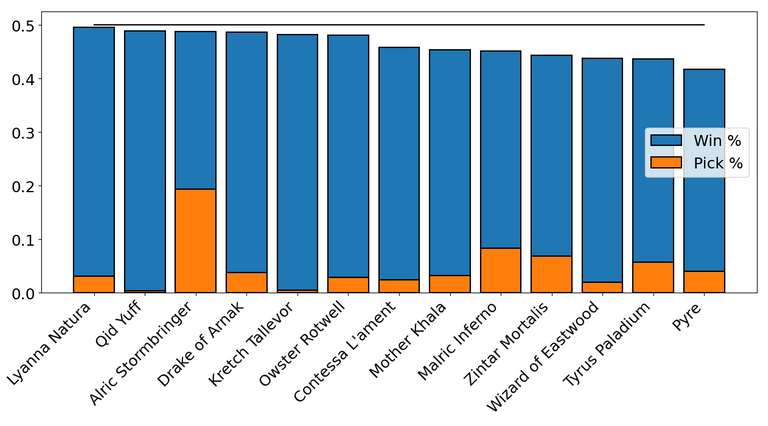 Key takeaways:
Alric continues to be the most popular summoner, but he doesn't have a great win rate.
Lyanna Natura is just barely below 50% win rate. She does quite a bit better in Silver 2 than in lower ratings. We will look at her deck later in this post.
Fire and Death summoners do not do well (on average) in Silver 2.
Which cards do you need to win in Silver 2?
The Mylor Crowling and Bortus decks continue to be effective in Silver 2. We covered their decks here. This time, lets instead take a look at Lorna Shine and Lyanna Natura. This time we also include the statistics on losing teams, and we have also included the monster levels.
Lorna Shine has a good overall win rate and is played a bit. This is what she plays: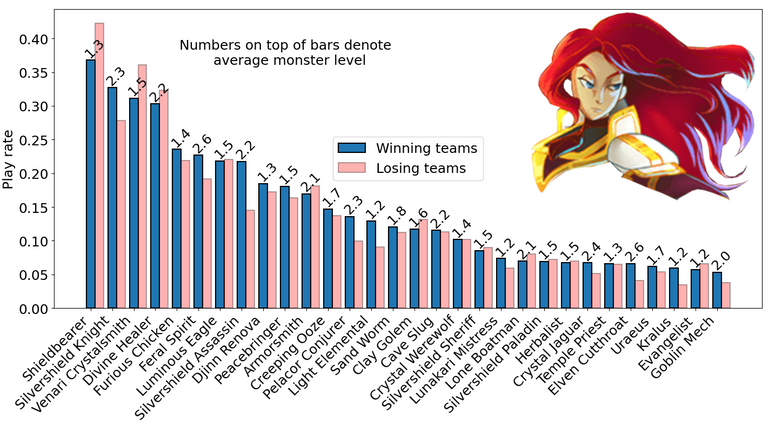 Apologies for thousand bars in one graph, but Lorna Shine plays a lot of different cards! She does play the standard Life deck combo of Shieldbearer + Divine Healer and Venari Crystalsmith. However, this is used more in the losing teams than in the winning teams, and this tells us that the combo is more situational than the average player believes.
In the winning teams we find Silvershield Knight more often, and more Feral Spirit, Silvershield Assassin, and Elven Cutthroath. These cards are very effective together because of Silvershield Knight's Inspire ability, which gives +1 melee damage. The average level is also higher for these cards. Notable level breakpoints for these cards are level 3 for Silvershield Knight (+1 damage), level 3 for Silvershield Assassin (+1 damage), level 4 for Feral Spirit (+1 damage) and level 4 for Elven Cutthroath (+1 damage). If you use these cards in your deck, you achieve very high sneak damage (four hits for 3 damage each), which can quickly destroy your opponent.
We can also see that Pelacor Conjurer and Light Elemental are also used more in winning teams. This is likely due to Earthquake matches, as both cards have the Flying ability.
Lyanna Natura is an interesting case at this rating. She sits just below 50% overall win rate, but there is a large difference between what she plays when she wins, and what she plays when she loses. Here are the stats: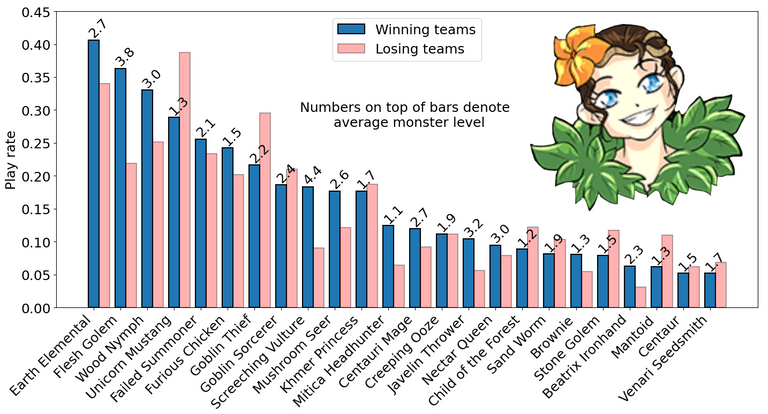 Looking at Lyanna's stats, it is clear that the winning version is a deck that uses leveled monsters. None of the decks we have covered previously have needed leveled monsters to be effective. The strategy is centered around healing, with Earth elemental, Flesh Golem and Wood Nymph. Earth Elemental is played at level 3, and Flesh Golem at level 4, where they both have the Heal ability. Wood Nymph is played at level 3 for one extra HP. There are a few damage options in the deck, but winning decks tend to include Screeching Vulture at level 4 or 5 for a low mana option for taking out vulnerable targets. Mushroom Seer at level 3 is also included as a low-risk way to counter magic decks. Mitica Headhunter and Javelin Thrower are also notably more used in winning decks than in losing decks.
The losing version of the deck tends to use Unicorn Mustang over Flesh Golem, and also use Goblin Thief much more than the winning deck. Unicorn Mustang is a great card, which also has a high play rate in winning decks, but it does not deserve a place in every matchup.
You want these cards:
The data show that that the following cards form a core set for winning in Silver 3 (Im skipping Ooze and Chicken and some f2p cards from the list, but you always need those):





























Rule set strategies
The data shown here include all rules. We are also creating guides for specific rules. You can find them here:
Earthquake Strategycorner with Mammuter #3: Noxious Fumes.
Earthquake Strategycorner with Mammuter #2: Earthquake.
Earthquake Strategycorner with Mammuter #1: Super Sneak.
Closing remarks
Some summoners were excluded from the above statistics. Those are the ones with less that 0.1% play rate. Information about these summoners is not useful for the common player, as they will not show up in your matches, unless you pick them yourself.
If you would like to see more of this content, please let me know, like and share the post. Also, if you have not yet started playing Splinterlands, you can join and support me and the same time with the following link
https://splinterlands.com?ref=kalkulus
Best of luck in Splinterlands!
Kalkulus


---
---