🏵 Daily Pack Opening & Giveaway, Ep. 34 🏵 Opening UNTAMED! 🏵 Giving away 50 SPS/day until pre-sale! 🏵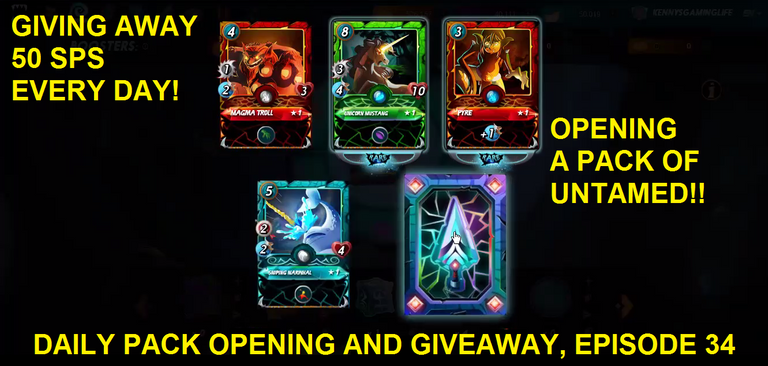 Welcome to Kenny's
Daily Pack Opening & Giveaway
Episode 34
Hello beautiful humans!
We're almost to the end of another ranked season, and the rentals market looks absolutely bananas!
Every time the end of a season rolls around, I wonder how much more money I could be making, if I wasn't playing the game myself, and delegating hundreds of thousands of collection power to friends, family, and guild-mates for EOS...
We're also just days away from the beginning of the Chaos Legion pre-sale!!!
Be sure to follow me on Hive, 3speak, and/or Odysee (the blockchain video platform with that pays you) so you don't miss anything!
Without further ado, let's crack packs!

This first embed is @3speak, and there's an Odysee embed at the bottom of the post.

Last Episode's Winner
Last episode (and until the 18th), we had a giveaway of 50 SPS, across 5 winners. The prompt for episode 33 was "What was your best pull from a pack? (Splinterlands or other CCG)
On the last episode, we actually got 70 entries, and here are the winners, chosen by RNG:
Thanks for entering everyone!

Today's Giveaway Prompt
So, from now until October 18th, when the air-drop for Chaos Legion vouchers starts, I'll be giving away 50 SPS on every episode!
Every episode is the same format, 5 winners chosen by RNG, from the valid entries. All that is required is to leave a comment responding to that episode's prompt/question.
Today's prompt is:
Where do you see @Splinterlands at the end of this year? Number of players, big news, whatever you think is going to be happening, or new, by then.
Good luck!

(Unsupported https://odysee.com/$/embed/daily-pack-opening-and-giveaway-34/f07b71e47b5d2de63a38059b0577406cbddd36ed?r=sn79TSBmmYMgodK1aN1k1EyrYXu4k24Z)

---
---

---
---