♣️ Daily Pack Opening & Giveaway, Ep. 31 ♥️ Opening UNTAMED! ♠️ Giving away 50 SPS/day until pre-sale! ♦️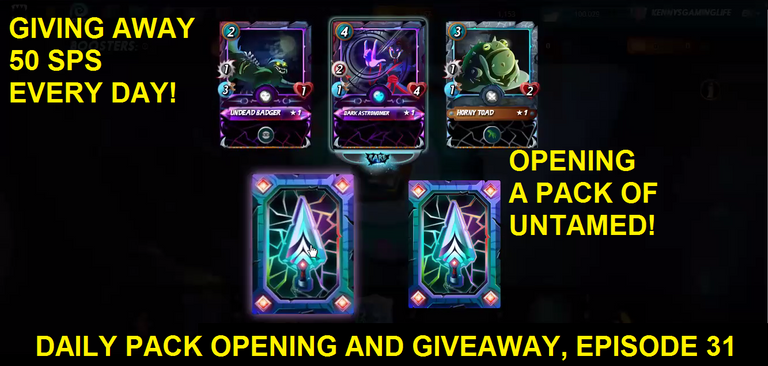 Welcome to Kenny's
Daily Pack Opening & Giveaway
Episode 31
So... I moved up to Diamond... Needless to say, I have gotten many more losses, as expected.
I didn't expect to see SO many max-leveled cards all the way down in Diamond 3 however... I figured people with those collections would stay farther up in Diamond, or even all the way up in Champion.
Anyway, between bumping up, and the raise in DEC, I'm getting a solid $0.60-90 per win right now :-)
Be sure to follow me on Hive, 3speak, and/or Odysee (the blockchain video platform with that pays you) so you don't miss anything!
Without further ado, let's crack packs!

This first embed is @3speak, and there's an Odysee embed at the bottom of the post.

Last Episode's Winner
Last episode (and until the 18th), we had a giveaway of 50 SPS, across 5 winners. The prompt for episode 30 was to about what everyone's favorite abilities in the game are.
This time there were 35 entries, and I decided to switch it up and not only give out double the SPS (since I skipped a day), but also just giving the prizes to 10 folks that haven't won one of my giveaways yet: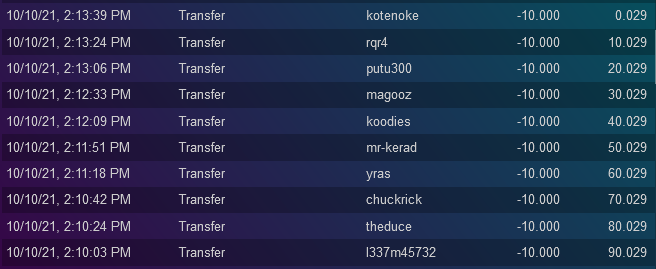 Thanks for entering everyone!

Today's Giveaway Prompt
So, from now until October 18th, when the air-drop for Chaos Legion vouchers starts, I'll be giving away 50 SPS on every episode!
Every episode will be the same format, 5 winners chosen by RNG, from the valid entries. All that is required is to leave a comment responding to that episode's prompt/question.
Today's prompt is:
What ability or other game mechanic from some other game would you like to see added to Splinterlands? Or at least something like it - feel free to go in-depth.
Good luck!

(Unsupported https://odysee.com/$/embed/daily-pack-opening-and-giveaway-31/1d8048be252f47a909b474634a330ad8842b58dd?r=sn79TSBmmYMgodK1aN1k1EyrYXu4k24Z)

---
---

---
---