Brawl Report #23 The Jordan Brawl Report, a Giveaway as well! 😊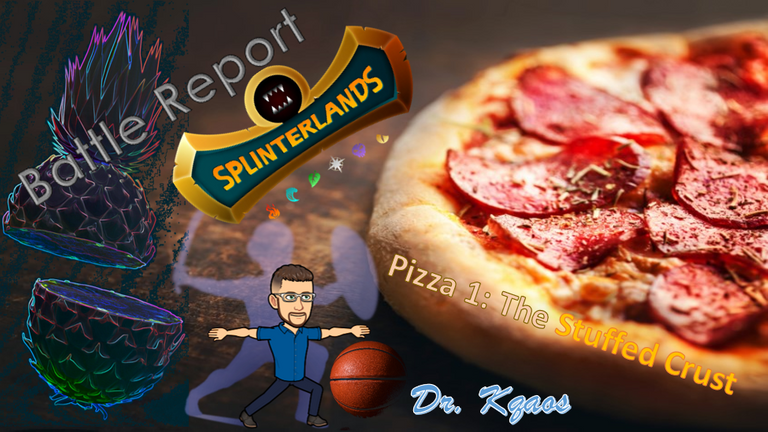 I grew up outside of Chicago when Michael Jordan was doing amazing things in Chicago, so #23, always makes me thing of him! In honor of that one, we are having another giveaway!
Since Jordan used to fly through the air, we are going with a Pelacor Mercenary, however, with the skills that he had it set the seeds for so many great dunks, so we might upgrade to the Venari Seedsmith!
My last giveaway had 75 upvotes, which allowed moving from the common to the rare card, we are going to add 10 to this one, so I am looking for 85 upvotes. We go from flying to setting the seeds!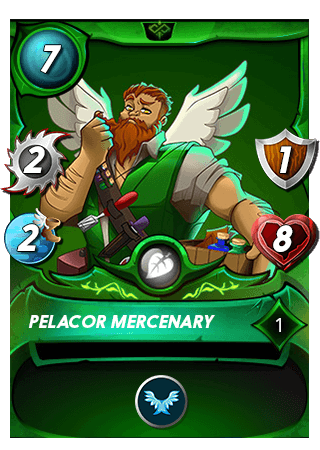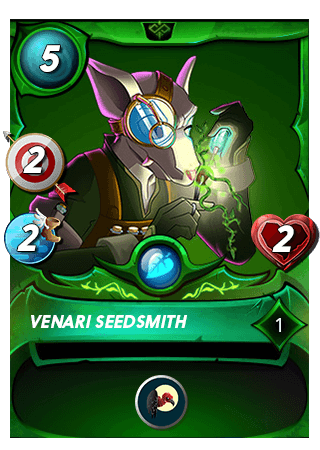 Rules:
•
Leave a comment with your username, that consists of something about Michael Jordan or Basketball in general.
• No repost, upvote or tips, !PIZZA, !BEER, !WINE, !LOL, etc. required, but if you want to I will be appreciative!
• When this post pays out, a winner will be decided by random name picker (
https://filoz.info/picker/
)
• Winner will need to comment within 48 hours on the winning post, I want to make sure it is going to someone alive! No response, no winnings, but I want to send it out, the prize will roll over to my next brawl report.
---
I am also tagging @kotenoke in this post, it is a giveaway, but more importantly it is about Mental Health Awareness Month, something we all struggle with, so reach out to a friend, a relative and give a chat, it is a great thing, the full post is here: (Mental Health Awareness Month – Splinterlands Giveaway #46)
On the same thread, check out (Project Semicolon) talk to someone for all the help you can.
---
As I post this SPS is currently trending at $0.076, a big drop, but I think it will turn around at some point due to nodes and land. Speaking of buying things, there are 526,195 packs to go until the next airdrop, a summoner of some sort, we do know that it will be a legendary Life summoner, interesting!
The guild filled only 9 out of 13 spots this time around, we are missing the Silver, Silver CL, Gold Foil CL and Silver GF, hopefully we will fill those out soon! I am rocking 5 fights in the Novice Chaos Legion only.
---
Battle #1
We start with the travelling fight, to the away team. 12 mana, no healing, and all ranged have the snipe ability. I went fire on this one, hopefully Gorth will get charged up! Well, I wonder if we showed up at the wrong place, but at least the judges were there to give us the win, it was a no show for them, so we sat down and had some lovely stuffed crust pizza!
---
Battle #2 (Link)
This one is away as well, I think they like me travelling at first! 16 mana, with everyone having snipe again, interesting! So I am trying something a little off on this one, going with water and the double opportunity, with a few small ones thrown in up front. They went water as well, but using reach and the sethropod up front. However, my strategy won out, I was kind of scared with a key miss on this one!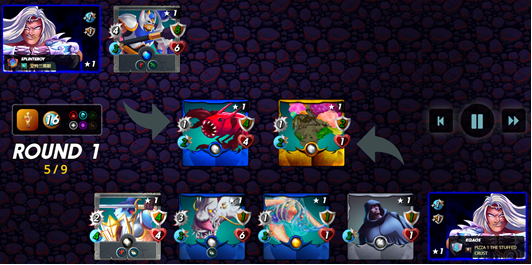 ---
Battle #3
Ah, finally back at the home arena, so nice to have my masseuse work on me! 52 mana, and Earthquake, that is hefty! I decided to go water, even though I don't have flying, since the flying squid doesn't count, I have hefty numbers with the hit points and the extra shield. I think they were sceeerd, they fled, the pizza spikes must have made them turn around! Maybe it is the way that they pump the tomato sauce into them, makes it look like they are always dripping blood…
---
Battle #4 (Link)
This is another one at the home arena, so nice with the tasty pizza! 20 mana, divine shield and the equalizer, so everyone's health goes up! I decided to go water with the double opportunity again, they went water as well, looking at the reach to help them out a little bit on this one. The double opportunity worked out well for me on this one, my gladiator got pumped up a little bit as well!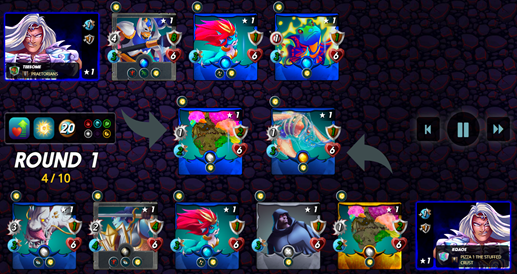 ---
Battle #5 (Link)
Last fight, as we travel out of the arches of Pizza town someone thought it was a good idea to throw pepperoni, one hit my forehead and I looked funny, at least it was tasty pep! 36 mana and all ranged monsters have snipe. I decided to stick with water, it has been doing well for me, and I figure the double opportunity along with the 3 damage magic snipe should help me out! This could be painful, they went light with all of that ranged attacks. However, opportunity came through again, gladiator didn't get pumped, but the win was a good one!
---
Just over 7 hours to go, I am currently sitting at 3 and 0, very happy with that, I am going to be over fifty percent, so that is positive!. The guild is currently sitting in 1st place, but 2nd and 3rd are only 1 win behind us, we have 16 battles to go, 2nd has 22, and 3rd has 13 battles to go, so it is anyone's game out of the top 3 right now!
I ended up 5 and 0, awesome! Besides myself, we had 4 other sweeps! @theacks, @failingforward, @funnel, and @torrey.blog amazing job everyone! The guild as a whole ended 2nd place, 1 win away from the top, not having those other 4 frays filled hurt us, but we did amazing with a 39 and 7 record as a guild.
---
Other than that, the pizza family is doing all kinds of things over on Discord, come join us!
---
Check out other Pizza Guild Brawls:
@relf87: Guild Brawls With Pizza 2 - Remember To Do Your Fights And More Gladius Card Reviews!
@koodies: Guild Brawl - My 2nd Brawl Report with 🍕PIZZA 2 The Deep Dish Guild🍕
@h3m4n7: Splinterlands Weekly game progress, investment tracking and Giveaway #31
---
Giveaway Pings
@amaillo
@luizeba
@irisworld
@h3m4n7
@blitzzzz
@shawnmichael-gt
@koodies
@postapocgamer
@jfang003
@henruc
@bokica80
@relf87
@cogie88
---
Thank you for reading this far, additionally, I do want to thank the people in Pizza, a great place to hang out! I have learned a lot from it and there are great people and a very positive community.
You can find them here: Awesome Pizza Discord
I'm starting to track the Pizza token a little bit more as well, it is currently sitting at $0.03798795 a good time to join the pizza family!
At some point I will be doing some other posts about my experiences in Crypto, but here are some links if you are interested in some other NFT Games or other games as well!
---
Splinterlands
If you use my referral link I will send you 100 DEC to get started!
Rising Star
Great music NFT and a way to support up and coming musicians!
Sorare
Still learning this one, but it is a football (American Soccer), easy to set up and go!
Star Citizen Referral code: STAR-LRKQ-D6NK
Space game, still in alpha development, playable, very immersive, sign up with the referral code it will give you money in the game along with both of us receiving a free ship!
Unmineable
A great way to get into Crypto mining, easy to set up, code gets you a 0.25% fee discount, uses the graphics card while you are not using your computer, or you can mine with just your CPU.
---
Let me know if there are any questions, you can find me in the messages here or in the Pizza Discord.
Lastly, thank you again, remember you are awesome and have a wonderful week!
Dr. Kqaos
---
Photos come from PowerPoints stock image, Bitmoji with Splinterlands logo on top of it, or my own screen shots of Splinterlands
Disclaimer: This is my opinion, not financial advice.
---
---