Brawl Report #24 Looking at 2 Dozen Reports at this point, fun with Pizza Fam!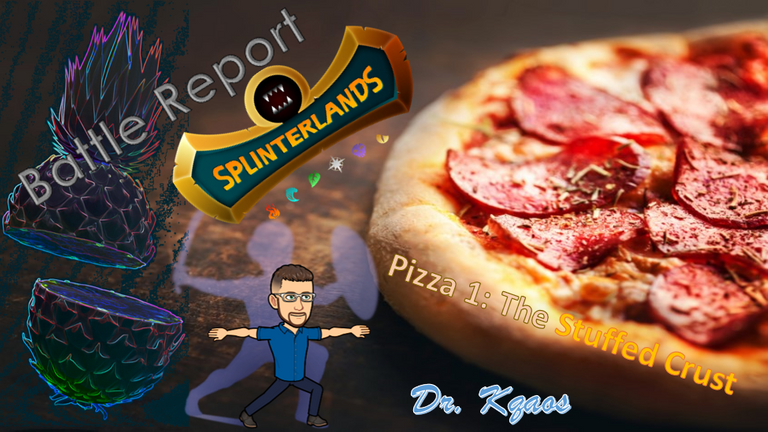 So, we are still rocking out with Pizza, you should come join us, we did add another guild to Pizza Fam, Pizza 420: The Calzone, they went through their first brawl as a guild as well, good stuff!
As I post this SPS is currently trending at $0.86, it has been bouncing, but the last couple of days it is back on the upward trend. I still think it is a good time to buy, speaking of that, there are 507,159 packs to go until the next airdrop, a life summoner of some sort, another legendary summoner will make things interesting in the brawls!
The guild filled 9 out of 13 spots this time around, we do need to work on filling those 4 spots. I am rocking the Novice, Chaos Legion only fray, with 8 fights this time around. At least this one is balanced between good pizza and mediocre pizza, aka, home versus away arenas.
---
Battle #1 (Link)
We do start at home on this one, hopefully that last cheesy goodness of the crust goes well, different when you put the honey on it, but they did use a slightly sweeter crust, something new, I think @torrey.blog mentioned it. Anyway, we are looking at no healing, no ranged, and 38 mana, not to mention, only being able to use water and dragon splinters! So, since I do not have a dragon splinter, I am going water, using my double opportunity attack with my gladius cards. Surprise, they went water as well! They have double opportunity, very similar lineups actually. However, they beat me in the way that things came out.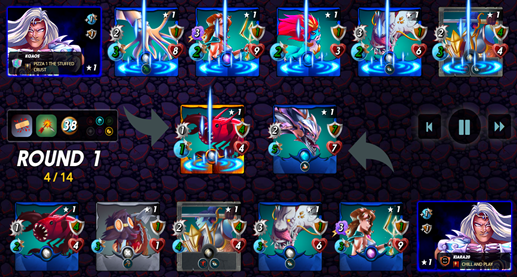 ---
Battle #2 (Link)
This one we leave, not happy, the like a soggy crust pizza, where we come from it is called a casserole, not a pizza. Little league with no armor, 32 mana, everything but water. I went fire to cook the bottom of the casserole, also, having strong sneak attack from the gladiator I hope will pay off! They went fire as well, a little different lineup but nothing too bad, I hope. My gladiator just took off on this one, there was no touching it!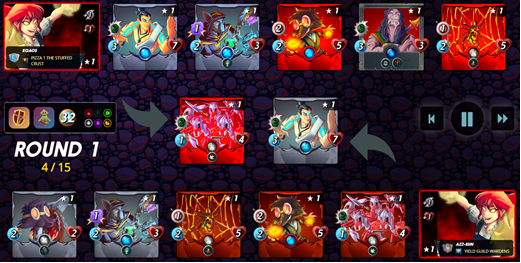 ---
Battle #3
This next one was not the greatest either, they go with a paper-thin crust, so the pizza just snaps or breaks, depending upon your viewpoint. General Sloan has trouble eating it due to the large hands, but she just started making a pizza quesadilla with it instead, a thin crust calzone! 17 mana, divine shield, no melee, and death and fire only, interesting. I went death, I am hoping with Necrosi and Whistling Damon the snipe will be able to pick people off which will charge my Riftwing to stay as a tank. They ran away, so an easy win.
---
Battle #4 (Link)
Ahh, back home, I decided to visit Pizza 2, for their Deep-Dish Pizza, a great thing, it is looking a little light, so I think they are out recruiting, but it is nice to dig into that pizza. Not to mention, @Blitzzzz and @Amaillo-M are great company! 16 mana, no healing, no fire, or water. I decided to go light on this one, hopefully the Pelacor Arbalest can pick them off with the double attack. They went death, my guess is hoping that thorns would take me out quickly. Having Hugo up front with shield helped me with this one, along with the shear damage of the Arbalest!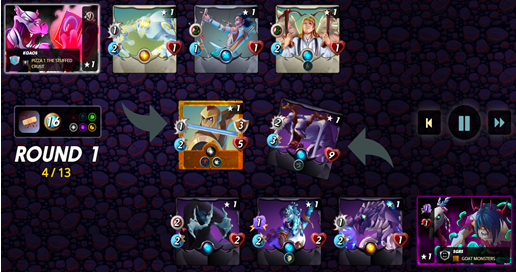 ---
Battle #5
Staying at home I was able to go over and get some Hand-Tossed crust pizza from the members of Pizza 3, they are always rocking the house on this one, I suggest talking to them, it is a great bunch of people! Not to mention @sweny and @hurtlocker are doing great leading them! We are looking at 26 mana, no healing, and enraged. I decided to go fire on this one with Chimney backing up the antoid platoon to do some damage to the person in the front type of situation. Then following that up with the Djinn Apprentice and the Scavo Firebolt, focus my damage instead of spreading it around so enrage doesn't take off. However, they ran away, so another easy win.
---
Battle #6 (Link)
Another enemy arena and another bad pizza knockoff, they are trying to do a calzone, but it is nothing like @chefbgob does with Pizza 420, they make some killer calzones! In this one we have blast and no ranged, with only 12 mana that makes it rough! On this one, not much room for movement, I decided to go water for that extra shield, hoping that Isgald will take off with the opportunity attack! They used water on this one as well, I don't know how good this will go for me considering I have more people for their gladiator to kill! Which is what happened.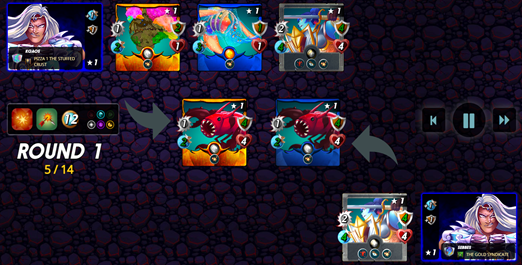 ---
Battle #7 (Link)
Back at home for this one, @theacks said that a special stuffed crust was made, not only did it have the cheese, but in the cheese was stuffed with sauce, everything in one bite, quite delicious! 29 mana, Noxious Fumes, everyone is starting poisoned, along with Equalizer, so everyone has the same health. I went fire for the extra health, but having Gorth up front with the scavo chemst to take off the poison, plus having the forgotten one there that is immune to it, that should help. I put the forgotten one in towards the back to come in after people are down a little. They went with a nice death lineup on this one, so it might end up hurting me. I think I forgot about the equalizer when I did the high health…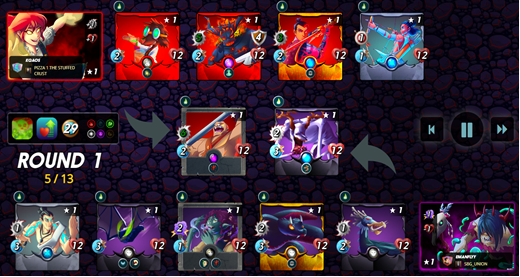 ---
Battle #8 (Link)
Leaving the Pizza fam is never fun so going there to see another bad pizza, as I was contemplating where to eat and unpacking, I found that @h3m4n7 snuck a nice Hand Tossed pizza in my luggage, staying in the inn with some good tasting pizza, now only if I had a drink! 44 mana All monsters have an extra 2 armor, no fire and no life, this could be fun! I decided to go earth on this one, I wanted to go double double with grund and Katrelba to hit the double attack from the front and the back, I guess I am a rhyming rat! (yeah that was bad…) They went water, but the taunt at the back of my line up, the double attacks just won out.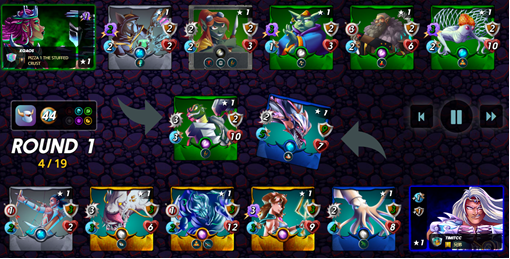 ---
So, with 25 hours to go, I am sitting on, nothing… not a single battle, so sad. However, the guild is in first place, at least with a 6 and 0 record, however, only 30 battles have been completed, so not much there, but we shall see!
I ended up 5 and 3, not too bad. The guild as a whole ended in 1st place, 4 wins ahead of second, awesome job guildies!
---
I was also able to pick up another Gladius Case! At least I pulled 2 rares on this one, but other than that, nothing new.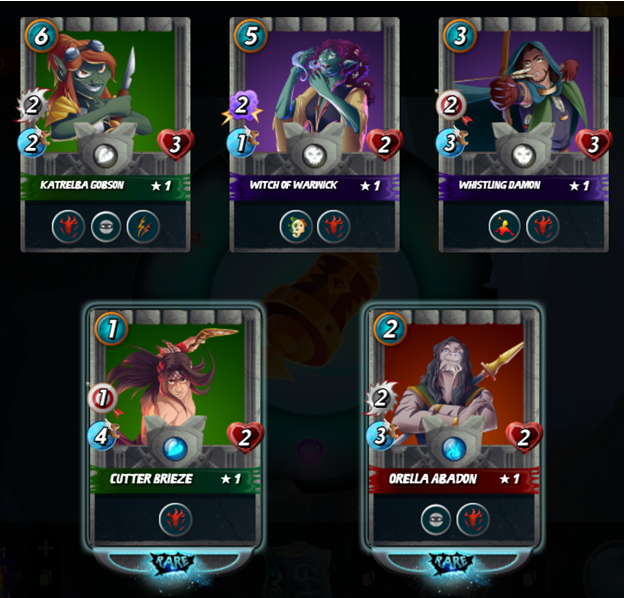 ---
Thank you for reading this far, additionally, I do want to thank the people in Pizza, a great place to hang out! I have learned a lot from it and there are great people and a very positive community.
You can find them here: Awesome Pizza Discord
I'm starting to track the Pizza token a little bit more as well, it is currently sitting at $0.01974 a great time to stake that 20 Pizza to get that badge!
At some point I will be doing some other posts about my experiences in Crypto, but here are some links if you are interested in some other NFT Games or other games as well!
---
Splinterlands
If you use my referral link I will send you 100 DEC to get started!
Layer 2 Labs
A Great community for Splinterlands, with games and a faucet to help players as well, new name, was Splinterlabs.
Rising Star
Great music NFT and a way to support up and coming musicians!
Sorare
Still learning this one, but it is a football (American Soccer), easy to set up and go!
Star Citizen Referral code: STAR-LRKQ-D6NK
Space game, still in alpha development, playable, very immersive, sign up with the referral code it will give you money in the game along with both of us receiving a free ship!
Unmineable
A great way to get into Crypto mining, easy to set up, code gets you a 0.25% fee discount, uses the graphics card while you are not using your computer, or you can mine with just your CPU.
---
Let me know if there are any questions, you can find me in the messages here or in the Pizza Discord.
Lastly, thank you again, remember you are awesome and have a wonderful week!
Dr. Kqaos
---
Photos come from PowerPoints stock image, Bitmoji with Splinterlands logo on top of it, or my own screen shots of Splinterlands
Disclaimer: This is my opinion, not financial advice.
---
---