Brawl Report #53 Social Media Challenge, Flying with some Pizza!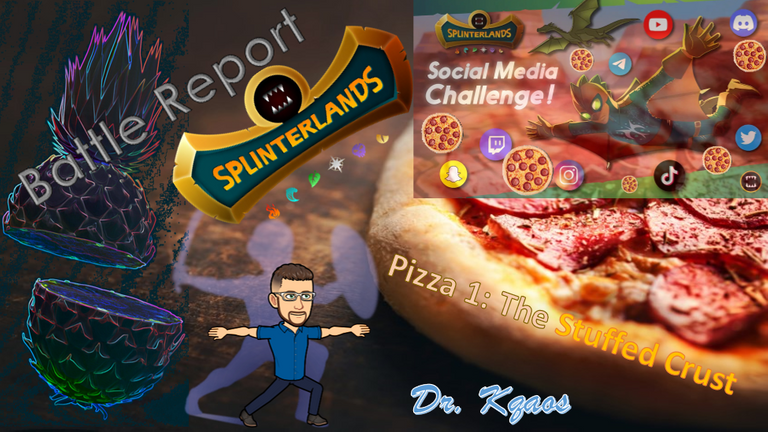 Again, not a special one but, comment and get a free slice of HivePizza! Since it is falling through the air for a great time!
Additionally, let's get awareness of the game out there, follow me on twitter and retweet! @DrKqaos Let's bring attention to it like a guy who is throwing pizza to a crowd! Hopefully not as mess as that might be… If you are not playing Splinterlands yet, click on any of the battles or the link towards the bottom, would love to have you!
---
So, let's look at SPS which is currently trending at $0.043, it has dropped a lot, not a great thing, hopefully it will rise, time to buy if you want to get into more tourneys! Speaking of buying things, 644,029 packs for the next legendary summoner in Chaos Legion, still moving slow at this point, and Just 131,406 to go for Rift Watchers next Airdrop!
---
Since I have been looking at cards a little bit more, the lore really pops, and this one, has gladiators within the brawl, since I have already done all the ones that I have already used, this one comes with Sarius.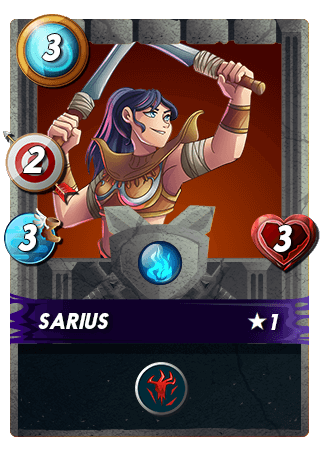 The Lore behind Sarius by Splinterlands:
The Burning Lands city of Azad is home to uncountable thousands of the toughest people in the world from dozens of different races. There are warriors, thieves, refugees and survivors from all over the Planet. Even in spite of the terrible overpopulation problems and resource crises of the Burning Lands, the city accepts almost everyone whose ship makes it to the port of Noxia. Brutality of Azad life usually takes care of the population problem within the city walls anyways. Whoever is not fit to survive in Azad simply dies and is forgotten. The largest and most intact race of people who have made a home in Azad are the Khmer.
The Khmer were once a warlike and conquering people on the other side of the world. Then in the span of a few days, everything was taken from them by the nameless threat from which everyone ran. Back home in the land of their sprawling empire, they were ruled by seven sisters, the Khmer princesses. Now only one remains, Princess Sipha, as the leader of her people. The Khmer people no longer have ambitions to conquer, but merely to survive so at some point in the future they can seek their revenge against the nameless threat.
In the Khmer empire, the armies were made entirely of women. In those times, the most feared general was a woman by the name of Sarius. Now Sarius is the only surviving general of the Khmer people, and she has no armies to lead in the Burning Lands. Longing for battle, she asked Princess Sipha if she could be allowed to honor the Khmer by fighting as a Moxian Gladiator. Princess Sipha accepted the request, fearing that Sarius would get herself into some trouble in the city. In single combat, Sarius wears a magnificent suit of traditional Khmer armor and fights with two matching wide-blade short swords. With her exotic styles of hand-to-hand combat, she will be a difficult match for any opponent of any size or strength.
---
On to the battle, the guild as a whole filled 14 out of 16 frays for this one, awesome that we are getting closer to a full house! This time around I am still in the Bronze Chaos Legion only, but with 8 battles, looks like we are not the only ones having trouble filling spots!
---
Battle #1 (Link)
We start in the enemy arena, looking at 52 mana, divine shield and odds only. I decided to go fire on t his one, Grum is a great tank followed by Sarius, the story inspired me! They went magic with Earth on this one. However, I just did not have enough damage on this one. My team is even sad in the picture!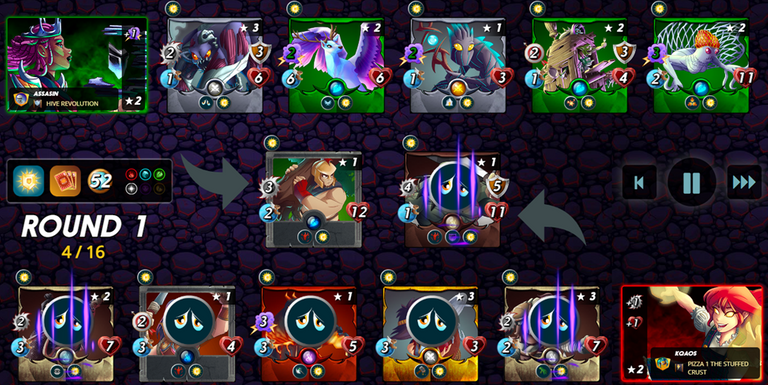 ---
Battle #2 (Link)
This one is in the home arena, so I talked to @theacks after my loss away. Looking at 12 mana, evens only and close range. I decided to go fire on this one, with the Xenith Monk leading the charge, They did something similar, hopefully I can make it through! Orella took off on this one and gave me the win!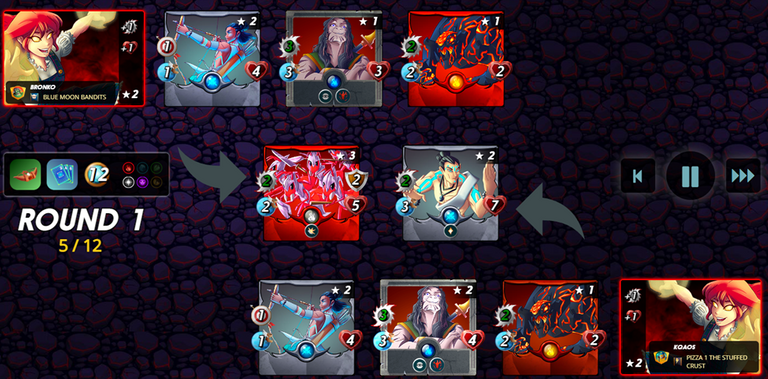 ---
Battle #3(Link)
Staying at home on this one, hopefully the luck will continue! Looking at 58 mana, super sneak and magic reflect, interesting. I decided to go water on this one for that extra shield. They went water as well, almost similar builds. Another solid win!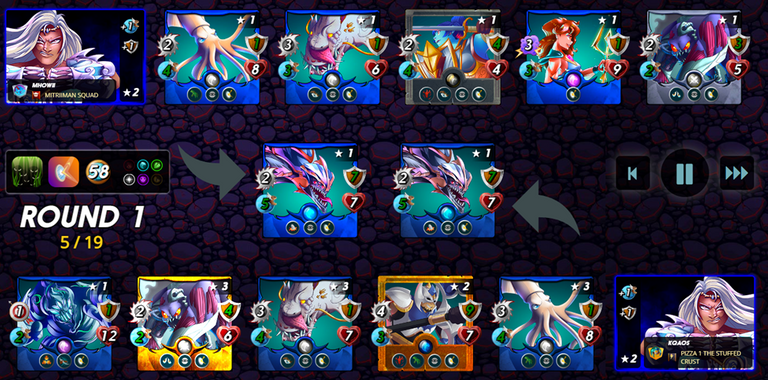 ---
Battle #4 (Link)
Back on the road again, with some of the new members of Pizza 1 to keep me company! 25 mana, earthquake, and divine shield. I went death on this one, it had the most flying creatures, they decided to go death as well, hopefully it will fall in my favor. The flight made the difference on this one!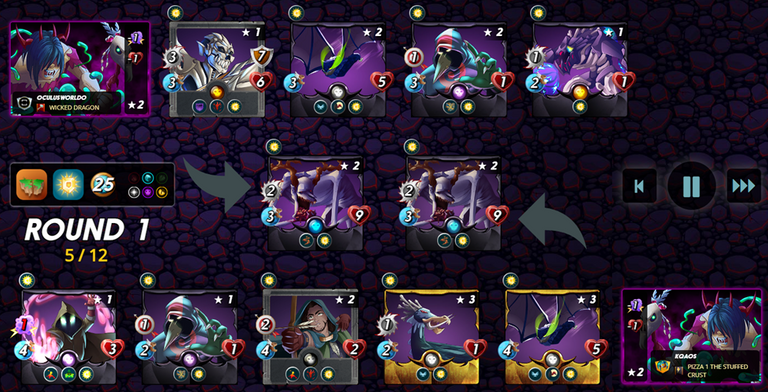 ---
Battle #5 (Link)
Halfway done, let's keep the roll going with another fight on the road! 32 mana, common and rare monsters only. I decided to go light on this one, mostly for Captain Katie and the Pelacor Arbalest. They went water, that opportunity attacking is going to hurt! And that is what happened, that double opportunity killed me.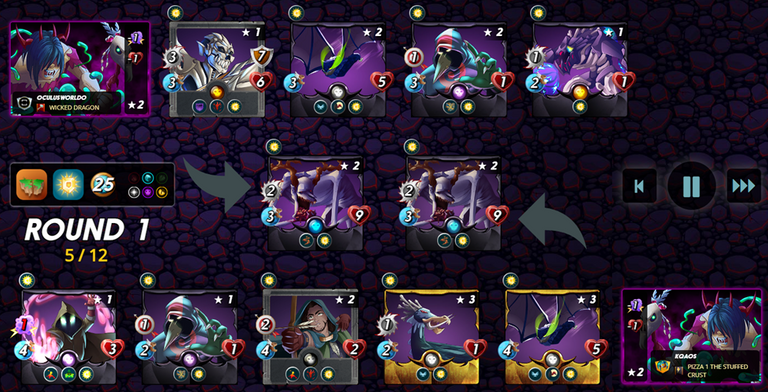 ---
Battle #6 (Link)
At least I am back at home on this one! Only 15 mana and stampede. I went fire for the harder hitting aspects of the fight. They went with fire as well, only they just took grum. Which means, I had a lot more damage coming their way due to more attackers!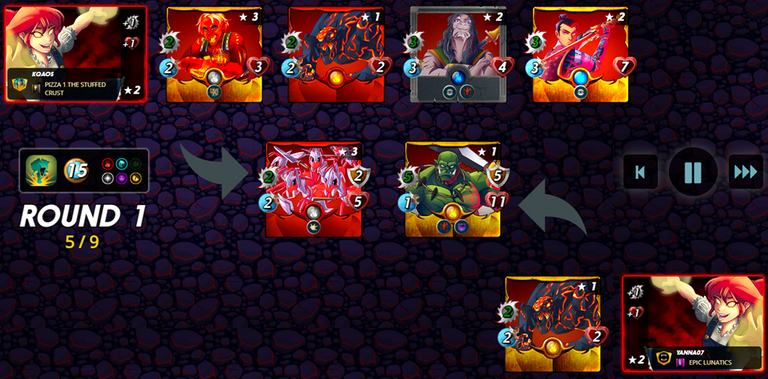 ---
Battle #7 (Link)
Staying in the home arena, I chatted with @candnpg for a good time! 27 mana, enrage and knockout. I decided to go water on this one, that extra shield will help but then focus fire on that front line to minimize the enrage. They went water on this one as well, a little different setup than myself. They went double opportunity. This was a rough one, but my gladiator came out ahead!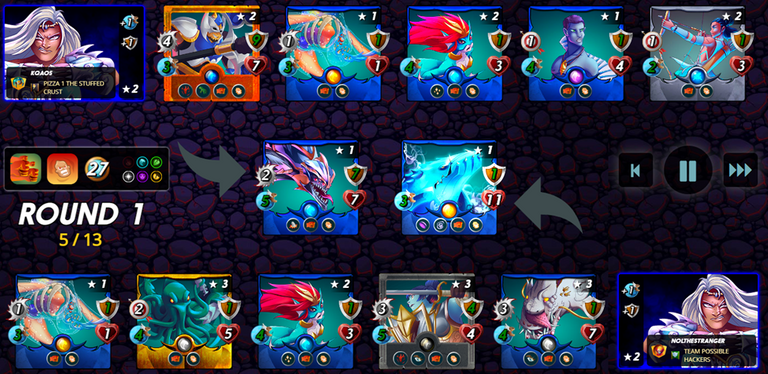 ---
Battle #8 (Link)
The last fight is on the road, good times, what happens on the road stays on the road right? 😊 52 mana, silenced summoners, melee only, fire and death only. I went with fire, for that extra bump to damage. They had a very similar lineup to me actually, just a little different for the last card, I have a monk they have a forgotten one. RNG was in my favor to have my chimney hit first, and it just went from there!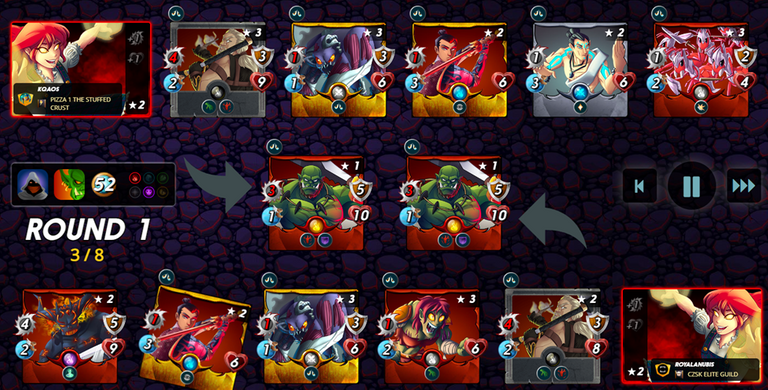 ---
With just under 12 hours to go, I am sitting at 2 and 3, if I can win those other 2 that would be over 50 and I would be happy with that! The guild is currently holding on to 4th place, but there are a lot of battles to come!
I ended up 6 and 2 on this one, I am very pleased with that result! The guild as a whole ended up in 2nd place, which I think is our highest place yet, 2300 merits, awesome job!
---
I get to open another gladius pack, I did get another Sarius, which is kind of fun!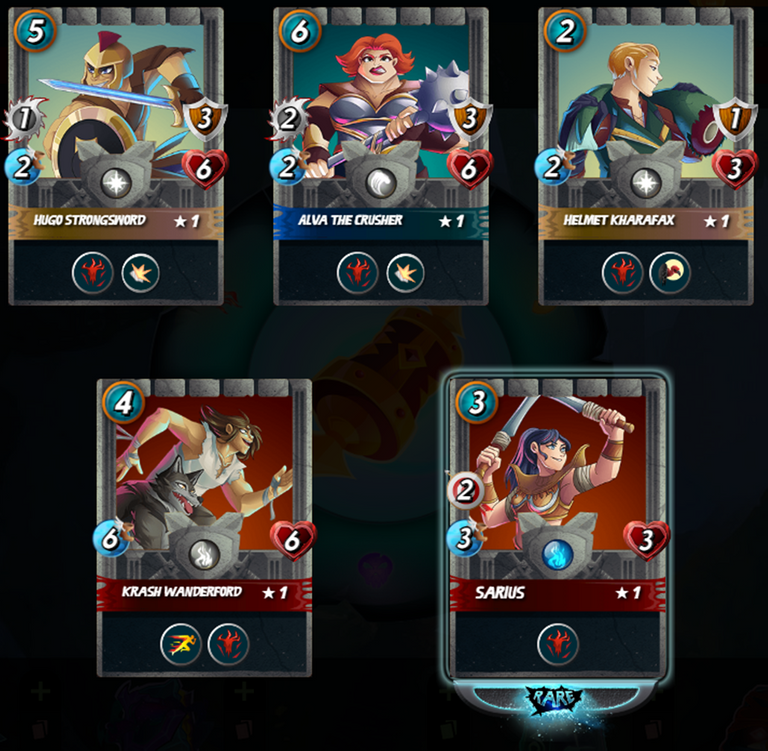 ---
Check out other Pizza Guild Brawls:
@candnpg Splinterlands Share Your Battle Challenge and Brawl Report
@relf87 Guild Brawls With Pizza 2 - You Win Some, You Lose Some
@blitzzzz Splinterlands & PIZZA Brawl Report : My 57th Brawl Report with 🍕PIZZA 2 The Deep Dish Guild🍕 ⚜️⚔️🛡️🔥🐉
@shauner Shauner's 43rd Splinterlands Brawl Report - PIZZA 2 The Deep Dish Guild
@vaynard86 Social Media Challenge: Splinterlands Weekly (Nov 04 - Nov 10) + Brawl Report
---
Thank you for reading this far, additionally, I do want to thank the people in Pizza, a great place to hang out! I have learned a lot from it and there are great people and a very positive community.
You can find them here: Awesome Pizza Discord
I'm starting to track the Pizza token a little bit more as well, it is currently sitting at $0.01802 a great time to stake that 20 Pizza to get that badge! Not to mention, a place to hang out!
At some point I will be doing some other posts about my experiences in Crypto, but here are some links if you are interested in some other NFT Games or other games as well!
---
Splinterlands
If you use my referral link I will send you 200 DEC to get started!
Layer 2 Labs
A Great community for Splinterlands, with games and a faucet to help players as well, new name, was Splinterlabs.
Rising Star
Great music NFT and a way to support up and coming musicians!
Sorare
Still learning this one, but it is a football (American Soccer), easy to set up and go!
Star Citizen Referral code: STAR-LRKQ-D6NK
Space game, still in alpha development, playable, very immersive, sign up with the referral code it will give you money in the game along with both of us receiving a free ship!
Unmineable
A great way to get into Crypto mining, easy to set up, code gets you a 0.25% fee discount, uses the graphics card while you are not using your computer, or you can mine with just your CPU.
---
Let me know if there are any questions, you can find me in the messages here or in the Pizza Discord.
Lastly, thank you again, remember you are awesome and have a wonderful week!
Dr. Kqaos
---
Photos come from PowerPoints stock image, Bitmoji with Splinterlands logo on top of it, or my own screen shots of Splinterlands
Disclaimer: This is my opinion, not financial advice.
---
---