Brawl Report #55 Social Media Challenge, Swimming with the Pizza!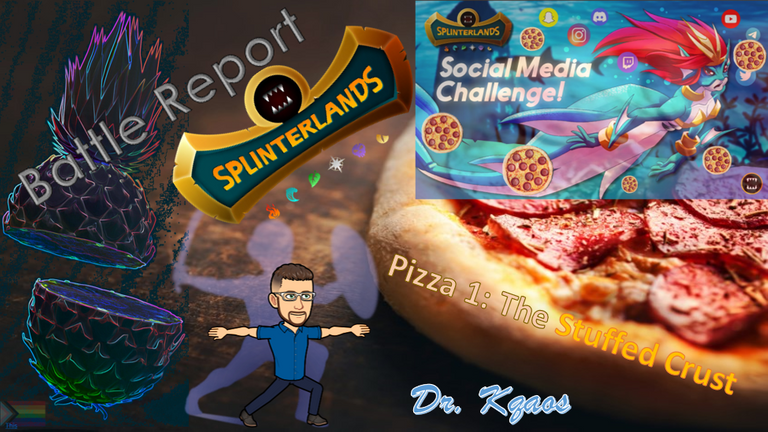 Again, not a special one but, comment and get a free slice of HivePizza! Since it is falling through the air for a great time!
Additionally, let's get awareness of the game out there, follow me on twitter and retweet! @DrKqaos Let's bring attention to it like a guy who is throwing pizza to a crowd! Hopefully not as mess as that might be… If you are not playing Splinterlands yet, click on any of the battles or the link towards the bottom, would love to have you!
---
So, let's look at SPS which is currently trending at $0.040, it has dropped a lot, not a great thing, hopefully it will rise, time to buy if you want to get into more tourneys! Speaking of buying things, 601,908 packs for the next legendary summoner in Chaos Legion, still moving slow at this point, and Just 119,564 to go for Rift Watchers next Airdrop!
---
Since I have been looking at cards a little bit more, the lore really pops, and this one, has gladiators within the brawl, since I have already done all the ones that I have already used,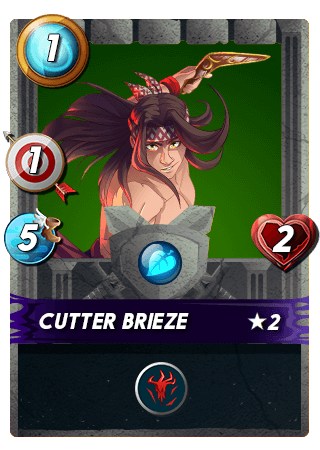 The Lore behind Cutter Brieze by Splinterlands:
The right hand bodyguard of Beatrix Ironhand is one of the most skilled hunters in Anumün. Around the Crags of Maglar, Cutter Brieze is known as koryfí káthetos, the "slash from above." He is easily the most skilled boomerang warrior in all the Splinterlands, but his allegiance is for life sworn to Beatrix Ironhand, the heir to the Maglarian throne.
Cutter has long brown hair that honors the native southern Palavan tribe of his roots. He wears a woven headband to keep the sweat from his eyes and battles both shirtless and shieldless. This tradition of fearless submission is an act of honor that Palavan are known for. It means that they are not afraid of any enemy that lies before them. From a distance, watching Cutter in battle is like watching an expertly trained dancer on a stage. Whether close range or long, every move is perfectly coordinated as if Cutter's spirit is floating above and watching the fighter below.
It is unclear why in these uncertain times of Praetoria's rise Beattrix Ironhand has given up her bodyguard. Some say that she needs the fortunes that can be won in Gladiator combat to finance the ongoing intelligence operations of her Maglarian forces. Others think that the move is itself a spy maneuver, that Cutter Brieze is being sent on a dangerous mission to collect some valuable piece of information. There are even those who think that Cutter issued a challenge to Ironhand's leadership and was punished by being enlisted as a Gladiator. Whatever the reason, Cutter has joined the camp of gladius gloriae; his boomerangs bring honor to his homeland.
---
On to the battle, the guild as a whole filled 14 out of 16 frays for this one, awesome that we are getting closer to a full house! This time around I am still in the Bronze Chaos Legion only, but with 7 battles.
---
Battle #1 (Link)
This one starts on the road, always travelling, these boots were made for walking! 48 mana, return fire, and no neutral. I decided to go water on this one, some magic and some decent hitting people! They had a legendary magic user in the backrow, that does not look good for me. I think my damage was too spread out for this one.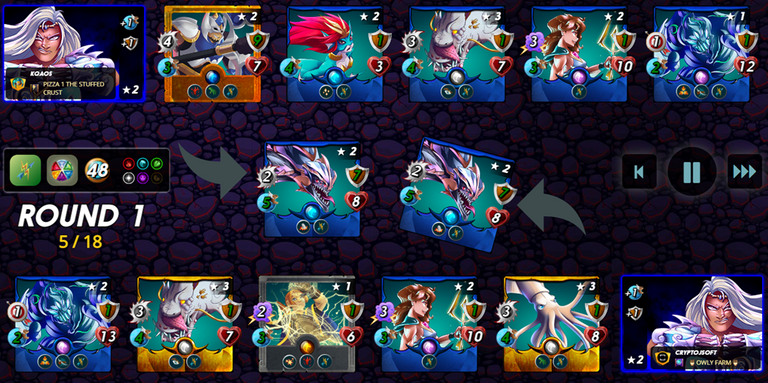 ---
Battle #2 (Link)
Still travelling these boots, thankfully @chefbgob will deliver a calzone to you on the road! 38 mana, melee can attack from anywhere, and poison. I decided to go water again, for that cleanse ability. They went earth, which might not go well for me.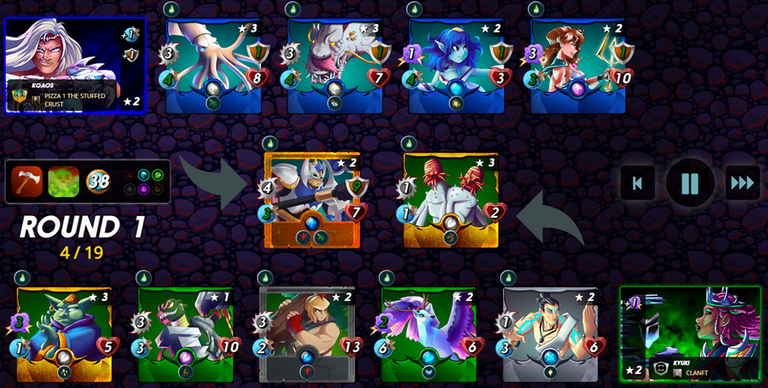 ---
Battle #3(Link)
I made it home with some hot feet, sat down with @theacks to chat about the road travels. 32 mana, stampede, and knockout. I decided to bring in the heavy hitters this time, grum and Chimney, double bloodlust for the win? I hope… They went fire as well, only with a speed summoner. That pierce just killed me.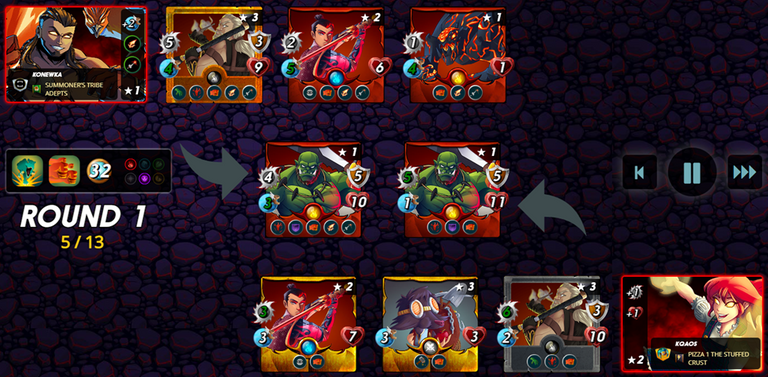 ---
Battle #4 (Link)
Staying at the home arena, the loss stun a little bit… This one is looking at 38 mana, true strike, and blast. I decided to go water, for that speed boost, hoping that the double opportunity will do some damage and then also taunt at the front to keep their damage down. They went light, there is a lot of damage with this one for them. My plan worked, the blast took them out!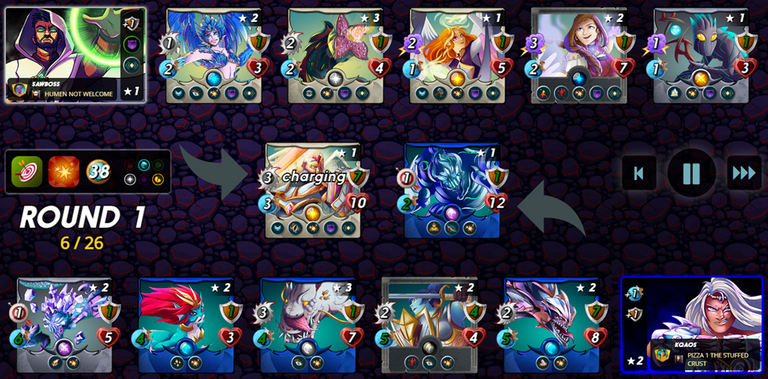 ---
Battle #5 (Link)
Back on the road again, at least the boots cooled down, I decided to talk to @squishna while riding on the cart to the destination. Looking at 54 mana, evens only, and no sneak or snipe. I decided to stick with water on this one, hoping that Edith will go on a rampage. They went with water as well, a little different in the lineups. A solid win for me!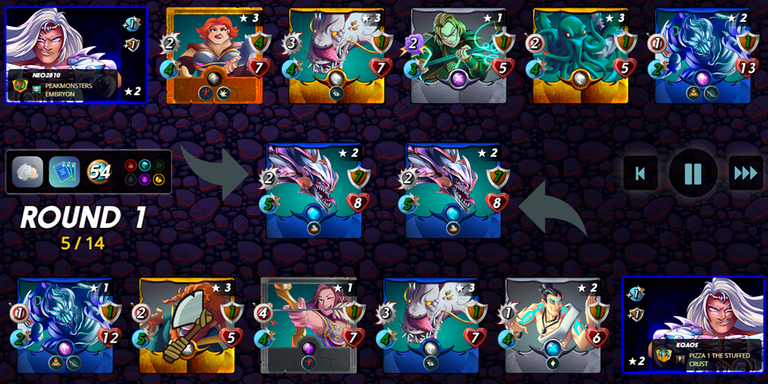 ---
Battle #6 (Link)
Staying on the road on this one, @candnpg brought me a calzone this time around. Looking at 30 mana, magic reflect and melee can attack from anywhere. I went water again, I seem to be falling back on this one! They went water as well! Only they are looking at more opportunity strikes than myself. A couple of misses just killed me on this one!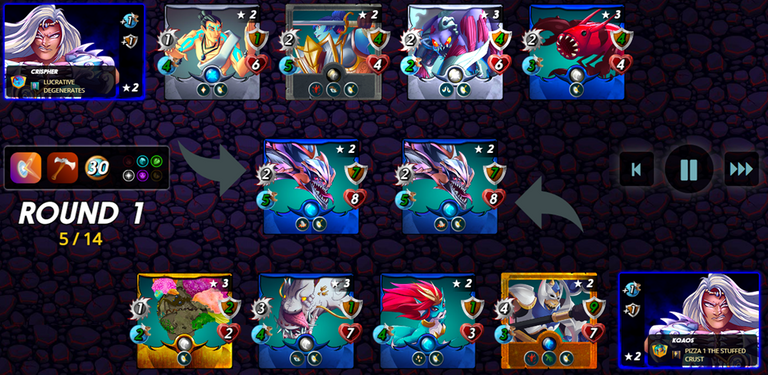 ---
Battle #7 (Link)
Homecoming match up, I decided to talk to @cooperclub this time around, hopefully I will get some winning ideas! 30 mana, enrage, and knockout rules. I am giving water one last chance on this one. They went fire with the double bloodlust. They were just doing too much damage to me.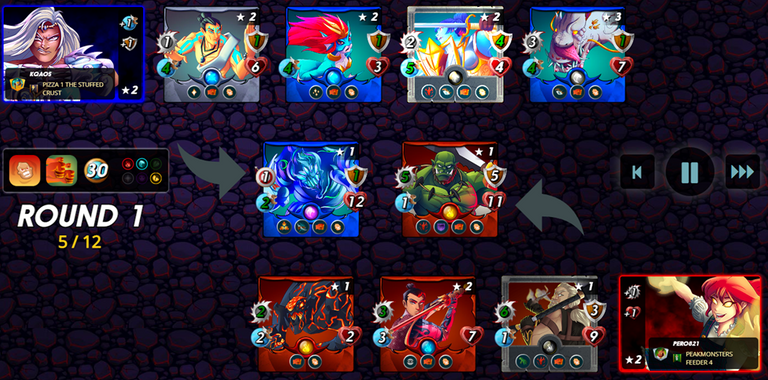 ---
With just under 12 hours to go, I am sitting at 2 and 2, if I can win those other 2 that would be over 50 and I would be happy with that! The guild is currently holding on to 4th place, but there are a lot of battles to come!
I ended up 2 and 5 on this one, horrible, horrible result for me. The guild as a whole ended up in 5th place, an okay showing, but we need to do better.
---
I get to open another gladius pack, three rares and finally on my main Quora!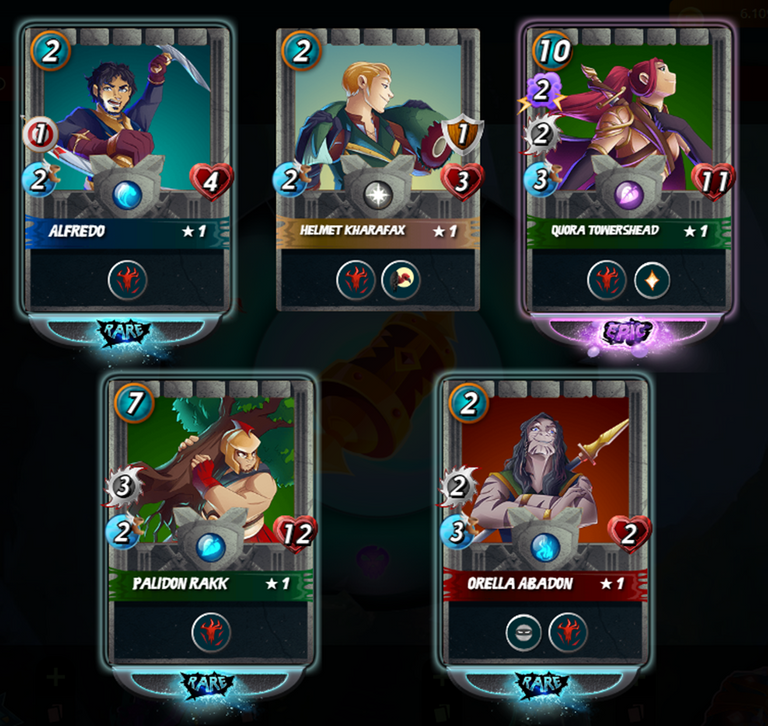 ---
Check out other Pizza Guild Brawls:
@candnpg Splinterlands — Social Media Challenge and Brawl Report
@blitzzzz Splinterlands & PIZZA Brawl Report : My 59th Brawl Report with 🍕PIZZA 2 The Deep Dish Guild🍕 ⚜️⚔️🛡️🔥🐉
@shauner Shauner's 44th Splinterlands Brawl Report - PIZZA 2 The Deep Dish Guild
@lucimorningstar Splinterlands Share Your Battle: Brawl Report #02 Pizza Gang
---
Thank you for reading this far, additionally, I do want to thank the people in Pizza, a great place to hang out! I have learned a lot from it and there are great people and a very positive community.
You can find them here: Awesome Pizza Discord
I'm starting to track the Pizza token a little bit more as well, it is currently sitting at $0.01825 a great time to stake that 20 Pizza to get that badge! Not to mention, a place to hang out!
At some point I will be doing some other posts about my experiences in Crypto, but here are some links if you are interested in some other NFT Games or other games as well!
---
Splinterlands
If you use my referral link I will send you 200 DEC to get started!
Layer 2 Labs
A Great community for Splinterlands, with games and a faucet to help players as well, new name, was Splinterlabs.
Rising Star
Great music NFT and a way to support up and coming musicians!
Sorare
Still learning this one, but it is a football (American Soccer), easy to set up and go!
Star Citizen Referral code: STAR-LRKQ-D6NK
Space game, still in alpha development, playable, very immersive, sign up with the referral code it will give you money in the game along with both of us receiving a free ship!
Unmineable
A great way to get into Crypto mining, easy to set up, code gets you a 0.25% fee discount, uses the graphics card while you are not using your computer, or you can mine with just your CPU.
---
Let me know if there are any questions, you can find me in the messages here or in the Pizza Discord.
Remember to reach across the aisle and talk to someone that might be different than you, you might be amazed at the person you find!
Lastly, thank you again, remember you are awesome and have a wonderful week!
Dr. Kqaos
---
Photos come from PowerPoints stock image, Bitmoji with Splinterlands logo on top of it, or my own screen shots of Splinterlands
Disclaimer: This is my opinion, not financial advice.
---
---