Brawl Report #77, Splinterlands, Just checking in…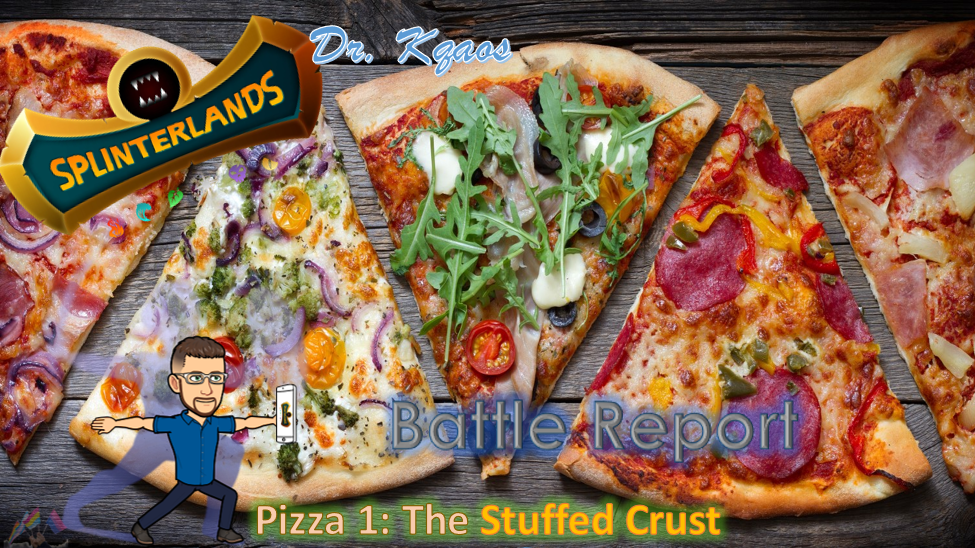 I hope everyone is getting that Spring cleaning done, if not, don't worry, I don't like it either. So check in, let me know you are doing okay and grab a slice of pizza.
---
So, let's start by looking at SPS which is currently trending at $0.031, it crept up a little bit, which is good, maybe time to get those SPS staked for the new promo card! Speaking of buying things, as of this morning, all Chaos Legion packs have sold out! However, we do have Riftwatchers packs still available, with only 7,267 packs to go until the next airdrop!
Speaking of things I might have forgotten, my last giveaway went to @rtonline, let me know what account you want me to send your Vampiric Blossom too in the comments.
---
I have been visiting Splinterlore to learn more about the lore of Splinterlands, here is a shiny new gladiator card I received: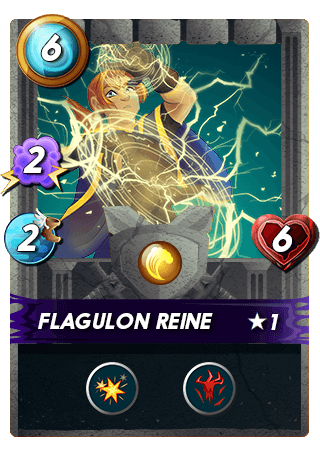 The Lore behind the Flagulon by Splinterlands:
The incredibly tall stormcaster called Flagulon Reine always speaks softly, for one who commands such power with their movements rarely needs to make verbal commands. He is Khymian by race, meaning that he was not born of a mother, but delivered from the sky as an infant by Kralus the sacred flying tiger. As a young man, Flagulon became so serious about his stormcalling magic that he left the land of his ancestors and traveled to the lawless land of ΛZMΛRÉ, where storms are far more plentiful, to learn the true potential of his powers. There over the next thirty years, Flagulon resided in the islands, practicing and mastering his own special system of certamine expugnatum, meaning "combat by storm." In this strangely beautiful method of hand-to-hand combat, the stormfighter rarely must make physical contact with his enemy, relying instead on small storms and forces of nature that extend from his fists and feet.
As with most stormcasters, Flagulon's preferred method of attack power is lightning. He even spent a couple years in the Sands of Draykh-Nahka, living in a cave and observing the wild Lightning Dragons from a safe distance. By watching them and studying their movements, he was able to determine that they instinctively call upon ancient magic when they release lightning attacks, doing so by subtle motions of their claws and jaws. Reine has never taught a student, but he hopes that serving as a professional Gladiator at Mount Mox will provide him the opportunity to meet his protege and to pass on what he has learned.
---
On to the battle, the guild as a whole filled 14 out of 16 frays for this one, so close to a full boat on this one! This time around I am in something a little new for me Silver Chaos Legion only format fight with 7 fights that have my name on them.
---
Battle #1 (Link)
We start out in the enemy arena with 57 mana, super sneak, knockout, and true strike. Going with earth on this one for the double attacks, granted, throwing in some dragon love as well. They went dragon with the Panda, so I will only be hitting that front person. It did not go well for me on this one.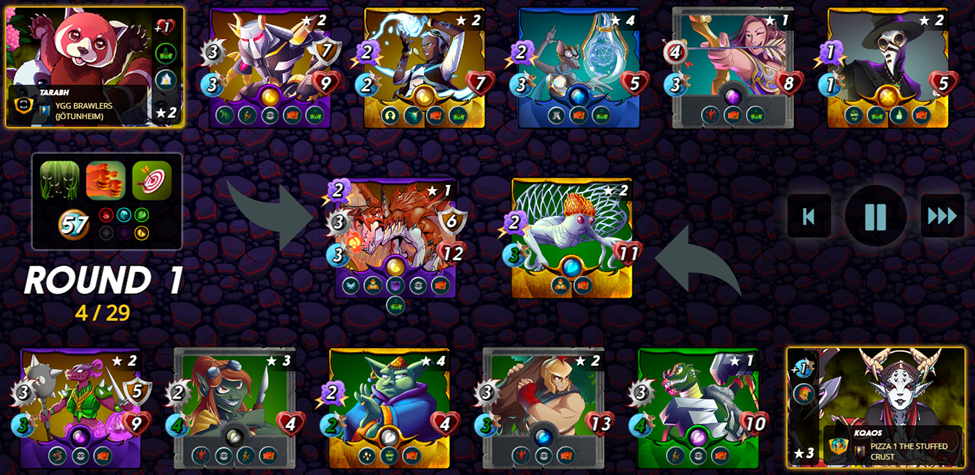 ---
Battle #2 (Link)
Staying on the road after that shameful defeat with 49 mana, blast, no magic, basic, ouch. I went death to use double gladiators along with taking down some of the health. They went death as well, but only one gladiator, well at least we are equal on the health. My monsters had an advantage on speed for this one, so worked out in my favor!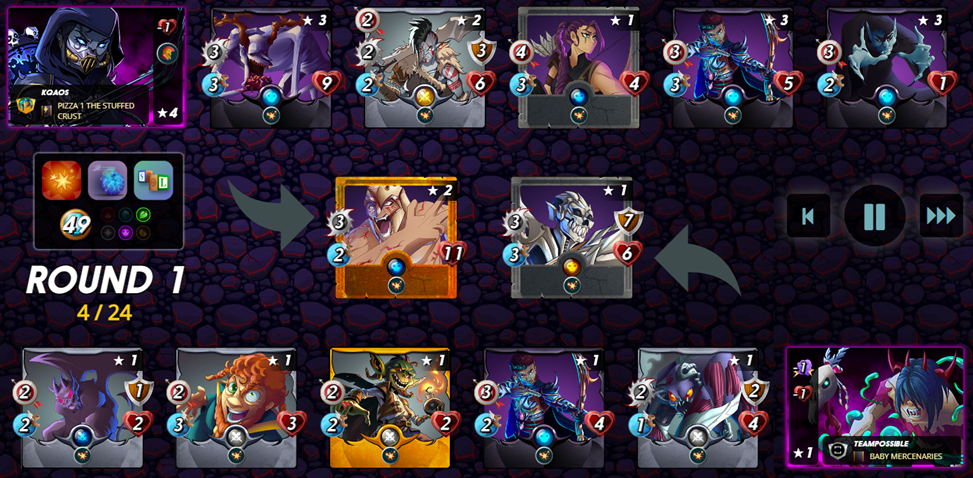 ---
Battle #3 (Link)
First one in the home arena, 29 mana, earthquake, super sneak and enrage, hmm. I don't know how well this will work, but I went double gladiators with double attack with earth. They went earth as well on this one, that flying could be a problem. However, my double attacks won this match.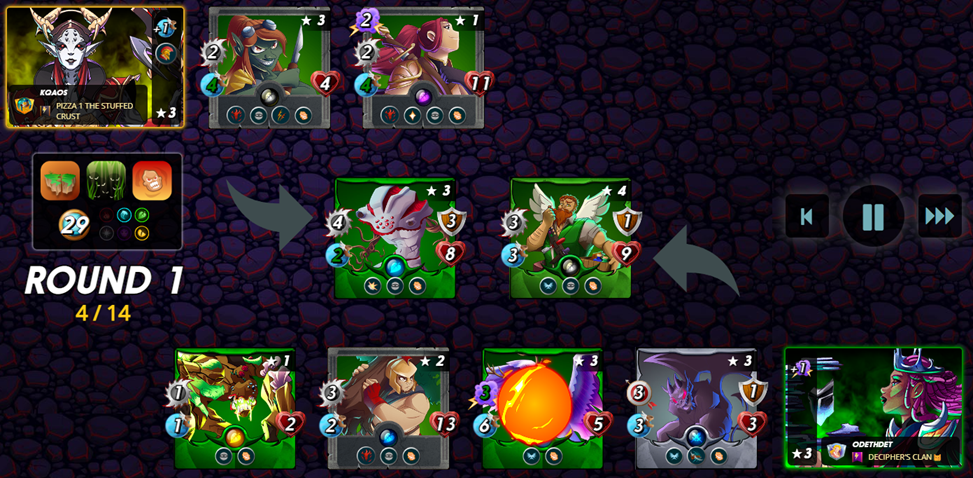 ---
Battle #4 (Link)
Staying at the home arena this time around, looking at 17 mana, no magic, trample, and earthquake. I went water for a little bit of flight, hopefully it will work out for me. They went dragon/light combo, so probably not well for me. However, it did go in my favor on this one!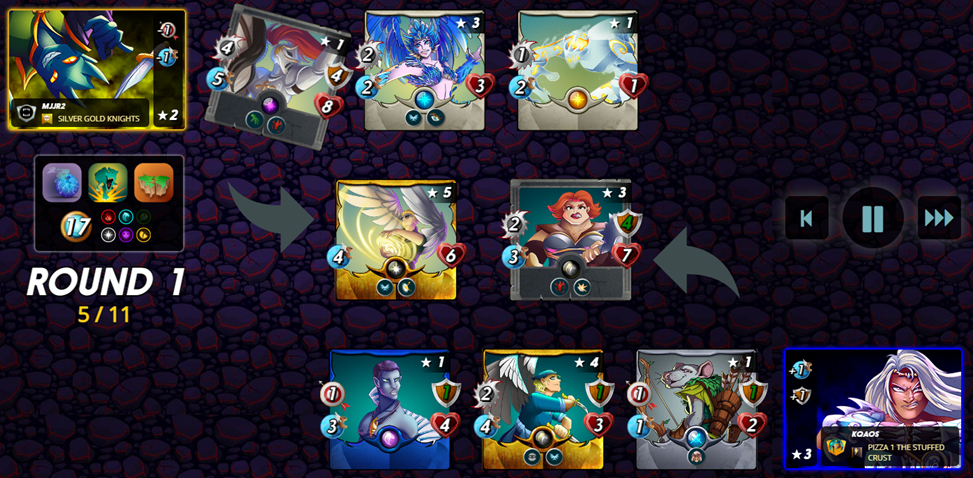 ---
Battle #5 (Link)
Back on the road in the enemy arena with 43 mana, thorns, no neutral, and return fire, what do I choose! I went dragon/earth on this one, hopefully it will pan out for me. They went panda on this one, it does not look good for me, and it didn't go well for me, I was really outmatched on this one.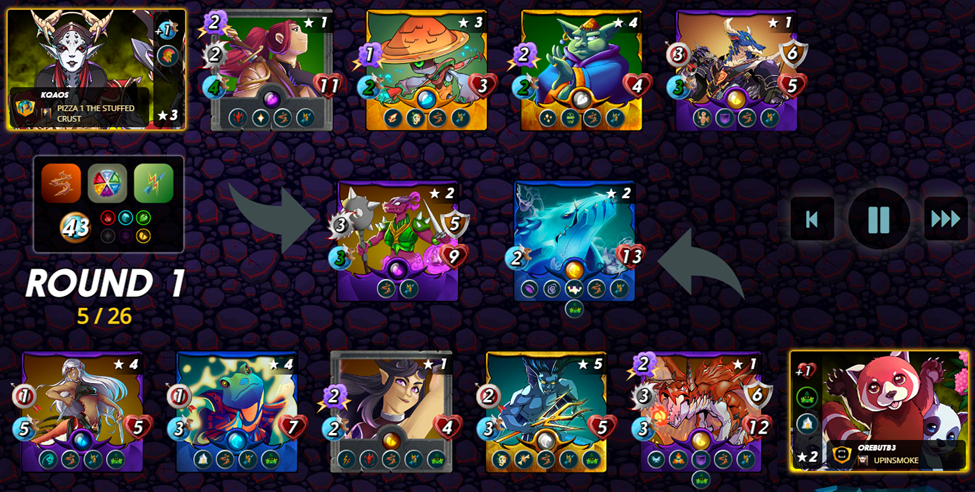 ---
Battle #6 (Link)
Last one in the home arena, I got this! 29 mana, trample, evens only and no armor, I went dragon, double double with gladiators on this one. They went water, at least I match them in the extra speed. I thought the misses were going to kill me but Katrabela came through for the win!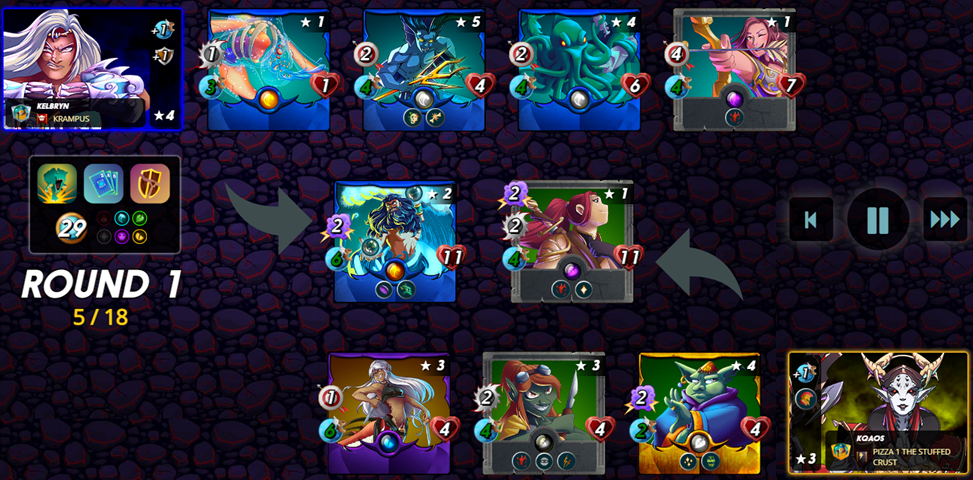 ---
Battle #7 (Link)
Last match in the enemy arena, 36 mana, opportunity, slow, and no melee. I decided to go fire on this one with double martyr, let's hope it works! They went earth, that magic probably will not do me anything good. Yeah, it did not go well for me.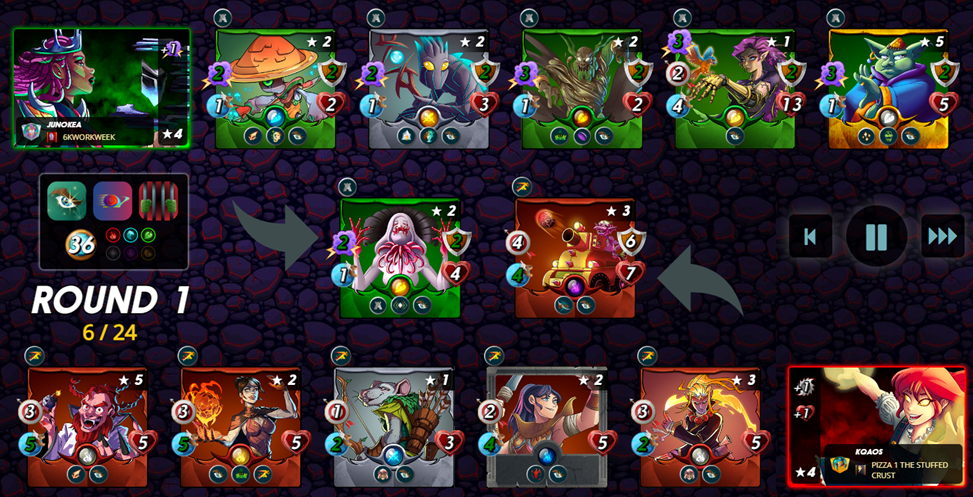 ---
18 in half hours to go on this one and I am sitting at 2 and 2, wish it was better. The guild is currently in 5th, not doing the greatest!
I ended up 4 and 3, a winning record is always a good thing! The guild ended up in 5th place, so not a good one for us, we were just 3 wins away from third place, so close.
---
Due to the merits from this brawl I got to open a gladius pack, nothing good though: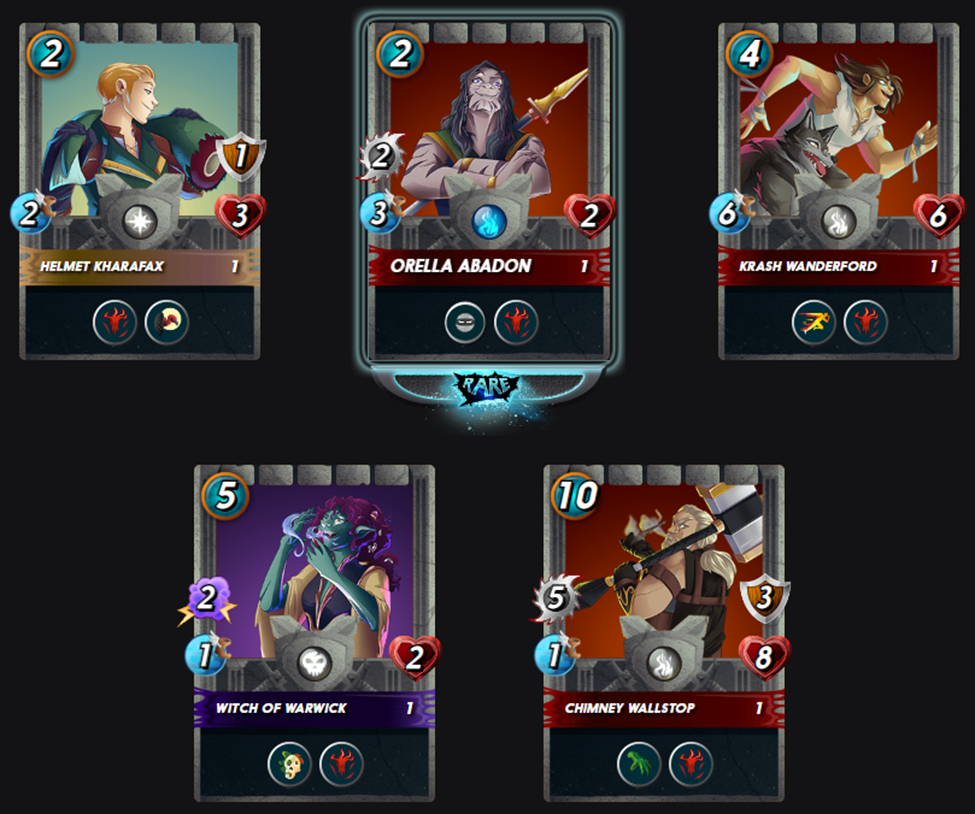 ---

Check out other Pizza Guild Brawls:
@relf87
Guild Brawls With Pizza 2 - Do You Know You Can Use 2 Gladius Cards In 1 Battle?
@theacks
PIZZA Guild Brawl Report #12 - Move Over Chaos, Riftwatchers Takes Center Stage
@vaynard86
Social Media Challenge: Splinterlands Weekly (Mar 10 - Mar 16) + Brawl Report

Thank you for reading this far, additionally, I do want to thank the people in Pizza, a great place to hang out! I have learned a lot from it and there are great people and a very positive community.
You can find them here: Awesome Pizza Discord
I'm starting to track the Pizza token a little bit more as well, it is currently sitting at $0.01183 a great time to stake that 20 Pizza to get that badge! Not to mention, a place to hang out, lots of positivity that we need!
At some point I will be doing some other posts about my experiences in Crypto, but here are some links if you are interested in some other NFT Games or other games as well!


Splinterlands
If you use my referral link I will send you 200 DEC to get started!
Layer 2 Labs
A Great community for Splinterlands, with games and a faucet to help players as well, new name, was Splinterlabs.
Rising Star
Great music NFT and a way to support up and coming musicians!
Sorare
Still learning this one, but it is a football (American Soccer), easy to set up and go!
Star Citizen Referral code: STAR-LRKQ-D6NK
Space game, still in alpha development, playable, very immersive, sign up with the referral code it will give you money in the game along with both of us receiving a free ship!
Unmineable
A great way to get into Crypto mining, easy to set up, code gets you a 0.25% fee discount, uses the graphics card while you are not using your computer, or you can mine with just your CPU.

Let me know if there are any questions, you can find me in the messages here or in the
Pizza Discord
.
Remember to reach across the aisle and talk to someone that might be different than you, you might be amazed at the person you find!
Lastly, thank you again, remember you are awesome and have a wonderful week!
Dr. Kqaos
---
Photos come from PowerPoints stock image, Bitmoji with Splinterlands logo on top of it, or my own screen shots of Splinterlands, pizza dividers by @candnpg
Disclaimer: This is my opinion, not financial advice.
Posted using Splintertalk
---
---