Social Media Challenge, Brawl Report #68, Frozen Water is Snow, I am tired of Shoveling…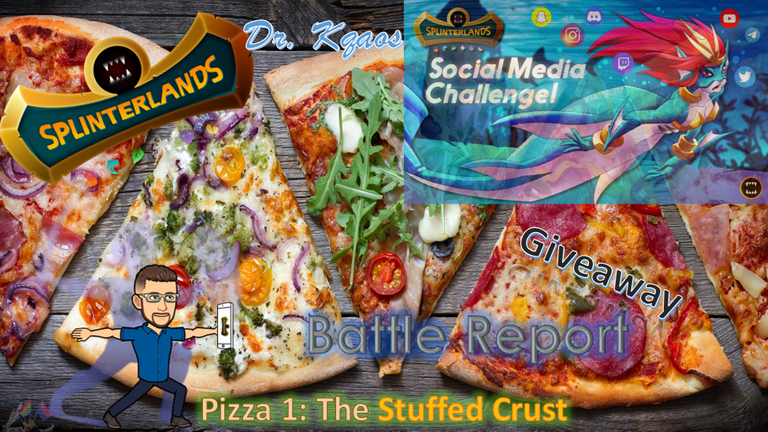 Since the image for this time around is water, I decided to give some away, not the frozen kind, we have received a lot this year, which is good, I am just tired of shoveling it, maybe we can get some rain?
Additionally, let's get awareness of the game out there, follow me on twitter and retweet! @DrKqaos Let's bring attention to it like a guy who is throwing pizza to a crowd! Hopefully not as mess as that might be… If you are not playing Splinterlands yet, click on any of the battles or the link towards the bottom, would love to have you!
So let's start with the flying pizza Stealer, the Pelacor Bandit! However, if we get up to 120 upvotes on this post, we will bring out the waves! This giveaway can be for new, old, or just curious people!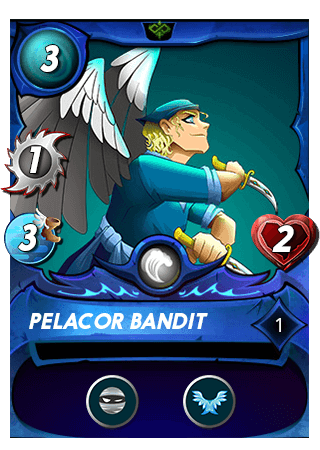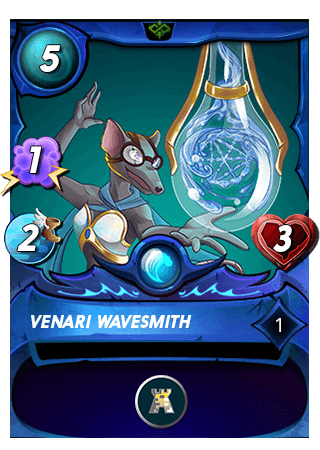 Rules:
• Leave a comment with your username, along with your
What do you like about water, either in game or in life?
•
No repost, upvote or tips, !PIZZA, !BEER, !WINE, !LOL, etc. required, but if you want to I will be appreciative!
• When this post pays out, a winner will be decided by random name picker (
https://filoz.info/picker/
)
• Winner will need to comment within 48 hours on the winning post, I want to make sure it is going to someone alive! No response, no winnings, but I want to send it out, the prize will roll over to my next brawl report.
---
As I post this SPS is currently trending at $0.029, staying steady, but even increasing a tiny bit, I will take it! Speaking of buying some things, the burn has started with the Chaos Legion packs, 929,909 left to go until the next summoner, only 2 left, there are only 1,929,909 packs left to purchase!
---
Since I have been looking at cards a little bit more, the lore really pops, I have traditionally done Gladiators here, which are soul bound, now, they have a new set of soul bound reward cards, I will start going through them with the lore, I just have to receive them first, so we are starting with a rare water monster: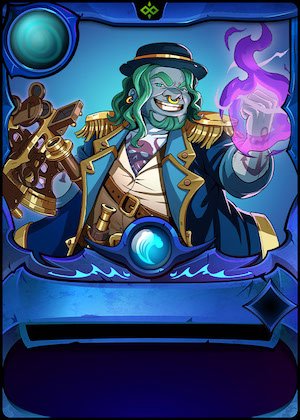 The Lore behind the Riverboat Captain by Splinterlands:
With the fall of the Wizards' Veil and the influx of settlers to Praetoria, cities and settlements sprang up along the coast and soon spread inland. Many were established along lakes and rivers to facilitate trade, and riverboat captains play a vital role in transporting goods and services from one point to another.
Most riverboat captains are skilled artificers, empowering their sails, anchors, sextants, compasses, and other nautical devices with magic to navigate, speed their travels, and defend against pirates, brigands, and the wild beasts that populate Praetoria.
---
The marine gnome picked himself off the deck of his riverboat. A layer of soot covered his face and clothing, and he brushed himself off, coughing. Then he bounded across the deck, grabbed the rigging, and hauled himself onto the gunwale. He removed his feathered hat and waved it at the ship opposite his. "Ahoy, there!" he called. "Don't reckon you wanna surrender now, eh?"
Around him, his crew laughed and shouted insults.
The other ship's captain bellowed at his crew, directing them to prepare for another attack.
The marine gnome sighed and clucked his tongue. "Didn't think so." He leaped back onto the deck. "Ready the cannons! Let's show these landlubbin' pirates how it's done."
Explosions echoed up and down the river and through the surrounding forest as thick smoke erupted from the cannons of both ships.
---
We are getting close to filling, but stopping just shy everytime 13/16 frays. I am in the Bronze league with only Chaos Legion/Riftwatchers cards, with 7 battles to my name.
---
Battle #1 (Link)
I started the first fight on this one as Earth, 50 mana, Scattershot, super sneak, oh and evens only, yeah they are rolling with 3 rules now in brawls. However, I was looking at earth with quora, doing some damage and a backup tank, then grum double hits along with the knifer for the thorns to combat that super sneak. They went water on this one, hoping to knockout my lower health people quickly. They did knock out my line pretty quickly, which was not nice, their gladiator took off on me, 7 damage a shot, but in the end, the self-heal and quora, took the win!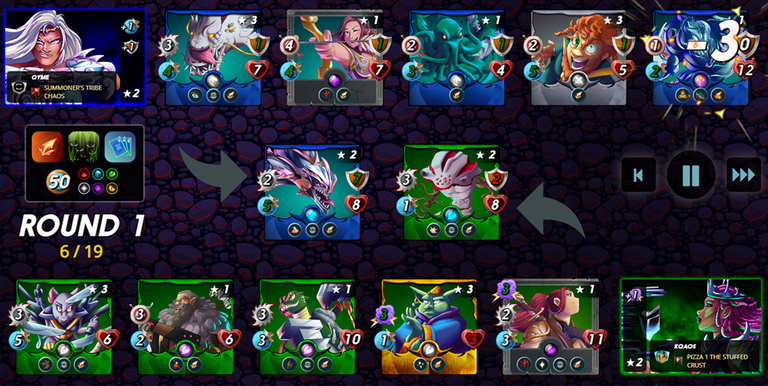 ---
Battle #2 (Link)
This one became a fire brawl! Poison, magic reflect, and cripple, ouch. So I went fire, Grum leading the way with the chemist to knock off that poison, then the Forgotten one's immunity to hopefully make it through. They went fire as well. However, the immunity and then also bloodlust, took the cake for me on the one!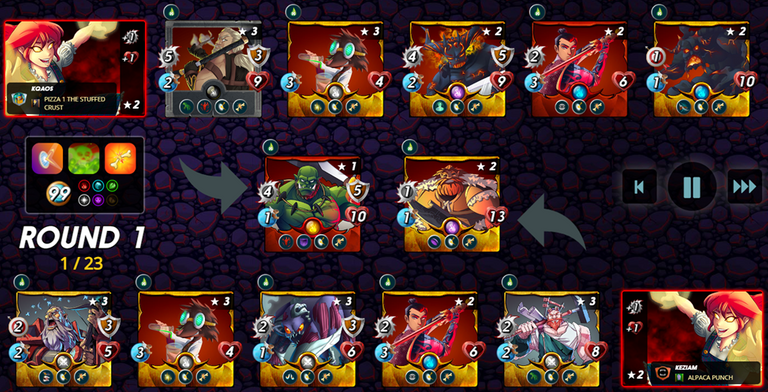 ---
Battle #3 (Link)
This next one did not look good for me, 48 mana, no melee, close range, oh and for fun, let's throw some blast in there! I went water for that speed bump, but then I used taunt to control where it will hit, then I used my gladiator at the back, doing 3 damage is good, even after the bump down. I went with kelya for that speed, but they went quix to take that away from me. They did counter me quite well, but my gladiator took off, only because of that close range!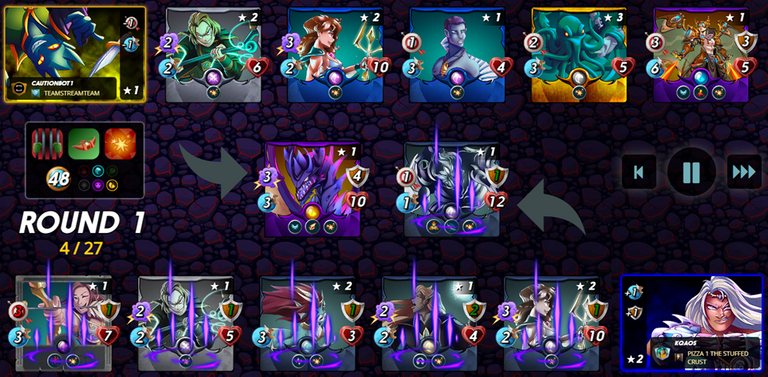 ---
Battle #4 (Link)
This one I ended up going light, since it was 60 mana, light or dragon only, plus amplify, return fire, and basic, I didn't want to have the return fire on there, so I did not go with sloan or any ranged, just magic, but I went with Rathe because of that extra shield and to defend some of that magic damage. However, I was just not doing enough damage, they tore through me on this one.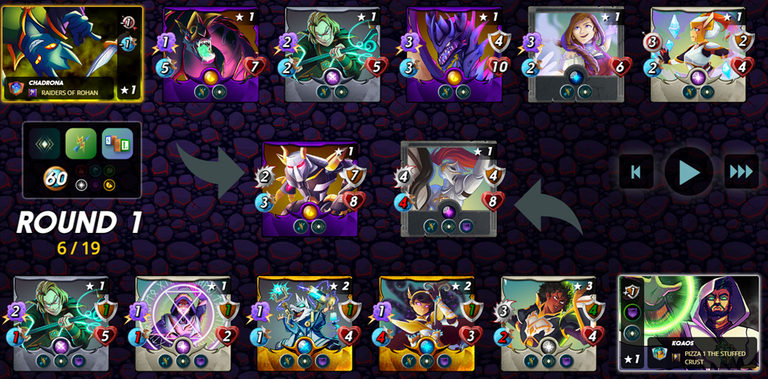 ---
Battle #5 (Link)
The downward slide at this point, next up, water and death! More specifically, I went water, due to cripple, super sneak, and melee only, I wanted that extra shield and the speed, but they went death, to knock down my health, and they had thorns on the back side. Relenor came through for me on this one, I was able to overcome the thorns and get some good damage hits in!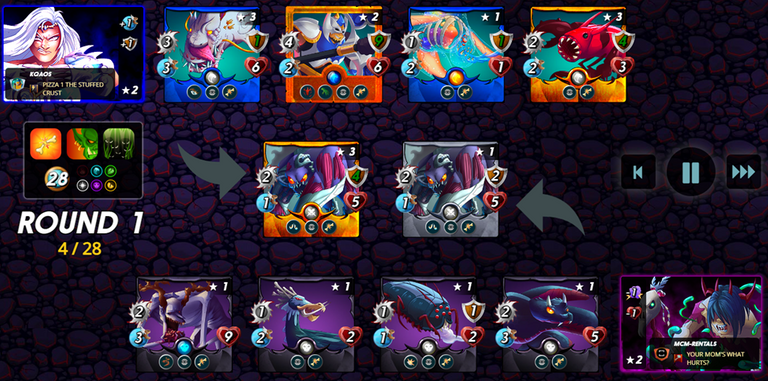 ---
Battle #6 (Link)
Next up, Earth on Earth, 48 mana, and close range, but I had obsidian, and they had Immortalis, that void shield really did hurt me on this one, not a good thing. Luck did favor me on this one, my quora got a hit in that killed theirs and just went off after that!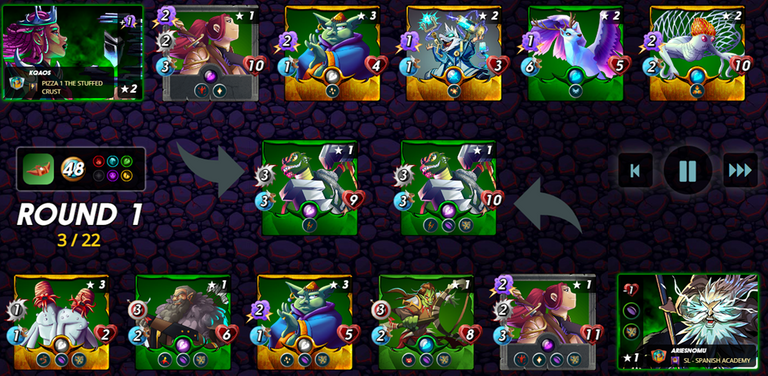 ---
Battle #7 (Link)
The last fight, Chaos scattershot versus death, granted, they had the scatter shot, with a lot more power due to the rule set, even only, fury, and no melee, I was not looking good on this one. They had a lot of damage coming my way, so, not a good thing!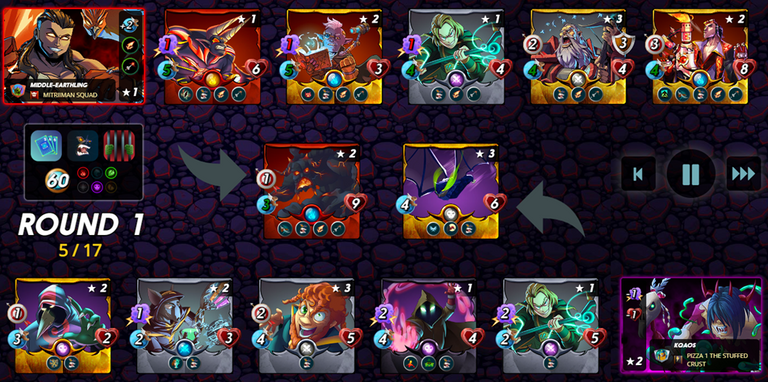 ---
This one is a little different of a report, I was on the road when I submitted my teams, I didn't know if I would make it back in time or not, right now, there is 47 minutes left, I went 5 and 2, which is awesome, but we are looking at 3rd place right now, 3 wins behind 1st, we could still technically take it, but I do know, we will end in the top three, the question is, which spot?
The guild ended up in 3rd place, we had 9 more losses than second, but the same amount of wins, so close!
---
Due to those merits, I am able to open 2 Gladius packs this time, I also got lucky for season ending that gave me a lot of merits, nothing special though: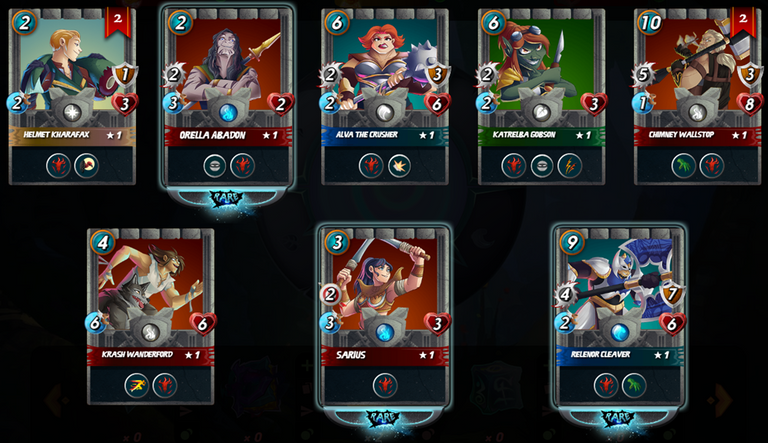 Check out other Pizza Guild Brawls:
@candnpg Splinterlands – Social Media Challenge and Brawl Report
@vaynard86 Social Media Challenge: Splinterlands Weekly (Jan 27 - Feb 2) + Brawl Report
@queenstarr ⚡️SPLINTERLANDS SOCIALMEDIA CHALLENGE : BRAWL + STAKED SPS + REWARDS & GLADIATORS⚡️
@relf87 Guild Brawls With Pizza 2 – Knocked Off The Podium
@theacks PIZZA Guild Brawl Report #10 - Consumed by Death
---
Giveaway Pings
@amaillo
@luizeba
@irisworld
@h3m4n7
@blitzzzz
@shawnmichael-gt
@koodies
@postapocgamer
@jfang003
@henruc
@bokica80
@relf87
@cogie88
@candnpg
@chefbgob
@qoogohome
@mercysalifu
@thoth442
@bonehead752
@marcinxyz
@urkanon
@criptosectadepit
@urkanon
@plicc8
@theacks
@danideuder
@vagabond42069
@zekelol
@waynechuasy
@xheadhunterz
@eijibr
@yokosama
@treefrognada
@rtonline
@vaynard86

Thank you for reading this far, additionally, I do want to thank the people in Pizza, a great place to hang out! I have learned a lot from it and there are great people and a very positive community.
You can find them here: Awesome Pizza Discord
I'm starting to track the Pizza token a little bit more as well, it is currently sitting at $0.01871, a great time to join!
At some point I will be doing some other posts about my experiences in Crypto, but here are some links if you are interested in some other NFT Games or other games as well!


Splinterlands
If you use my referral link I will send you 200 DEC to get started!
Layer 2 Labs
A Great community for Splinterlands, with games and a faucet to help players as well, new name as well, was Splinterlabs.
Rising Star
Great music NFT and a way to support up and coming musicians!
Sorare
Still learning this one, but it is a football (American Soccer), easy to set up and go!
Star Citizen Referral code: STAR-LRKQ-D6NK
Space game, still in alpha development, playable, very immersive, sign up with the referral code it will give you money in the game along with both of us receiving a free ship!
Unmineable
A great way to get into Crypto mining, easy to set up, code gets you a 0.25% fee discount, uses the graphics card while you are not using your computer, or you can mine with just your CPU.
---
Let me know if there are any questions, you can find me in the messages here or in the Pizza Discord.
Remember to reach across the aisle and talk to someone that might be different than you, you might be amazed at the person you find!
Lastly, thank you again, remember you are awesome and have a wonderful week!
Dr. Kqaos
---
Photos come from PowerPoints stock image, Bitmoji with Splinterlands logo on top of it, or my own screen shots of Splinterlands, pizza dividers by @candnpg
Disclaimer: This is my opinion, not financial advice.
---
---