Social Media Challenge, Brawl Report #72, Enjoying that Pizza Flavor!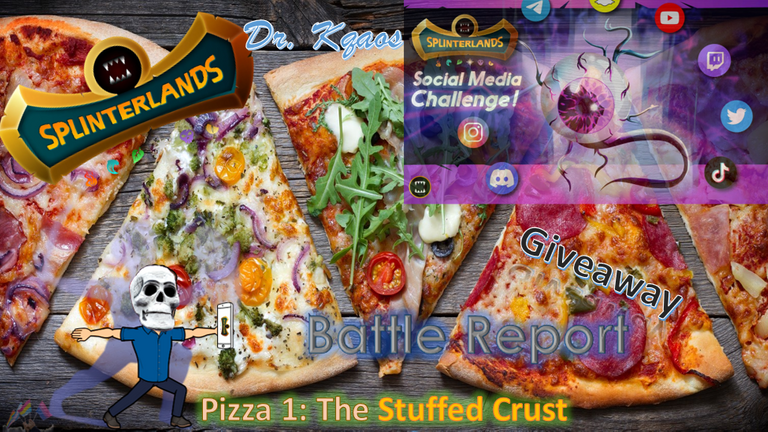 This image just draws it in, like a mesmerizing eye… okay that was bad, how about just looking at a pizza cooking in a woodfired oven? However, pizza can just bring everyone together, no matter the background, so let's get going in the positive way with celebrating diversity and equalization for all! So grab yourself a slice of pizza and sit back and enjoy!
I am also doing the Social Media Challenge that Splinterlands puts out there, let's get awareness of an awesome game, follow me on twitter and retweet!
@DrKqaos
If you are not playing Splinterlands yet, click on any of the battles or the link towards the bottom, would love to have you! So let's start with the flying pizza killer, the Ever-Hungry Skull! However, if we get up to 100 upvotes on this post, it will come out to the Venari Bonesmith, a very useful card, not to mention, some magic pizza killing!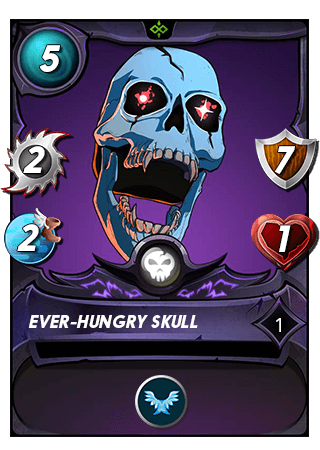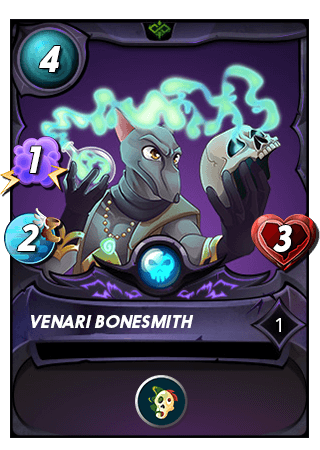 Rules:
• Leave a comment with your username, along with your
Favorite thing about people
(there has been way to much negativity going on, lets bring the conversation back to positives)
•
No repost, upvote or tips, !PIZZA, !BEER, !WINE, !LOL, etc. required, but if you want to I will be appreciative!
• When this post pays out, a winner will be decided by random name picker (
https://filoz.info/picker/
)
• Winner will need to comment within 48 hours on the winning post, I want to make sure it is going to someone alive! No response, no winnings, but I want to send it out, the prize will roll over to my next brawl report.
---
As I post this SPS is currently trending at $0.028, it has been hovering around this point for awhile. Additionally, there are 1,084,165 Chaos Legion packs left, only 84,165 left to go for the last airdrop, Lily Shieldpaw!
---
Since I have been looking at cards a little bit more, the lore really pops, and this one, this gladiator I have been using more lately, also, if you like this tidbit, checkout splinterlore.com for more! if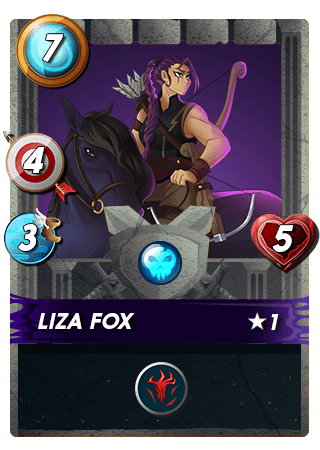 The Lore behind the Liza by Splinterlands:
The human highlanders of Khymeria rarely make the trip to Shimmer City for supplies, as they never receive a warm welcome by the Order of the Silver Shield. It is therefore difficult to say how a young lady of the archers has found her way into the ranks of the Moxian Gladiator camp. Even more strange is the fact that Liza Fox fights not for the Life Splinter, but Death, hailing from Beluroc and renouncing her Khymian heritage completely.
Liza is no pushover. She learned to defend herself at a very young age, when she was constantly bullied by the other children in her clan for a severe speech impediment. When she could not take anymore, Liza lashed out at her bullies with all the fury of a grown warrior, even throwing one of the boys from the cliffs to the jagged rocks far below. They did not mock her anymore after that, and once she had gotten a taste for battle, she could not be without it. Liza has been a fighter ever since. She was never the most accurate or strong of the Highland archers, but she could draw a bowstring and loose arrows faster than anyone else in the land. Since moving to Beluroc, Liza Fox has learned many impressive skills of close-range combat, always fighting with a dagger in one hand and a long spear in the other, which she can throw with deadly accuracy.
The Highlanders are a generally peaceful people, so Liza got into trouble every time she brought violence into their community. This is both why she decided to leave and why the rest of the clan was happy to see her go. Most of the Moxian Gladiators fight for their own people, but Liza has felt that she truly belongs "at death's door" in Beluroc, choosing to view her clan of origin as a pack of cowards. She will find the fortune and glory promised by the Gloridax recruiters, and she will be remembered as a proud resident of Mortis, not Khymeria. She may even sign the dark contract and enlist her spirit to the dark eternity, which to her sounds like a wondrous place. She has not yet decided, but she is still young and there is plenty of time.
Liza Fox is a short woman, but very muscular. Her hair is tied tightly into a single braid that falls to the middle of her back. Weapons that she carries include many blades, a hefty quiver of arrows, bow on her back and crossbow pistol on her hip. Her only companion is her horse, a beautiful black mare named Speah. At the Gladiator camp, she misses not the meadows of the Khymerian Highlands, but the open fields of the Beluroc Valley, where black jagged mountains loom overhead and dark spirits float on the breeze. It is there that Liza will one day return a champion after her time as a Gladiator is done.
---
We are getting better at this with 13 out of the 16 filled, we are looking for a couple of brawlers if anyone is interested! I am in the Silver league with 8 battles to my name.
---
Battle #1 (Link)
Start off in the home arena with this one, with the cheesy goodness of pizza! 21 mana, close range, cripple, and earthquake. I'm going water on this one, hoping that the extra armor will help me out! They went water as well, but they went with the idea of knocking me out of the sky instead of the extra armor. This was a close one, but I pulled out a win!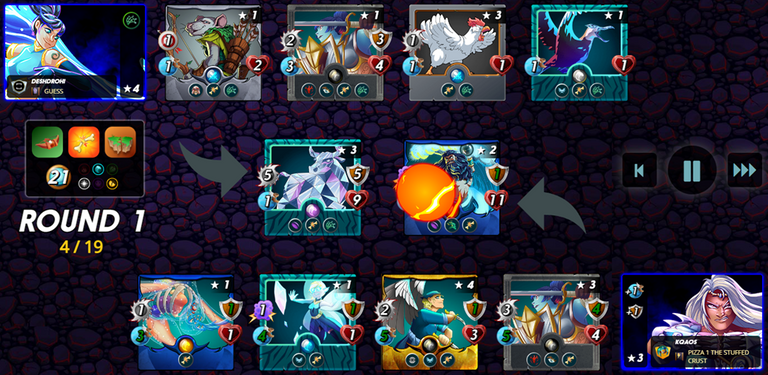 ---
Battle #2 (Link)
Now I go on the road, I will take a nice calzone with me as I travel, dealing with 14 mana, little league, poison, reverse speed, oh, and you can only use earth! Not a lot of great choices for me here, I hope it is enough! Hey look they went earth as well! Very similar matchups actually on this one. Since this one was on the road, I lost the draw.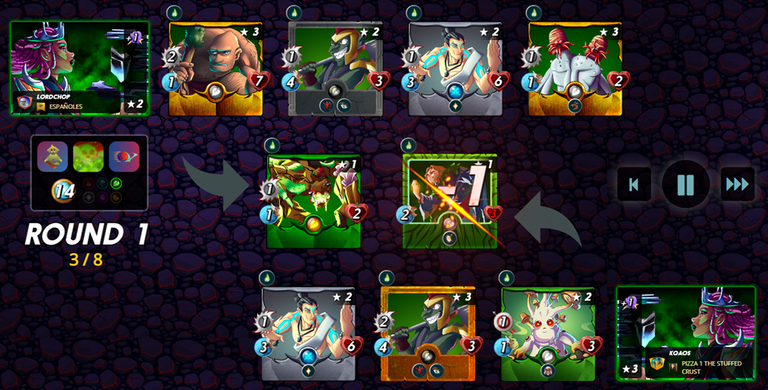 ---
Battle #3 (Link
And it looks like I will stay on the road for this one. 12 mana, enrage, trample, and earthquake, oh, only earth and dragon are allowed as well. I don't know how smart this is, but I am going earth again, with Katrelba leading the way, let's see if this works out in my favor! They went Llama on this one. It did not go in my favor.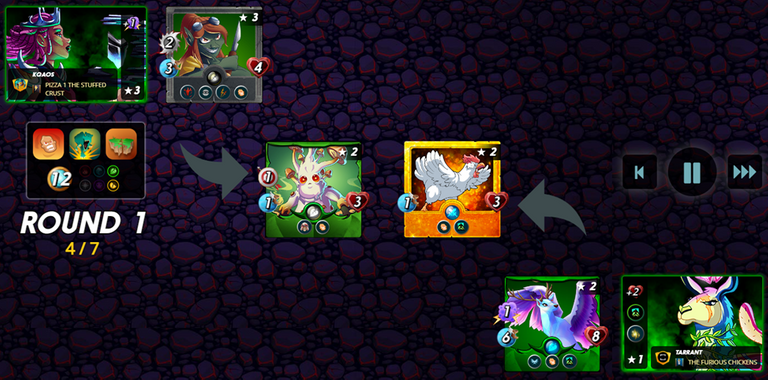 ---
Battle #4 (Link)
Glad to be back in the home arena this time around! 17 mana, opportunity, melee only, oh and only evens. I am going with Lobb in earth, throwing out a Quora and Betrol, hopefully it works for me! They went with the Llama, and grund, might not go well for me due to the last stand! I really needed some misses in there…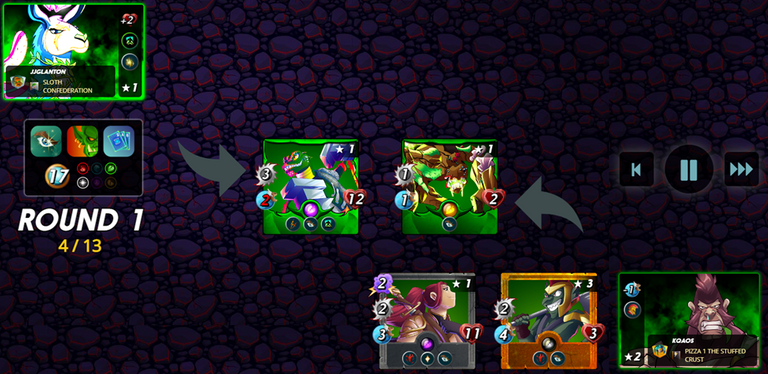 ---
Battle #5 (Link)
What is going on with these low mana fights, that is no fun, hopefully I can talk to the regulators at the home arena for this match! Not much of a difference with 25 mana, return fire, no legendary, and melee can attack from anywhere. I am trying death on this one with 2 gladiators, trapp is there to hopefully lower their health down a lot more! They went water on this one, with that opportunity strikes, this might not go well for me. Nothing was working for me on this one, misses, and timing were off, yuck.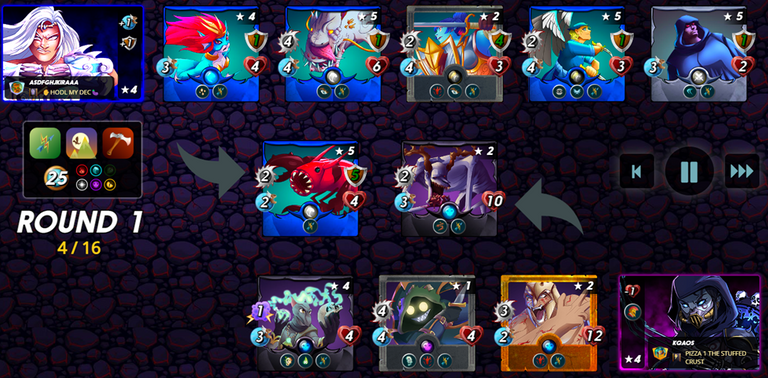 ---
Battle #6 (Link)
Right now I am sitting at 1 and 3, with a battle pending, I don't think I am going to go silver all again, I will just boot someone out! Speaking of out, in the enemy arena with thorns cripple, poison, and 28 mana. I am going fire on this one for the forgotten one's immunity and then Gorth leading the charge! They went water, with the summoner I have not seen for a very long time, +1 to mana. I did not stand a chance on this fight.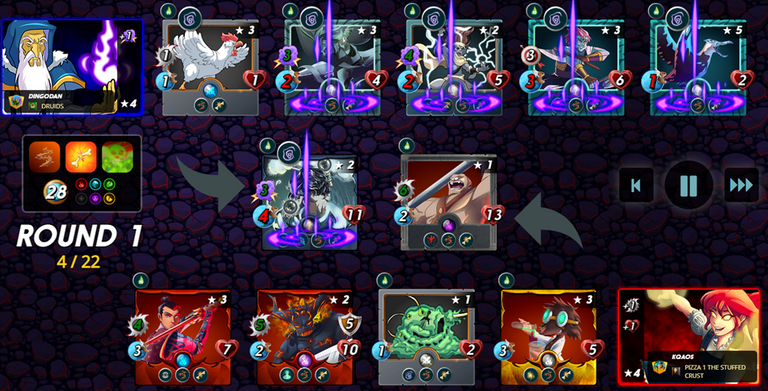 ---
Battle #7 (Link)
Staying in the enemy arena with 54 mana, no healing and thorns. Going water on this one, hoping that I can outlive the enemy. They went dragon on this one, that magic damage is going to hurt. Timing actually worked out in my favor on this one!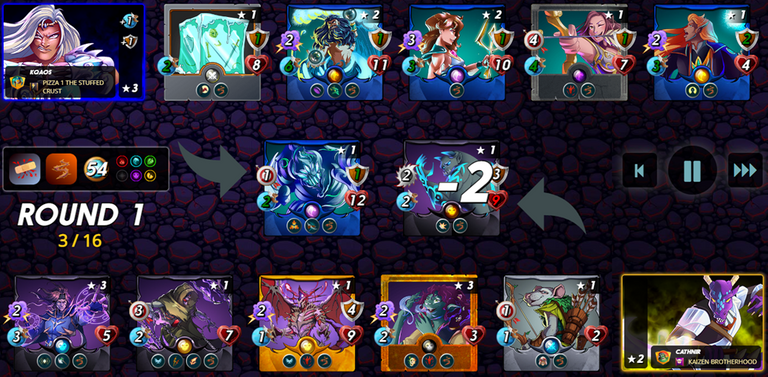 ---
Battle #8 (Link)
The home coming match with basic, even only and amplify, oh and 13 mana, since we are low mana, I am going with Obsidian and Quora, probably not smart, but that is what I am doing. They went death on this one, hopefully this will go well for me. Somehow the timing worked on this one as well, just barely made it though.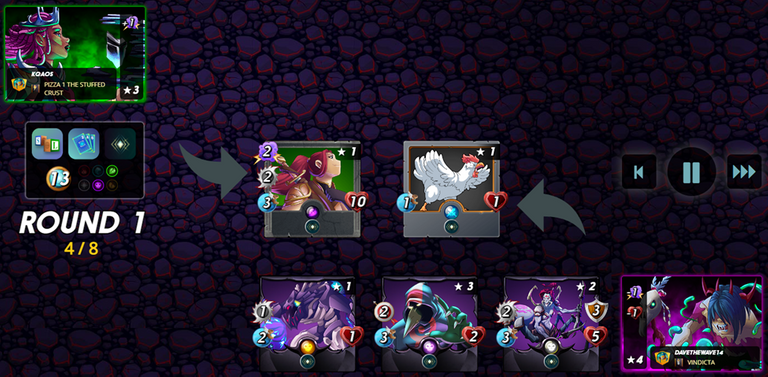 ---
10 hours to go and I am currently sitting at 1 and 4, days like this make me want to quit Splinterlands. The guild is currently sitting in 4th place with 200 battles to go, not too far behind everyone.
I ended up 3 and 5, not too happy about that one, but better than I expected! The guild as a whole ended up in 3rd place, not too bad with not filling out every fray.
---
Due to those merits, another gladius pack, two rares at least: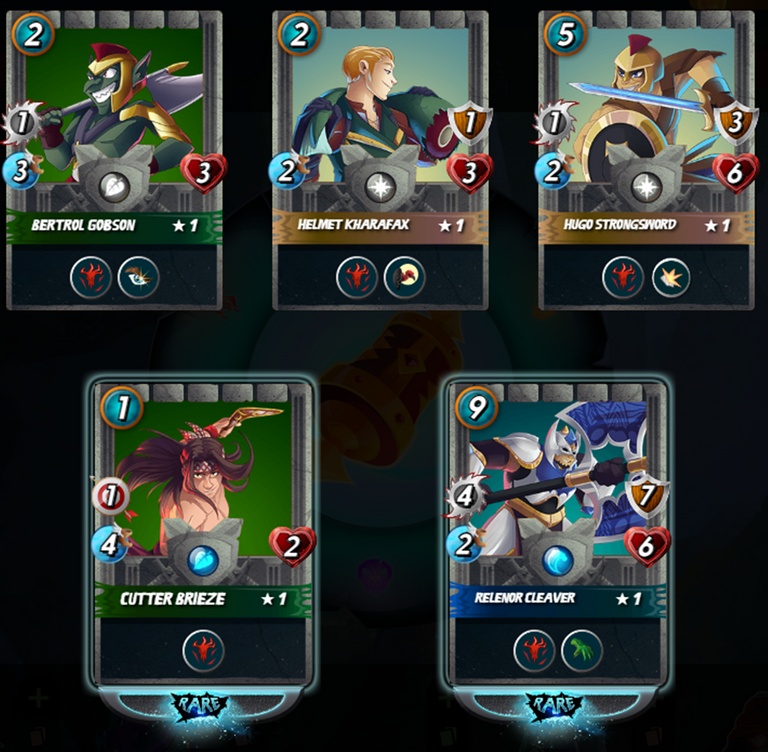 ---
Check out other Pizza Guild Brawls:
@candnpg Splinterlands — Brawl Report
@relf87 Guild Brawls With Pizza 2 - Water Saves The Day Again!
@vaynard86 Social Media Challenge: Splinterlands Weekly (Feb 3 - 9) + Brawl Report
@blitzzzz Splinterlands & PIZZA Brawl Report : My 77th Brawl Report with 🍕 PIZZA 2 The Deep Dish Guild ⚜️⚔️🛡️
---
Giveaway Pings
@amaillo
@luizeba
@irisworld
@h3m4n7
@blitzzzz
@shawnmichael-gt
@koodies
@postapocgamer
@jfang003
@henruc
@bokica80
@relf87
@cogie88
@candnpg
@chefbgob
@qoogohome
@mercysalifu
@thoth442
@bonehead752
@marcinxyz
@urkanon
@criptosectadepit
@urkanon
@plicc8
@theacks
@danideuder
@vagabond42069
@zekelol
@waynechuasy
@xheadhunterz
@eijibr
@yokosama
@treefrognada
@rtonline
@vaynard86
@pulubengdugs
@mango-juice

Thank you for reading this far, additionally, I do want to thank the people in Pizza, a great place to hang out! I have learned a lot from it and there are great people and a very positive community.
You can find them here: Awesome Pizza Discord
I'm starting to track the Pizza token a little bit more as well, it is currently sitting at $0.01721, a great time to join!
At some point I will be doing some other posts about my experiences in Crypto, but here are some links if you are interested in some other NFT Games or other games as well!


Splinterlands
If you use my referral link I will send you 200 DEC to get started!
Layer 2 Labs
A Great community for Splinterlands, with games and a faucet to help players as well, new name as well, was Splinterlabs.
Rising Star
Great music NFT and a way to support up and coming musicians!
Sorare
Still learning this one, but it is a football (American Soccer), easy to set up and go!
Star Citizen Referral code: STAR-LRKQ-D6NK
Space game, still in alpha development, playable, very immersive, sign up with the referral code it will give you money in the game along with both of us receiving a free ship!
Unmineable
A great way to get into Crypto mining, easy to set up, code gets you a 0.25% fee discount, uses the graphics card while you are not using your computer, or you can mine with just your CPU.
---
Let me know if there are any questions, you can find me in the messages here or in the Pizza Discord.
Remember to reach across the aisle and talk to someone that might be different than you, you might be amazed at the person you find!
Lastly, thank you again, remember you are awesome and have a wonderful week!
Dr. Kqaos
---
Photos come from PowerPoints stock image, Bitmoji with Splinterlands logo on top of it, or my own screen shots of Splinterlands, pizza dividers by @candnpg
Disclaimer: This is my opinion, not financial advice.
---
---