[ENG/ESP] Splinterlands Weekly Challenge Battle: GRUND!!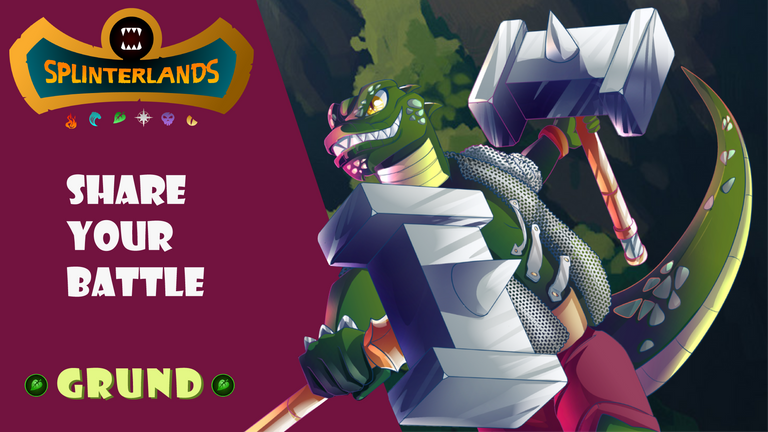 ---
A big hello to the users of the #Blockchain community of @splinterlands and #Hive. In this opportunity I come to share with you, my participation to this battle challenge, which as I said before I think is a very good opportunity to test those cards that maybe we don't use a lot and show that they can be very useful in battle.
For this week the challenge is to use the GRUND card, this is an elemental Earth monster, it is of Epic rarity and therefore has some high stats such as its high health and attack power as well as having a great and powerful ability. It also has even more power if we level it up as we can see in the following stats:
Un gran saludo a los usuarios de la comunidad #Blockchain de @splinterlands y #Hive. En esta oportunidad vengo a compartir con ustedes, mi participación a este desafío de batallas, el cual como ya he comentado antes me parece una muy buena oportunidad para probar aquellas cartas que quizás no solemos utilizar mucho y demostrar de que pueden ser muy útiles en batalla.
Para esta semana el reto es utilizar la carta de GRUND, este es un monstruo del elemento Tierra, este es de rareza Épica y por ende posee algunas estadísticas elevadas como podría ser su gran salud y poder de ataque además de poseer una gran y poderosa habilidad. Este además posee aún más poder si lo subimos de nivel tal como lo podemos ver en las siguientes estadísticas:


Rules and strategy | Reglas y estrategia

For this battle we have a limit of 28 points of mana, no special conditions and all elements active so my strategy was pretty clear from the start so my final formation was as follows:
Para esta batalla tenemos un límite de 28 Puntos de maná, sin condiciones especiales y todos los elementos activos por lo que mi estrategia estuvo bastante clara desde el inicio por lo que mi formación final fue la siguiente:
Card
Position
Strategy
Mylor Crowling
Summoner
This summoner grants the ability Spines to each monster at the start of a battle. / Este invocador otorga la habilidad Espinas a cada monstruo al comienzo de una batalla.
Failed Summoner
First / Primero
This would be my first tank, it possesses the Magic Reflex ability capable of returning magic attack. / Este sería mi primer tanque, posee la habilidad de Reflejo Mágico capaz de devolver ataque mágico.
Grund
Second / Segundo
This card would be my second tank in the battle, it has great health and attack along with the ability to Double Strike allowing it to attack twice. / Esta carta seria mi segundo tanque en la batalla, este posee una gran salud y ataque junto con la habilidad de Doble Golpe permitiendo atacar dos veces.
Hill Giant
Third / Tercero
It has great health which will allow it to withstand some enemy hits. / Posee gran salud lo cual permitirá resistir algunos golpes del enemigo.
Wood Nymph
Fourth / Cuarto
This one has the Tank Healer ability which will help me recover the health of the main tank. / Esta posee la habilidad de Curador de Tanques la cual me ayudará a recuperar la salud del tanque principal.
Earth Elemental
Fifth / Quinto
This card has ranged attack as well as good health. / Esta carta posee ataque a distancia además de tener buena salud.
Djinn Biljka
Sixth / Sexto
This great card is one of my favourites of this element. It has the Camouflage ability which allows you to attack the enemy without being targeted./ Esta gran carta es una de mis favoritas de este elemento. Posee la habilidad de Camuflaje el cual permite atacar al enemigo sin ser blanco de ataque.

The Battle | La Batalla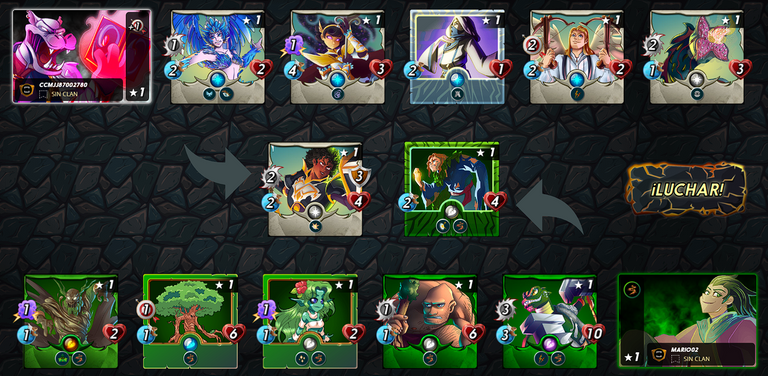 Did your strategy work, and what will you try differently next time? | ¿Funcionó su estrategia? ¿Qué intentarás de manera diferente la próxima vez?🔺
Yes, my strategy worked as planned. This card seemed like a good option to use with the summoner Mylor Crownling, this one having good health and great attack the only thing he needed was a defense and the ability of Spines is perfect for this character. In this case my formation was based mainly on monsters that had good health that when attacked could strike back at the opponent without being destroyed, so I tried to have my cards with as similar health as possible so that my strategy would work correctly.
Si, mi estrategia funciono según lo planeado. Esta carta me pareció una buena opción para utilizarla con el invocador Mylor Crownling, este al poseer buena salud y gran ataque lo único que necesitaba era una defensa y la habilidad de Espinas es perfecta para este personaje. En este caso mi formación se basó principalmente en monstruos que tuvieran buena salud que al ser atacados pudieran regresar el golpe al rival sin estos ser destruidos por lo que mis cartas trate de tenerlas con la salud lo más similar posible para que mi estrategia funcionara correctamente.
Do you like GRUND, why or why not? | ¿Te gusta GRUND? ¿Por qué o por qué no? 🔺
Of course I like this great card, when it came out I had previously tested it and from the beginning I thought it was a great card which despite requiring a lot of mana power to use it, it levels it up somehow with the high stats it has, a great card without a doubt. If I had to give a negative point it could be the lack of some defense which never hurts but really this would not be a reason not to use it as its abilities speak for themselves.
This would be all for today, if you got this far I thank you for reading my post and if you like you can support me, for me it is very helpful.
Thank you very much and see you next time!
Por supuesto que me gusta esta gran carta, cuando salió la había probado previamente y desde un inicio me pareció una gran carta la cual a pesar de requerir un gran poder de maná para poder utilizarla esta lo nivela de alguna forma con las altas estadísticas que posee, una gran carta sin duda. Si tuviera de dar un punto negativo podría ser la carencia de alguna defensa la cual nunca viene de más pero realmente este no sería un motivo para no utilizarla ya que sus habilidades hablan por sí solas.
Esto sería todo por el día de hoy, si llegaste hasta aquí te doy las gracias por leer mi post y si es de tu agrado puedes apoyarme, para mi es de mucha ayuda.
Muchas gracias y ¡Hasta la próxima!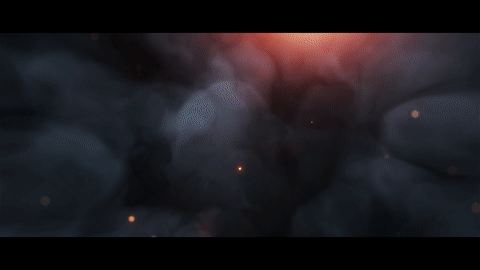 Translated with DeepL (free version)
All images are screenshots of my game screen.
---
---